Do you want to buy a white and gold desk lamp that adds a stylish touch to your room?
Here you can find top-rated lamps suitable for different purposes – learning, studying, relaxing, etc. Read these five reviews and check out our buying guide, there are some tips and tricks on how to pick the best lamp for your needs.
Our Top Picks
Best 5 White And Gold Desk Lamps
BEST OF BEST WHITE AND GOLD DESK LAMP
Co-Z Gold Desk Lamp
Elegant Lamp
Co-Z lamp is an elegant and compact desk lamp suitable for office, bedroom, living room, workbench, end table, it fits anywhere. It is backed with a 1-year warranty from the manufacturer. There are many positive reviews on this desk lamp.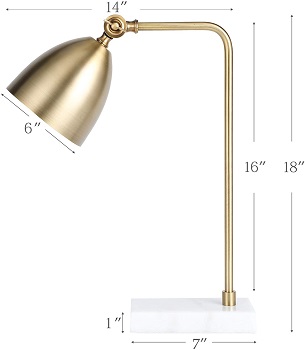 Long Power Cord
The box includes a lamp, LED bulb and instruction. Its power cord is 6 feet long. The marble base dimensions are 7 x 4 x 1.3 inches, the shade diameter is 5.5 inches and the lamp height is 18.3 inches. Co-Z is compatible with CFL, incandescent and LED bulbs.
Solid Brass Construction
Co-Z white and gold desk lamp features solid brass construction, it will fit vintage and modern home or office decors. It is inspired by the classic European table lamps. This brass task lamp features UL listed all electrical components. The 10W LED bulb is included in the package.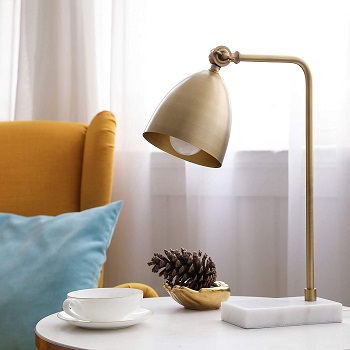 Replaceable Bulb
The LED bulb will last longer than traditional bulbs, so you don't have to replace it for many years. But when this bulb dies, you can replace it with another LED bulb. Use this lamp for reading, studying, crafting or as ambient lighting in your room.
Highlighted Points:
elegant white and gold lamp
sturdy marble base
solid brass construction
UL-listed electronic components
10W LED bulb included in the package
BEST BEDSIDE WHITE AND GOLD DESK LAMP
Haitral Bedside Table Lamp
Sturdy Base
Haitral is a popular and quality lamp that lasts for many years. You can choose between two colors, but this reviewed model features a white fabric lampshade, white marble base and gold stem. The base is sturdy and stable, so the lamp won't fall.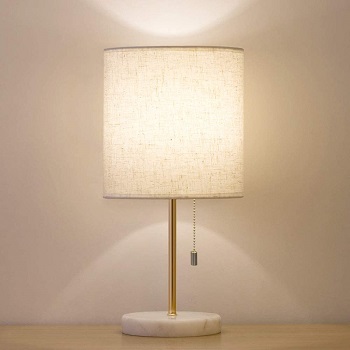 Bulb Isn't Included
The overall lamp height is 15.5 inches, the lamp base diameter is 5.5 inches and the lampshade width is 7.5 inches. Place it on your desk, table, coffee table, nightstand, workbench, fits anywhere. The black power cord is 67 inches long. You need to buy a bulb separately.
60W Max
This white and gold desk lamp comes with UL approved plug. You need to install the lamp when it arrives. Haitral is compatible with LED, energy-saving and incandescent bulbs. It requires a standard E26 base bulb type. Max 60 watts.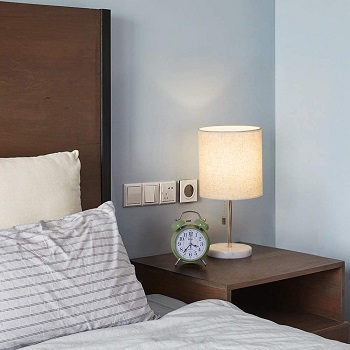 Pull Chain
Haitral aesthetic desk lamp provides warm and comfortable lighting, gentle to your eyes. It features an on/off pull chain switch that ensures easy control. The pull chain is gold. You'll get the black fixing ring that will stabilize the lampshade.
Highlighted Points:
white linen fabric shade
sturdy marble lamp base
the bulb isn't included
compatible with LED, CFL and incandescent bulbs
on/off pull chain
BEST MODERN WHITE AND GOLD DESK LAMP
Jonathan Modern LED Table Lamp
Beautiful Design
A beautiful contemporary lamp that blends any modern and stylish decor. Use it in your office, home office, living room. It will uplift your room. Jonathan is 23.5 inches tall and its lampshade is 12 inches wide. There is a white, 100% cotton drum shade.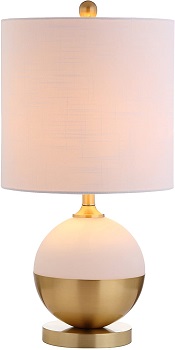 Cozy Atmosphere
The brass accents on the lamp make it more attractive. This modern white and gold desk lamp will illuminate your room with a warm light. It creates a relaxing and cozy atmosphere. Jonathan uses a quality LED bulb that is energy efficient and lasts for a long time.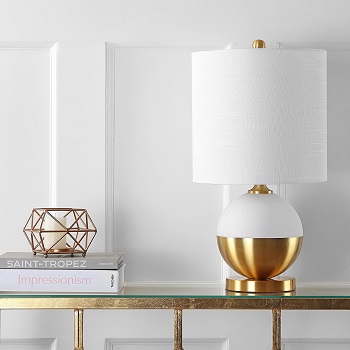 Flicker-free Light
This small modern desk lamp is ETL listed and meets 120-volt UL standards. Its LED bulb is rated for up to 25,000 hours. Under normal use, it will last up to ten years. Also, it provides flicker-free and non-glare lighting, safe for your eyes.
Highlighted Points:
provides a touch of glam in any room
use it as decoration and ambient lighting
white, cotton lampshade
quality LED bulb
ETL-listed lamp
BEST LED WHITE AND GOLD DESK LAMP
Cotulin Modern Table Lamp
Attractive Base
Cotulin is a mix of modern and traditional designs. It features a fabric white lampshade and a golden hollowed geometric cage. This attractive lamp base is made of quality and sturdy metal. You need to assemble it when the lamp arrives at your address, the instruction is included.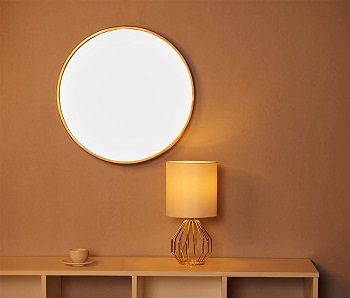 E26 Base Bulb
Its white lampshade emits a soft light and creating a cozy and comfortable atmosphere in your room, bedroom, living room, or wherever you place it. Cotulin white and gold desk lamp is suitable for any type of E26 bulb. It is compatible with CFL, incandescent and LED bulbs.
Small Lamp
The overall lamp height is 14.3 inches, while the lampshade width is 7 inches. It is a small lamp that fits on your nightstand, coffee table, end table, workbench, etc. Cotulin modern LED desk lamp requires 110v – 120V outlets. The bulb isn't included in the package.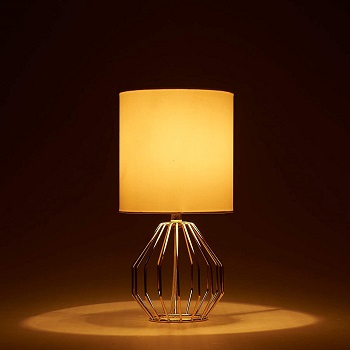 UL-certified Lamp
Cotulin is a tested lamp and it comes with a UL certificate. You can easily turn it on/off, the switch is located on the power cord. It is lightweight, so be careful around the lamp. Use this lamp for relaxation, watching movies, it isn't suitable for working.
Highlighted Points:
compatible with LED bulb
the small lamp fits anywhere
requires a standard E26 bulb
made of fabric and sturdy metal
attractive design
BEST TASK WHITE AND GOLD DESK LAMP
Lapeort Desk Lamp
1-year Warranty
Lapeort is a modern lamp available in two colors  – white/gold and black. Its pole is 14.6 inches high, the lamp head is 11.2 inches long and the lamp base measures 3.35 x 6.3 inches. The manufacturer provides a 12-month warranty. Lapeort features an affordable price.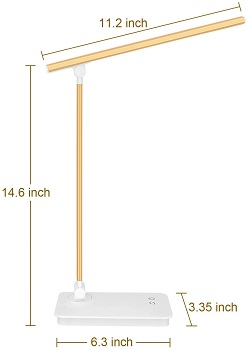 USB Charging Port
This white and gold desk lamp base is made of ABS and the lamp body is made of aluminum. The package includes a desk lamp, user manual, USB cable and power adapter. On the lamp base, there is a convenient USB port, you can charge your mobile phone, tablet, e-reader, etc.
Flexible Design
It features a foldable design, also you can adjust the lamp head and the pole in multiple positions and direct the light exactly where needed. Lapeort adjustable arm lamp uses quality LED, it provides soft light, glare-free and gentle for your eyes.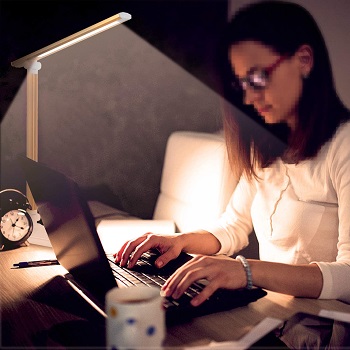 Variety Of Color Modes
There are two touch buttons on the lamp base. Choose between five color modes (2800K – 6500K) and three brightness settings. If you want to read, set the higher color temperature and brightness, which will boost your energy. Choose the different modes for relaxing, reading, sleeping, etc.
Highlighted Points:
modern white and gold desk lamp
offers five color modes
three brightness levels
touch buttons
non-glare lighting
Things To Know About White And Gold Desk Lamp
Before you buy a white and gold desk lamp, there are some things you need to check before purchase. In our buying guide, find some guidelines for a successful purchase.
Modern/Vintage Design – Except for the quality features and variety of functions, you need to choose the suitable lamp for your office, home office or living room. Choose a lamp that matches your current room decor. There are many beautiful modern and vintage-inspired lamps in the market.
Color Rating – This is one of the most important features you need to consider before you buy a lamp. The lights that are closest in the spectrum to sunlight are soft and suitable for your eyes. Look for lamps with ratings of 3500K to 6500K.
Lamp Size – There is a general tip you should follow, a desk/table lamp should be proportionate to your desk or workspace. A small gold desk lamp is enough for a small desk, table, end table or coffee table. Taller lamps are ideal for large workbenches and desks.
Charging Station – Some lamps have these additional features – a convenient USB charging port. This is a practical feature, you can charge your mobile phone, tablet, e-reader and other electronic devices while you're reading or crafting.
LED Bulb – Many of these white and gold desk lamps in the list are compatible with a variety of bulb types. You can choose between CFL, incandescent, LED bulbs. All these types have their advantages and disadvantages. LEd bulbs are energy efficient, last longer and produce low heat.