Are you interested in a reading lamp that will match your contemporary designed room?
Then check out this review about modern reading lamps!
Here, we'll introduce a range of reading lights that look stunning in your reading spot and provide eye-friendly and comfortable light. Furthermore, we give you some tips and tricks for the best shopping.
Our Top Picks
Best 6 Modern Reading Lamps
BEST OF BEST MODERN READING LAMP
Luxe Cordless Modern Lamp
Atypical Design
Luxe lamp features unusual style, it is a contemporary designed lamp that fits on any desk, table, workbench, end table, nightstand, wherever you want. It is available in few colors, so you can choose between gold, silver and grey colored lamps.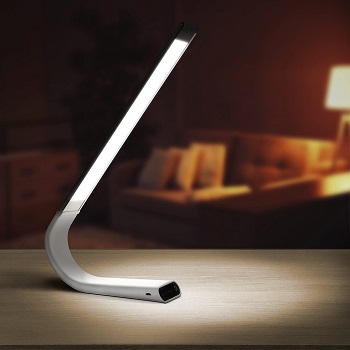 Rechargeable Battery
The case of the modern reading lamp is made of high-grade aluminum and the bar is made of soft material, which is resistant to water. Luxe comes with 28 LEDs and has a built-in Li-polymer 2000 mAh battery. It is rechargeable and supports up to 3-40 hours of work time.
Glare-free Light
The charging cable is included in the package. Its LED panel is rated for up to 50,000 hours. It provides glare-free and flicker-free light, there are no harmful effects for your eyes. Luxe doesn't cause eye strain. It doesn't emit UV and produces little heat.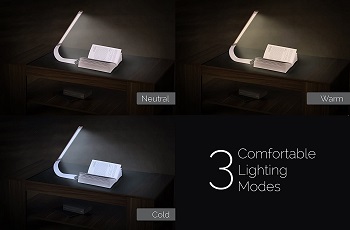 Touch Panel
This modern LED desk lamp features a flexible design. You can rotate, twist and bend up to 360-degree. Adjust the lighting exactly where needed. Choose between three lighting modes and six levels of brightness, all controlled by a touch panel.
Highlighted Points:
made of high-grade aluminum
40 hours of continuous run time
28 LEDs delivers eye-friendly light
rechargeable 2000mAh battery
flexible design
three lighting modes
BEST FLOOR MODERN READING LAMP
Joly Joy Modern Floor Lamp
Tall & Thin
Joly Joy is a floor lamp with a sleek and modern design. It doesn't take up much floor space and fits anywhere. Place it beside your desk, behind your reading sofa or couch. Joly Joy comes with a 12-month service, so if there is any defect or damage, contact customer service.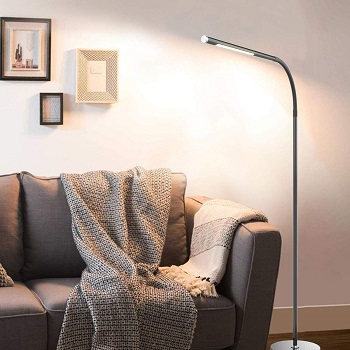 Heavy Base
This modern floor reading light stands on a heavy base that prevents tipping over and keeps it stable. But you can move it with ease thanks to its simple design. There is a metal base and full black finish that matches any modern room environment.
Remote Control
Aluminum gooseneck allows you to adjust the lamp in multiple positions. It can swivel for up to 360-degree. Joly Joy produces soft and cozy ambient lighting. Change the lighting modes by touching the lamp or use remote control. The remote control has a range of 33 feet or 10 meters.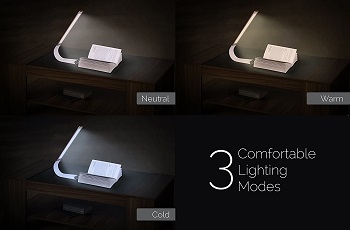 Variety Of Color Temperatures
This modern reading lamp offers five brightness settings and four color temperatures. The lowest color temperature is 3000K and the highest is 5500K. If you want to read or study, set the highest mode, it will boost your energy and keep you awake.
Highlighted Points:
tall and thin floor lamp
sturdy and stable lamp base
aluminum gooseneck allows adjustment
control it by touch or with remote control
five brightness settings and four color modes
BEST MID CENTURY MODERN READING LAMP
Co-Z Gold Desk Lamp
Attractive Design
Co-Z is a quality lamp with attractive mid-century and modern elements. It is backed by a 1-year warranty from the manufacturer. The package includes a LED bulb, a user manual and a lamp. The overall lamp height is 18.3 inches, the lampshade diameter is 5.5 inches and the base has 7 x 4 inches.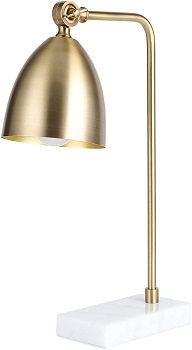 Brass Construction
The cord is 6 feet long. Co-Z is inspired by classic European table lamps, it features a white marble base completed with solid brass construction. It is finished in matte gold. Place it on your desk, table, nightstand, workbench, end table, it's an eye-catcher.
UL-approved Components
This modern reading lamp features Ul-listed all electrical components. There is a standard E26 socket type A. The box includes a 10W LED bulb. But if you don't want to use LED, it's compatible with incandescent and compact fluorescent light (CFL).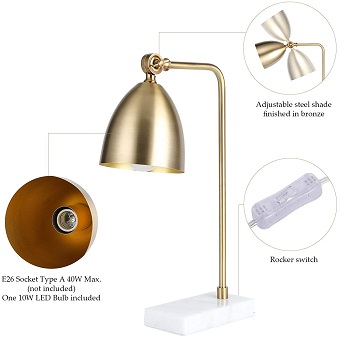 Adjustable Lampshade
Co-Z vintage reading lamp has a rocker switch on the power cord for your convenience. You can adjust the lampshade in multiple directions and direct the light where needed at the moment. It is a practical, useful and decorative reading lamp.
Highlighted Points:
attractive mid-century lamp with modern elements
covered with a 1-year warranty
compatible with LED, CFL and incandescent bulb
UL listed electronic components
rocker switch on the cord
adjustable lampshade
BEST BEDROOM MODERN READING LAMP
Brightech Circle Nightstand Lamp
Circle Design
Brightech is a very interesting lamp with a circle design. It is available in black, silver and white color, so you can match it with your room environment. The lamp is covered with a 3-year warranty if there is any defect or damage within that time, contact customer service.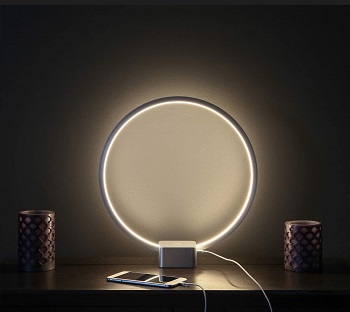 Nightstand Lamp
The overall lamp height is 15 inches and the circle diameter is 14 inches. It looks great with urban and contemporary designed rooms. This modern reading lamp fits perfectly on any nightstand in your bedroom, end table, coffee table or shelf.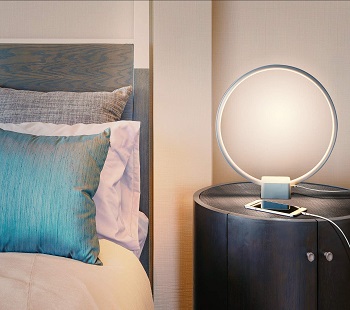 Built-in Dimmer
This nightstand lamp with a USB features a 12W LED light, it will reduce your energy bills. At full brightness, it delivers 1330 lumens and provides super bright light, ideal for reading. Moreover, Brightech comes with a built-in touch switch dimmer, so you can have a night light.
Highlighted Points:
attractive circle design
covered with a 3-year warranty
complement urban and modern styles
12W energy-saving LEDs
built-in touch switch dimmer
BEST STUDY MODERN READING LAMP
AmazLit Desk Lamp With Clamp
Architect Lamp
AmazLit is an Amazon brand. It produces this modern, versatile, architect lamp suitable for any desk, office, workbench, etc. It comes with a strong clamp equipped with two silicone pads, they protect your desk from scratches and damages.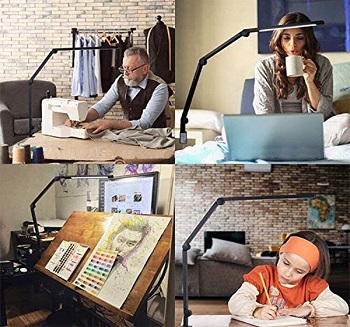 Aluminum Alloy Material
The cord is 71 inches long and the swivel light head is 15.8 inches long. The box includes a desk lamp with clamp, UL-approved power adapter and user manual. AmazLit is made of aviation-grade aluminum alloy and finished in brushed matte black.
98 LEDs
This modern reading lamp includes 98 LEDs that consume 80% less energy than traditional bulbs. It is rated for up to 50,000 hours. Also, this adjustable desk lamp is compatible with wall switches and smart plugs. Then you can control the lamp with ease.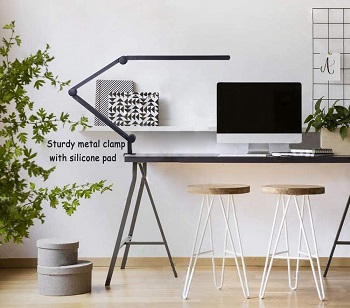 Automatic Delay-off
The memory function will remember your last used setting, so you don't have to set it every time you turn on the lamp. AmazLit is an adjustable lamp, you can direct the light in any direction you want. It features an auto-delay-off function and five color modes.
Highlighted Points:
quality lamp made of aviation-grade aluminum
includes 98 LEDs
rated for up to 50,000 hours
compatible with smart plugs
adjustable design
UL-listed power adapter
BEST WALL MODERN READING LAMP
Alldio Wall Mount Light
Easy Installation
Alldio is a minimalist wall mount light that requires easy installation. You need to install the screws on the iron plate, punch two holes on the wall, insert the white casing into the hole, then install the lamp body, tighten the screws and the installation is complete.
Made Of Aluminum
This lamp is designed for reading, it will provide an amazing reading experience and energy efficiency. Alldio modern reading lamp allows you to install it in the bed headboard or other wooden board. It is made of aluminum, so this bedroom reading light wall-mounted model is quality and durable.
Lamp Dimensions
The lamp holder base measures 2.75 x 1.18 inches, the gooseneck length is 11.8 inches and the lamp head is 2.4 x 1.26 inches. Its plug cord is 70 inches long. Because of its metal finish, this lamp will fit in any modern and contemporary designed room.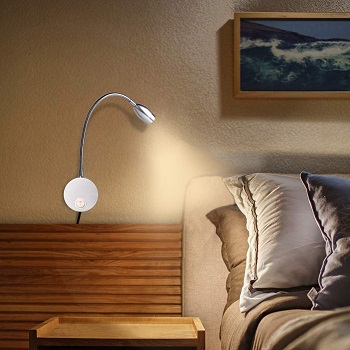 Flexible Gooseneck
There is a simple rocker switch on the lamp base for turning the light on or off. Alldio features a flexible gooseneck, you can adjust it in multiple positions and direct the light where needed at the moment. It produces a narrow beam without glare and flickering.
Highlighted Points:
made of aluminum with a metal finish
requires simple installation
bed headboard and wall-mounted lamp
flexible gooseneck
simple rocker switch on the lamp base
eye-friendly LED light
Things To Know About Modern Reading Lamps
The market is full of modern reading lamps, so it isn't easy to choose the best model for your needs. But except for its appearance, you need to consider some factors, like a light source, lighting modes and build quality.
Modern Lamps – Modern lamps come in a variety of designs and features. You can find lamps with glass lampshades, made of metal, brass construction, marble base, etc. Also, their designs are very interesting and attractive, so they uplift any modern room.
Light Source – Nowadays, just a few lamps are compatible with incandescent bulbs. Usually, lamps are compatible with a variety of bulb types, such as incandescent, CFL, halogen, LED. LED bulbs are energy-efficient, produce little heat and last much longer than traditional bulbs.
Floor Or Desk Lamp – That depends on your room space and your preferences. The main advantage of a floor lamp for a reading chair is that this kind of lamp doesn't take up your desk space and it's able to provide nice ambient lighting. Desk lamps are perfect as task lighting.
Color Temperature – It is always a good idea to buy a modern reading lamp with more features and modes. Meaning, you can adjust the light for different lighting occasions. For reading, you should set a color temperature of at least 4000K. For ambiance lighting, choose a lower mode.
Warranty  -As you might notice in those reviews above, some models come with a warranty and some of them doesn't. Of course, the models with a warranty have a higher price, but they are safer and more quality. We recommend you to buy a model with at least a 1-year warranty.