Are you looking for a large desk lamp that will illuminate your desk and space sufficiently?
Then you should read this article!
Here you can find the best models currently available in the market. They come in a variety of sizes, styles and functions. Check those six reviews and read our guidelines at the end, they will help you to choose the best model.
Our Top Picks
Best 6 Large Desk Lamps
BEST OF BEST LARGE DESK LAMP
Phive Ultra-wide Desk Lamp
Wide Panel
Phive desk lamp is a bit different than other lamps in this list. Choose between white and black models. Phive is 37 inches tall lamp with an ultra-wide LED panel of 31.5 inches. It is suitable for large workbenches, desks and you can use it as a multi-screen lamp.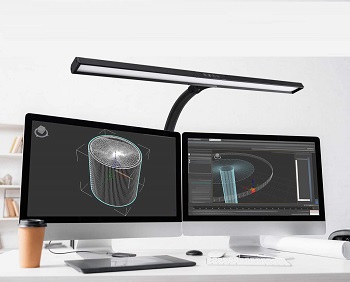 20-watt LED
It delivers 300% wider and larger lighting coverage. It is widely used in offices, home offices and dorms. This large desk lamp features an integrated 20-watt LED, it will light up your monitor, desk and space around it. It is soft light without glaring, ghosting and flickering.
Universal Gooseneck
Phive is a modern task lamp with a durable gooseneck. It provides flexible height adjustment and allows you to set multiple lighting angles for optimal illumination. Also, you can choose between four color temperatures with five brightness levels.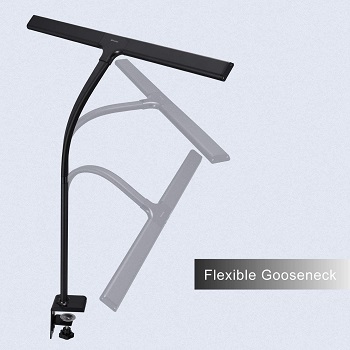 Memory Function
This powerful LED lamp will boost your productivity and efficiency. It features a memory function that will remember your last used settings, so you don't have to set it again. The controls are set right in front of you for easy change.
Highlighted Points:
available in white and black color
ultra-wide LED panel
ideal for multi-screen setup
durable and universal gooseneck
flexible height adjustment
memory function
four-color temperatures
BEST STUDY LARGE DESK LAMP
Neatfi XL Desk Task Lamp
Variety Of Colors
You can choose between white, grey, lavender, green, silver, rose gold and pink models. Neatfi desk lamp comes with a three-year warranty provided by the manufacturer. If you notice any defect or damage within that time, contact customer service.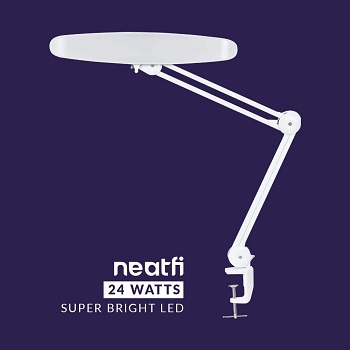 Ultra-wide Light Bar
You need to assemble this big desk lamp, follow the instruction included in the package. The lamp arms measure 16.1 x 16.1 inches and the light bar is 19.7 inches wide. Neatfi comes with a strong metal clamp, its maximum clamping distance is 2.5 inches.
High Color Temperature
It can be easily fixed on your workbench or table and save your space. It is very easy to maneuver and position the light exactly where needed. Neatfi is an adjustable reading lamp that comes with a 24-watt LED, it provides a color temperature of 5600K to 6000K.
4 Levels Of Brightness
Moreover, it features high Color rendering index, it's 80. Neatfi emits a bright beam that provides vivid and accurate colors. This is flicker-free and glare-free illumination, perfect for reading, studying, working and other detailed work. Adjust the level of brightness by pressing the power button.
Highlighted Points:
available in multiple colors
space-saving clamp design
high color temperature
four brightness levels
flexible construction
features wide light bar
BEST MAGNIFYING LARGE DESK LAMP
Lancosc Magnifying Desk Lamp
2-in-1 Lamp
Lancosc is a 2-in-1 desk lamp. It is practical for students, children, the elderly and other people who struggle with vision issues or do some precise work. It features a space-saving clamp design, so it's necessary to clip it on your desk or shelf.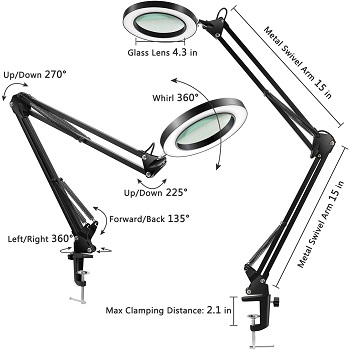 Metal Clamp
This sturdy metal clamp will fix the large desk lamp, so it won't tip over. The maximum clamping distance is 2.1 inches. Therefore, measure your desk thickness before you order this lamp. The lamp's arms are 15 x 15 inches long and the glass lens diameter is 4.3 inches.
Swing Arm
The glass lens can be adjusted up and down and swivel. These swing arms can be extended up to 29 inches, there are four springs and three knobs. It is easy to aim the light directly where you need illumination. Lancosc has magnifying lens made of real glass.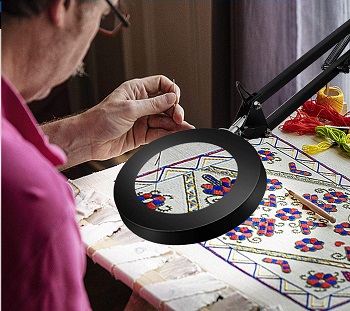 Magnifying Lens
Lancosc is a clamp-on magnifying lamp with an 8-diopter glass lens and a magnification of up to 5 times. It provides a clear view without optical distortion. This lamp is designed for people who have continuous close focus work. Also, you can choose between three color modes.
Highlighted Points:
practical 2-in-1 desk lamp
ideal for detailed and precise work
comes with a sturdy metal clamp
adjustable lamp arm and glass lens
the lens magnifies up to 5x
three color modes
BEST LED LARGE DESK LAMP
LE Dimmable Desk Lamp
White Model
Lighting Ever or shortly LE is an elegant and quality desk lamp that arrives in white color. Use it in your office or home office. The lamp base measures 7.8 x 5.1 inches, the stem is 16.7 inches tall and the light bar is 7.8 inches long. The power cord length is 4.9 feet.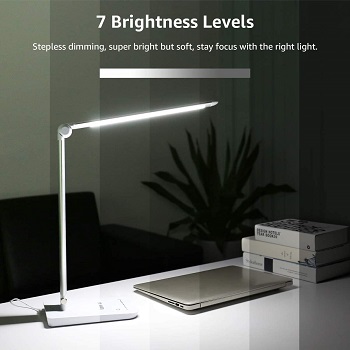 Well-made Lamp
The lamp arm and lamp head are made of premium aluminum. This material solves the heat dissipation issues and prolongs the large LED desk lamp lifespan. Its slim and sleek design takes up little space on your desk, so fits nicely anywhere.
Flicker-free Light
LE lamp is equipped with 54 high-efficient LEDs, it emits soft, flicker-free and glare-free light. Its illumination won't cause eye strain or eye fatigue. This white LED desk lamp features an adjustable design, you can set the angle you need for your task.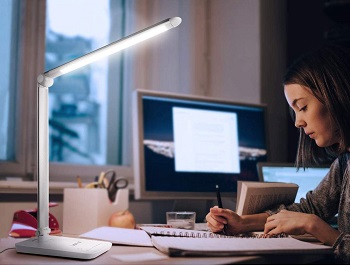 High CRI
Choose between seven levels of brightness, dim the light until you find a perfect illumination level for reading, working, crafting, etc. LE features high Color rendering index of 80+. Meaning, you can see accurate and vivid colors under the lamp's light.
Highlighted Points:
attractive white desk lamp
space-saving design
fully adjustable design
flicker-free and glare-free light
high Color rendering index
7 levels of brightness
BEST READING LARGE DESK LAMP
Otus Architect Desk Lamp
Quality Build
Otus is a very popular brand that produces high-quality lamps. This model comes in glossy grey color with black elements. The lamp base diameter is 8 inches and its height is adjustable. Otus desk lamp is constructed of metal and acrylic materials.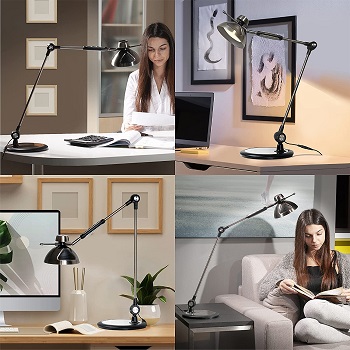 Complements Any Style
This large desk lamp complements modern, contemporary, traditional, urban and classic home or office interiors. Its round base is very stable and supports different lamp positions. But if you want, you can order a model that comes with a clamp design.
Long-lasting LED
Otus is a modern reading lamp with an integrated 10-watt LED, it isn't replaceable. This energy-efficient LED will last for over 25 years. It is equipped with an infrared sensor, just wave your hand above the lampshade and it will automatically turn on/off.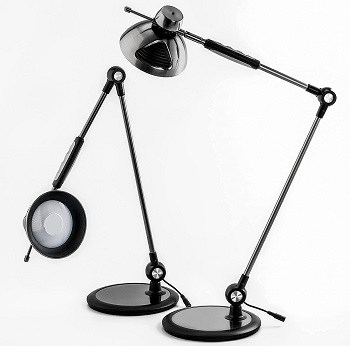 Three Modes
This lamp will light up your workspace easily, it reaches 1200 lux. Its dimming settings allow you to choose between three modes – study mode, reading mode and relax mode. The metal joints allow you to adjust the lamp in any position you need.
Highlighted Points:
made of durable metal and acrylic
brushed steel finish with black elements
built-in infrared sensor
integrated 10-watt LED
three lighting modes
highly-flexible desk lamp
BEST CLAMP LARGE DESK LAMP
Mxmoo LED Desk Lamp
Black Lamp
Mxmoo desk lamp is available in black and white colors. It features a space-saving clamp design that you can clip on your desktop. This strong metal clamp fits for up to 2" thick desks. It doesn't require much space on your workbench or office desk.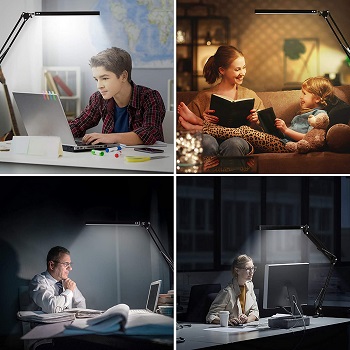 Three Adjustable Points
Its lightweight construction is made of quality aluminum alloy material. This big desk lamp is portable and sturdy. Mxmoo features a flexible and swiveled shape with three adjustable points. That means you can quickly adjust directional as well as focused illumination.
80 LEDs Integrated
This swing arm clamp lamp has an affordable price and comes with a 12-month warranty provided by the manufacturer. There are integrated 80 LEDs that are rated for up to 50,000 hours. They consume less energy and provide bright illumination.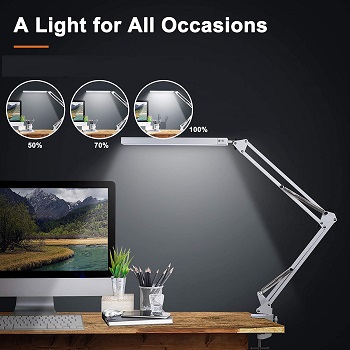 30 Lighting Modes
Choose between three color modes and ten levels of brightness. Therefore, Mxmoo offers 30 lighting modes for your different requirements. Its flicker-free light is suitable for reading, working, crafting, sewing, homework and other precise tasks.
Highlighted Points:
available in black and white color
flexible lamp design
integrated 80 LEDs
30 lighting modes available
made of aluminum alloy
affordable price
Things To Know About Large Desk Lamp
Before you buy any of those desk lamps that come in large sizes, you should take some factors into account. Learn more about the LED light bulbs, lamp design, lamps with lens and other useful info.
Large Size – A proper desk lamp will help you to have adequate illuminated space and make your work easier. You need to consider a lamp size that will help you satisfy your needs. A lamp should be proportionate to your desk and workspace. Simple rule – large desk = large and tall lamp.
Lighting Modes – The adjustable task lights come with a variety of lighting modes. You can find lamps with over 30 lighting modes. That means you can choose color temperature (warm, cool, neutral) and level of brightness and adjust them to your current task.
Flexibility – If you choose a desk lamp with a flexible gooseneck, adjustable arm or swing arm, you can point the light exactly where you need it the most. That's a very useful feature especially for close and detailed work such as reading, crafting, drawing, etc.
LED Desk Lamps – The lamps that use LED light bulbs consume 80% less power than traditional desk lamps with incandescent, halogen or CFL lightbulbs. Also, this lightbulb produces low heat, there aren't UV emissions and LEDs last much longer than other bulbs.
Magnifying Lens – A magnifying large desk lamp is an essential tool for anyone who works with precision assembly, design or inspection. Also, it is a great product for people with vision issues. Buy a lamp with a real glass lens, it provides a clear view without optical distortion.