On the search for a modern halogen desk lamp for your office, nightstand or workbench?
Then this article is made for you!
Here you can find top-rated desk lamps that come in a variety of styles, functions and designs. For your convenience, they are divided into six categories, so it will be easier for you to find the model that suits your home office or office the best.
Our Top Picks
Best 6 Halogen Desk Lamps
BEST OF BEST HALOGEN DESK LAMP
Ledu High-Output Desk Lamp
Matte Black Lamp
Ledu is a small, compact yet powerful desk lamp available in matte black color only. The overall lamp height is 20.5 inches and the lampshade diameter is 6.5 inches. The neck length is 13.3 incehs. Ledu desk lamp fits on any table, workbench, end table, nightstand, etc.
Stable Lamp
Its power cord is 62.5 inches long, you can easily place this halogen desk lamp wherever you want. The overall weight is 4.4 pounds, making the Ledu a stable lamp. It features a flexible design, so you can move the lampshade up and down, side to side.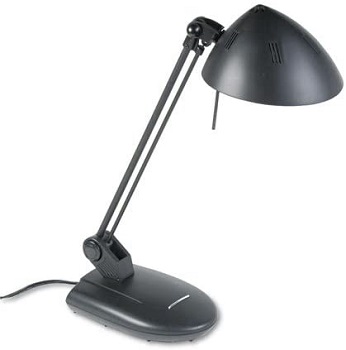 Flexible Design
Ledu features an adjustable neck, you can move it up and down, which is perfect for close work such as drawing, drafting, crafting, sewing and others. It accepts a 100W halogen bulb and it is included in the package, you don't have to buy it separately.
Light Levels
It is constructed of metal and plastic. Ledu black metal desk lamp features a three-level touch switch for the right amount of light. Choose between low, medium and high light according to your current task. For working or reading, set the high light.
Highlighted Points:
constructed of metal and plastic
included 100W halogen bulb
adjustable lamp neck and shade
three levels of light intensity
long power cord
small lamp base fits anywhere
BEST ADJUSTABLE HALOGEN DESK LAMP
V-Light Adjustable Desk Lamp
Brushed Nickel Finish
V-Light desk lamp comes in two colors – brushed nickel and black chrome. Both colors are suitable for casual home office decor or a more professional office environemnt. The lamp dimensions are 6 x 6 x 15 inches. V-Light has a high price.

Adjustable Height
This halogen desk light is manufactured from durable and sturdy metal making it solid and long-lasting. There is a classic design with a small lampshade. Its height is adjustable because of flexible arms, you can extend it from 12 to 15 inches.
Task Illumination
This metal desk lamp is a fully adjustable and works well with virtually any home or office decor, from contemporary, traditional, vintage and industrial. The 3-point adjustable arm and shade allow you to easily direct the light where you need it.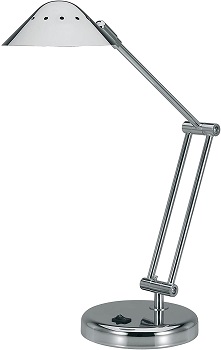 50W Halogen Bulb
This lamp is ETL listed, meaning, it is safe and quality. The 50W halogen bulb is included in the package. There are two settings, bright white light for reading or close work and warm light ideal for relaxation. Includes a manufacturer 90-day limited warranty.
Highlighted Points:
made of durable and solid metal
two colors available
3-point adjustable arm and shade
ETL-listed lamp
included 50W halogen bulb
covered with a 90-day warranty
BEST READING HALOGEN DESK LAMP
Globe Electric Metal Lamp
Clamp Lamp
Globe Electric made this black desk lamp with a clamp design. Mount this strong metal clamp on the edge of the desk. It supports up to a 2-inch tabletop thickness. You can mount it easily and move on some other desk when needed. The price is affordable.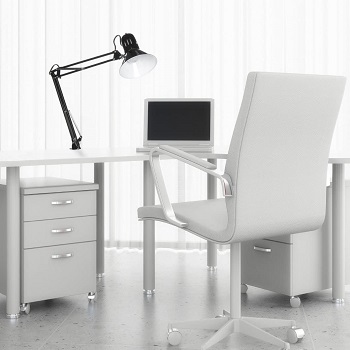 Long Power Cord
This attractive lamp combines modern and vintage elements, it's ideal for any place – office, children's room, dorm, home office, etc. Globe Electric halogen desk lamp comes with an extra-long power cord, it is 6-foot long. You can easily reach any space.
Swing Arm
It requires an E26 bulb with a maximum wattage of 60W. But the halogen bulb isn't included in the package, you need to buy it separately. Its spring-loaded swing arm is easily adjustable, so direct the light wherever you need it most.
Task Lighting
This adjustable reading lamp has a convenient on/off switch located on the lamp head for quick and easy use. Globe Electric desk lamp is 31.5 inches tall, it's ideal for medium-sized and large desks. Use it for precise tasks such as reading, working, studying.
Highlighted Points:
tall desk lamp with clamp
glossy black finish
clamps a surface up to 2" thick
adjustable spring-loaded arm
rotary on/off switch
comes with extra long power cord
BEST TASK HALOGEN DESK LAMP
Lepower Architect Desk Lamp
Reliable Lamp
Lepower is a popular lamp brand in the market. They produce quality and durable lamps with reliable performance. This model features a black lamp body with bronze accents. It looks attractive and fits modern, urban and contemporary office interiors.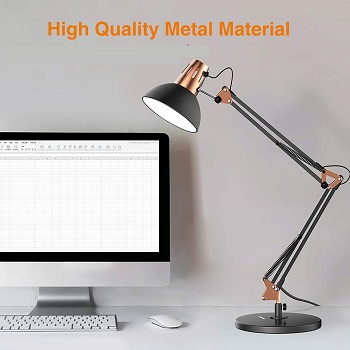 Simple Assembly
This halogen task lamp is also available in black, brass, silver and white colors. The package includes a desk lamp, 1.5m AC power cord, clamp and user manual. Lepower is a modern task lamp that requires assembly, just follow instructions.
Tall Desk Lamp
Lepower is a tall lamp, it measures 27 inches in height making it suitable for large workbenches and office desks. Its construction is made of quality and sturdy metal. It features a standard E26 size screw base, so it's compatible with LED, energy-saving and halogen (20W-40W) bulbs.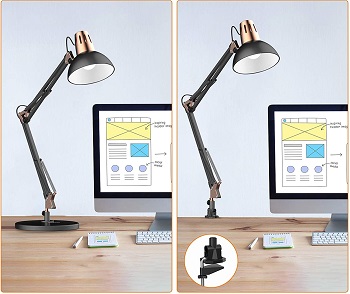 Heat Dissipation Design
It features a heat dissipation design, but if you use a halogen bulb, don't touch the lampshade with your fingers. Lepower has flexible arms and adjustable shade, it's easy for you to find a perfect lighting angle. It comes with a stable stand and clamp.
Highlighted Points:
tall lamp ideal for large desks
available in a variety of colors
comes with clamp and stable stand
features standard E26 base bulb
compatible with halogen 20W-40W bulbs
requires simple assembly
BEST VINTAGE HALOGEN DESK LAMP
Mainstays Brushed Desk Lamp
Brushed Steel Finish
Mainstays desk lamp is available in a single version – with a brushed steel finish. This is a neutral color that suits any home or office environment. The lamp dimensions are 5 x 5 x 21 inches. It is suitable for small and medium-sized desks. Its price is high.
Alloy Steel
It is easy to set up and use this lamp. Made from high-quality alloy steel, this halogen desk lamp is sturdy and lasts for decades. Its brushed steel finish fits perfectly in both modern and vintage-designed interiors. Mainstays feature flexible gooseneck for the best use.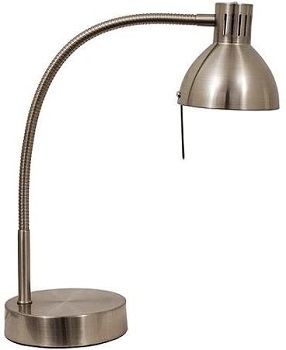 Flexible Gooseneck
You can adjust the lamp gooseneck and point the light where needed. Rotate the lampshade and illuminate your focus area. This vintage reading lamp features an inline on/off switch for convenient use. Use it for reading, homework, crafting, etc.
Included Bulb
Mainstays desk lamp requires a halogen lightbulb of 35 watts and it is included in the package. It provides flicker-free and glare-free light and doesn't cause eye strain or eye fatigue. It is also suitable for children's room, dorm or study room.
Highlighted Points:
made of durable alloy steel
brushed steel finish
adjustable gooseneck
inline on/off switch
suitable for reading, studying
ideal for small desks
BEST MODERN HALOGEN DESK LAMP
Lite Source Black Desk Lamp
Tall Lamp
Lite Source produces this Halotech desk lamp suitable for any table, nightstand, workbench, coffee table and office desk. This model is available in three colors – black, silver and white. The overall lamp height is 29 inches, it is ideal for medium-size desks.
Solid Construction
This halogen table lamp features a solid construction made from high-quality metal. That sturdy material ensures that the lamp will last for many years. There is a space-saving design with a small round lamp base, sleek stem and small shade.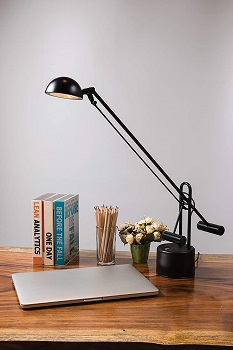 Arm Adjustment
Halotech is the black finished table lamp suitable for any office or home decor. Its design with a heavyweight counter base allows for precise arm adjustment so you can point the light exactly where you need it the most. It is stable and won't tip over.
UL-listed Lamp
This adjustable arm desk lamp is a tested lamp and it meets UL standards. Halotech table lamp requires a halogen lightbulb of maximum wattage of 50W. It emits soft and warm illumination with a color temperature of 3000K. Great for reading.
Highlighted Points:
suitable for a workbench, office desk and nightstand
solid metal construction
compatible with 50W halogen light bulb
compact and space-saving design
emits warm and soft light
adjustable lamp arm
Things To Know About Halogen Desk Lamp
These lamps that are suitable for halogen bulbs are divided into categories, but in this section, we would like to explain some basic things about this lamp type. Learn more about halogen lightbulb, wattage, expected bulb life and more.
Halogen Light Bulbs – These bulbs use the same technology as standard incandescent tungsten bulbs. Its name comes from the halogen gas that fills the glass globes. Halogen bulbs are small, last long and don't get as hot to the touch because of an extra layer of gas and glass between your fingers and heat source.
Lightbulb Wattage – The watts are the amount of energy a lightbulb uses. The lower the light bulb wattage the lower the electric bills. The halogen bright desk lamp provides excellent color rendering making them ideal for use in settings where color accuracy is important.
Brightness Level – In the past, brightness was measured in watts, which is actually a measure of power. Instead, light output is now measured in lumens. The higher the lumens the brighter the light. For example, a halogen bulb of 28 watts produces 400+ lumens which are suitable for casual reading.
Bulb Life – While the CFL and LED lightbulbs come with a more precise warranty, the halogen bulb's life hours can't be guaranteed as many other factors can cause the bulb to blow. But usually, their lifespan lasts for around 2000 hours or two years.
Lamp's Flexible Design – If you aren't interested in ambient lamps, we suggest considering halogen desk lamps with flexible design, adjustable arm or flexible gooseneck. These lamps are perfect for precise and close work, such as reading, crafting, working, sewing and other hobbies.
Final Verdict
We recommend the Ledu halogen desk lamp as the best model. It is made of durable metal and plastic and comes with a 100W halogen bulb and three light levels for different occasions. If you want to have a dim lamp check the review on dimmable desk lamps and their advantages. The incandescent desk lamps are similar to halogen lamps, so you can check them too.