Are you having trouble reading, working or crafting because of inadequate lighting?
Then the small task lamps are the perfect solution for your needs. These kinds of lamps will allow you to do detailed and precise work with minimum eye strain or eye fatigue. In this article, you'll learn about useful features that are distinctive to your task needs.
Our Top Picks
Best 6 Small Task Lamps
BEST OF BEST SMALL TASK LAMP
Niclum Architect Lamp
Modern Lamp
Niclum is a quality and modern designed desk lamp suitable for working, reading, crafting, drawing, drafting and other precise tasks. Its construction is made of quality aluminum alloy, so it's durable and sturdy. The box includes Allen key, light pole, light tube, power adapter, clip base and user guide.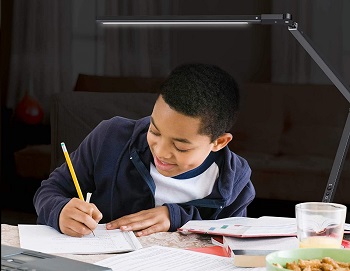 Easy To Install
When the lamp arrives at your address, you need to unpack and assemble it. There are few tips – clamp the clip base to the edge of the desk and tighten it. After that, insert the lower end of the light pole into the base and lamp tube. For more detailed info, check included instruction.
Gentle LED Light
This small task lamp comes equipped with energy-efficient LED light that has a long lifespan expectancy. It is modern task lamp that protects your eyes from strain, fatigue and other harmful effects. The non-flickering and non-glare light is safe for adults and children.
Remote Control
Niclum comes with remote control, so you can change and adjust the lamp settings without getting up off the sofa or bed. The maximum remote control range is 5 meters. Change color temperature and brightness according to your needs. You can rotate the lamp base, also each part can be adjusted up and down.
Highlighted Points:
suitable for various precise tasks
easy to install it
made of aluminum alloy
equipped with LED light
safe for your eyes, non-flickering light
comes with remote control
BEST CLAMP SMALL TASK LAMP
Eyocean LED Desk Lamp
UL-listed Power Adapter
Eyocean is a high-quality lamp clamp covered with a 1-year warranty. The box includes a power adapter, lamp with clamp and user manual. This power adapter is UL-approved, it is safe for use. Eyocean is made of aviation-grade aluminum alloy and finished with matte black color.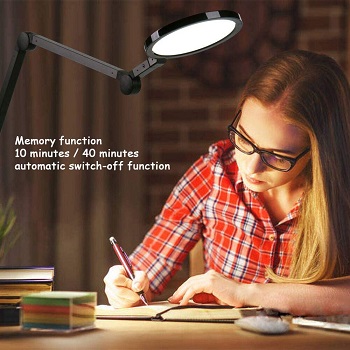 Advanced Technology
Its cord length is 71 inches. Eyocean small task lamp uses advanced edge-lit technology, that includes two protection layers and three processing layers that emit the soft light. There is non-glare, non-flickering light that is gentle for your eyes. You can work or read for hours without fatigue.
Long Lifespan
This adjustable LED desk lamp has an extra-wide metal clamp that provides stability. It includes the 112 LED beads that illuminate your entire workbench. These LEDs have a lifespan of up to 50,000 hours. Adjust the color temperature from 3000K to 5500K. Set at least 4000K for demanding tasks.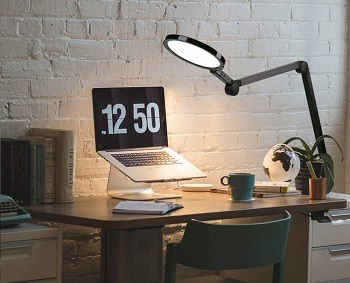 Delay-off Function
Adjust the brightness level from 20% to 100%. A built-in delay-off function allows you to choose between 10 or 40 minutes. After that time, it will turn off automatically. There is a memory function, too. It will remember your last setting and turn it on next time.
Highlighted Points:
covered with a 1-year warranty
advanced edge-lit technology
non-glare, non-flickering light
extra-wide metal clamp
112 LED beads
delay-off and memory function
BEST READING SMALL TASK LAMP
Otus Architect Desk Lamp
Vintage Inspired Lamp
Otus is a quality desk lamp with a vintage-inspired lampshade. It is made of metal and acrylic and finished with brushed steel. Its classic style is combined with contemporary elements. Otus is equipped with a heavy-duty base that keeps the lamp stable and prevents falling.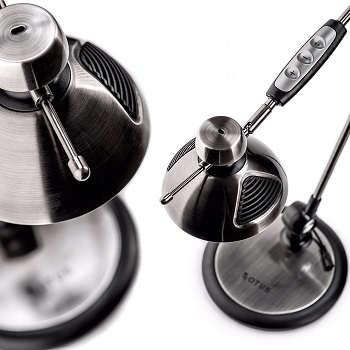 No Eye Fatigue
This small task lamp is perfect for large desks, small desks, bedside tables, end tables, etc. If you want, you can replace this lamp for the model with a clamp. Otus is equipped with a high-quality LED light that reduces eye strain and eye fatigue. Light reaches 1200 lux.
Precise Setup
With a precise setup, you can adjust the precise color temperature and brightness you'll need. There are there color temperature settings and multiple brightness levels. Choose between study mode, reading mode and relax mode. Customize exactly how much light you'd like to have.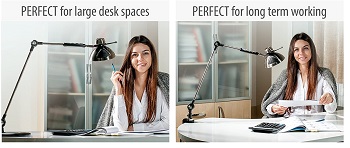 Infrared Sensor
The adjustable reading lamp uses an infrared sensor, you can turn on/off the light by waving your hand above the lamp head. There is an integrated memory function that remembers the last-used setting and turns it on the next time you use the lamp.
Highlighted Points:
classic and contemporary style
made of metal and acrylic
equipped with high-quality LEDs
reduce eye strain and eye fatigue
three color modes and multiple brightness levels
BEST LED SMALL TASK LAMP
Phive Adjustable Desk Lamp
Metal Clamp
Phive LED desk lamp is a modern clamp lamp that fits any home or office decor. The package includes a desk lamp, metal clamp, arm adjust tools and user manual. Also, the power adapter is included in the package. Its metal clamp supports the desk up to 2.36 inches.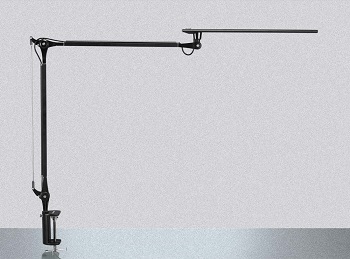 Metal Joints
Durable metal joints ensure long-lasting use, also, there is aluminum alloy material for the sleek surface. This contemporary designed lamp is great for a workbench, computer work, craft or hobbies. It uses LED light that protects your eyes from strain and fatigue.
Soft Light
The small task lamp emits soft, non-flickering light. These bulbs have a lifespan of 50,000 hours. Meaning, you don't have to replace these bulbs for the next 25 years. Phive LED reading lamp uses 20% less energy than traditional incandescent bulbs.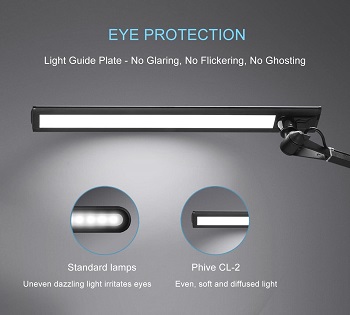 Rotatable Body
You can adjust the lamp head, lamp arm and the lamp body is rotatable. You can adjust and point the light wherever you need it. There is a touch panel on the light head, a quick tap on the touch button will turn on/off the lamp. A long press will change the brightness level.
Highlighted Points:
modern lamp clamp with metal joints
made of aluminum alloy
quality LED light is gentle for the eyes
soft, non-flickering light
adjustable lamp head and arm
the touch panel on the lamp head
BEST STUDY SMALL TASK LAMP
MXMOO LED Desk Lamp
Space-saving Lamp
Mxmoo is a compact lamp with a clamp available in white and black color. This space-saving lamp is covered with a 12-month warranty. It fits for up to 2" thickness. Mxmoo lightweight construction is made of quality aluminum alloy, so it's a sturdy and portable product.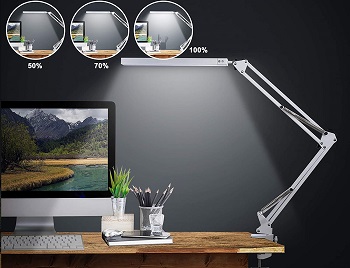 Flexible Swing Arm
There is a flexible swing long arm with three adjustable points. You can quickly position it wherever your task requires. This small task lamp uses longevity and quality LED bulbs, they don't cause eye strain or eye fatigue, you can work as long as you want.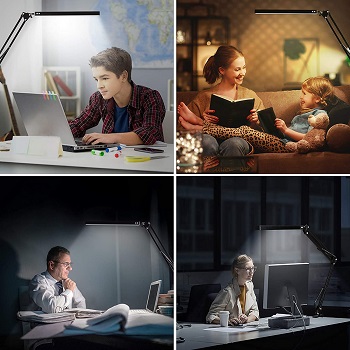 Cold White Light
This small modern desk lamp offers three color modes, cold white, warm white and warm light. Use the cold white mode for demanding tasks, it will improve your brain activity. Moreover, every mode of lighting comes with 10 brightness levels.
Highlighted Points:
available in white and black color
covered with a 12-month warranty
made of quality aluminum alloy material
lightweight and portable item
equipped with LED bulbs
three color modes
BEST MODERN SMALL TASK LAMP
Lepower Reading Desk Lamp
4-ways To Charge
Lepower is a very popular desk lamp available in black, silver and white color. It comes with CE certificated AC adapter and USB cable. There are four ways for charging  – with adapter, power bank, laptop or PC. A strong metal clip comes with a pad, it won't damage your desk.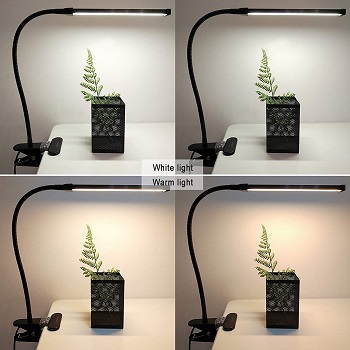 Comfortable Light
It is easy to attach this small task lamp to your desk, shelf, workbench, or any other flat surface. Lepower uses LEDs, they provide comfortable and powerful light without flickering and glaring. You can work, write, read, draw or craft for hours without eye fatigue.
Two Color Modes
This small modern desk lamp features two-color modes and two brightness levels. There is warm light and white light. Use the warm light for relaxation and the white light for some tasks, work, etc. Also, set the highest brightness when you work.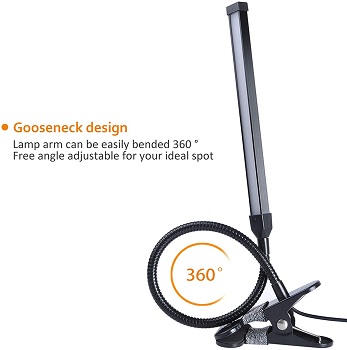 Adjustable Neck
There is a flexible gooseneck, the lamp's arm can be adjusted for up to 360-degree, find your perfect angle with ease. Lepower desk lamp is made of quality aluminum alloy, it is durable and lasts for decades. Use it in your office, living room, dorm room.
Highlighted Points:
constructed of aluminum alloy
soft, non-flickering light
two color modes and two brightness levels
adjustable lamp arm
for ways for charging
Things To Know About Small Task Lamps
The small task lamps are perfect for students, hobbyists and workers, they don't take up much space and provide great illumination. Before you buy any lamp, check out these guidelines, you'll be able to find a perfect lamp for your needs.
Lamp Design – The desk lamps are designed to give you proper illumination and ensure focused light for your various needs. The lamp should be appropriate for your desk, the most popular space-saving lamps are those with clamp design, they are easy to install and use.
Adjustable Arm Lamp – These kinds of lamps are suitable for larger spaces, but you can use them on small desks, too. The adjustable arm desk lamp allows you to move the light source closer or farther away depending on your current needs.
Type Of Lighting – Many small task lamps are compatible with a variety of bulbs. You can choose between LED, halogen, fluorescent and incandescent bulbs. The right kind of light bulb will illuminate your desk without harming your eyes. LED lights are durable, energy-efficient and eye-caring.
Color Temperature – This is a measurement of the visual warmth or coolness of white light, measured in units of kelvin (K). The higher K, the colder the illumination. For task lighting, you should use greater Kelvin, for example, 4000K and above.
Lamp Position – If you buy a tall lamp it will cover a larger area or your entire desktop. It is a good idea to buy a lamp with an adjustable arm or gooseneck, you can point the light where needed. The perfect lamp should offer enough light without straining your eyes.