Do you want to upgrade your space with an attractive blue desk lamp?
Then we suggest you check our list!
There are a lot of models with buying on the market and you can see the selection of the best lamps in this article. Find the right model reading the reviews and learn more from our guide in the end.
Our Top Picks
Best 6 Blue Desk Lamps
BEST OF BEST BLUE DESK LAMP
OttLite Revive LED Desk Lamp
Turquoise Lamp
OttLite Revive is an attractive desk lamp available in white and turquoise colors. It is made of quality and durable metal. This elegant and adjustable table lamp is perfect for your living room, bedroom, office, guest room, children's room or craft room.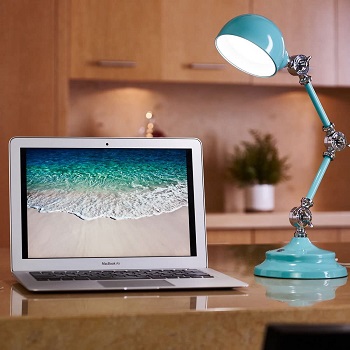 ClearSun Technology
This blue desk lamp uses an energy-efficient LED bulb, which life expectancy is rated for up to 40, 000 hours. You don't have to replace the bulb, it will last for many years. OttLite uses ClearSun LED technology that provides more natural lighting.
High Color Rendering Index
Natural daylight improves work efficiency and productivity. This light reduces eye strain by up to 51%. When it comes to color accuracy, OttLite features a rating of 95+, allowing you to clearly see the colors. It is perfect lighting for reading, working, crafting, drawing.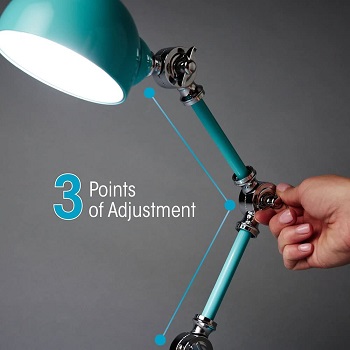 Touch-sensitive Switch
OttLite adjustable arm desk lamp features a touch-sensitive switch, so you can easily change the brightness settings. One switch controls all light functions. It features three points of adjustment, so you can adjust the light position with ease. Charge your mobile phone via a USB port on the lamp base.
Highlighted Points:
attractive desk lamp available in white and blue
uses ClearSun LED technology
made of quality metal
reduce eye strain by up to 51%
touch-sensitive switch
three points of adjustment
BEST NAVY BLUE DESK LAMP
Light Society Retro Desk Lamp
Retro Desk Lamp
Light Society lamp is a beautiful retro desk lamp with antique brass details. Suits modern, vintage, mid-century, traditional and other decor styles. You can choose between a black and navy blue desk lamp. Its overall height is 14.8 inches.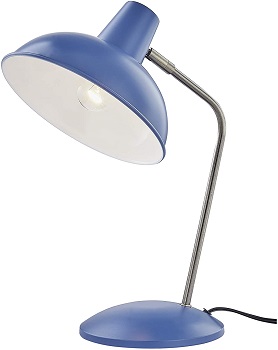 ETL-listed Lamp
Its lampshade measures 7.7 x 5.6 inches and the base diameter is 6.3 inches. The power cord is 65 inches long. Light Society desk lamp is ETL listed, which means it is designed to meet many safety and quality standards. It is backed by a 1-year warranty.
E26 Base Bulb
This vintage reading lamp requires a single medium base E26 light bulb of max 60W. The bulb isn't included in the package. Also, the Light Society lamp is compatible with the LED bulb type, it is more energy-efficient and doesn't produce heat.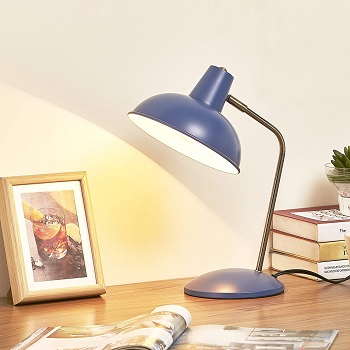 Adjustable Lampshade
It is crafted of iron and features an angled arm finished in antique brass. You can swivel the lampshade vertically and horizontally to aim plenty of lighting exactly where you need at the moment. Its power switch is placed on the power cord.
Highlighted Points:
beautiful retro blue lamp
available in black or navy blue colors
meets safety and quality standards
requires standard E26 base bulb
compatible with LED
swivel lampshade
BEST FOR READING BLUE DESK LAMP
MaxLite LED Desk Lamp
5-year Warranty
MaxLite lamp is a small and compact table lamp that fits anywhere. Its height is 13 inches, the base measures 4.7 x 1 inches and the lampshade has 3.9 x 3 inches. MaxLite lamp is covered with a 5-year warranty, so you can rely on its quality.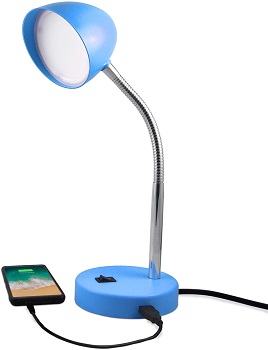 Low Power Consumption
This blue desk lamp has an LED light bulb, so it uses 3.5 watts of power which means you can use this lamp for up to 25,000 hours. You don't have to replace the bulb for decades. Perfect for desk, nightstand, table, end table or coffee table.
Eye-friendly Light
This small reading lamp emits a gentle and warm white light that is safe for your eyes. It doesn't cause eye strain or eye fatigue, you can work or read for hours without harmful effects. You can rotate the metal gooseneck in multiple directions.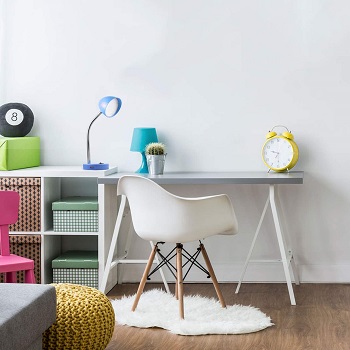 USB Charging Port
Its color temperature is 3000K. MaxLite features a convenient USB port on the lamp base. You can charge your mobile phone and other electronic devices and keep them in your arm's reach. The on/off switch is located on the lamp base.
Highlighted Points:
a small table lamp that fits anywhere
backed by a 5-year warranty
uses quality LED bulbs
soft warm white light
convenient USB charging port
BEST MODERN BLUE DESK LAMP
TW Lighting Desk Lamp
UL-listed Lamp
TW Lighting desk lamp is a modern blue lamp that fits anywhere. Except for the blue color, you can find it in black and white color. The lamp dimensions are 14" x 4.2 x 16 inches. Its power cord is 76 inches long. TW desk lamp is UL-listed and safe for use.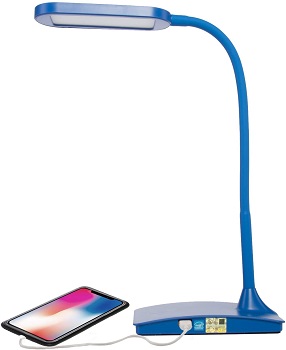 Energy Star Certificate
Place this blue desk lamp in your living room, guest room, dorm, children's room. This modern LED desk lamp features an Energy Star certificate, meaning it has low energy consumption. Its Color rendering index is 80+, so you can see accurate colors.
Color Temperature – 4000K
TW Lighting uses energy-efficient LEDs, they don't produce heat and last for many years. The delivered color temperature is 4000K, perfect for reading, working, crafting and other precise tasks. Direct the light exactly where needed, there is a flexible gooseneck.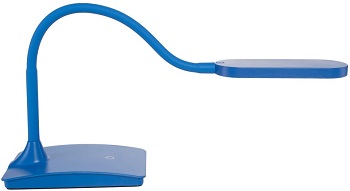 USB Port
TW Lighting features a convenient USB port, so you can charge your mobile phone, tablet, e-reader and other electronic devices. Suitable for Android and iPhone mobile phones. Choose between three brightness levels – low, medium and high.
Highlighted Points:
modern blue desk lamp
Energy Star certificate
energy-efficient LEDs
built-in USB charging port
the color temperature of 4000K
BEST WIRELESS BLUE DESK LAMP
A/B LED Desk Lamp
Light Blue Lamp
A/B lamp is available in light blue color. The manufacture provides a 12-month warranty and a 90-day full money return or replacement. So, if there is any damage or defect, contact customer service. The box includes a desk lamp, user guide and USB cable.
Premium LEDs
This blue desk lamp features 10 pcs premium LEDs. You don't need to replace them, because these LEDs are rated for up to 50,000 hours. A/B desk lamp emits soft that eliminates glare, it is flicker-free light that doesn't cause eye strain or eye fatigue.
Flexible Gooseneck
It doesn't take up much desk space, so you can place this LED lamp with a wireless charger on your nightstand, table, desk, workbench, end table, etc. The lamp gooseneck is flexible so you can adjust it in multiple positions and direct light where needed.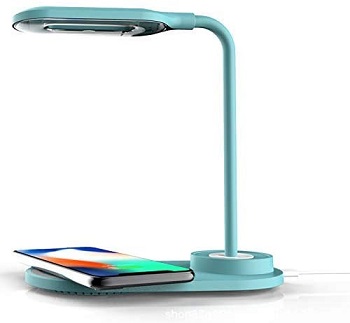 Wireless Charger
A/B lamp has a wireless charger, it is compatible with most Qi-enabled devices such as iPhone 8, 8 Plus, iPhone X, XS, iPhone XR, Samsung 8/8 plus/9/9 plus and others. Place the mobile phone on the base and it will automatically start charging.
Highlighted Points:
space-saving desk lamp
covered with a 12-month warranty
10 pcs LEDs
non-glare, flicker-free light
flexible gooseneck
convenient wireless charger
BEST BANKERS BLUE DESK LAMP
Fanhhui Classic Bankers Lamp
Blue Lampshade
Fanhhui is a classic retro bankers lamp available with blue or green lampshades. This is a popular lamp type, ideal as decor in your living room. Its overall height is 14.9 inches, the lampshade width is 10 inches and the lamp base diameter is 7 inches.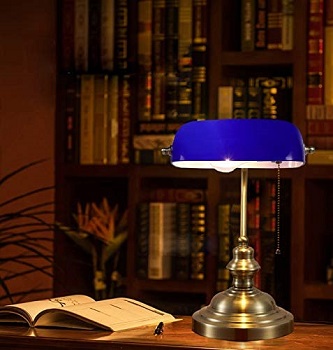 LED Bulb
This blue bankers lamp is compatible with multiple bulbs, that include LED, energy-saving, incandescent bulbs. It requires an E26 base bulb with a max of 60W. This antique banker's lamp doesn't require assembly. Just install the bulb, plug in and use it.
2-year Warranty
Fanhhui blue desk lamp is covered with a 2-year warranty. The lamp arrives with safe and high-quality packaging. Its lamp base and pole are made of high-quality material. This sturdy and weighted base is stable and won't tip over so easily.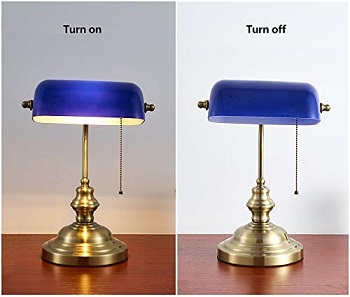 Warm Light
The lampshade is made of quality glass. You can rotate the lampshade to adjust various lighting angles. Match this lamp with antique, retro, traditional, classic and elegant room decor. Fanhhui bankers lamp creates a warm and cozy atmosphere.
Highlighted Points:
covered with a 2-year warranty
compatible with LED, incandescent and CFL bulbs
made of quality metal and glass
adjustable lampshade
available with blue or green lampshade
Things To Know About Blue Desk Lamps
There aren't so many blue desk lamps in the market, so you should carefully check their features. In this guide, you'll learn more about some lamp types, adjustments, light bulbs and more useful info.
Blue Lamp – These lamps in the list above come in a variety of blue shades. Blue color evokes feelings of calmness and spirituality. Dark blue, such as navy blue, is great for corporate designs because it helps give a professional touch to your room.
Color Temperature – Traditional desk lamps have fixed color temperature, so you can't adjust it. But modern lamps allow you to adjust the color temperature according to your lighting needs. Set cool white light while reading or working.
Flexible Design – For task lighting, choose the blue desk lamp with an adjustable arm or flexible gooseneck. This kind of lamp allows you to change and direct the light exactly where you need it at the moment. Some lamps allow you to adjust their height, too.
Light Bulb – Many desk lamps are compatible with halogen, incandescent, LED and CFL light bulbs. All types have pros and cons. If you want to have ambient desk lighting, choose an incandescent bulb. But LED is more energy-efficient, durable and doesn't t produce heat.
Banker's Lamp  – Emeralite or the banker's lamp is an electric desk lamp with specific brass or bronze stand, green, amber or blue lampshade and pull chain switch. It was invented in 1909. This lamp is typical for English banks and often used in libraries throughout the USA.