Do you want to equip your room with an eye-catching brass lamp that will help you to do all your tasks?
Then keep reading this article! Here you can find six top-rated brass task lamps with amazing features. Read these reviews, then check out our buying guide. The guide is full of useful info on how to pick the best task lamp according to your needs.
Our Top Picks
Best 6 Brass Task Lamps
BEST OF BEST BRASS TASK LAMP
Co-Z Gold Desk Lamp
Modern Design
There are two Co-Z lamps in this list, a desk lamp and a floor lamp. This desk lamp features a modern design inspired by vintage elements. It is backed by a 1-year warranty and there are many positive reviews from buyers. Its price is high.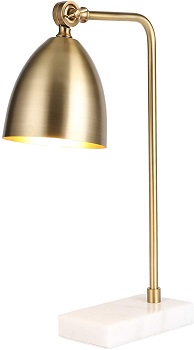 Tested Lamp
Co-Z brass task lamp is heavily tested and approved to meet many safety standards in the USA. Also, it features UL certification for all electrical components. It is compatible with incandescent, LED and Compact Fluorescent Light (CFL). One 10W LED bulb is included.
Rocker Switch
The brass reading lamp features sturdy steel construction with attractive brass finishing. Its lamp base is made of durable and sturdy marble, which ensures an attractive and modern look. It features a rocker switch on the power cord.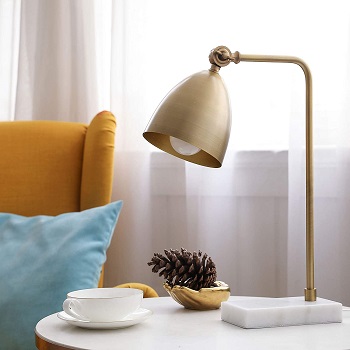 Transparent Cord
It features an adjustable neck allowing you to rotate the lamp head and direct the light exactly where needed. Co-Z lamp is perfectly suitable as a reading light for your nightstand. The transparent cord is 6 feet long. Co-Z is 18 inches tall and the base measures 4 x 7 inches.
Highlighted Points:
made of steel with an attractive brass finish
durable and sturdy marble base
perfect for reading
6-ft long transparent cord
rocker switch
adjustable lamps shade
BEST ANTIQUE BRASS TASK LAMP
Melunar Brass Desk Lamp
Eye-catching Lamp
This is a really beautiful, and eye-catching desk lamp that suits both modern and traditionally designed living rooms, bedrooms, guest rooms. Melunar has both decorative and practical purposes. It is 19 inches tall, the lamp base measures 5.5 inches and the shade has 5.5 x 6.5 inches.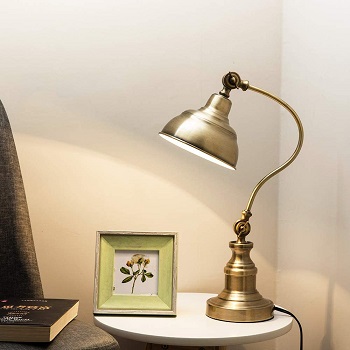 UL-listed Lamp
Melunar brass task lamp has UL-listed, so you can rely on its safety. It is made of quality metal and covered with a gold finish. That material makes the lamp sturdy and durable, you can use it for many years. There is an on/off switch on the power cord.
Adjustable Design
Its power cord is 56 inches long. Melunar is suitable for type A 40W bulb, you need to buy and install it. This antique brass desk lamp has a flexible design, you can rotate the shade and adjust the lamp height. If you want to adjust the angle of the shade and pole height, unscrew the buttons.
Highlighted Points:
beautiful vintage desk lamp
the decorative and practical purpose
UL-listed lamp
sturdy and durable material
requires A 40W bulb
adjustable shade and lamp height
BEST FLOOR BRASS TASK LAMP
Co-Z Mid-century Floor Lamp
Tall Lamp
This is another lamp made by the Co-Z brand. They produce quality lamps for desks and great floor lamps. This floor lamp is 59 inches tall, the lamp base measures 1.2 x 9.9 inches and the lampshade width is 9 inches. Co-Z lamp is covered with a 1-year warranty.

Max 60W Bulb
The package includes a tool and instruction manual for quick assembly. It is suitable for E26 sockets type A with LED or incandescent bulbs. The manufacturer recommends a maximum bulb power of 60W. Also, it is important to note that the bulb isn't included in the package.
Stainless Steel Material
This adjustable floor lamp for reading is made of high-quality stainless steel material and finished in gold. There is a natural dark wood base that provides an elegant look. On the 84-inch long black cable is a footswitch for convenient turning on/off.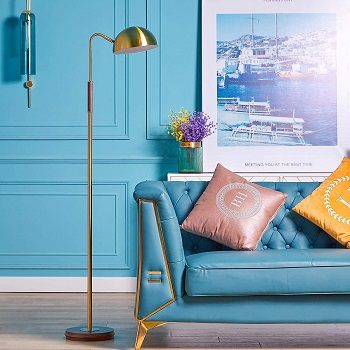 Adjustable Shade
Metal shade has an arched frame with an adjustable neck and height. Co-Z brass task lamp head adjusts 350-degree horizontally and 90-degree vertically. This brass task floor lamp will lighten up any bedroom, home office, living room or guest room.
Highlighted Points:
natural dark wood base with gold-finished lamp
assembly required
max bulb power – 60W
covered with a 1-year warranty
made of quality materials
BEST READING BRASS TASK LAMP
12v Monster All-brass Lamp
Eye-catching Design
This desk lamp named 12V Monster is inspired by a mid-century design. It features a modern and contemporary design, also, it is made of premium polished brass and sturdy metal. The steel weighted base provides stability and prevents tipping.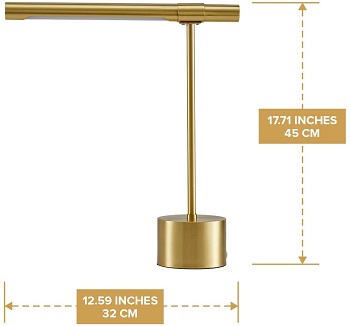 7W LED Bulb
It is a timeless and sophisticated brass task lamp that suits any home decor. 12v Monster lamp is 17 inches tall and the lamp head is 12.6 inches long. This vintage reading lamp is equipped with a 7W LED bulb, it provides white, neutral white and warm white light.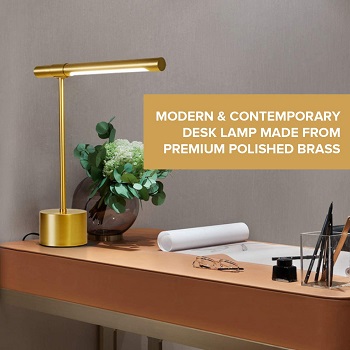 Perfect Reading Lamp
12v Monster lamp distributes wider light, so this is an ideal study lamp, reading lamp or even working lamp. Thanks to its sleek design, this lamp fits even the smallest desk space. It doesn't cause eye strain or eye fatigue, 12v Monster is safe for your eyes.
Highlighted Points:
inspired by mid-century design
made of sturdy metal and polished brass
sturdy and stable base
fits on any desk or table
7W LED bulb
gentle for your eyes
BEST MODERN BRASS TASK LAMP
Ottlite Archer Modern Lamp
Sturdy Base
Ottlite is a mid-century-inspired modern floor lamp. It features a sturdy and stable base that prevents tipping. There is a counterbalance style arm that looks attractive. Ottlite doesn't require much floor space. Place it behind your reading sofa, couch or beside your desk.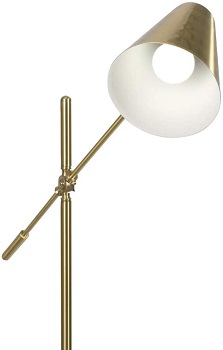 Energy Star Certificate
It uses an 8.5W LED bulb, Ottlite has an Energy Star certificate which means, it features low power consumption. This bulb is rated to last up to 25,000 hours. This brass task lamp is constructed of steel with a satin brass finish. The inside of the lampshade is painted in white for better light reflection.
Adjustable Lamp
The floor reading light is 55 inches high. It features a convenient step-on-foot switch, so it is easy to turn on/off the lamp. At the lamp pole, there is a turnkey for height adjustment. The swivel joint is placed on the shade to adjust the light direction.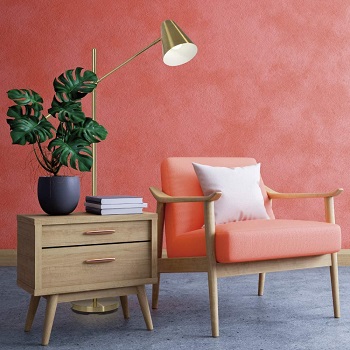 Accurate Colors
Ottlite reduces eye strain and eye fatigue. Furthermore, it provides superior color rendering, you can see accurate colors. Use this lamp for reading, crafting, homework, working and other tasks. It is sturdy, durable and features an attractive design.
Highlighted Points:
space-saving floor lamp
features Energy Star certificate
made of quality steel and finished with satin brass
adjustable lamp height
convenient foot switch
reduces eye strain
BEST SWING ARM BRASS TASK LAMP
Folksmate LED Desk Lamp
Lamp Size
Folksmate is a vintage-inspired LED desk lamp. This beautifully made lamp will uplift any home decor. Its lamp base diameter is 6.1 inches, the overall height is 17 inches and the lampshade is 6.3 inches wide. Its power cord is 61 inches long.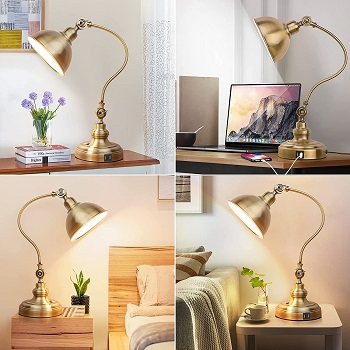 56 LEDs
This brass task lamp is versatile and suitable for different occasions such as working desk, reading room, living room, coffee table, end table, etc. Folksmate uses highly efficient 56 LEDs that consume 90% less power than traditional bulbs. Adjust the lamp position by moving its arm and head.
Eye-caring Light
The lifespan of these LEDs is up to 20,000 hours, meaning, they will last for 18 years. This adjustable arm desk lamp delivers soft and eye-friendly light that doesn't cause eye strain. It is designed with three color modes and few brightness settings.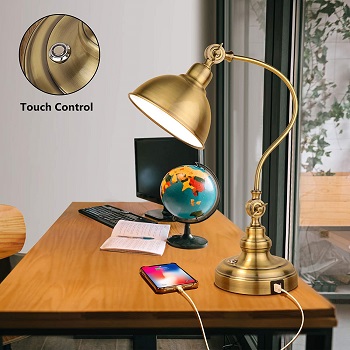 Touch Control
There is a touch control button on the lamp base, short press can change the lighting mode from soft warm to white daylight. Long press will customize desired brightness level. Moreover, this lamp comes with two USB charging ports for your mobile phone, tablet or e-reader.
Highlighted Points:
vintage designed brass lamp
uses energy-efficient LEDs
long-lasting LED light
no eye strain or fatigue
three color modes and brightness settings
built-in two USB charging ports
Things To Know About Brass Task Lamp
There are many brass task lamps on the market, they are very popular. But, before buying, you need to take some factors into the account. So, keep reading and fing out about the designs of the lamps, bulbs, adjustable mechanism and more.
Traditional Design – Many of the vintage reading lamp models in the list above are inspired by mid-century lamp designs. They are beautiful vintage and antique lamps that uplift any decor. These lamps have more decorative, ornate fine details, fancy curves and old-school materials, like bronze and brass.
Build Quality  -Of course, you can find a lot of cheap lamps on the market. Before you buy any lamp, you need to check which material it is made from. On the list above, you can find lamps made of stainless steel, real wood, metal and marble. These are quality and durable materials.
Floor Or Desk Lamp – Floor lamps are generally the brightest lamp type, they are able to illuminate the entire room and provide ambient lighting. Desk lamps are perfect for precise tasks, such as studying and working. Desk lamps with flexible design allow you to adjust the light where needed.
Adjustable Design – Whether you want to buy a floor or desk lamp, it is great if they have a flexible design. That means you can move the light source closer or farther away depending on your needs and space. It is a useful feature while reading or crafting.
LED Bulb – There are many brass task lamps compatible with a variety of bulbs, that includes incandescent, halogen, CFL and LED bulbs. All types have their advantages and disadvantages. If you want to avoid changing the bulb every few months and reduce your bills, buy a LED bulb.