Are you looking for a cordless, rechargeable desk lamp that can be placed wherever you need it most?
Then you should check these portable desk lamps that we pick for our list! We divided them into six categories, so you can easily find a suitable model for your needs. There are some tips and tricks that will help you with the final decision.
Our Top Picks
Best 6 Portable Desk Lamps
BEST OF BEST PORTABLE DESK LAMP
TaoTronic Portable LED Desk Lamp
Modern Appearance
One of the best LD lamps on the market comes from TaoTronic. It features a sleek and modern appearance that doesn't require much desk space. Its base is 7.8 inches long, the arm is 13.4 inches tall and the light head has 11.37 inches in length.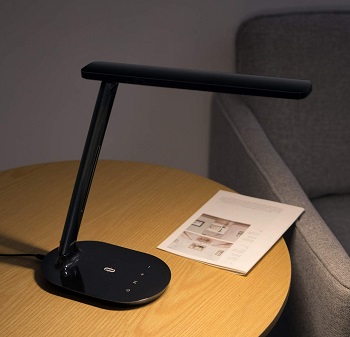 USB-C Cable
You can power this portable desk lamp via a wall socket or USB-C cable. Included components are a lamp, power adapter, USB-C cable and user guide. The power cord is 59 inches long. It requires 100v – 240v outlets. TaoTronic features Philips EnabLED Licensing Program.
Foldable Design
This black table lamp with a USB port features a lightweight convenient design, it is foldable, so you can put it in your case, backpack or purse and carry it with you. TaoTronic uses class A energy-saving LED bulb which lasts up to 50,000 hours under regular use.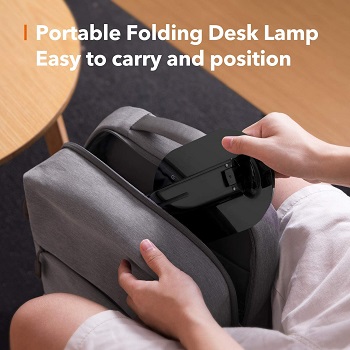 Three Color Modes
At the lamp base, there are touch buttons, so you can easily switch between color modes and brightness levels. There are three color modes – white, warm white and natural white. Also, choose between five brightness levels. Adjust the lamp settings according to your current demand.
Highlighted Points:
sleek, lightweight and adjustable desk lamp
use AC adapter or USB-C cable
class A energy-saving LED light
foldable design, easy to carry
3 color modes and 5 brightness levels
ergonomic touch panel
BEST FOR READING PORTABLE DESK LAMP
Bostitch Rechargeable Desk Lamp
Multiple Colors
Bostitch is a perfect office lamp available in black, grey, navy blue and white color. This portable reading lamp has a compact, folding design ideal for portability. You can put it in your purse, case, backpack, bag, etc. It is lightweight and easy to use.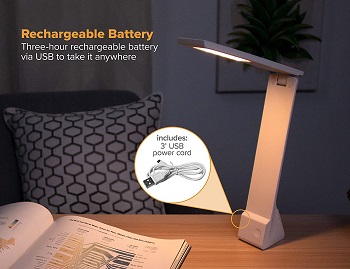 Lithium-ion Battery
Sleek and modern, this portable desk lamp fits any decor. It is covered with a 3-year warranty. A single lithium-ion battery is included in the package. Bostitch is USB rechargeable and comes with a power cord of 3-inch in length. When fully charged, its battery lasts for up to 3 hours.
Mood-boosting Light
The LED light provides flicker-free and glare-free lighting, it's a cost-efficient bulb and delivers natural daylight. It will boost your work performance and creativity. This cordless reading lamp features an adjustable head, adjust it up to 180-degree to optimize light conditions.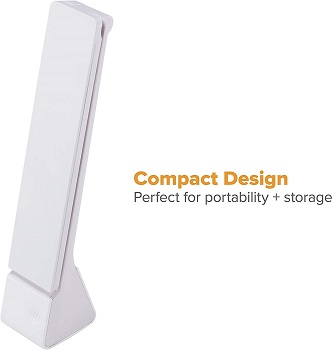 4000K For Reading
There are three dimming levels and three color modes you can choose from. Choose the different modes for relaxation, reading and tasks. Select the 4000K of color temperature for reading. This mode delivers enough light and reduces eye fatigue.
Highlighted Points:
compact design perfect for portability
LED light reduces eye strain and fatigue
rechargeable lithium-ion battery
fully charged lamp runs up to 3 hours
three dimming levels and three color modes
BEST LED PORTABLE DESK LAMP
Oxylops Eye-caring LED Lamp
Premium Aluminum Alloy
Oxylops is an elegant silver LED light made of super-premium aluminum alloy that protects and prolongs LED lifespan. This desk lamp comes with a 12-month warranty. If there is any defect or damage, call Oxylops customer service. The price is affordable.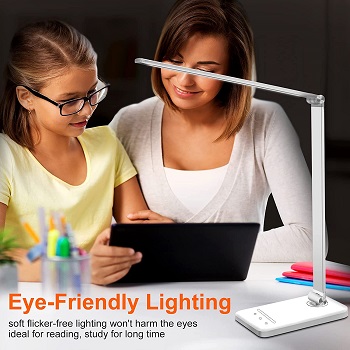 Multiple Power Supply Modes
It is designed to last for more than 50,000 hours. There are two ports – you can charge your smartphone while you reading or working. The attached power cord needs to be connected to the power supply. You can power the lamp via a power adapter, laptop and mobile power.
Rotating Axis Base
This portable desk lamp has a 225-degree adjustable arm and a 160-degree rotating axis base. Because of its foldable design, you can take it around with ease and save more space. The adjustable LED desk lamp uses high-efficiency LED beads, ideal for long-time use.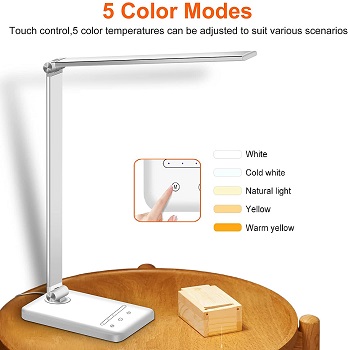 Memory Function
You can choose between five color modes and six brightness levels, you can customize desired light for reading, relaxation, crafting, etc. The memory function will remember your last used color mode and brightness level, so you don't have to adjust them every time.
Highlighted Points:
eye-friendly LED lighting
multi-angle adjustment
integrated USB charging port
5 color modes and 6 brightness levels
memory function
BEST FOR STUDYING PORTABLE DESK LAMP
BenQ Ergonomic LED Lamp
Wider Lighting Coverage
BenQ is a modern and ergonomic LED light available in blue, gold and silver colors. Its lighting range is larger than the traditional lighting range, it covers 35 inches. There are LED panels that provide a long lifespan of 50,000 hours if you use the lamp 8 hours per day for 17 years.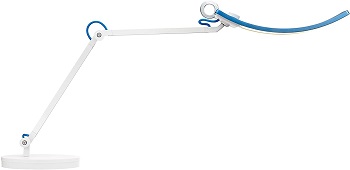 Highly-flexible Lamp
This is the world's first lamp for e-reading. Its construction is made of premium aluminum alloy which dissipates the heat generated by LEDs. This portable desk lamp meets EU Directive. It is a highly flexible lamp with a ball joint, meaning you can easily adjust the LED light to the angles you need.
Light Sensor
The adjustable arm light meets photobiological safety regulation which doesn't harm your eyes. An integrated ambient light sensor detects environmental illumination. There are many color temperatures you can choose from – 2,700K to 5,700K.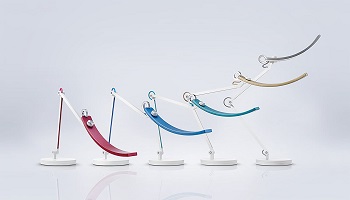 Rotary Knob
Just turn the rotary knob to fine-tune the color temperature and brightness level. Go with warmer tones for relaxation and choose the cooler color temperatures for demanding tasks. It is easy to extend the arm and direct the light where needed.
Highlighted Points:
modern and ergonomic LED light
available in three colors
made of premium aluminum alloy
provides a wider lighting range
choose a color temperature
integrated ambient light sensor
BEST BATTERY OPERATED PORTABLE DESK LAMP
Deeplite Flexible Desk Lamp
Built-in Battery
Deeplite features a small and convenient design, use it as a table lamp, desk lamp, bedside or study lamp. The box includes a lamp, user manual and USB cable. The power adapter isn't included in the package. It is equipped with a built-in battery.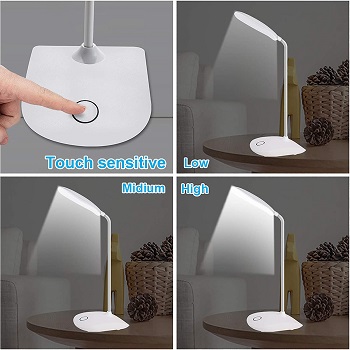 Cordless Lamp
Charge it with a USB cable, power bank, car charger, PC/laptop, etc. The lamp base measures 4.7" x 3.5", it is 10 inches tall and the lamp head diameter is 4.3 inches. Use it for reading, painting, drawing, working and so on. It is a cordless lamp, so you can use it wherever you want.
400 Lumens
Deeplite portable desk lamp has a 5W LED light with 400 lumens at full brightness. There is no flickering, glare, and other harmful effects. It is gentle and safe for your eyes. At the lamp base is a touch-sensitive control, choose between the brightness levels – low, medium and high.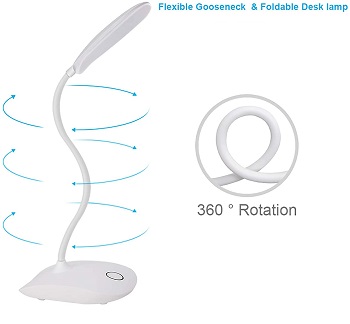 Flexible Gooseneck
This battery-operated LED table lamp has a flexible gooseneck, it ensures 360-degree rotation. You can direct the light where needed. There is a light indicator on the lamp base – red light turns on while charging and blue light means the battery is fully charged.
Highlighted Points:
small and convenient lamp
fold it and carry it with you
charge it with a USB cable, power bank, PC, etc.
360-degree flexible gooseneck
eye-caring non-flickering light
three brightness levels – low, medium and high
BEST MODERN PORTABLE DESK LAMP
Luxe Cordless Desk Lamp
Futuristic Design
Luxe lamp features a modern futuristic design with clean lines. It will look great in a stylish and contemporary office or home decor. It offers four popular colors – space grey, silver, gold and rose gold. You can match this lamp with your smartphone, laptop or tablet.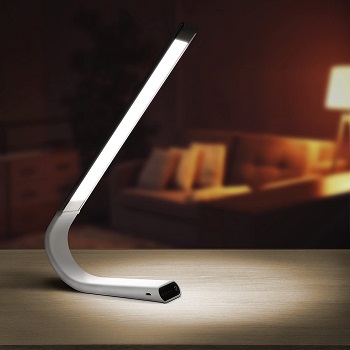 LED Panel
The case of this portable desk lamp is made of high-grade aluminum and the bar is made of soft rubber-like material. It is a lightweight and durable item resistant to water. This modern LED desk lamp has a LED panel equipped with 28 LEDs.
40-hour Worktime
Built-in 2000 mAh high-quality Li-polymer battery supports up to 3 – 40 hours of worktime in 3 hours continuous charging. The charging cable is included in the package. The energy-efficient lamp has three lighting modes and six levels of brightness.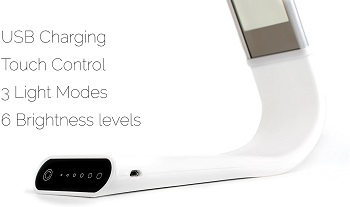 Touch Panel
There is a touch panel at the lamp base so you can control the settings with ease. You can rotate a Luxe lamp, twist and bend up to 360-degree and customize it for your needs. Natural LED light doesn't emit UV and it's free of damaging blue light.
Highlighted Points:
unique modern lamp
40 hours of continuous lighting
micro USB charging port
USB cable included in the package
eye-caring light
3 lighting modes and 6 brightness levels
Things To Know About Portable Desk Lamps
The portable desk lamps come in different sizes with different features. To help you buy the best lamp for your needs, we gathered some info useful to check before purchase.
Foldable Design – Portable lamps are beneficial for so many reasons. They are usually small and lightweight, so you can easily fold, store and carry them with you. Also, they will help you when the power goes out. They aren't so expensive as before.
Power Source – Nowadays, there is a variety of different cordless versions for lamps. Many of them come with a USB charging port, so the lamp can be recharged. If you want to buy a lamp with a charging station, pick one with a 2A outlet, it features faster charging than a 1A outlet.
Lighting Adjustments – Of course, you can basically buy a lamp with an on/off switch. Or you can consider some other interesting features. Look for a lamp with different color temperatures and brightness levels. They provide warm light for relaxation and cool light for demanding tasks.
Light Intensity – The best desk lamp for computer work, reading, sewing, crafting are the ones that are gentle to your eyes. They don't cause eye fatigue or strain. You'll be able to work or read for hours. The light should be powerful but not focused on your eyes. Check for lamps with 5-10 watts.
Adjustable Arm Lamps – The portable desk lamps come with adjustable arms, they allow you to move the light source closer or farther away. That depends on your needs, tasks and workspace. These lamps are suitable for larger workbenches and desks.