Do you want to buy a basket filing cabinet that delivers a unique design into your office?
Every home office and office have documents that need to be saved. In this post, there is an alternative to metal filing cabinets, learn from which materials these models are made from and which features they provide. There are attractive items that fits any budget.
Our Top Picks
Best 6 Basket Filing Cabinets
BEST OF BEST BASKET FILING CABINET
Rutledge & King File Cabinet
Dark Russet Brown
Rutledge and King file cabinet is a compact file cabinet with a unique handwoven design. It leans more towards a dark russet brown with lighter hues weaved in. This seagrass filing cabinet is 17.5 inches in width, 15 inches in depth and 14 inches in height.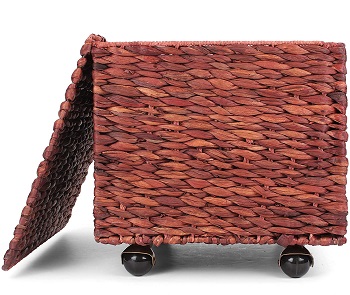 Attached Lid
This basket filing cabinet has a hinged lid that keeps your stored items protected from dust and damage. This lid is attached on one side via metal clasps, so you can't remove it. Rutledge filing cabinet is equipped with four casters for smooth movement. Each caster has s steel ball bearing for increased mobility.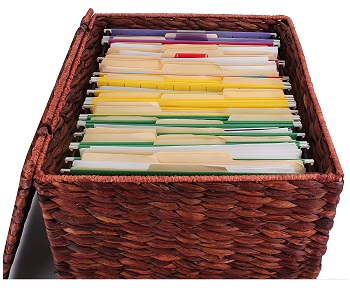 Min 50 File Folders
Rutledge filing cabinets accommodate letter-size file folders. You can put at least 50 folders inside this filing cabinet. But if you want, you can remove the hardware for hanging files and use this item for some office supplies, like notebooks, books, etc.
Highlighted Points:
dark russet brown color
handwoven file cabinet made of seagrass
hinged lid protect your files
it accommodates letter-size files
equipped with rolling casters
hanging rails included
BEST PORTABLE BASKET FILING CABINET
Birdrock Rolling File Cabinet
Decorative Filing Cabinet
The Birdrock file cabinet doesn't require assembly, it is ready to use. Unit size is 13 inches in height, 17.5 inches in width and 14.5 inches in depth and weighs 10 pounds. It adds a stylish and decorative accent to your office or home office. The price is acceptable.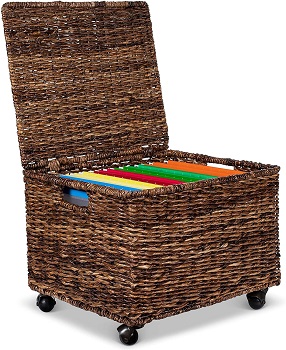 Abaca & Seagrass
This basket filing cabinet is woven by hand, so each model is unique. It is constructed of durable and robust abaca seagrass. Its color varies from espresso and dark brown. You can easily store the basket under your desk, there are four durable wheels.
Steel Ball-bearing Slides
Birdrock wheels are supported by steel ball-bearing slides for smooth movement. This small rolling file cabinet accommodates both letter- and legal-size file folders. There is a hinged lid that stays open so it's easy to take your stored files.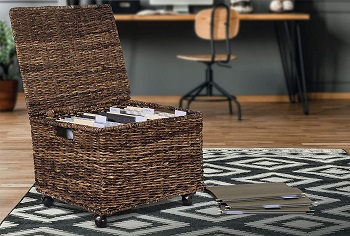 Two Handles
While it is ideal for files and documents, you can fill it with office essentials and household items. There are two convenient handles on both sides. This file cabinet is a perfect alternative to metal filing cabinets, it is unique and more affordable.
Highlighted Points:
handwoven file cabinet
its color varies from espresso to dark brown
no assembly required
two convenient handles
accepts letter- and legal-size files
equipped with four rolling casters
BEST HOME OFFICE BASKET FILING CABINET
Seabrook 2-tier Filing Cabinet
Unique File Cabinet
Seabrook is a pricey file cabinet with a unique design that will add beauty and style to your home office. It weighs 25 pounds and measures 20.5 inches in height, 15.7 inches in depth and 30.5 inches in width. This model is available in white color with natural baskets.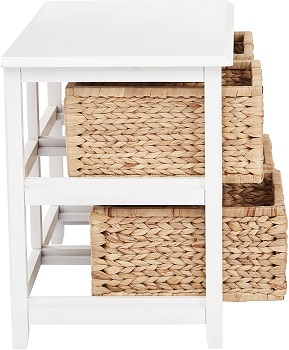 Residential Use
This basket filing cabinet is designed for residential use only. It isn't able to withstand demanding office environments. There are four drawers and each drawer features 12 inches in width, 13.7 inches in depth and 6.3 inches in height.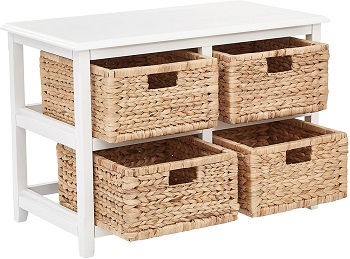 Office Supplies
It arrives fully assembled, so you just need to unpack it and fill it with your items. You can use this sideboard filing cabinet for files and office supplies like scissors, post-it notes, pens, notepads, notebooks, etc. These drawers aren't on a sliding track, so pull it out carefully.
Highlighted Points:
fully assembled file cabinet for residential use
comes in a white finish and natural basket
four drawers for office supplies
you can open the drawers fully
easy to clean and maintain
BEST CHEAP BASKET FILING CABINET
Greenstell Filing Cabinet
Handwoven Item
Greenstell file cabinet is available in black, brown, grey, natural and white color. The overall product dimensions are 18.1 inches in width, 15 inches in depth and 12.2 inches in height (without casters). This handwoven decorative file cabinet is perfect for home offices.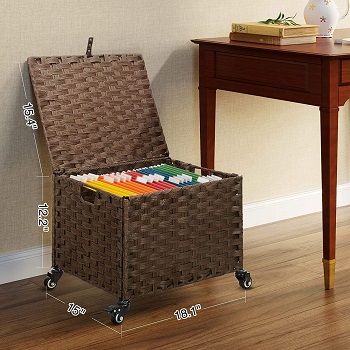 Synthetic Rattan
Made of durable synthetic rattan which is sturdy enough to endure everyday use. It is easy to maintain and assemble. The package includes a basket filing cabinet, hanging rails, plastic tabs and 20x replaceable inserts. Greenstell features a 1.63 cubic feet storage capacity.
Interchangeable Feet
Equipped with four rolling casters with brakes, so you can move it easily from one room to another. You don't have to carry files, put them in this file cabinet and transport them. The package includes silica gel feet, you can install them instead of the casters.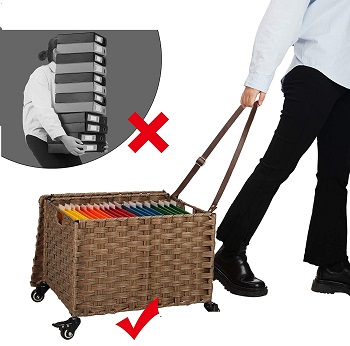 20 Hanging File Folders
This under desk rolling file cabinet features a smooth metal rail design, store your letter size, legal-size, tax bills, receipts, etc. Greenstell comes with a pull strap, so you can move it easily. There are 20 hanging file folders included for your document organization.
Highlighted Points:
available in multiple colors
suitable for letter/legal size files, tax bills, etc
silica gel feet and casters included
built-in pull strap for easy movement
side handles for carrying
crafted from durable synthetic rattan material
BEST 3-DRAWER BASKET FILING CABINET
PTC Three Drawer File Cabinet
Tall File Cabinet
The PTC manufactured this vertical file cabinet that requires small floor space. It weighs 32 pounds and measures 40 inches in height, 18 inches in width and 12 inches in depth. You can place this compact filing cabinet in the corner of the room or next to your office desk.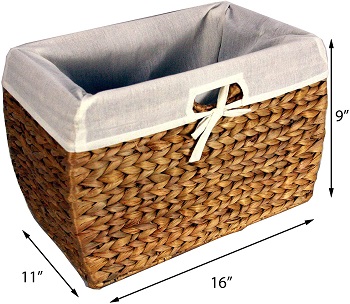 Quality Construction
There are three drawers and each drawer has 11 inches in depth, 16 inches in width and 9 inches in height. This filing cabinet is made from recycled wrought iron and quality balaba wood that is formaldehyde-free. It is safe for use in the home office.
Sturdy Iron Frame
The frame is made of durable and sturdy iron, it supports file cabinet weight. You can put some books or decorations on the file cabinet top. On the images, you can see cotton linen, but they don't come with a file cabinet, you need to buy them separately.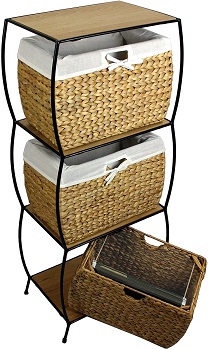 Hanging Files
If you have a cotton liner, it is necessary to remove it before you load the drawer with hanging files. Each drawer comes equipped with a metal frame for hanging file folders. This wicker basket filing cabinet is a great alternative for home office filing needs.
Highlighted Points:
vertical file cabinet for small spaces
made of recycled wrought iron and wood
three drawers for hanging file folders
optional cotton liners
included frame for hanging files
ideal for home office use
BEST SMALL BASKET FILING CABINET
Welcare Collapsible File Cabinet
Various Colors
Welcare is a convenient file cabinet with a decorative design. This model features an affordable price and except for the natural brown color, you can choose between blue, pink, white and yellow colors. Its dimensions are 14.25 inches in width, 11.8 inches in depth and 11.8 inches in height.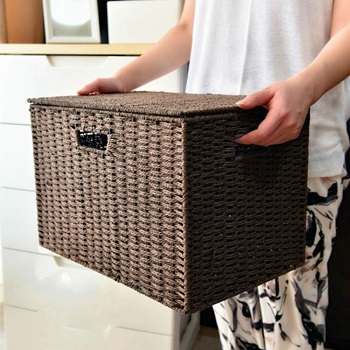 High-quality Seagrass
It weighs 3.4 pounds. There is a natural woven design made of high-quality seagrass. You can put it under your office desk, on the desk, on some shelf, etc. Welcare basket filing cabinet is lightweight, so you can easily lift it up and move somewhere else.
Collapsible Design
This file organizer is a perfect storage box for your files. You can fill it with standard-sized file folders, letter-size files. When not in use, you can simply collapse down this short file cabinet and store it anywhere. It doesn't require much space.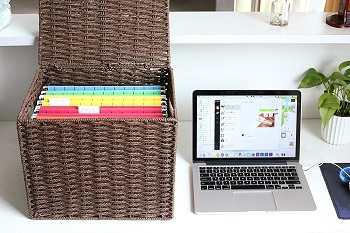 Stackable Item
There are two carry handles on the file cabinet sides. Construction is very durable, so you can stack multiple filing boxes on top of this Welcare file cabinet. The hinged lid protects your documents from damage, dust, etc. Also, the file hangers are included in the package.
Highlighted Points:
hand made natural woven file cabinet
made of quality seagrass
available in multiple colors
fits standard sized file folders
hinged lid and two handles
Things To Know About Basket Filing Cabinet
These basket filing cabinets deliver attractive design and great features. If you read up on those reviews above, we recommend you to check some guidelines before your buy any model.
File Cabinet Material – These file cabinets come in different sizes and shapes. Also, they are made from different materials. On the list above there are models made of seagrass, abaca, balaba wood, rattan, etc. Seagrass is a woven material that is available in a number of different patterns.
Protective Lid – Almost all models come with a lid. If you need to store sensitive and important paperwork, consider a file cabinet with a lid. It will protect your files, documents and office supplies from damage, dust, spilled beverages and other accidents.
Built-in Casters – For those who need to move their file cabinet frequently, the model with casters is a must. You can roll your file cabinet and transport files easily. Always read product descriptions and check if the casters are equipped with brakes. That provides stable placement.
File Sizes  – What kind of files and documents do you want to store? Some file cabinets accept letter-size, some hold legal-size file folders. Letter files have standard dimensions – 8.5" W x 11" L- legal files are larger, they have 8.5" W x 14" L.
Stacakable Items – The basket filing cabinets are stackable. That means you can buy a pack of 2, 3 or more products and put them on top of each other, or side by side. If you buy stackable file drawers, you can add more drawers when needed.