Are you interested in the natural file cabinet that supports your environmentally conscious stance?
So, did you already consider a cardboard filing cabinet?
If you didn't, you should give it a chance! We have researched dozen of these kinds of file cabinets, reviewed them and prepared some useful info before you buy any model. Also, check the product image and pick the suitable item for your office.
Our Top Picks
Best 5 Cardboard Filing Cabinets
BEST OF BEST CARDBOARD FILING CABINET
Liting Storage Box
Durable Construction
This desktop filing cabinet has a high price, but it is pretty sturdy and durable. Its construction is made of high-quality kraft paper which is thick and strong. It features a strong pressure bearing capacity. The dimensions are 9.8 inches in height, 13.3 inches in width and 10.6 inches in depth.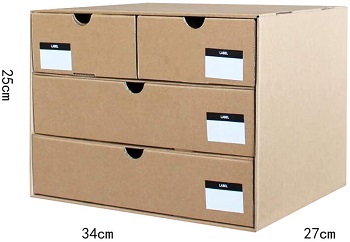 Multi-layered Design
The cardboard filing cabinet features a multi-layered design, it won't deform with time. There are two upper box drawers, ideal for small office essentials storage. Below these two drawers, there are two larger drawers for letter-size files, bills, receipts, etc.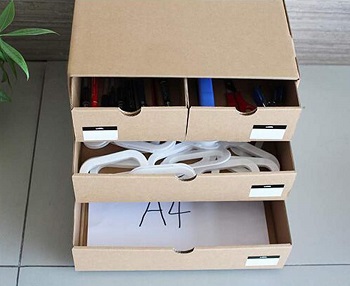 Lightweight Product
There are convenient handles on each drawer, for easy open and close. This low-profile file cabinet comes in natural cardboard color and weighs 2.2 pounds. When not in use, you can fold it and store literally anywhere. This is an eco-friendly product.
Highlighted Points:
lightweight file cabinet
two box drawers hold office supplies
two large drawers are designed for files
each drawer is fitted with a handle
multi-layered, sturdy construction
BEST HOME OFFICE CARDBOARD FILING CABINET
Adir Filing Cabinet
Upright Design
Adir is a bit different file cabinet than other models on this list. It features an upright design intended for rolled papers and files. This is sturdy cardboard, but light enough to move around and stack. There are handle slots on each side for easy carrying.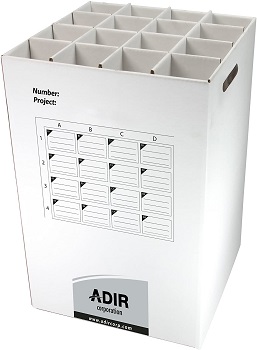 White Box
The package includes directions on how to put it together. This cardboard filing cabinet is available in white color, it weighs 7 pounds. Measuring 17.5 inches in width, 17.5 inches in depth, this box is available in a 25" or 37" in height. Each slot diameter is 3.75 inches.
Large Documents
These slots provide sufficient space to store your rolled blueprints, plans, maps, artwork and similar large documents. The slots will keep your rolled files tidy and organized, they won't be damaged. There are side handles for easy transport and carrying.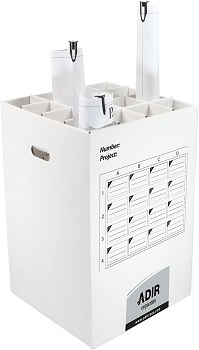 Labeling Grids
Because of the map filing cabinet's compact size, this file cabinet is able to fit comfortably in tight spaces. Adir can also be stacked to save your space. The lid is included in the package. There are labeling grids on the top and front side, so you can write down which file is stored in each slot.
Highlighted Points:
white upright file cabinet with lid
designed for rolled blueprints and large documents
two heights available
side handles for easy transport
ideal for tight spaces
labeling grids for file identification
BEST SMALL CARDBOARD FILING CABINET
Desktop File Cabinet
Convenient Item
Convenient and practical file cabinet made of cardboard. It is sturdy and durable. The price is high, but once you buy it, you can use it for many years. Keep your coffee or other beverage away from this item. You can buy few file cabinets and stack them together.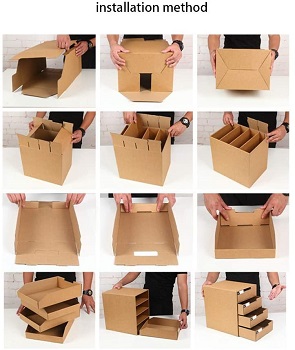 Installation Method
This compact filing cabinet has 10 inches in height, 13.5 inches in width and 10.8 inches in depth. It weighs 5 pounds. When your package arrives, you need to assemble the cardboard filing cabinet. You can see the installation method in the image below.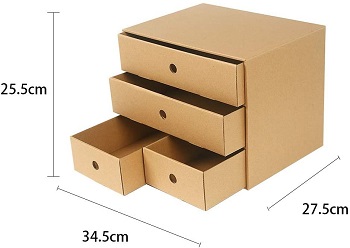 Files & Office Supplies
It is an environmentally friendly file cabinet with solid construction and labeling clips for files. Two upper drawers are larger and they are able to hold letter-size/A4 files. Below them, there are two smaller drawers for your office supplies.
Highlighted Points:
environmentally friendly file cabinet
stackable file cabinet
the assembly is required
two file drawers hold standard-sized files
two box drawers for office supplies
BEST 3-DRAWER CARDBOARD FILING CABINET
YY File Cabinet
Quality Texture
The YY is a desktop file cabinet that is made of kraft paper, it features good texture, resistance to pressure and high bear capacity. This model is available in unfinished cardboard color and grey color. The unit size is 9.8 inches in width, 12.5 inches in depth and 8.2 inches in height.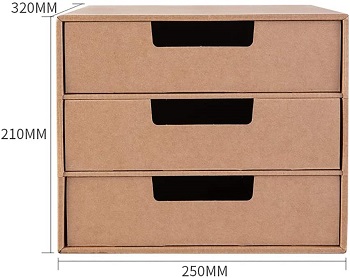 Three Drawers
Its construction is made of three-layer, it is sturdy and durable. The YY cardboard filing cabinet fits any desktop, so you can put it next to your monitor. There are three drawers with hollow handles, you can open and close the drawers with ease.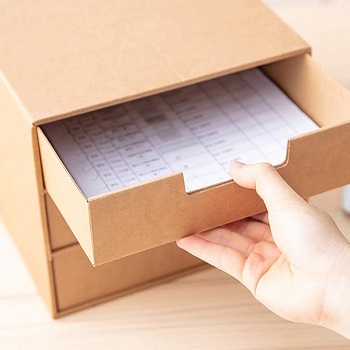 Index Stickers
This shallow file cabinet is suitable for file classification, office supplies like scissors, pens, post-it notes, etc. It is easy to sort and take the stored items. The box comes flat, so you need to fold it. YY file cabinet is practical, you can transport it easily. Index stickers help you to find your stored content.
Highlighted Points:
good texture, pressure resistance
available in two colors
durable and sturdy file cabinet
three drawers for office supplies and files
index stickers help to identify stored content
BEST CHEAP CARDBOARD FILING CABINET
Bankers Storage Box
Weight Capacity
This storage box has an affordable price and it comes in a pack of 6 boxes. It is designed for lightweight products, so don't go over 15 pounds. The inner dimensions are 10 inches in height, 15 inches in width and 12 inches in depth. It weighs 1.1 pounds.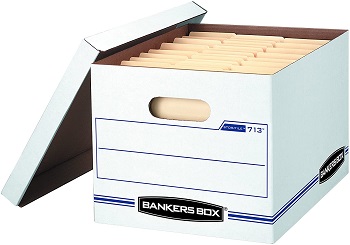 Lift-off Lid
There is a standard setup construction for moderate stacking or use with shelving. The package includes a cardboard filing cabinet and a lift-off lid, it comes attached to prevent lid loss. This small white filing cabinet is compact, so fits anywhere, on your desk, on the shelf, etc.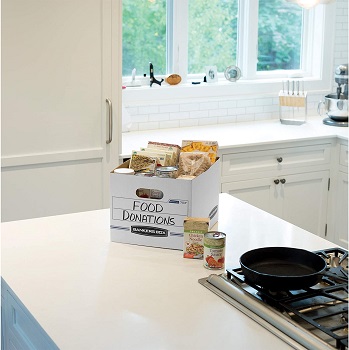 Great For Files
These boxes come in white color, there is a space for labels, so you can write down your stored content. When the package arrives, you need to fold them because the boxes come flat. You can use them for letter and legal size files and office supplies. There are handles for easy carrying.
Highlighted Points:
compact file cabinet for office
pack includes 6 boxes
designed for lightweight items
lift-off lid protect your files
accommodates letter/legal files
handles for easy carry
Things To Know About Cardboard Filing Cabinets
The cardboard filing cabinets aren't designed for high-capacity filing, but they are convenient and practical for use. Check some basic info and you'll find the model that suits your office.
File Cabinet Capacity – As I mention, these file cabinet types aren't designed for high-capacity filing. In spite of its durable and solid construction, use them for few important documents and office supplies. Put it beside your monitor and keep your files in arm's reach.
Kraft Paper Material – Kraft paper or paperboard (cardboard) is often used for many industrial and commercial applications. This material is durable and able to withstand high pressure. It is an eco-friendly option, that doesn't involve extensive bleaching.
Lift-off Lid – There are some models on the list above with and without lid. If you looking for extra protection for your files, consider a model with a lid. Then your files and office supplies are protected from damage, liquids, dust and other issues.
Drawer Option – Not all models come with drawers. Some of these lightweight file cabinets have drawers in various sizes. If you need drawers for file storage only, pick the models for letter/legal files. But, if you want to store your office/desk supplies, check if your favorite model has box drawers.
Index Stickers – Some of these cardboard filing cabinets come with index stickers or labeling grids. That is a very convenient feature, you can mark your stored content and identity it easily. You don't have to move all stored files to find the one you looking for.