Are you interested in a perfect little storage solution for your files?
Then the compact filing cabinet will fit in your office! Read up more about these small but helpful products, you can check our useful guidelines first, then take a look at these reviewed models. At the bottom, there is our final verdict.
Our Top Picks
Best 6 Compact Filing Cabinets
BEST OF BEST COMPACT FILING CABINET
Devaise Slim File Cabinet
Neutral Colors
Devaise made this slim filing cabinet in white and black colors. Because of these neutral colors, it will fit in any office decor. It can make a great personal filing cabinet that provides ample storage space and requires a little office space.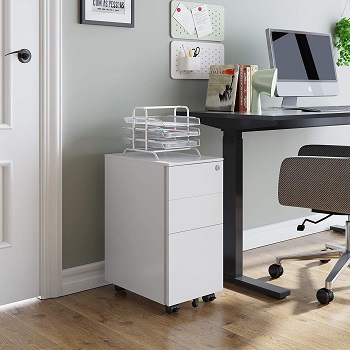 Steel Construction
This small white filing cabinet is constructed from durable steel. Because of that sturdy construction, it bears up to 330 pounds. You can place a printer stand, scanner, plants or books on its top. When you open the package, you'll find a file cabinet, assembly instructions and casters.
Five Removable Casters
The whole file cabinet is assembled, you need to affix the casters. It is equipped with five removable casters. Two of them are lockable for stable placement. Also, there is an additional caster that provides more stability and prevents tipping over.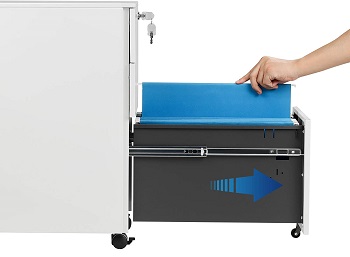 Fits Under Desk
This compact filing cabinet fits under your office desk, which can save your precious office space. It has one lock with two keys that secures all drawers. The top drawer is fitted with a pencil tray for small office supplies organized. A bottom drawer holds letter and legal size hanging file folders.
Highlighted Points:
strong steel construction ensures durability
high weight capacity of up to 330 pounds
fitted with four rolling casters
additional fifth caster prevents tipping over
available in black and white colors
BEST PORTABLE COMPACT FILING CABINET
Vert Rolling File Cabinet
Cushion Top
Vert is a 2 in 1 file cabinet. It delivers storage space and an additional seat option. Its plush cushion top is 2.5 inches thick, so it provides a comfortable seat for some visitors or your colleagues. The durable base supports up to 220 pounds. It's pretty sturdy.
Modern White Finish
This compact filing cabinet features a modern sleek design with a white finish. Or you can choose a black model. Vert is constructed of sturdy steel material with a powder-coated finish. That provides years of use with minimal maintenance and cleaning.
Easy-rolling Casters
Its overall dimensions are 22.5 inches in height, 14.5 inches in width and 16.7 inches in depth. You can move it with ease thanks to easy-rolling casters. Also, you can lock the wheels if you don't want to move the file cabinet anymore. The casters are quiet and won't damage your floor.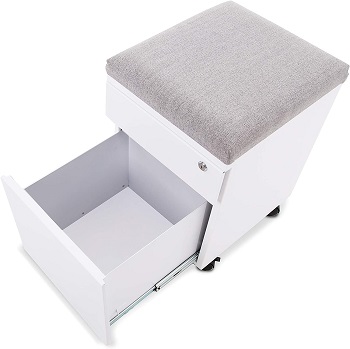 Two Drawers
This rolling file cabinet with a seat comes with two easy-glide drawers, the top drawer is shallow so use it for office supplies, like pens, scissors, post-it notes. The lower drawer is able to hold letter-size file folders, but it isn't designed for hanging files.
Highlighted Points:
multifunctional file cabinet
constructed of durable steel
cushion top is 2.5" thick
four rolling casters with brakes
small drawer holds office accessories
the lower drawer accommodates documents
BEST ON WHEELS COMPACT FILING CABINET
Cubespace 2-drawer File Cabinet
The Smallest
The Cubespace is the smallest file cabinet on this list. It will really fit anywhere. This compact filing cabinet is designed for offices or home offices with low-capacity filing needs. First, it features color choices like olive green, white and light brown. Solid metal construction provides durability.
High Weight Capacity
The product dimensions are 21.4 inches in height, 19.7 inches in depth and 14.7 inches in width. Also, it is lightweight, there are 34 pounds only. But, Cubespace has a high weight capacity, it bears up to 220 pounds. The file cabinet comes fully assembled.
File Drawer
This small rolling file cabinet is small enough to be tucked away under your office desk because of rolling casters. There are two drawers for your storage needs. The top drawer is ideal for small office essentials and the bottom drawer is able to hold letter- and legal size hanging file folders.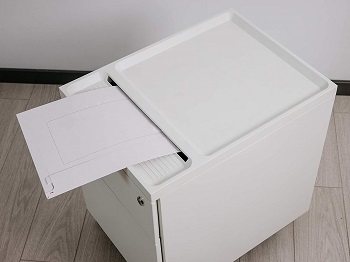 Attractive Top Design
The lock on the upper drawer secures both drawers at the same time. You can put some documents in the top drawer without a drawer opening. There is a small slot on the file cabinet top. Both drawers open completely and smoothly, they glide on metal runners.
Highlighted Points:
solid metal construction with rust-resistant surface
three light colors fit in any office decor
the small top drawer is equipped with a lock
bottom drawer accommodates letter/legal files
easy-rolling casters ensure mobility
BEST 3-DRAWER COMPACT FILING CABINET
Yitahome 3-drawer Metal File Cabinet
Powder-coated Finish
This elegant file cabinet comes in two colors – white and black. This black model will easily match your home office or office decor. The entire filing cabinet is built using robust heavy-duty steel material. Powder coating eco-friendly finish ensures long-lasting durability.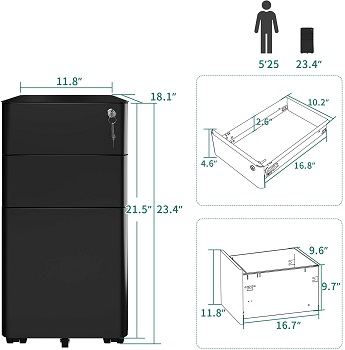 Narrow Item
The Yitahome compact filing cabinet offers large storage space but it requires a small floor surface. It is ideal for space-limited offices. Its dimensions are 11.8 inches in width, 18 inches in depth and 23.4 inches in height, including casters. This item weighs 47 pounds.
Swivel Casters
This small black filing cabinet arrives fully assembled except for the casters. There are swivel casters that go in any direction with ease. Moreover, there is an auxiliary small caster that provides extra support and prevents tipping over. Lock the casters if you need a stable item.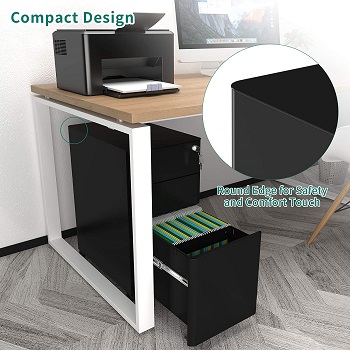 Removable Pencil Tray
The top drawer contains a pencil tray for small office supplies, but it is removable. Below these two small drawers, there is a larger bottom drawer that is designed for document storage. It accommodates both letter and legal-size files. Built-in sliding rails ensure smooth drawer performance.
Highlighted Points:
thin file cabinet design
heavy duty steel with eco-friendly finish
easy to clean and maintain
occupies small floor surface
three drawers glide on smooth metal runners
four rolling casters + anti-tip caster
BEST 2-DRAWER COMPACT FILING CABINET
Stockpile 2-drawer File Cabinet
White Model
The next model is a commercial-grade Stockpile file cabinet. It is available in black, white, grey. Also, there are white models with different colored handles. This pure white file cabinet features a modern design with rounded corners and a smooth surface.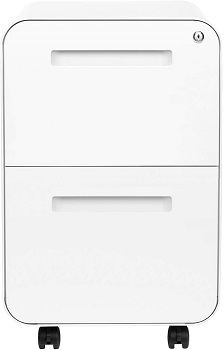 Cold-rolled Steel Material
This compact filing cabinet is constructed of cold-rolled steel material, which is 20% stronger than typical steel. It is durable, sturdy and suitable for demanding work environments. Stockpile weighs 70 pounds and is size is 15.75 inches in width, 20 inches in depth and 24 inches in height.
Feet Or Wheels
If you install the wheels, this file cabinet is 1 inch taller. Stockpile comes with both stationary feet and wheels, so you can choose if you want a mobile or stable item. You can tuck it under your office desk or another work surface, it fits anywhere.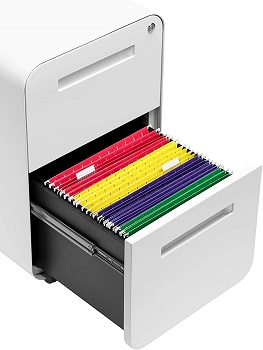 Two File Drawers
This steel 2 drawer file cabinet has two file drawers, they both accommodate letter- and legal-size hanging file folders. There is a lock on the upper drawer, so you can keep your files and documents secured. You'll get two keys in the package. Stockpile is covered with a 2-year warranty.
Highlighted Points:
cold-rolled steel construction
powder-coated white surface
comes with stationary feet and wheels
two drawers hold letter or legal size files
a single key secures both drawers
BEST LOCKING COMPACT FILING CABINET
Bush Business Furniture File Cabinet
Series C Collection
There is a wooden file cabinet – Bush Furniture. They made the Series C collection with numerous finishes and unique design options. This compact filing cabinet is suitable for home office use. Choose between cherry/grey, mocha cherry, light oak, mahogany, auburn maple, etc.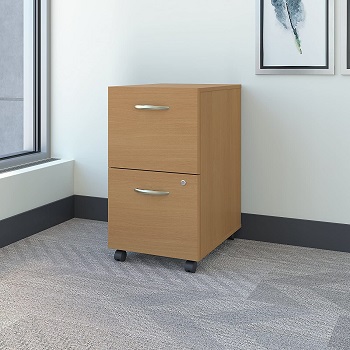 10-year Warranty
This product is manufactured using durable and sustainable engineered wood. It is designed for long-term durability and stability. Bush is resistant to warping or cracking. Affordably priced, but built to last, Bush is tested and it comes with a 10-year warranty.
Assembly Required
Assembly is required, so the package contains everything you need. Upon assembly, its dimensions are 27.8 inches in height, 15.7 inches in width and 20.1 inches in depth. It weighs 60 pounds. Bush is compact and narrow, so fits under any office desk.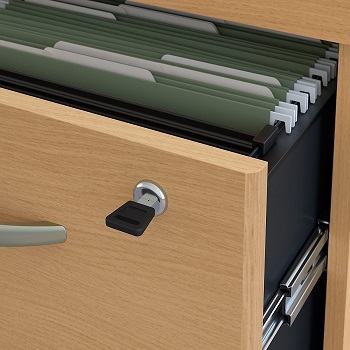 Full-extension Drawers
This small filing cabinet with a lock features two drawers that hold letter and legal size hanging file folders. One lock secures both drawers, so you can keep your important documents in these drawers. Drawers open on full-extension ball-bearing slides. Casters are included.
Highlighted Points:
durable and sustainable engineered wood
assembly is required
7 finishes available
two drawers hold letter and legal-size files
one lock secures both drawers
covered with a 10-year warranty
Things To Know About Compact Filing Cabinet
Every office or home office has paperwork that needs to be saved, so this compact filing cabinet is an ideal solution. These compact items fit anywhere but you need to consider few factors before you buy any model.
File Cabinet Size – If you looking for a small and compact file cabinet, you need to know standard file cabinet dimensions. The letter-size file cabinet is typically 15 inches wide and 25 inches tall. Smaller models have 12 inches in width, 24 inches in height and 20 inches in depth.
Construction – The file cabinet could be made of wooden or steel materials. Both materials are durable, but wooden file cabinets are often used in home offices, while steel ones are more durable and designed for demanding work environments.
Security Features – If you want your file cabinet to be a secure place to store important and confidential documents, consider items with a quality lock mechanism. Models with center lock secure all drawers at the same time. Or you can buy a file cabinet with separate locks for each drawer.
Mobility – If you need to move your file cabinet frequently, there are models with casters. Always choose casters with brakes for stable placement. You can roll it from one area to another without lifting a file cabinet. Tuck it under your desk when not in use.
Additional Features – When buying a compact filing cabinet for your office, consider some additional features. That includes hanging rails for files, follower blocks, counterweights. Hanging bars keep your file folders hanging and easy to find. Counterweights or interlocking system prevents tipping over.