Does shopping for the small rolling file cabinet get stressful for you?
Well, keep reading, because we research the market and find the best six small file cabinet on wheels with durable construction and quality characteristics. Before you read the reviews, find out some tips and tricks in our buying guide.
Our Top Picks
Best 6 Small File Cabinets On Wheels
Best Of Best Small File Cabinet On Wheels
Bush Refinery File Cabinet
Contemporary Design
The Bush Furniture made this beautiful Refinery collection. It is a combination of rustic and industrial designs. The drawers and top surface are made of high-quality wood. The frame and sides are made of heavy-duty steel material. The warranty lasts a year.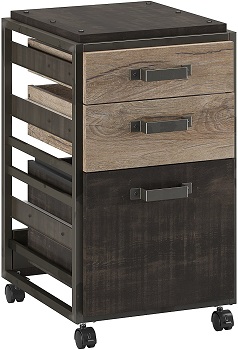 Two Finishes
There are three drawers. Small, box drawers are finished in rustic grey. The bottom drawer features a charred wood finish. The durable finish is resistant to scratches and stains. Two box drawers are designed to store miscellaneous office supplies.
Full-extension Drawers
The bottom drawer holds standard, letter-size files. It features full-extension, so you'll have great access to all your files and the drawer glides on ball-bearing slides. The dimensions of this small file cabinet on wheels are 27.24 inches in height, 15.75 inches in width and 17.8 inches in depth.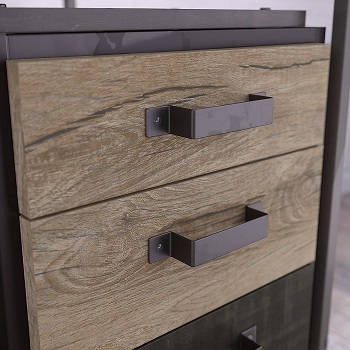 Quality Standards
The Bush Refinery weighs 61 pounds. This model meets many safety standards like ANSI and Soho. You can check the full line of industrial furniture and complete your office or home office. The Bush Refinery trendy filing cabinet has a high price.
Highlighted Points:
rustic and industrial design
heavy duty steel frame
two drawers for office supplies
the bottom drawer holds letter-size files
full-extension ball-bearing slides
it meets safety and quality standards
Best 2-drawer Small File Cabinet On Wheels
Yitahome Filing Cabinet
Three Colors
The Yitahome is an attractive filing cabinet, choose the color that is suitable for your office decor. There are three colors – white, black and grey/white. The unit size is 26 inches in height, 15.3 inches in width and 18.9 inches in depth. The price is affordable.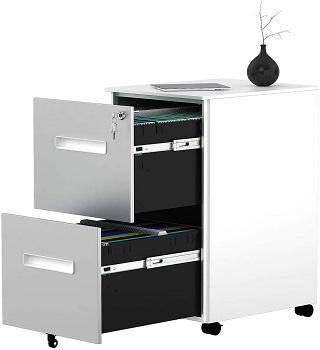 Heavy-duty Steel
The small file cabinet on wheels is built of heavy-duty steel with an eco-friendly finish. It's sturdy, you can place your printer, fax or other office devices on its top. This steel 2 drawer file cabinet is fitted with two drawers, each drawer has 9.4" H x 17" D x 15.3" W.
Confidential Files
Both drawers are equipped with a hanging bar, so load them with legal and letter size file folders. There are inset handles on each drawer. If you need to store confidential files, use the key, it locks both drawers at the same time. You don't have to worry about your privacy.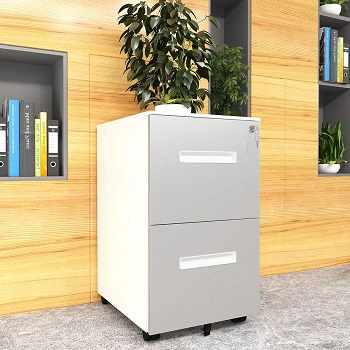 Quiet Drawers
There are built-in sliding rails that help you to open and close both drawers smoothly. They didn't make much noise, which is great if you work in a shared office. Yitahome small rolling file cabinet has four wheels for mobility, they can be moved in any direction. There are added small anti-tip caster.
Highlighted Points:
robust, heavy-duty steel and eco-friendly finish
four casters with locking option
small anti-tip caster supports file cabinet
two roomy drawers for letter/legal size files
lock both drawers with a single key
Best 3-drawer Small Rolling File Cabinet
JJS File Cabinet
Wood File Cabinet
The JJS model is available in two beautiful finishes – brown and black. The item is made of high quality engineered wood. With its 23.6 inches in height, it's not a tall wood file cabinet, so you can place it under your office desk. The width is 15.7 inches, so as depth.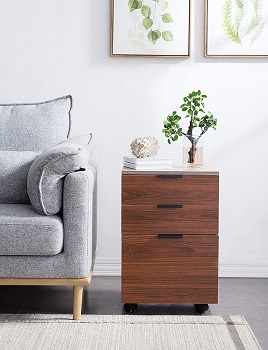 Resistant Surface
This small rolling file cabinet is protected against everyday wear and tear. The cleaning is simple, just wipe with a wet cloth and it will look great. The JJS require assembly, but it is easy, you'll get detailed instruction, just follow them step by step.
Standard-sized Paperwork
Two standard-sized drawers are designed for your office essentials. Fill the bottom drawer with standard-sized papers, letter file folders. All three drawers can be drawn completely. You'll have full access to your files and office supplies. They glide on ball-bearing slides.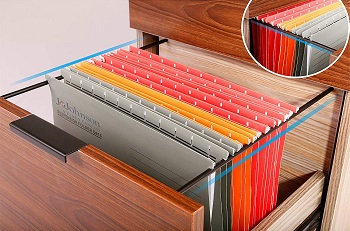 Customer Support
This office file cabinet comes with rolling wheels. There are four casters for mobility, move it easily on a wooden floor or on a carpet. Because of two lockable wheels, this file cabinet is able to stand in one place, it won't slip away. If you buy this item, you'll get lifetime support.
Highlighted Points:
high-quality wooden MDF material
the surface is resistant to everyday wear and tear
three spacious drawers for office supplies and file folders
drawers glide on ball-bearing slides
easy to assemble with detailed instruction
four rolling casters with lock function
Best Locked Small Rolling File Cabinet
Devaise White File Cabinet
Assembled Item
The Devaise filing cabinet is 22 inches tall, 15.4 inches wide and 18.9 inches deep. It weighs 40 pounds. You can choose between two basic colors – black and white. This model comes fully assembled, you need to unpack it and attach its wheels. The warranty lasts a year.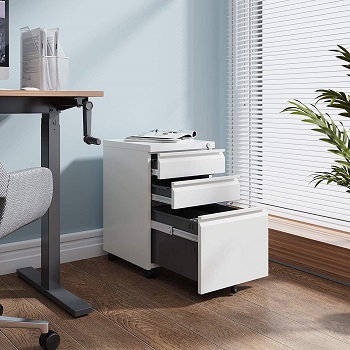 Capacity – 330 Pounds
The construction is reinforced and made of sturdy metal. This small file cabinet on wheels bears up to 330 pounds. Each drawer is able to hold 55 pounds of material. There are three drawers, two standard-sized drawers for office supplies and a large bottom drawer.
Lockable Drawers
These standard drawers are equipped with a removable pencil tray. The bottom drawer holds letter/A4 and legal-size hanging file folders. You can combine them in the way you want. Above the upper drawer is a lock system. When you lock one drawer, all drawers are automatically locked.
Brake Function
This small file cabinet with a lock comes with five casters. Two front casters are lockable, they provide a stable position. Under the file drawer is a small caster that prevents tipping even if you overload the file cabinet with office paperwork.
Highlighted Points:
metal construction with a simple appearance
fits under any office desk
built-in lock secures all three drawers
four casters with brake function
small caster prevents tipping over
Best Home Office Small Rolling File Cabinet
Stockpile Modern File Cabinet
Cold-rolled Steel
The Stockpile filing cabinet is available in white, black/grey, black, white/blue, white/red, white/green, white/orange and other colors. Pick the model you like the most. The construction is made of cold-rolled steel that is 20% stronger than typical steel.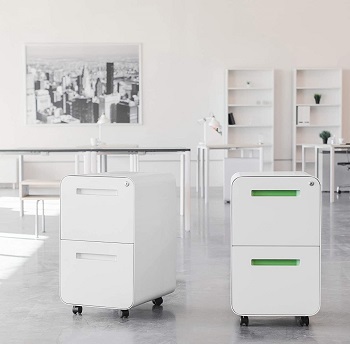 Feet Or Wheels
This modern white file cabinet measures 25 inches in height, 20 inches in depth and 15.75 inches in width. The package includes both, stationary feet and wheels. Decide do you need a mobile or stable file cabinet. If you attach the feet, the file cabinet will be 1 inch smaller.
Rounded Design
It is a small rolling file cabinet, it fits anywhere, you can place it in the corner of the room or under your office desk. The Stockpile features a smooth surface, rounded corners and inset handles. It has an attractive design. There are no sharp edges.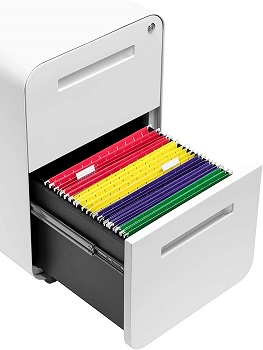 Letter & Legal Files
Both drawers feature high-quality ball bearing glides. You can open/close the drawers without annoying noise. Furthermore, these two drawers accommodate letter and legal size hanging file folders. Lock the drawers with one key. The price is higher and the warranty lasts 2 years.
Highlighted Points:
white file cabinet with cold-rolled steel construction
modern style with rounded corners and inset handles
two drawers hold letter and legal-size files
the upper drawer has a built-in lock
comes with stationary feet and wheels
Best Cheap Small File Cabinet On Wheels
Merax Pedestal File Cabinet
White Model
The Merax file cabinet is available in white color. It fits in modern offices and home offices. The unit dimensions are 22.4 inches in height, 15 inches in width and 19.6 inches in depth. The base is enclosed. The Merax small file cabinet on the wheels comes fully assembled at your address. The price is low.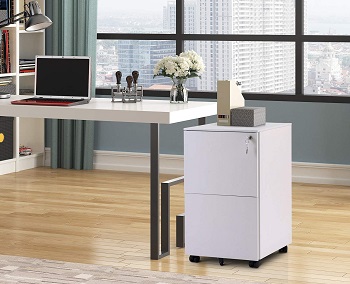 Anti-rust Surface
The metal construction with an electrostatic spraying finish improves the item's durability. The surface is resistant to rust and impact. This pedestal file cabinet bears up to 200 pounds in total. Use its top as storage space, place your printer or other items on it.
Swivel Casters
This file cabinet is equipped with swivel casters. You can move the unit easily wherever you need to. Two front casters come with a brake function. Below the bottom drawer is a small caster. This auxiliary caster prevents tipping and supports the drawer. These casters don't damage the floor.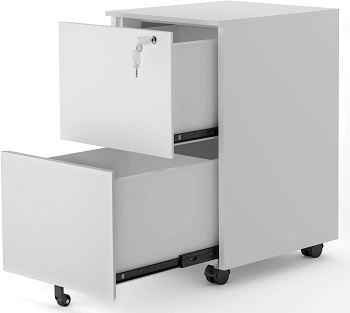 Hanging File Folders
There are two drawers with the same dimensions. They are fitted with a drawer divider, which helps you to organize your files better. Both drawers hold letter-size/A4 hanging file folders. Open/close them easily because of full-extension ball-bearing slides. They are lockable, too.
Highlighted Points:
fully assembled file cabinet
metal construction with rust-resistant surface
max weight capacity is 200 pounds
built-in lock for both drawers
drawers hold letter-size file folders
four casters + one auxiliary caster
Things To Know About Small File Cabinet On Wheels
These models are perfect products for small offices. In this buying guide, we'll help you to choose the model that is suitable for your office, depends on storage space, material, design and other requirements.
Mobility – The file cabinet with casters isn't fixed in one place. You can move it from one office to another, on the wooden floor or carpet. But, if you want, you can have both, stationary and mobile item. Some models come with feet and wheels, so you can change them depends on your needs.
Anti-tilt Caster – There are some models with five casters. The fifth caster has two functions – it prevents the file cabinet to tip over. Some anti-tilt casters are placed in the center of the bottom and some are below the bottom drawer. They also support the bottom drawer's weight.
Wood And Metal – The file cabinets can be made from different materials, wood, plastics, metal, aluminum. The metal office cabinets are the most sturdy option on the market. They are resistant to impacts. The wood file cabinet provides a traditional design that fits perfectly in home offices.
Box Drawer – The small rolling file cabinets are vertical and they usually have two or three drawers. Choose the number of drawers depends on your needs. But consider these small box drawers. They are useful for miscellaneous office supplies.
File Drawers – The file drawers are able to accommodate various paperwork. But, read the product descriptions, some models are designed for standard files, which have 8.5" W x 11" L. If you need to store larger files, buy a file cabinet that holds legal-size files.