Are you interested in creative storage solution for your files?
Did you consider the ottoman file cabinet? Well, for this review we made six categories and found the best models available in the market. Read their reviews and our brief buying guide, it will help you to choose the suitable file cabinet for your needs.
Our Top Picks
Best 6 Ottoman File Cabinets
Best Of Best Ottoman File Cabinet
Christopher Knight File Cabinet
Versatile File Cabinet
The Christopher Knight Home is a high-quality furniture brand, they made traditionally designed ottoman file cabinets. These products fit great in a home office and office. This is a versatile file cabinet, you can use it as a seat, footrest, tabletop or storage item.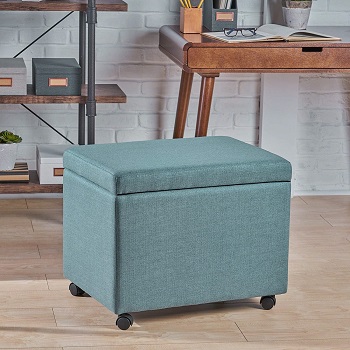 Calming Blue Color
There are a variety of styles and sizes, choose the model you like the most. This brief review talks about the beautiful blue file cabinet that features a rectangular shape. It is made of high-quality fabric. This sturdy file cabinet is 20.25 inches tall, 18.25 inches wide and 24.25 inches deep.
Plastic Casters
The price is affordable and the assembly isn't required. There are four casters and they are made of sturdy and quality plastic. They keep this file cabinet mobile and portable. Use it as a comfortable seat while you organize your documents.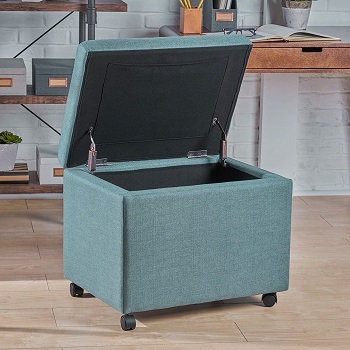 Optional Rack
The Christopher Knight file cabinet has the ability to accommodate any standard sized filing rack. It is important to note that the filing rack isn't included in the package. If you want to organize your file folders, you need to buy some racks separately.
Highlighted Points:
the assembly isn't required
traditional design, blue color available
four durable casters ensure mobility
the filing rack is optional
made of high-quality fabric and plastic
Best Portable Ottoman File Cabinet
Yoleny File Cabinet
Textured Material
The Yoleny is a beautiful file cabinet woven by skilled weavers. The textured seagrass material provides a unique appearance, each product has its own pattern. This tough material makes this file cabinet sturdy and durable. The price of this item is affordable.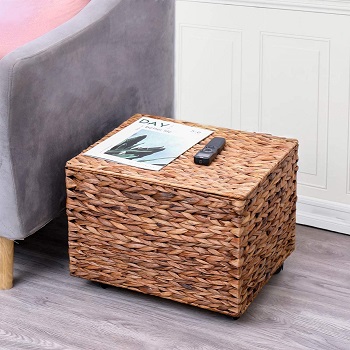 Rolling File Cabinet
Its maximum weight capacity is 11.8 pounds. The unit size is 13.8 inches in depth, 17.9 inches in width and 15 inches in height. It isn't a tall file cabinet, you can place it under your desk. Use it for different things, like books, office essentials, notebooks, etc.
Built-in Wheels
The Yoleny ottoman file cabinet comes with built-in wheels, they are durable and last for many years. You can roll it easily in any direction. This seagrass file cabinet comes with an iron wire rod for hanging file folders. You don't have to install it by yourself, it is built-in.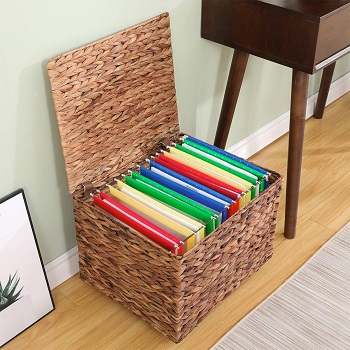 Protective Lid
Use this iron rod for better file organization. Because of its dimensions, it is suitable for different file folder sizes. Place the letter-size file folders vertically and if you want to store legal size file folders, place them horizontally. The lid protects your stored documents from damage or loss.
Highlighted Points:
handwoven by skilled weavers
made of sturdy seagrass material
built-in iron rod for hanging files
it accommodates letter and legal size file folders
swivel wheels for mobility
Best On Wheels Ottoman File Cabinet
Birdrock Rolling File Cabinet
Handwoven File Cabinet
The Birdrock is a file cabinet that is made of natural materials. It is handwoven from natural seagrass and abaca. The file cabinet color can vary due to natural plant fiber. But it's espresso or dark brown colored. The exterior dimensions are 18 inches in width, 15 inches in depth and 14 inches in height.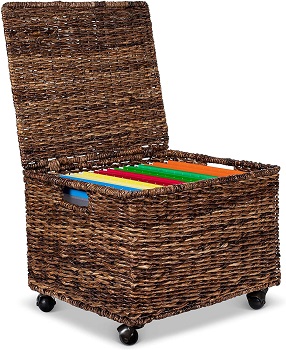 Durable Item
This material is very strong and durable, so you can sit on this file cabinet without fear of damaging it. The Birdrock weighs 10 pounds. It is a great organizer for your office or home office. This file cabinet is beautifully unique and it will last for many years.
Robust Wheels
This ottoman file cabinet comes with four robust wheels. You can easily roll it wherever you need. The spherical wheels are supported by ball bearings. These steel ball bearings ensure smooth rolling. This small file cabinet on wheels comes with carrying handles.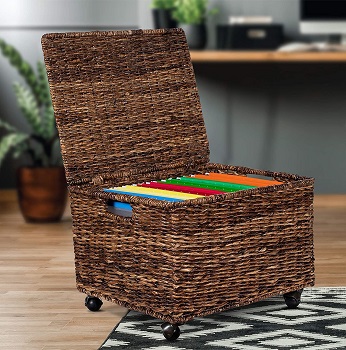 Hinged Lid
The Birdrock file cabinet features a hinged lid. It stays open, so you can easily grab your files and items. This file cabinet accommodates letter-size and legal-size hanging file folders. Besides the files, use it for office supplies, magazines, books and other things.
Highlighted Points:
handwoven file cabinet made of natural seagrass
available in espresso/dark brown color
functional and decorative design
holds letter and legal size hanging file folders
four robust wheels for mobility
hinged lid protects your files
Best Small Ottoman File Cabinet
Ore File Cabinet
Space-saving Item
The Ore ottoman file cabinet is a small product designed for small offices. It doesn't require much space and fits under any office desk. Its dimensions are 20 inches in height, 17 inches in width and 17 inches in depth. This item weighs 16 pounds.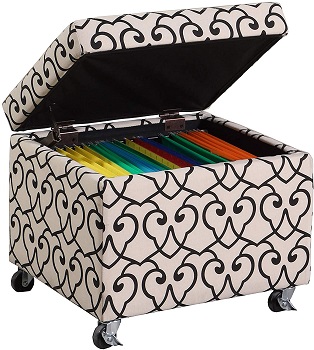 Industrial Casters
This model is available in two colors white color with black hearts or in brown color. The industrial casters are attached to the file cabinet. You can move Ore in any direction. There are many functions, you can rest your feet on it, load it with office supplies, sit on it, etc.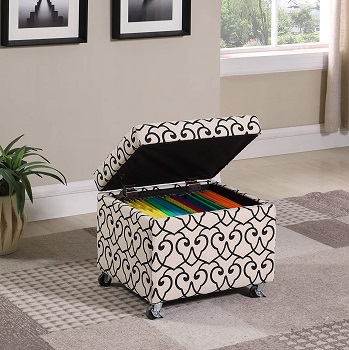 Easy To Clean
There are no hinges, just lift the seat when you want to store some things. You can maintain it and clean it easily. Wipe this letter size file cabinet with a dry or damp cloth. Its storage dimensions are 18.75" L x 18.75" W x 12.5" H. The price is high.
Highlighted Points:
small file cabinet for small spaces
available in two colors
the industrial casters are included
no hinges, just lift the seat
easy to clean it with a dry or damp cloth
Best Cheap Ottoman File Cabinet
CoCo Filing Cabinet
Low Price
The CoCo file cabinet has a low price, it is affordable for anyone. This file cabinet under $50 comes in multiple colors – purple, teal, grey plaid, grey and cream. Pick the model that is suitable for your office or home office environment. Moreover, you can choose between three model sizes.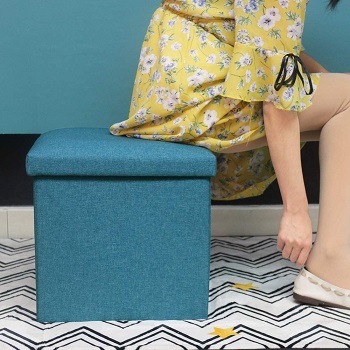 Foldable File Cabinet
This ottoman file cabinet measures 15 inches in height, 15 inches in depth and 15 inches in width. It is easy to assemble this product. Open the body frame, put the board on the bottom and cover it with a lid. When the CoCo isn't in use, you can quickly fold it at a small space-saving size.
High-quality MDF
The used materials are high-quality medium density board and linen fabric. The lid is covered with memory foam. You can use it as a comfortable seat, but the weight capacity isn't high, the maximum is 150 pounds or 68 kilograms. It isn't intended for heavy persons.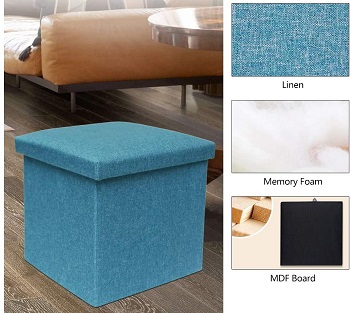 Multifunction File Cabinet
You can use this ottoman as a seat, storage space, footrest, step stool, coffee table, etc. It weighs 5 pounds only, so you can easily move it from one room to another. The file cabinet bottom won't scratch your floor. You can't store your files here, but use it for miscellaneous office supplies.
Highlighted Points:
quality file cabinet with low price
fold it in small size when you don't use it
made of high-quality MDF and linen fabric
designed for office supplies
max weight capacity – 150 pounds
Best Home Office Ottoman File Cabinet
Tina File Cabinet
Rectangular Shape
The Christopher Knight Home produces this Tina ottoman file cabinet. This model has a rectangular shape and it is available in black color. The unit dimensions are 20.25 inches in height, 18.25 inches in width and 24.25 inches in depth. It is a deep file cabinet that provides plenty of storage space.
Plastic Wheels
The item weighs 16 pounds, but the Tina file cabinet comes with plastic wheels, so you can easily move it wherever you want. The assembly isn't required, so when it arrives at your address, just unpack the file cabinet and it is ready to use. The price is affordable.
2-in-1 Product
The interior dimensions are 20 inches in depth, 13.5 inches in width and 14.5 inches in height. It is made of microfiber and fabric. This low profile file cabinet is perfect for the home office. It is 2 in 1 product, use it as storage space and a comfortable seat.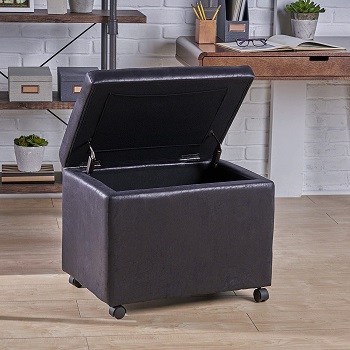 Standard Size Paper
The Tine file cabinet is able to accommodate a standard-sized filing rack, so it's good for letter-size files. But it is important to note that the insert filing rack isn't included in the package. You need to buy it separately. It will keep your file folders and documents organized and protected from damage.
Highlighted Points:
traditionally designed file cabinet
made of fabric and microfibers
four plastic wheels for easy mobility
it's able to hold standard-sized files
the assembly isn't required
Things To Know About Ottoman File Cabinets
The ottoman file cabinets can be made of different materials, in different shapes and sizes. Here you will learn more about their most important features. This information will help you to buy the best model for your office or home office.
File Cabinet Size – You can find file cabinets in many sizes, from small and compact items to large file cabinets. Always read the product description and dimensions. If you have limited space, consider under desk rolling file cabinet, you can place it anywhere.
Linen Fabric – The file cabinets can be made of a variety of materials. There are plastic, metal, aluminum, fabric and other materials. The models from the list above are mostly made of the high-quality linen fabric. This material is sturdy and easy to maintain.
Natural Material – If you are interested in natural materials, we find file cabinets that are handwoven. They are really beautiful and unique. There are two file cabinets that are made of quality seagrass and abaca. Each model features a unique pattern.
Hinged Or Removable Lid – These file cabinets usually come with two lid types. Completely removable lid or hinged lid. The hinged lid allows you to easily open and close it. Also, it stays open until you close it. If you want to have an open file cabinet, then the removable lid is for you.
Built-in Wheels – These ottoman file cabinets usually have fixed wheels, but some of them have removable wheels. A mobile file cabinet features a lot of advantages, you can easily move it wherever you need, you don't have to lift it or carry it around. The wheels are made of sturdy plastic.