Are you looking for a good yellow desk lamp that protects your eyes so you can maintain good vision?
Then look no further, in this article, read about desk lamps in yellow color with stunning appearance and quality features.
These models are divided into six categories, so find the perfect one with ease. Our guidelines will provide you with the most relevant info so you can easily find the lamp that meets your needs.
Our Top Picks
Best 6 Yellow Desk Lamps
BEST OF BEST YELLOW DESK LAMP
Cesa Table Lamp With Clamp
Yellow Lampshade
Cesa is a practical and space-saving lamp suitable for any desk, table, end table or even shelf. Its gooseneck is 11.8 inches long and the lampshade is 4.5 inches long. The reviewed model has a white base, silver gooseneck and yellow lampshade.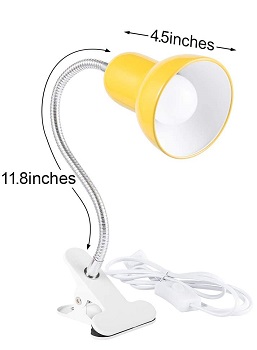 UL-listed Plug
But you can choose between black, blue, green and white lampshades. Cesa yellow desk lamp comes with an 18-month warranty and free replacement or refunds within 90 days. The package includes a UL-listed plug, it is tested and safe for use. Cesa offers three lighting modes – warm light, white warm light and white light.
Clamp Design
There is a clamp design and the maximum clamping distance is 3 inches. You can clip the lamp any almost any table, desk or shelf. Clip it on vertical or horizontal surfaces. This colorful desk lamp is equipped with LED with a lifespan of up to 40,000 hours.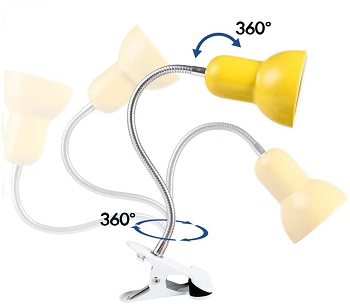 High CRI
This 5W LED bulb delivers 500 lumens, use the lamp for reading, homework, crafting, studying, it provides bright light. Adjust the lamp gooseneck in the way you need. The on/off switch is located on the power cord. Its color rendering index is high and allows you to see true and accurate colors.
Highlighted Points:
clamp desk lamp with white base and yellow shade
clip the lamp on desk, table, shelf
5W LED bulb included
high color rendering index
three lighting modes
comes with a UL-listed plug
BEST MODERN YELLOW DESK LAMP
Elegant Design Table Lamp
Multiple Colors
Elegant Design made this modern and quality desk lamp. The reviewed lamp comes in yellow, but you can choose between aqua, beige, black, blue, pink, brown, green, red and many other colors. It is 21 inches high, the lampshade is 10 inches wide and the base diameter is 6 inches.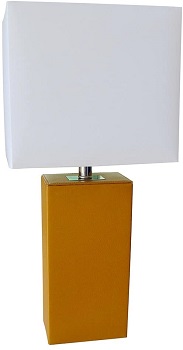 60W Base Bulb
This yellow desk lamp uses a 60W type A medium base bulb, but it isn't included in the package. Elegant Design lamp has a white shade made from durable fabric. Its base is wrapped in leather, so this lamp is a perfect decorative desk lamp.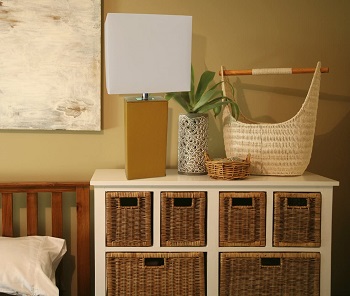 Touch OF Elegance
Elegant Design lamp suits modern, urban, contemporary and vintage home or office interiors. It will enhance your room with elegance and sophistication. It is a great gift for someone who likes modern and stylish items. The price is affordable.
Highlighted Points:
beautiful modern desk lamp
leather-wrapped tan base
white fabric lampshade
requires 60W bulb
variety of colors
BEST BANKER'S YELLOW DESK LAMP
Tenlong Traditional Desk Lamp
Gold Lamp
Tenlong is a popular brand that produces attractive banker's lamps. There are two models you can choose from with gold or brass base. This gold desk lamp is 13.3 inches tall, the base diameter is 7 inches and the lampshade is 10 inches wide.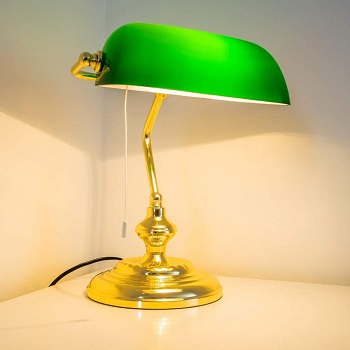 Green Glass
Its base is made of polished brass and finished in stylish gold color. The lampshade is made of durable and sturdy green glass. With that contrast, Tenlong yellow desk lamp will uplift your home or office decor. A green lampshade provides soft and comfortable light.
E27 Base Bulb
This antique banker's lamp has a classic pull chain switch, so you can easily turn the lamp on and off. Tenlong requires 110v-240v outlets and an E27 base bulb. The maximum wattage is 40W, the bulb isn't included in the package.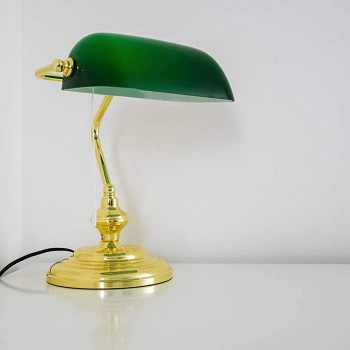 Retro Look
Tenlog lamp is also a perfect gift for vintage lovers. This lamp is manufactured in the original retro look of the 20s. Moreover, there are many small details that make this lamp even more attractive. It will create a great lighting mode in the evening.
Highlighted Points:
classic pull chain switch
elegant bankers desk lamp
made from polished brass and green glass
requires E27 base bulb
maximum wattage is 40W
BEST READING YELLOW DESK LAMP
Injuicy Adjustable Reading Lamp
2-year Warranty
Injuicy is a tall desk lamp designed for larger desks, tables and workbenches. Except for the yellow color, it is available in red, black and white color. The manufacturer provides a 90-day money-back guarantee and a 2-year warranty.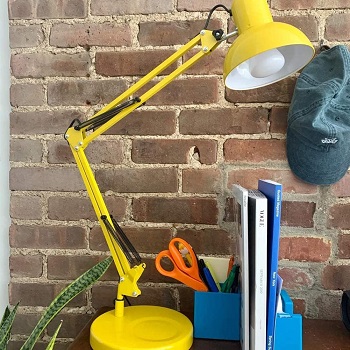 LED Or Incandescent Bulb
It is compatible with 110v-240v outlets. This yellow desk lamp requires an E27 base bulb and it's compatible with incandescent and LED bulbs. It is important to mention that the package doesn't contain a bulb. You need to buy it separately.
Metal Lamp
This adjustable reading lamp is suitable for offices, dorms, studios, home offices, children's rooms, etc. Its construction is made of quality and sturdy metal. The power switch button is located on the power cord for convenient use.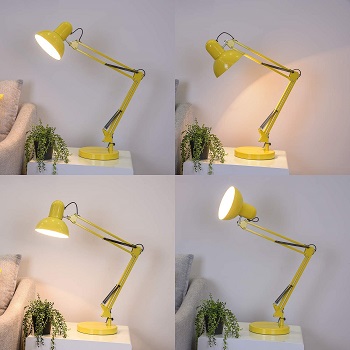 Flexible Design
It provides bright light suitable for reading, crafting, homework and other precise tasks. This lamp has adjustable arms and lampshades. Extend, bend and fold the lamp in the way you need. Rotate the lampshade so you can position the light exactly where needed.
Highlighted Points:
tall desk lamp for large desks
requires E26 base bulbs
compatible with LED and incandescent bulbs
provides bright light for reading and studying
adjustable arms and lampshade
covered with a 2-year warranty
BEST STUDY YELLOW DESK LAMP
Fulcloud Flexible Desk Lamp
Five Colors
Fulcloud is an elegant desk lamp available in several colors. Choose between yellow, black, green, pink and white models. It is 17.7 inches high and the base diameter is 5.9 inches. It features a simple and modern design suitable for dorm, home office and study.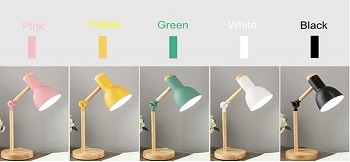 Wooden Base
Thanks to its small and round base, it fits on any nightstand, table, end table, desk. There is a 5.9-feet power cord with an on/off rocker switch. The thickened sturdy base is made of quality wood and equipped with an anti-slip bottom that prevents the lamp from falling over.
5W LED Bulb
This small reading lamp uses a standard E27 base bulb. The package includes a single 5W LED bulb. It lasts longer than traditional light bulbs, produces low heat and it's more energy-efficient. LED ensures flicker-free and glare-free illumination.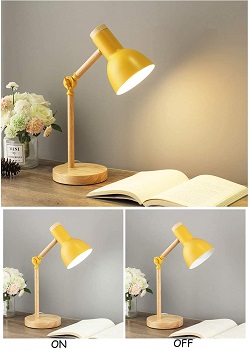 Adjustable Arm
Fulclound desk lamp has an adjustable arm, adjust the light head and direct the light exactly where needed. There is an adjustable mechanical joint, easy to use. While the base is made of wood, the lampshade is made from quality iron that is painted yellow.
Highlighted Points:
small and minimalist desk lamp
wooden stable base
sturdy iron lampshade
included 5W LED bulb
flicker-free and glare-free light
adjustable lamp arm
BEST WORK YELLOW DESK LAMP
BenQ Ergonomic Desk Lamp
Lamp Size
If you looking for the best lamp for your eyes, then you should consider the BenQ Gold desk lamp. You can buy it in gold, blue and silver color. The lamp base diameter is 8.7 inches, the arms measure 14.7 x 14.7 inches and the light head is 15.2 inches long.
Wide Lighting Range
This gold task lamp is perfect for offices and multi-monitor setups. It is able to illuminate your entire desk with a wide 35" lighting range. BenQ provides a 150% wider range than other lamps in the market. It delivers 500 lux (lux = 1 lumen per square meter).
Aluminum Alloy
BenQ yellow desk lamp is made of aluminum alloy, this material effectively dissipates the heat made by LED. it meets many EU restrictions. It has passed international safety standards certification. The ball joints optimize the flexibility of the lamp, you can extend it and adjust it according to your needs.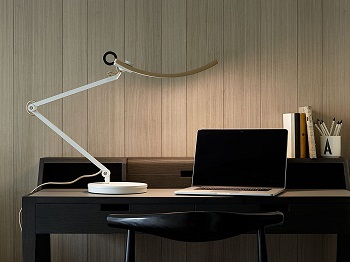 Smart Feature
Flicker-free LED provides constant and even lighting. The LED panel is rated for up to 50,000 hours. There is an integrated smart feature that detects your ambient light level and adjusts accordingly. BenQ provides flicker-free illumination, this is the world's first lamp for e-reading.
Highlighted Points:
world's first lamp for e-reading
flicker-free LED panel with a long lifespan
made from aluminum alloy
meets strict EU standards
highly flexible design
wider lighting range
Things To Know About Yellow Desk Lamp
If you are unsure about which yellow desk lamp will be appropriate for your space, here we'll explain the most common terms and features you need to consider before buying.
Eye-caring Lamp – First thing you need to consider before buying is that lamp has stable and adjustable brightness of at least 400 lumens. The desk lamps with about 400 lumens are bright enough for precise tasks such as reading and working.
Flicker-free Light – The flickering and glaring are effect that causes eye strain and eye fatigue. You should buy the best desk lamp for the eyes that comes without these harmful effects. There are lamp models that stop LED flickering and help you focus on your work and tasks.
Color Rendering Index – Find the lamp with a Color rendering index of around 80 to 90 (above 90 is too high). That color index allows you to see true and accurate colors without eye strain. Also, look for lamps with a  wide range of color temperatures suitable for different occasions.
Color Temperature – Lamps aren't used for a single purpose, some people use them for reading, crafting, working, relaxing, studying, etc. Many LED lamps offer a whole range of color temperatures. Choose between many modes and adapt to the task.
Lamp Design – Buying a quality yellow desk lamp is a long-term commitment. Choose the lamp that matches your home or office interior. If you have a large desk, the ideal solution is a tall lamp that covers a wider area. Also, the lamps with adjustable design or flexible gooseneck allow you to direct the light where need it.