On the search for an elegant green lamp that offers both good illumination and eye-catching design?
If so, then keep reading this article on green lawyer lamps!
Here is the list of the best-rated lamps currently available in the market, so check it and pick the model with the shape, features, design you like the most. The various models are offered and divided into six categories to be easier to find the best one.
Our Top Picks
Best 6 Green Lawyer Lamps
BEST OF BEST GREEN LAWYER LAMP
Asoko Traditional Desk Lamp
Stable Lamp
Asoko is a traditional bankers lamp that adds elegance and sophisticated touch in any office or home. It is 15.2 inches tall, the lampshade width is 10 inches and the base diameter is 6.7 inches. Asoko weighs 5.1 pounds and stays stable on the desk.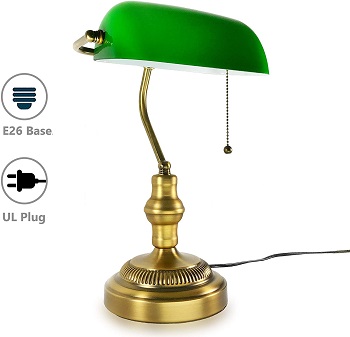 Widely Used Item
It can be used for the living room, bedroom, study room, home office, office and many other places. Asoko green lawyer lamp is compatible with LED, incandescent and halogen bulbs. The maximum wattage you can use is 60W. Buy standard E26 base bulb.
A-grade Glass
Asoko vintage reading lamp uses A-grade glass, it features a nice and smooth surface with minimal flaws. That handmade glass has fewer bubbles. The lamp base is made of nice and elegant brass, it is heavy and stable. It won't tilt.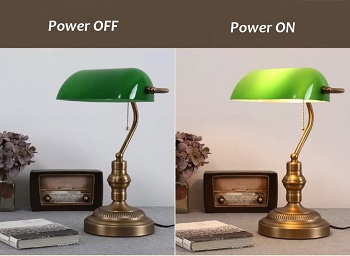 Well-packaged Lamp
This lamp arrives well packaged, but if the lampshade comes broken, contact customer service, they will replace it. Moreover, the manufacturer provides a 1-year warranty. The lampshade is rotatable, so adjust the perfect lighting angle for your different tasks.
Highlighted Points:
handmade A-grade green glass
nice and quality brass base
compatible with halogen, LED and incandescent bulbs
covered with a 1-year warranty
maximum wattage – 60W
rotatable lampshade
BEST VINTAGE GREEN LAWYER LAMP
Newrays Bankers Table Lamp
UL-listed Lamp
Newrays is a pricey desk lamp with an overall height of 14.1 inches, the lampshade diameter is 10.4 inches and the base diameter is 7 inches. It is a bit bigger than other bankers-like lamps. This is a UL-listed lamp, meaning it passes many strict tests, so it is safe for use.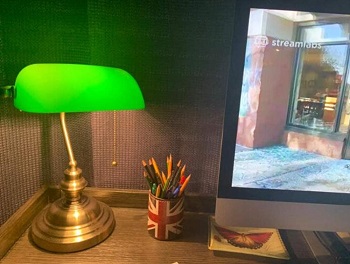 60W Bulb
This antique bankers lamp requires an E26 base bulb with a maximum wattage of 60W. It is compatible with incandescent and LED bulbs. The package doesn't contain a bulb. If you use a color-changing LED Edison bulb, this fixture is dimmable.
Adjustable Angle
When the green lawyer lamp arrives at your address, you need to install it, so follow the included instruction. When installed, you can adjust the lampshade and maximize the lighting potentials by adjusting the angle. That is very practical.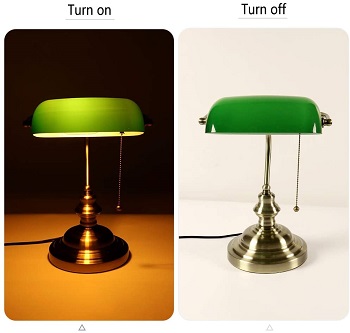 Easy To Use
Turn the lamp on or off by pulling the classic pull chain switch. You don't have to look for a switch on the power cord, this is a more convenient way. Use this lamp in your living room, guest room, studio, home office, office or dining room.
Highlighted Points:
pricey table lamp
requires E26 base bulbs
compatible with LED, incandescent, halogen and CFL
convenient pull chain switch
maximum wattage – 60W
UL-listed lamp
BEST MODERN GREEN LAWYER LAMP
Mlambert Touch Control Table Lamp
Included LED Bulb
Mlamber is a mix of modern and vintage styles. It is 14 inches tall, the lampshade is 10 inches wide and the base diameter is 6.3 inches. Mlambert requires 110v-130v outlets and its power cord is 5 feet long. A single 6W LED bulb is included in the package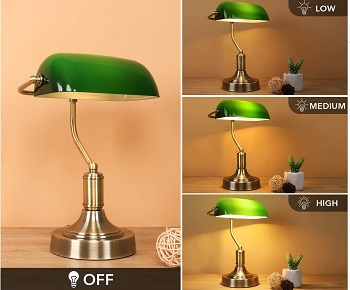 Metal Construction
It features all-metal construction with a satin brass finish. The lampshade is made from green glass that provides an elegant and sophisticated look into your home or office. The green lawyer lamp fits almost any type of office desk, table, end table or nightstand.
USB Port
Even if this modern banker's lamp has a retro design, there are some modern features. The built-in two 5V/2.1A USB ports will charge your mobile phone, tablet, e-reader and other small electronic devices. Also, there is a touch-sensitive base, not a classic pull chain switch.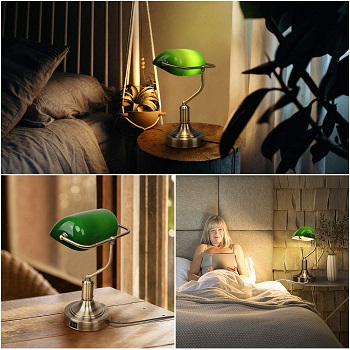 3 Levels Of Brightness
Just tap anywhere on the lamp base and change the brightness. There are three levels of brightness – low, medium and high that suit your different lighting needs. The light is muted by green shade, so Mlambert reduces eye strain and eye fatigue.
Highlighted Points:
vintage-inspired table lamp
6W LED bulb is included in the package
all-metal construction with satin brass finish
built-in two USB ports
touch-sensitive lamp base
three brightness levels
BEST BRASS GREEN LAWYER LAMP
Catalina Traditional Table Lamp
Clear Power Cord
Catalina lamp is inspired by vintage and retro design, its price is affordable. It is 13.5 inches high and 10.2 inches wide. The shade dimensions are 8.7 x 3 inches. It comes with a transparent 60-inch power cord. Follow the instruction and assemble it quickly.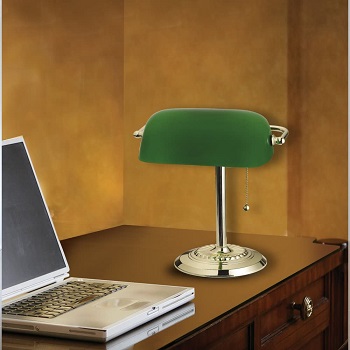 Smart Outlets
The manufacturer offers a 1-year warranty for this green lawyer lamp. Catalina lamp is compatible with smart outlets or smart switches. Connect it with Alexa or other smart home devices. This brass bankers lamp is designed for indoor use only.
Tested Lamp
It is tested and meets many safety and quality standards. Catalina uses type A 60-watt incandescent or LED bulbs. None of these bulbs aren't included in the package, you need to buy the bulb separately. When turning the lamp on, it creates a cozy atmosphere.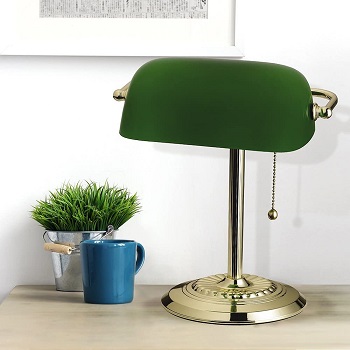 Adjustable Shade
There is a brass plated finish with an elegant green glass shade. Its lampshade is adjustable, direct the light where needed while reading, crafting or working. Use the pull chain switch for turning the lamp on and off. Ideal as a bedroom lamp, living room lamp or home office lamp.
Highlighted Points:
covered with a 1-year warranty
compatible with smart outlets
use the incandescent or LED bulb
convenient pull chain switch
adjustable lampshade
tested lamp meets safety standards
BEST READING GREEN LAWYER LAMP
Lightaccent Polished Table Lamp
100% Guaranteed
Lightaccents made this beautiful lamp that is covered with a manufacturer warranty. Plus, if there is any defect on the lamp, contact customer service. It measures 15 inches in height and the overall width is 10.2 inches. The lamp is heavy and well made.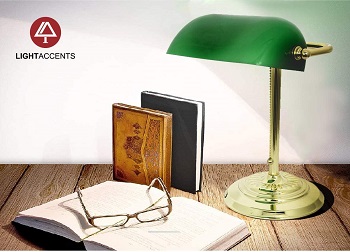 Small Base
This green lawyer lamp provides vintage style in your home or office. There is a small round base and rectangular shade that perfectly fits any desk, table or workbench. Its construction is made of quality metal with a polished brass finish.
Solid Thick Glass
Lightaccent's shade is made of solid thick green glass with white opal inner coating. It is designed for use with a 40W incandescent or LED bulb. This brass reading lamp features an adjustable lampshade, you can direct the light at different angles and read with ease.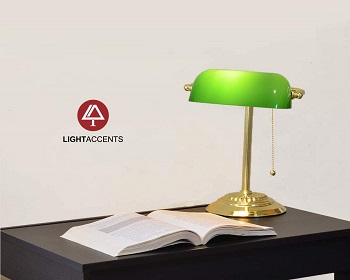 Metal Frame
Detailed with a classic pull chain for turn on/off the lamp, just like the original banker's lamp has. The brass-plated metal frame is polished by hand. It is very solid and stable. You can use it in your home, office, Lightaccent lamp will uplift any interior.
Highlighted Points:
covered with warranty
solid thick green glass
metal base with polished brass finish
use 40W incandescent or LED bulb
a solid and stable lamp
BEST LED GREEN LAWYER LAMP
Barton Bankers Lamp
Suits Anywhere
Barton is another elegant bankers lamp made from metal, alloy steel and glass. Its attractive design fits on modern, vintage, retro or mid-century desks and tables. Use it in the office or at home. Barton lamp is 14.5 inches tall and 10.2 inches wide.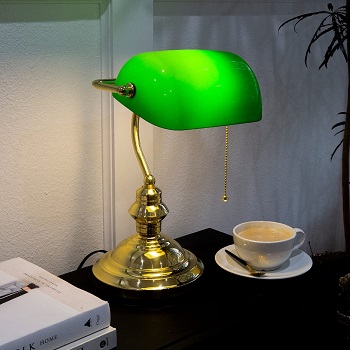 Classic Pull Chain
This green lawyer lamp is made of high-quality metal that has been electroplated with brass and polished into a shiny finish. It is designed with a classic pull-chain that you need to pull for turning the lamp on/off. Practical and easy to use.
Compatible With LED
Barton is a LED reading lamp that uses standard E26 bulbs, install 40W incandescent or LED bulb. LED will last longer, use less power and don't produce heat. The bulb isn't included in the package. Barton emits soft and warm light through the green glass shade.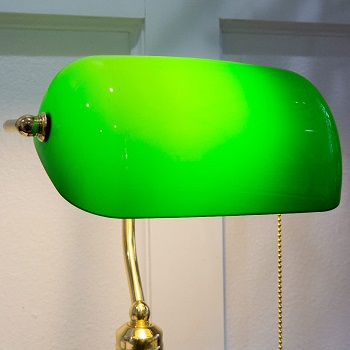 Quality Glass
This green shade is made of quality glass and it will instantly add a touch of traditional style to any interior. Its shade is adjustable, position it at any angle you need. The power cord is 70 inches long and the Barton lamp has an acceptable price.
Highlighted Points:
made from steel, glass and metal
polished into a shiny finish
compatible with incandescent and LED bulb
emits a soft and warm light
adjustable lampshade
classic pull chain switch
Things To Know About Green Lawyer Lamp
After those reviews, we recommend reading this buying guide. Follow the steps below and you will find your perfect lamp easily. Learn more about adequate lamp size, green shade benefits, lighting modes and more.
Lamp Height – For your maximum comfort, the bottom of the green lawyer lampshade should be at eye level. Then you'll have the lightest and less glare. The average size of these lamps is from 14 to 16 inches. Also, it is important how tall you are. In any case, the light shouldn't cause eye strain and fatigue.
Green Glass Shade – These lamps are inspired by traditional banker's lamps. The banker's lamp is also known as the Emeralite lamp. That original antique brass desk lamp featured a green glass shade with a brass stand. Because of the green shade, it emits a soft and warm light, gentle for the eyes.
Flexibility – Some of the models in the list above come with adjustable shade. They allow you to adjust the shade and light exactly where you need it at the moment. You can have the right illumination for whatever task you are performing.
Lighting Modes – Do you want to use this lamp as decoration in your home/office or as a task light? If you want to be able to change the lighting modes, find a lamp that offers a variety of color modes or brightness. Then use the lamp for different occasions and set low light for a cozy atmosphere and high light while reading.
Light Bulb Types – It seems like these lamps use traditional bulbs only, but that's incorrect. Many of the models from the list above are compatible with LED. LED bulbs have many advantages, they last much longer than traditional bulbs, produce low heat and use less power.