Are you looking for a sturdy file cabinet for your paperwork?
We checked the market offer and chose the filing cabinets that have sturdy and reinforced construction and great performances. There are two main sections in the article – a list of top 6 models and a useful guide which will help you to choose the perfect model for your office.
Our Top Picks
Best 6 Sturdy File Cabinets
Best Of Best Sturdy File Cabinet
Aurora File Cabinet
Reliable Product
Aurora is a top grade brand, they have high-quality products. This sturdy file cabinet is one of those. The model is available in black, white, metallic charcoal and white/aqua blue color. The unit size is 25 inches in height, 15.5 inches in width and 20.7 inches in depth.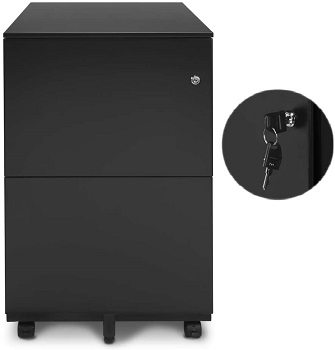 Solid & Resistant
This small metal filing cabinet features solid metal construction and an anti-rust electrostatic spray finish. It is a durable file cabinet that is resistant to corrosion, water and impacts. There are two drawers and each has 11 inches in height and 15.5 inches in width. There is enough room for your office items.
Lockable Drawers
These two drawers are designed for standard size file folders, 8.5 x 11 inches. Both drawers come with a hanging frame included. The upper drawer has a lock system, but when you lock it, both drawers are secured. That protects your files from damage or loss.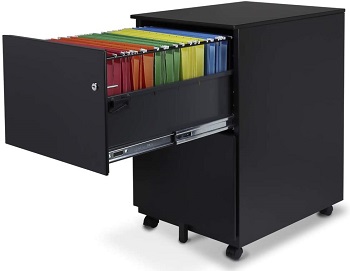 Interlocking Feature
High-quality drawer glide suspension ensures smooth performance. The interlock mechanism allows you to open one drawer at a time, you can't open both drawers simultaneously. This feature is useful because it prevents tipping if your file cabinet is overloaded. The casters are lockable.
Highlighted Points:
solid metal construction and anti-rust surface
multiple colors available
two drawers hold hanging standard file folders
one lock system for both drawers
drawer glide suspension for easy open/close
five sturdy casters provide mobility
Best 3-drawer Sturdy File Cabinet
Devaise Wood File Cabinet
Eco-friendly Board
The Devaise file cabinet is made of eco-friendly board, it is sturdy and durable. The surface is resistant to scratches and water. Moreover, it's easy to maintain and clean, just wipe it with a damp or wet towel. The price is affordable and this sturdy file cabinet weighs 41 pounds.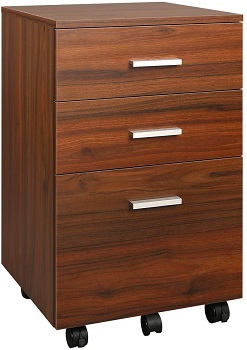 Installation Video
This filing cabinet requires assembly, you'll get instruction in the package. But if you need help with ball bearing slide installation, call customer service and they will send you an installation video. Devaise measures 25.7 inches in height, 16 inches in width and 15.7 inches in depth.
Hanging File Folders
This walnut filing cabinet features three drawers. Two small drawers that are ideal for office supplies and a large bottom drawer that holds letter and legal-size files. It is fitted with hanging rails, so you don't have to buy extra hardware for this item.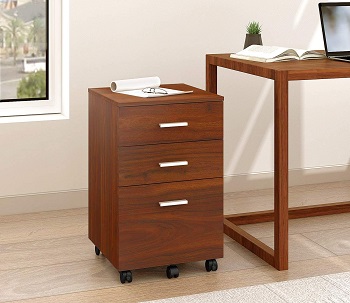 Mobile Product
Both drawers glide on ball-bearing slides, you can easily pull them all the way out. That provides better access to all your files. The handles are elegant and made of durable steel. Devaise comes with four casters for mobility and an added caster that prevents tipping.
Highlighted Points:
made of eco-friendly board
water and scratch resistant surface
two small drawers and one file drawer
file drawer holds hanging file folders
full extension drawers with ball bearing slides
five casters for mobility and stability
Best 2-drawer Sturdy File Cabinet
Bonnlo Filing Cabinet
Heavy-duty Construction
The Bonnlo is a sturdy file cabinet that looks very attractive, it features a minimalistic modern design. Choose between two colors – white and black. It is constructed of a reinforced steel panel with electrostatic powder coating. This ensures long-lasting durability and sturdiness.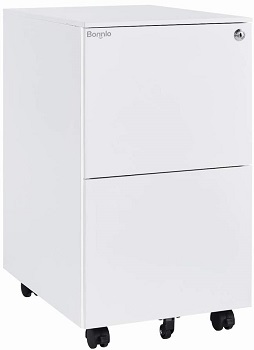 Load Capacity
This steel 2 drawer file cabinet is able to hold up to 330 pounds or stored paperwork and office essentials. You can load the drawers and put some office device on the file cabinet's top. The unit size is 25 inches in height, 14.5 inches in width and 19.7 inches in depth.
Five Casters
There is no assembly, you only need to attach the wheels. But, if you don't want to use them, they are removable, you can easily unhook them. It is important to note that two front casters are lockable, so they provide a stable position. There is a fifth caster that supports the bottom rawer and prevents tipping.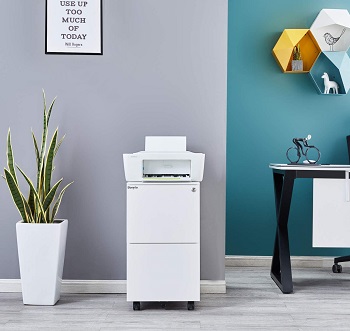 File Organization
The two drawers are designed for both, letter and legal-size files. Each drawer is equipped with a metal divider for neat hanging file organization. Drawers have full extension slides, you can pull them all the way out. On the upper drawer is a built-in lock that secures both drawers.
Highlighted Points:
available in black and white color
made of reinforced steel panel
built-in casters for mobility
added anti-tip caster in the middle
two drawers accommodate legal and letter size files
Best On Wheels Sturdy File Cabinet
Songmics File Cabinet
Durable Item
The Songmics file cabinet is made of solid steel that provides long-lasting durability. This model is tested and it meets many quality and safety standards, like ANSI and BIFMA. You can rely on its quality. The Songmics bears up to 330 pounds in total.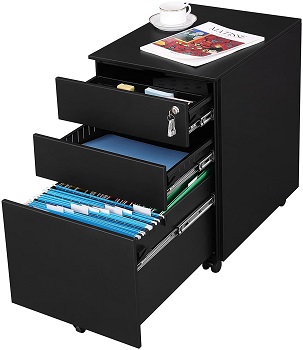 Mobile File Cabinet
The dimensions are 23.6 inches in height, 15.4 inches in width and 20.5 inches in depth. It weighs 50 pounds. You can choose between three colors, black, white and grey. This sturdy file cabinet is fitted with five casters, four casters are for mobility and the fifth caster prevents tipping.
Two Supply Drawers
The product comes assembled at your address, you only need to attach the wheels. The Songmics small rolling file cabinet features three drawers. Two standard size drawers are useful for office essentials. Both drawers are equipped with a removable pencil tray.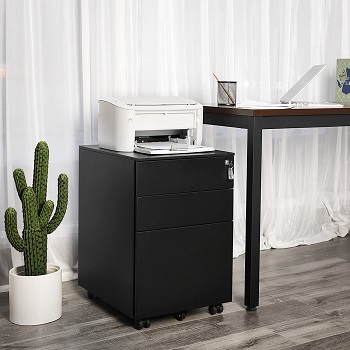 File Drawer
The bottom drawer is bigger, it features deep high sides. Two extra steel hanging rails are included in the package. Store legal and letter size suspension files in this drawer. Moreover, the package contains two keys. The lock is placed on the top drawer. It locks all three drawers.
Highlighted Points:
steel construction provides long-lasting durability
five casters, two casters are lockable
the anti-tip caster adds more stability
with one key lock all three drawers
steel hanging rails for legal and letter files
meets many safety and quality standards
Best Locked Sturdy File Cabinet
Yitahome File Cabinet
Affordable Price
The Yitahome is a beautiful modern file cabinet for office storage. It is available in grey and white, white and black color. This sturdy file cabinet offers great storage space, but it doesn't occupy a lot of your office space. The price is affordable.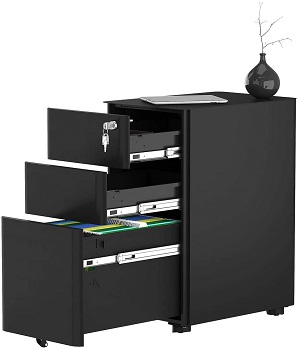 Eco-friendly Material
The dimensions are 24 inches in height, 17.7 inches in depth and 11.8 inches in width. It weighs 38 pounds. This small file cabinet with lock is built using robust steel and an eco-friendly finish. It is durable and sturdy enough to handle high weight capacity. Put some device on its top.
File Cabinet Mobility
The Yitahome is equipped with five casters –  four swivel casters for easy movement and one anti-tip caster. It is placed below the bottom drawer. It also supports the bottom drawer's weight. The two small drawers contain a removable pencil tray.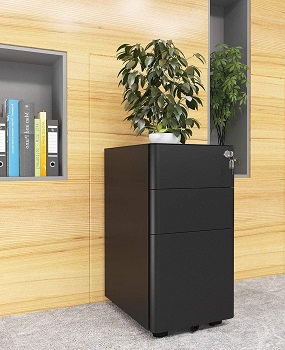 Removable Hanging Bars
Moreover, you can save your documents from loss and damage. There are a lock system and key that locks all three drawers at the same time. The bottom drawer features removable hanging bars for letter/A4 and legal size file folders. Your files will be organized.
Highlighted Points:
modern file cabinet with three drawers
two small drawers are fitted with a removable pencil tray
bottom drawer features hanging rails for file folders
there are five sturdy casters for mobility
lock system protects files from damage and loss
Best Lateral Sturdy File Cabinet
Intergreat White File Cabinet
Weight Capacity
The Intergreat is a lateral file cabinet whose overall weight capacity is 220 pounds. There are two drawers and each drawer can handle 110 pounds. This model is available in white and black color. The package includes a filing cabinet, hanging rails, hardware and instructions.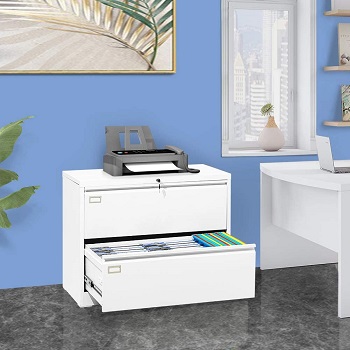 High-quality Material
The entire product is reinforced with a high-quality cold-rolled steel frame. It is coated with an electrostatic phosphorus-free epoxy spray layer. That makes this sturdy file cabinet immune to rust and corrosion. The Intergreat is ideal for heavy-duty use.
Two Keys
This white 2-drawer lateral file cabinet has hanging rails in each drawer. Use them for letter and legal size file folder storage. Above the upper drawer is a lock system. The package contains two keys, but with one key you can lock both drawers and keep your files safe.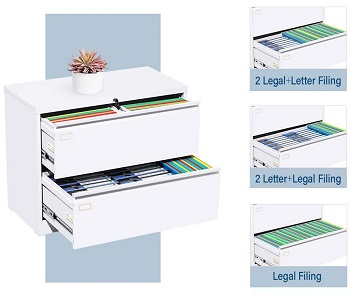 Anti-tilt System
The Intergreat filing cabinet has a safety interlock mechanism. This mechanism prevents the file cabinet from tipping over. When one drawer is opened, the other one is locked. If you overload the item, it won't fall. The drawers glide on ball-bearing slides.
Highlighted Points:
white lateral file cabinet with two drawers
made of high-quality cold-rolled steel
the surface is rust and corrosion resistant
both drawers accommodate letter and legal files
lock the drawers and protect your files
Things To Know About Sturdy File Cabinet
The sturdy file cabinets have solid construction and they last for many years. In this buying guide, you'll learn more about these products, which includes safety mechanism, materials, lock, safety mechanism and so on.
File Cabinet Material – There is a selection of materials available on the market. The most durable materials are metal/steel and wood. The steel file cabinets are the most durable option, also, they look professional. The wood file cabinets are better for your home office.
Vertical Or Lateral – You can find a different shape and size of a file cabinet. The main difference is between vertical and lateral file cabinets. Vertical file cabinet doesn't take up too much floor space and lateral file cabinet is ideal for large-sized paperwork.
Locking System – If you work in a shared office, it's a good idea to protect your files from loss, damage or unwanted access. There are many file cabinets that come with a locking system. The most common option is a lock and key. One key locks all drawers at the same time.
Anti-tip Mechanism – It is easy to overload your sturdy file cabinet with your files and office supplies. This mechanism allows you to open one drawer at a time. It prevents the unit to become unbalanced and falling forward. That can cause injuries and accidents.
Drawer Extension Types – There are three types – 3/4 extension file drawers, full-extension file drawers and over travel file drawers. The 3/4 extension type provides more support, but you can't fully extend the drawer. Full-extension can handle a heavier weight and you have better access to your files.