Are you interested in shallow filing cabinets?
If you are, then you are in the right place. We'll introduce you to different models divided into six categories. But, there are more, we gathered some useful information into our buying guide.
Our Top Picks
Best 5 Shallow File Cabinets
Best Of Best Shallow Filing Cabinet
Devaise Filing Cabinet
Two Versions
The Devaise filing cabinet is available in different heights. Measure your office before you order a model. This brief review talks about a file cabinet that is 25.2 inches tall, 15.7 inches deep and 18.7 inches wide. It weighs 44 pounds. The price is very affordable.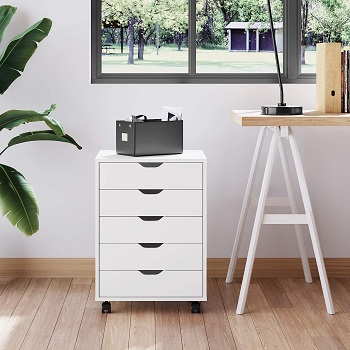 Eco-friendly Board
You need to assemble it and the instruction is included in the package. It is easy to clean and maintain this filing cabinet. It's crafted from durable particleboard. This eco-friendly board is resistant to scratches and water. Use the damp cloth for cleaning.
Five Drawers
There are five drawers and each drawer can hold up to 18 pounds. You can store office accessories, like post-it notes, scissors, notebooks and other small items. However, you can use this shallow depth file cabinet for file folders. Place them horizontally.
Easy-to-move
This modern wood file cabinet comes with four wheels. These swivel casters can go in any direction. Two front casters are lockable. If you want to ensure stationery placement, you can easily remove the casters. The total load capacity is 176 pounds.
Highlighted Points:
available in black and white color
crafted from eco-friendly wood
the surface is resistant to scratch and water
five drawers for documents and office supplies
four removable casters for mobility
Best Locked Shallow Filing Cabinet
Hon File Cabinet
Lateral File Cabinet
The Hon filing cabinet is a lateral black item. Because of this universal color, it fits in any office decor. It weighs 145 pounds and has a higher price. The dimensions are 53 inches in height, 30 inches in width and 19.2 inches in depth. It is a bit deeper than other models on this list.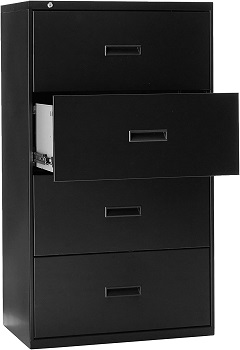 All-welded Design
This shallow file cabinet has an all-welded design with a double-walled base. It comes fully assembled at your address. You can place it on an uneven floor, it features leveling glides. The vertical reinforcement keeps the file cabinet sturdy and stable.
Four Drawers
The ball bearing full extension drawers are easy to open and close. There are four drawers that you can fill with the letter and legal-size files. Use hanging rails for file folders or file dividers. File dividers hold files in an upright position.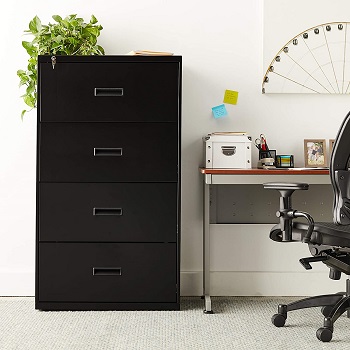 Removable Lock
The mechanical interlock system prevents tipping. You can open one drawer at a time, while the other three are locked. The Hon steel file cabinet has a built-in lock system. It is interesting that you can remove the lock core when security needs require.
Highlighted Points:
lateral black file cabinet for mid-size offices
all-welded design with reinforced base
leveling glides for uneven floors
fitted with a removable lock core
four drawers with ball-bearing suspension
safety mechanical interlock system
Best On-wheels Shallow File Cabinet
Yitahome 5-drawer File Cabinet
Low Price
The Yitahome shallow filing cabinet is available in two classic colors – black and white. The construction is made of 0.63" thick medium density fiberboard. Because of its sturdy construction, it bears up to 100 pounds of storage material. The price is affordable.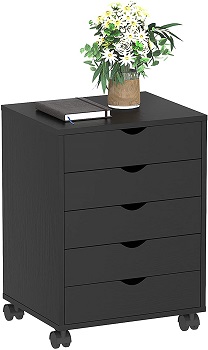 Premium Finish
It features a premium melamine finish, so the file cabinet is resistant to water and scratches. It's easy to clean the Yitahome file cabinet, use the damp cloth and wipe it. There are five drawers for office essentials and file folders. Use it in your office or home office.
Smooth-gliding Drawers
The unit size is 25.2 inches in height (including wheels), 18.7 inches in width and 15.7 inches in depth. Each drawer features 4.1 inches in height, 13.4 inches in depth and 16.5 inches in width. The drawers glide on full-extension slides. You'll have easy access to all your files.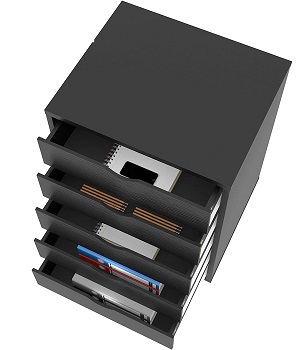 Removable Casters
The Yitahome small file cabinet on wheels features arc handles. There are four 360° swivel wheels, you can move the file cabinet in any direction. The two front casters contain brake function. It is useful to prevent tipping. If yu want, you can remove the casters and have a more stable item.
Highlighted Points:
black or white file cabinet finishes
equipped with five drawers
total load capacity is 100 pounds
removable wheels fitted with brake function
water-resistant and scratch-resistant surface
Best Home Office Shallow File Cabinet
Naomi File Cabinet
Three Colors
The Naomi Home produces this Debbie shallow depth file cabinet. This model is available in three colors – black, great and white. Choose the model the fits the best in your home office environment. The assembly is required and all necessary elements like tools and instruction are included.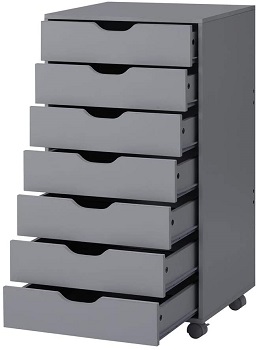 Seven Drawers
The Debbie measures 34.2 inches in height, 18.8 inches in width and 15.7 inches in depth. The construction is made of particleboard, it is durable and sturdy. There are seven drawers for all your office supplies and files. Each drawer ensures smooth open/close.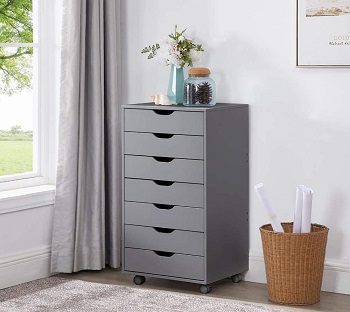 Four Wheels
The drawers provide plenty of space. The built-in wheels allow you to relocate the file cabinet wherever you want to. You can move the item in any direction. There is no need to lift it. The price of this product is low, you don't need to spend a lot of money on it.
Highlighted Points:
available in black, white and grey color
made of durable particleboard
fitted with seven shallow drawers
built-in wheels for mobility
assembly is required and the instruction is included
Best Lateral Shallow File Cabinet
Adeptus File Cabinet
Sustainable Forests
The Adeptus file cabinet features an affordable price. Its construction is made of sturdy pine wood from sustainable pine forests. That means, for every tree cut, there are two trees planted. Also, the wood doesn't come from Amazon rainforests.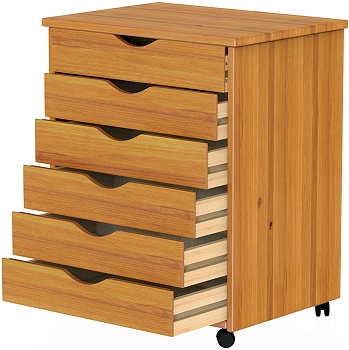 Six Drawers
The ready-to-assemble pine filing cabinet design allows you to assemble the file cabinet quickly. The dimensions are 25.4 inches in height, 20.75 inches in width and 15.4 inches in depth. This shallow filing cabinet is fitted with six drawers. each drawer is 3.25 inches deep.
Tabloid-size Files
The drawers are perfect for craft and art supplies. You can place letter and legal size file folders in these drawers, but you need to place them horizontally. You can even store tabloid-size files. All drawers are completely removable and you can use them as trays.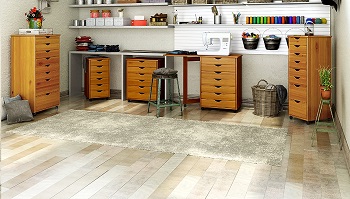 Non-lockable Casters
The Adeptus is a mobile file cabinet, it is equipped with four sturdy casters, so you can move it easily wherever you need. But, it is important to note that the casters aren't lockable. So, it isn't the best idea to place some device on the file cabinet's top.
Highlighted Points:
made of sturdy pine wood
ready-to-assemble design
six shallow drawers for the large paper size
all drawers are removable
four casters allow easy movement
Things To Know About Shallow File Cabinet
The shallow depth file cabinets come in different sizes and shapes. This buying guide will help you to choose the best models depends on the file cabinet's size, material, number of drawers and other features.
Number Of Drawers – These file cabinets usually have a higher number of drawers. In our list, you can find models with four, five and even seven drawers. If you have a lot of office supplies and accessories, consider the item with at least four drawers.
File Cabinet's Material – The file cabinets can be made of different materials. There are metal, wood, plastic and aluminum file cabinets. The wood and metal file cabinets are the most common. Wood file cabinets provide a natural look, while metal filing cabinets are the sturdiest option.
Mobile Items – Usually, you can see the wheels on vertical file cabinets. But nowadays, even lateral file cabinets are equipped with wheels. If you can't decide, there are models that come with removable wheels. We highly recommend the wheels with brake function.
Resistant Surface – It is always a good idea to buy a quality model rather than a cheap one. The quality shallow file cabinets have durable surfaces. They could be resistant to water, fire, impact, scratches and other unwanted things. If you work in a crowded office, consider a more resistant model.
Anti-tip Mechanism – The safety anti-tip mechanism is built-in many file cabinets with high load capacity. This feature provides stability and prevents the file cabinet from falling over. The anti-tip mechanism allows you to open one drawer at a time.