Looking for a compact desk lamp that provides perfect task lighting as well as saves desk space?
Then you should look for slim desk lamps!
In this article, we described several top-rated desk lamps made from quality materials, equipped with advanced light technology and many useful features. Check out the reviews, read our buying guide and pick the best desk lamp for your office setting.
Our Top Picks
Best 6 Slim Desk Lamps
BEST OF BEST SLIM DESK LAMP
Phive Architect Desk Lamp
Silver Desk Lamp
Phive is a well-known brand when it comes ith quality desk lamps. This CL-1 Architect model arrives in neutral and elegant silver color. The package includes a lamp, power adapter, arm adjust tools, user manual and clamp. The sturdy clamp supports desk thickness of up to 2.3 inches.
Energy-efficient Bulb
This slim desk lamp is equipped with an energy-efficient LED bulb that uses 20% less energy than traditional incandescent light bulbs. Its rated lifespan is about 50,000 hours. Meaning, there are no bulb-changing issues in the next 25 years.
Highly Adjustable Design
Phive has a highly flexible design  – 180°swivel lamp head, adjustable metal arms and rotatable lamp body. Position the lamp in a variety of angles to adjust it to your various needs. A quick touch on the button will turn the lamp on/off. Long press will switch the level of brightness.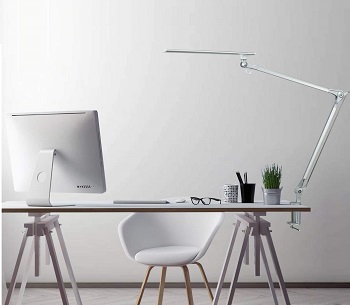 No Glaring Light
This adjustable LED desk lamp provides no glaring, no flickering and no ghosting illumination, ideal for reading, working and crafting. The memory function will remember your last used light mode, so you don't have to set it every time. The lamp price is acceptable.
Highlighted Points:
neutral and elegant silver color
high-quality design
durable metal body
highly adjustable design
eye-care technology
memory function
stepless dimming function
BEST ULTRA SLIM LED DESK LAMP
Crioo LED Desk Lamp
High-quality Aluminum
Crioo is a tall, slim and elegant desk lamp available in two attractive colors – grey and gold. The lamp dimensions are 6.3" x 6.3" x 18.5". Space-saving rounded base fits nicely on any desk or table. The manufacturer doesn't use cheap plastic materials, but high-quality aluminum and metal.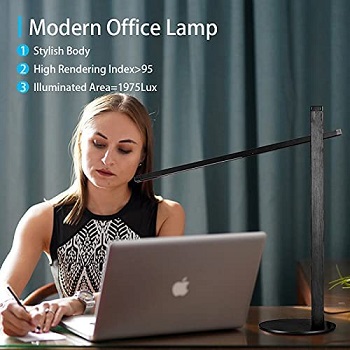 Anti-slip Base
It's durable and aesthetic, suitable for any workroom. An anti-slip base prevents tipping and keeps the lamp stable in any position. High-quality LED beads to ensure soft light, suitable for long-hour reading, working, crafting and more. They don't cause eye strain.
Multi-angle Adjustment
The slim lamp allows multi-angle adjustment. You can smoothly rotate the lamp arm upward and downward and obtain the best angle you need. The lamp joints are high-quality and provide long-term use. This modern task lamp comes with a 36-month warranty.
Memory Function
Touch the button above the lamp base and change the level of brightness. There are three different levels, so choose the most suitable for your tasks. When you turn on the lamp next time, the memory function will remember the last used mode, so you don't have to set it again.
Highlighted Points:
durable and aesthetic grey lamp
anti-slip base
made from aluminum and metal
high-quality LED beads
allows multi-angle adjustment
convenient memory function
backed by a 36-month warranty
BEST OFFICE TINY DESK LAMP
Koncept Metallic Black Desk Lamp
Metallic Black Lamp
Koncept AR3200 is a LED desk lamp that features a metallic black finish. The lamp base diameter is 9", the lamp stick is 14.3" high and the lamp arms measure 13.6 x 13.6". Made from aluminum to prevent corrosion. Koncept comes with a 10′ long power cord.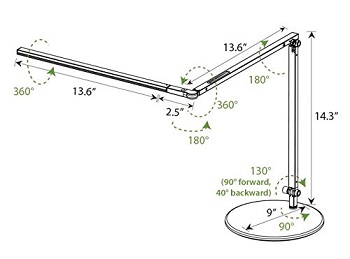 UL Standards
The heavy-duty base is stable and prevents tipping. This tiny lamp is tested and meets UL standards for safety and quality. Koncept is perfect for offices, home offices, dorms, etc. Built-in 35 LED beads provide an even and flicker-free light ideal that doesn't cause eye strain or eye fatigue.
Light Intensity
This modern reading lamp has a 16.1-inch long lamp head that swings and rotates. You can position the lamp in a variety of ways and point the light exactly where you need it. Change the level of brightness with a finger touch. Multiple dimming levels allow you to adjust light intensity.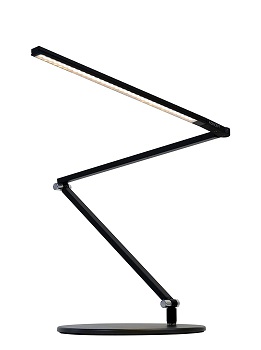 Vivid Colors
Koncept AR3200 desk lamp has high color rendering index, meaning, it allows you to see true and vivid colors. Set the high light intensity of at least 4000K when you working, reading, studying or doing other precise tasks. This desk lamp has a high price.
Highlighted Points:
metallic black finish
lightweight aluminum housing
10′ long power cord
heavy-duty base
meets UL standards
built-in 35 LED beads
adjustable lamp head and arms
BEST WIRELESS TINY DESK LAMP
Momax Smart Desk Lamp
Foldable Design
Momax is a multifunctional desk lamp available in several colors – white, dark grey, grey and black. Pick the model that complements your office interior. The lamp dimensions are 1.5" x 6" x 17.5". It features a folding lamp head and lamp arm, easy to place in bags or drawers.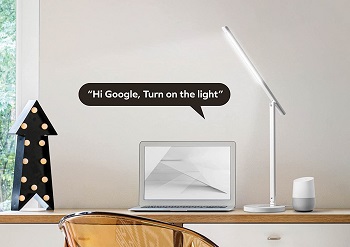 Wireless Charger
Its slim design is ideal for small desks and the adjustable design suits different lighting needs.  On the lamp base, there is a built-in wireless charger, suitable for any Qi-compatible smartphone. Also, there is a USB charging port that can charge two devices at the same time.
Full-spectrum LED
Momax tiny lamp is a wireless phone charging lamp suitable for reading, working and relaxing. Equipped with smart brightness memory, that auto-save your last light mode or brightness. Momax uses full-spectrum LEDs that provide super soft light and high color rendering index.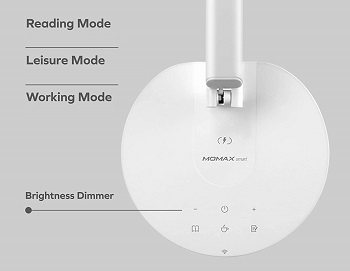 Smart App
Download the Momax Smart App and connect your lamp with WiFi. Then you can customize lighting modes and schedule on/off. Momax works with Amazon Alexa, Google Assistant, Tmall, Genie and so on. Meaning, you can turn off/on the lamp and change brightness by your voice.
Highlighted Points:
multifunctional desk lamp
folding lamp head and lamp arm
built-in wireless charger
smart brightness memory
full-spectrum LEDs
Momax Smart App
works with Alexa, Google Assistant
BEST CLAMP TINY DESK LAMP
AmazLit Black Desk Lamp
Extra Wide Clamp
AmazLit is a modern black desk lamp with a clamp. This extra wide metal clamp supports up to a 2.1-inch tabletop and holds the lamp securely in place. The clamp comes with silicone pads that prevent scratches and damage to your desk.  This lamp is made from aviation-grade aluminum alloy and brushed matte black finish.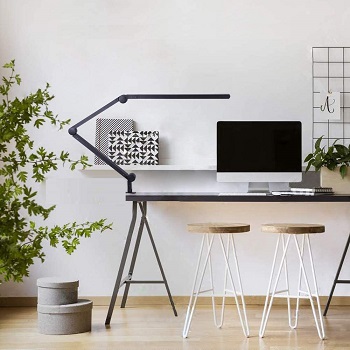 Adjustable Design
The package includes a lamp, UL power adapter, user manual and warranty. The power cord is 71 inches long. This slim desk lamp has a versatile three-axis design, so you can easily adjust the lamp in various angles and multiple positions. Point the lamp exactly where needed.
Long Light Panel
The swing arm clamp lamp has a 15.8-inch long light panel that illuminates large desktops. Highly efficient 98 LEDs consume less power than traditional light bulbs. The LED will last approximately 50,000 hours. it provides flicker-free and glare-free illumination.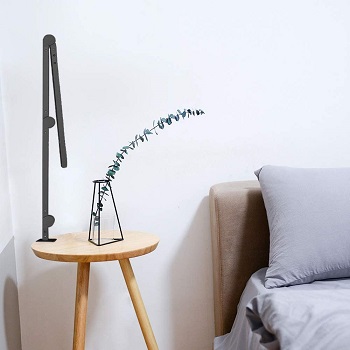 Several Brightness Levels
Choose between several levels of brightness and color temperatures. The color temperatures range from 3000K to 5500K. AmazLit is a perfect lamp for any occasion – reading, working, studying, relaxing, sewing, knitting, etc. An automatic delay-off function can be set to 10 or 40 minutes.
Highlighted Points:
elegant black desk lamp
ideal for large desks
extra wide metal clamp
made from aviation-grade aluminum alloy
versatile three-axis design
highly efficient 98 LEDs
glare-free illumination
BEST ADJUSTABLE SLIM DESK LAMP
LE Dimmable Desk Lamp
White Lamp
Lighting Ever or shortly LE is a modern white desk lamp which base measures 7.8" x 5.1", the lamp body is 16.7" tall and the light panel is 7.8" long. Its small footprint fits on any office desk and table, it takes up little space. The power adapter is included in the package.
Aluminum Lamp Body
The lamp construction is made from high-quality aluminum. It is durable and sturdy. This material effectively solves the heat dissipation issue. Built-in 54 LED beads provide even, flicker-free and non-glare illumination. It is soft on your eyes and doesn't cause eye fatigue.
Adjustable Design
This slim lamp has a flexible design, you can adjust the angle according to your needs. The lamp head is rotatable and the lamp arm is adjustable, so the LE lamp meets various needs. A touch-sensitive panel allows you to easily adjust the brightness levels and power the lamp.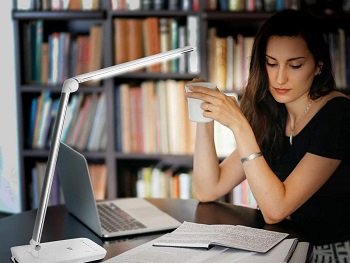 High CRI
That adjustable arm desk lamp offers seven levels of brightness, which is great because you can easily dim or brighten the light when needed. The memory function will automatically return your last used settings. High color rendering index allows you to see vivid and true colors.
Highlighted Points:
modern white desk lamp
it takes up little space
long light panel
made from high-quality aluminum
built-in 54 LED beads
flexible design
seven levels of brightness
Things To Know About Slim Desk Lamp
These slim desk lamps have different sizes, designs and features. So, before buying, you need to learn more about some useful specifications such as clamp lamp design, lighting modes, light bulb types and more.
Slim Design – Desk space is precious, so you don't want a desk lamp that demands too much desktop space. If you really have a small desk, look for a lamp with a clamp design that attaches to the side rather than sits on your desktop. These space-saving lamps have slim arms and long light panels.
Energy Efficiency – If you going to be using a lamp all day, an energy-efficient model helps save you money. Almost all of today's desk lamps use LED bulbs, which consume less energy than traditional light bulbs. Meaning, they last longer and don't require bulb changing for decades.
Lighting Modes – Extended computer use can cause eye strain, but proper lighting for different tasks can help to minimize the effect. Many modern desk lamps offer at least three levels of brightness and a few color modes. Choose the high color mode when working or reading.
Eye-caring Technology – If you looking for a tiny desk lamp for task lighting, you should consider some eye-caring technology. may lamps cause eye strain, it can be manifest as eye soreness, headaches, light sensitivity and more. Eye caring lamps provide flicker-free, glare-free and ghost-free light suitable for long-hour working.
Adjustable Design – You should look for adjustable reading lamps that offer a range of movement. This feature allows you to adjust the positioning of the light for different tasks. Many of the reviewed lamps feature adjustable arms and swivel heads, so it's possible to move them in a variety of angles.
Final Verdict
We recommend checking the Phive slim desk lamp. This high-quality desk lamp has a highly adjustable design, emits a soft light and uses an energy-efficient LED bulb. If you like this topic and want to check more space-saving models, then read the reviews on tall desk lamps and overhead desk lamps.