Interested in an overhead desk lamp that provides bright illumination to your office?
Then just keep reading!
There are a lot of models worth buying on the market and you can see the selection of the best lamps in this article. Find the right model by checking these six reviews and learn how to choose the best model that suits your needs.
Our Top Picks
Best 6 Overhead Desk Lamps
BEST OF BEST OVERHEAD DESK LAMP
AmazLit Desk Lamp With Clamp
Aluminum Alloy Material
AmazLit is a desk lamp with a clamp design. The package contains a desk lamp with clamp, user manual, UL-listed power adapter and a 24-months warranty. Made of aviation-grade aluminum alloy with brushed matte black finish. The power cord is 71 inches long.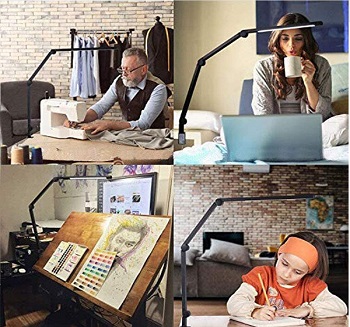 Clamp With Pads
Extra-wide metal clamp is equipped with silicone pads, so it won't damage your desk. It supports up to a 2.1-inch tabletop and holds the lamp firmly in any position. This space-saving design keeps your desktop clean so you have more space for your documents, notebooks and writing accessories.
98 LEDs
The overhead desk lamp features three flexible and sturdy joints, so you can adjust the lamp directions according to your needs. The swivel lamp head is 15.8 inches long, it covers a large desk area. Equipped with highly efficient 98 LEDs that consume less power than incandescent bulbs.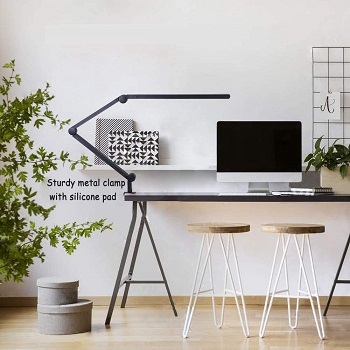 Automatic Delay-off Function
The LED panel is estimated for a 50,000-hour long lifespan. AmazLit is compatible with wall switches and smart plugs. This architect lamp clamp offers adjustable color temperature, from 3000K to 5500K. Also, this lamp features an automatic delay-off function.
Highlighted Points:
made of aviation-grade aluminum alloy
available in black color only
extra wide metal clamp
flexible arms and swivel lamp head
built-in 98 LED beads
adjustable color temperature
BEST HOME OFFICE OVERHEAD DESK LAMP
Lepower Adjustable Desk Lamp
Attractive Design
Lepower is an attractive desk lamp suitable for home offices. Its design is inspired by vintage and industrial styles. You can choose between black, sandy black, brass, silver and white model. The package includes a stable stand and clip so you can attach it to your desk.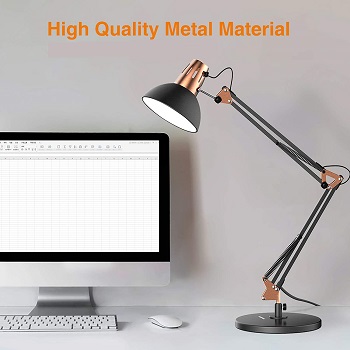 Metal Construction
You can attach the lamp to the desk, shelf or table. The max gap of the clamp is up to an inch. This is the best overhead light for a home office because of the high-quality metal construction that makes it durable and sturdy. Use it for decades.
E26 Base Bulb
Lepower requires E26 sized screw base, but the bulb isn't included in the package. Install the bulb you want, this lamp is compatible with a 4W-6W LED bulb, 8W-16W energy saving bulb and 20W-40W incandescent bulb. The max wattage is 40W.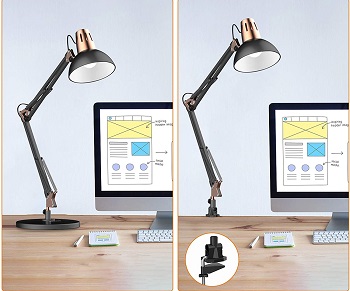 Heat Dissipation Design
This overhead lamp for the desk is flexible and the lamp head is adjustable. You can focus the light on any area you need to. It is equipped with a heat dissipation design that keeps the lamp head cold and safe for use. Lepower desk lamp has an affordable price.
Highlighted Points:
high-quality metal construction
compatible with LED, energy-saving and incandescent bulb
flexible lamp arms and lamp head
heat dissipation design
inspired by vintage and industrial styles
comes with a stand and clip
BEST SWING ARM OVERHEAD DESK LIGHT
Bemelux Dimmable Desk Lamp
Pure White Color
Bemelux is an architect desk lamp available in pure white color only. The lamp arms measure 16.4 x 16.4 inches and the light bar is 22 inches wide. It provides a large lighting viewing area. A 3-year warranty is provided by the manufacturer.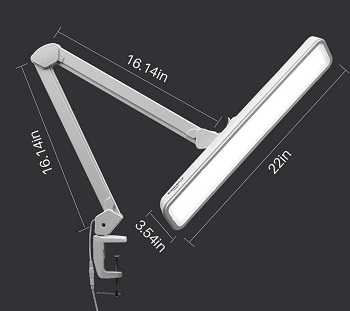 24W LED Light
The overhead desk light is suitable for large desks, it can cover a wide desk area. It features a 24W super bright LED that is soft and safe for your eyes, it doesn't cause eye strain or eye fatigue. Its expected lifespan is 50,000 hours, so you don't have to replace bulbs.
Swivel Metal Arm
Bemelux is made of high-quality ABS material, it is perfect for office desk, workbench, drafting table or computer desk. This swing arm clamp lamp features a swivel metal arm that you and set in different positions and direct light where you need it.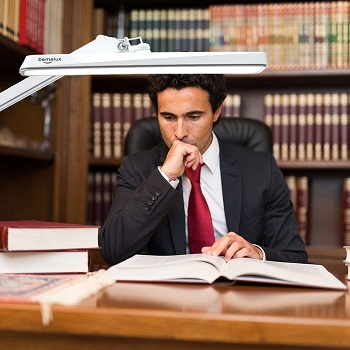 5 Brightness Levels
Choose between three color modes – warm, neutral and cold and five levels of brightness. Adjust the light intensity according to your tasks. Bemelux is a modern and stylish desk lamp that complements contemporary office interiors and doesn't require much space.
Highlighted Points:
available in pure white only
large lighting viewing area
backed by a three-year warranty
three color temperatures
five levels of brightness
flicker-free and glare-free light
BEST LED OVERHEAD DESK LIGHT
Mipaws LED Desk Lamp
Affordable Price
Mipaws is a compact desk lamp that doesn't require much desktop space. It is available in black and white color. The UL-listed adapter is included in the package, it is safer for use than other adapters. The lamp quality is CE-listed and its price is affordable.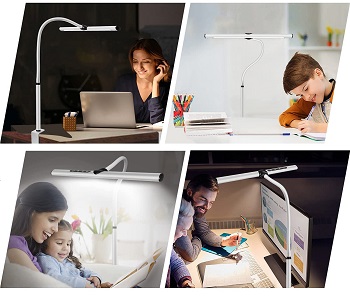 1-year Warranty
A 1-year warranty is provided by the manufacturer. It features a strong metal clamp with pads, so it won't scratch your desk during installation. It can be fixed to any workbench or office desk which thickness is less than 2.2 inches. The clamp holds the lamp securely in position.
116 High-efficient LEDs
This LED reading lamp has a wide light bar of 16.5 inches. It is equipped with 116 high-efficient LEDs that emit flicker-free and glare-free light. This light won't make your eye fatigued. LEDs use less energy and last much longer than other lightbulbs.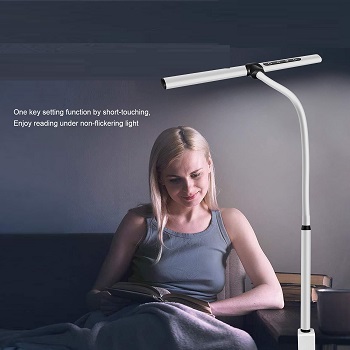 Automatic Delay Function
The overhead LED lamp is designed with five color modes and five brightness levels. Choose from warm 2700K to 6500K. It is the perfect lamp for reading, working, sewing, crafting and other precise tasks. Mipaws also has a built-in automatic delay function.
Highlighted Points:
available in black and white color
backed by a 1-year warranty
UL-listed desk lamp
strong metal clamp
116 high efficient LED beads
various lighting modes
BEST VINTAGE OVERHEAD DESK LAMP
Co-Z Rustic Desk Lamp
Outstanding Quality
Co-Z is a beautiful desk lamp ideal for home offices, it is inspired by industrial and rustic styles. It is backed by a 1-year warranty, so contact customer service if you notice any damage within that period of time. It features an outstanding quality.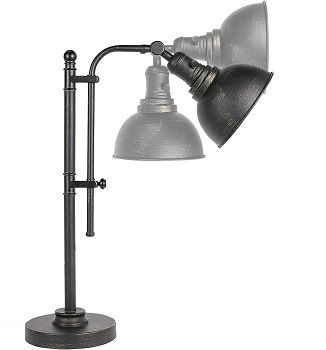 ETL Certificate
Its quality and safety are proven by the ETL certificate. The overhead desk lamp comes with a 5-foot power cord. The bulb isn't included in the package. Co-Z desk lamp is compatible with E26 socket type A bulbs. You can buy LED or CFL light bulbs.
Aged Bronze Finish
Co-Z is a vintage reading lamp made of iron, it's distressed in an aged bronze finish with gold highlights. It will add a touch of elegance to your room. Lamp height is adjustable, you can extend it from 25 to 29 inches to accommodate various spaces.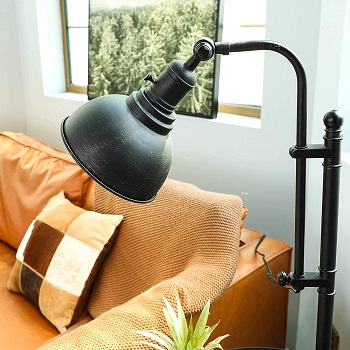 Swivel Lamp Head
You can create a custom light direction, swivel the lamp head up and down. Change the lamp height and position by using the classic rotary knob.  The manufacturer recommends an Edison bulb to complete the lamp's industrial look. It's easy to assemble.
Highlighted Points:
beautiful vintage-inspired lamp
made of iron with aged bronze finish
adjustable lamp height
swivel the lamp head up/down
compatible with CFL and LED bulb
ETL certificate
BEST STUDYING OVERHEAD DESK LAMP
Kary Clamp Desk Lamp
Ultra-wide Panel
Kary is an ultra-wide and bright desk lamp with a space-saving design. Its light panel is 31.5 inches wide, meaning it illuminates a large desk area.  The package includes a desk lamp with clamp, power adapter, user manual and 18-month warranty.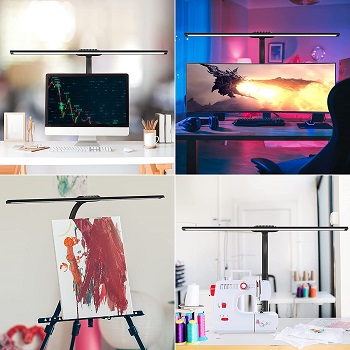 Adjustable Height
This overhead lamp for the desk has flexible height and gooseneck. You can adjust the lamp height to your monitor setup, desk height and current tasks. The metal clamp supports the max thickness of the desk edge up to 2.8 inches. It is equipped with pads so won't scratch the desk.
24W LED Panel
Its light panel is equipped with 24W LED, these high-efficient LEDs provide enough brightness, consume less power and will last for 100,000 hours. The high Color rendering index allows you to see vivid and accurate colors. Ideal for graphic designers and architects.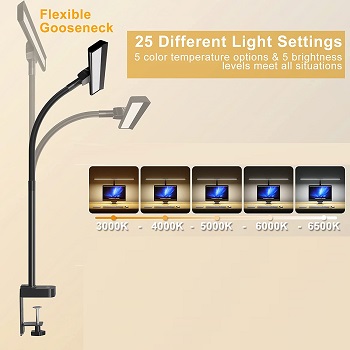 Many Lighting Modes
The adjustable desk lamp offers five color modes combined with five levels of brightness. Control it with a touch-sensitive control panel. The memory function will restore your last used settings, you don't have to set it every time.
Highlighted Points:
lamp with an ultra-wide panel
space-saving clamp design
24W LED provides flicker-free light
adjustable height and angles
five color modes and brightness levels
touch-sensitive control panel
Things To Know About Overhead Desk Lamp
A great overhead desk lamp can make all the difference in your workspace. It can help you to see better and doesn't cause eye strain. To help you to pick the best desk lamp for your needs, we've prepared these guidelines about lamp size, adequate illumination, lighting modes, lamp flexibility and more.
Lamp Height – Since you'll spend a lot of time reading, working or on the computer, it is important to get the correct lamp size to be efficient. Choose a taller lamp for a larger illuminated area. Some research said that you should position the desk lamp about 15 inches above the desk's surface.
Flexible Design – A over desk lighting should offer adjustable height and angle. The desk lamps with adjustable arm and flexible gooseneck allow you to move the light source closer or farther away depending on your needs. You can rotate and maneuver the lamp in various positions.
Task Lighting – If you are working at the office or home office, an overhead task light allows you to focus your perception on what you're doing. The task light will project a narrow, intense beam of light directly on the particular area. It will reduce the contrast between the object you are focused on and the surrounding area.
Lighting Modes – The best office or home office overhead desk lamps don't just turn on and off, they let you adjust brightness and color temperature modes for more versatility. You can set the warm or cold color temperatures according to your mood or tasks.
Clamp Lamp – Or clip-on lamps have a clip or a C-clamp that can be attached to the edge of your desk or any other worksurface. Some lamps could be attached to both vertical and horizontal surfaces. Choose the clamp lamp with silicone pads, it won't scratch your desk.
Final Verdict
Did you find the best lamp for you? If you can't decide, we recommend the AmazLit overhead desk lamp. Made of high-quality aluminum alloy, this lamp features an adjustable design and many lighting modes. If you find these models interesting, then you should check large desk lamps and long arm desk lamps.