Are you interested in a rolling file cabinet with a comfortable seat?
Then the models we will review are the best solution for you. In our buying guide find out more about these items and their features. In our list you can find six different file cabinets, so choose the one that suits you the best.
Our Top Picks
Best 6 Rolling File Cabinets With Seat
Best Of Best Rolling File Cabinet With Seat
Uplift Office File Cabinet
Easy Assembly
The Uplift rolling file cabinet with seat is available in three colors – grey, industrial brown and white. This multifunctional storage item will keep all of your paperwork, files and office supplies. The assembly is easy, just attach the casters and the file cabinet is ready to use.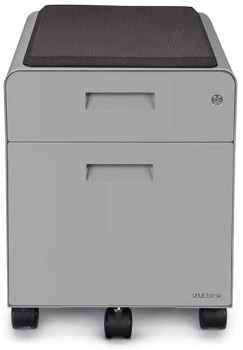 Weight Capacity
Its construction is made of alloy steel, so it is a durable and sturdy file cabinet. The overall dimensions are 15.75 inches in width, 19.7 inches in depth and 19.75 inches in height. It weighs 55 pounds. The Uplift has a maximal weight capacity of 225 pounds.
Lockable Casters
This file cabinet comes with casters, there are five lockable casters for easy mobility. The fifth caster is below the bottom drawer. It provides extra support and prevents tipping. Uplift features two drawers, the top drawer is smaller and hold small office supplies. Drawers are lockable.

Cushioned Seat
The bottom drawer is equipped with a removable hanging bar, use it for legal and letter-sized papers and file folders. Both drawers glide on ball-bearing slides. The cushioned seat is optional, you can install it on the top of the file cabinet and have a nice seating item.
Highlighted Points:
made of sturdy alloy steel
there are two drawers with lock
the bottom drawer is fitted with a removable bar
mobile file cabinet with five casters
optional supportive cushioned seat
easy assembly – install the casters
Best Small Rolling File Cabinet With Seat
Stand Steady Vert File Cabinet
Classic Colors
The Stand Steady produced this Vert rolling file cabinet with seat. There are two classical colors – black and white. Both models have grey seats. The cushion seat thickness is 2.5 inches. It is very comfortable and useful. Stand Steady file cabinet has a height of 22.5 inches, the width is 14.5 and the depth is 16.7 inches.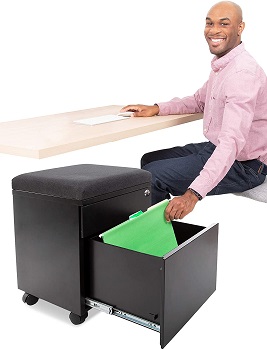 200-pound Capacity
The modern black design fits anywhere. Vert features durable steel construction and powder coat finish that prolongs the file cabinet's life. Its weight is 33 pounds. Vert supports a weight of up to 200 pounds. There is a durable and sturdy base.
Locking Cabinet
You can store your valuable documents in this file cabinet, there is a key that secures both drawers. The top drawer is perfect for small items, like desk supplies. The spacious bottom drawer provides enough space for your office files and documents.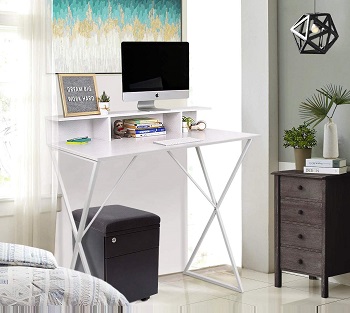 This small metal filing cabinet has a smooth gliding track for drawers. You can open/close them quickly and quietly. The casters are 2 inches high and they allow you easy transport. Lock the wheels if you want a stationary file cabinet. Its price is high.
Highlighted Points:
compact file cabinet with modern design
two drawers glide easily and quietly
they accommodate paperwork and desk supplies
2.5-inch thick cushioned seat
max weight capacity is 200 pounds
built-in lockable wheels
Best 3-drawer Rolling File Cabinet With Seat
Stockpile File Cabinet
Multiple Models
The Stockpile is a commercial-grade file cabinet with a seat. It is available in black and white color. Besides the file cabinet color, you can choose the seat color, there are blue, green, orange seats. There are more, you can even choose the color of handles.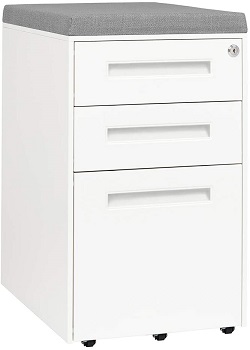 Powder Coated Steel
This file cabinet is made of high-quality matte powder-coated steel. That material provides durability and longevity. The Stockpile white metal file cabinet has 25.5 inches in high, 14.75 inches in width and 19.75 inches in depth. The product weighs 70 pounds.
2-year Warranty
The price is high and the warranty lasts 2y years, so you can rely on this product's quality. On the top is a cushioned seat, it is 2-inch thick. This magnetic seat is removable. Stockpile has three drawers, two small drawers are designed for office essentials.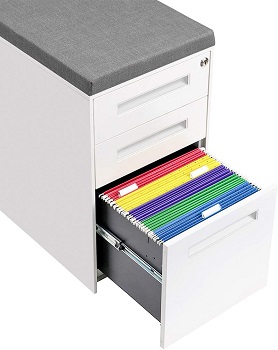 Legal & Letter Files
The file drawer supports both legal and letter size file folders. This rolling file cabinet with seat features low profile rolling casters for mobility. The upper drawer has a lock system, you can lock all three drawers with one key. This file cabinet is suitable for private document storage.
Highlighted Points:
modern white file cabinet made of quality steel
choose the color of the top seat
three drawers for your office needs
lock drawers with a single key
built-in low profile casters
Best 2-drawer Rolling File Cabinet With Seat
Linea Filing Cabinet
Wood Finish
The Linea file cabinet's construction is made of metal and it has a white thermofused laminated wood finish. This file cabinet has 25 inches in height, 23.6 inches in width and 16.5 inches in depth. It weighs 59 pounds. Also, the Linea file cabinet doesn't take up too much space.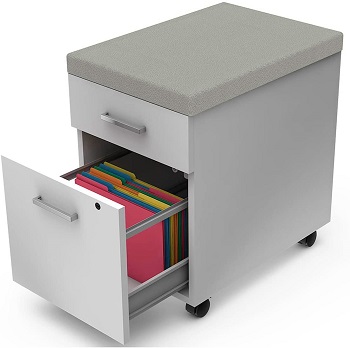 Fully Assembled
The package includes a file cabinet, wheels and instruction. It comes fully assembled, but you need to install the wheels. Because it's a storage space and seat, you can easily move it wherever you need it. There is a cushioned seat on the top.
Storage Drawers
There are two drawers, use a small drawer for office essentials, like post-it notes, pencils and similar things. Another drawer has larger dimensions, so it is useful for file folders and document storage. This drawer accommodates standard files, 8.5 x 11 inches.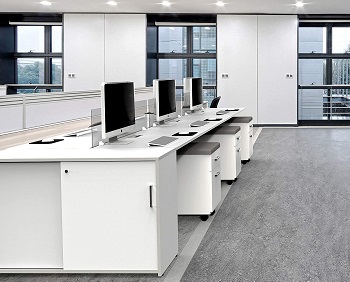 Lock The Drawer
This steel 2 drawer file cabinet has a lock system on the bottom drawer. You'll get two keys on the package. When you store some confidential or private files or things, you can lock the drawers and keep your documents secured from loss, damage or stealing.
Highlighted Points:
metal construction with white wood finish
small file cabinet that fits anywhere
two drawers for files and office accessories
built-in casters for easy movement
bottom drawer has a lock system
comfortable cushioned grey seat
Best Locked Rolling File Cabinet With Seat
Seville Classic File Cabinet
Elegant Black File Cabinet
The Seville Classic file cabinet is available in two colors – black and white. These are two universal colors that fit anywhere. The rolling file cabinet with seat measures 23 inches in depth, 12 inches in width and 23.4 inches in height. It fits under the office desk.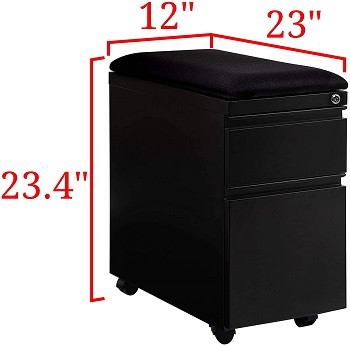 Cushioned Seat Top
On the top of the file cabinet is a thick seat. It is 1.5 inches thick. You can remove this cushioned seat if you want. This is practical if you want to rest your feet or you can use it as a spare seat for your colleagues. It has the ability to hold up to 176 pounds.
Ball Bearing Sliders
The Seville Classic small file cabinet with lock has two drawers, a smaller drawer is great for office supplies organization. The larger drawer is designed for document sorting. It accommodates letter/A4 and legal size file folders. Both drawers slide along heavy-duty ball bearing sliders.
Two Keys
This file cabinet comes with casters, you can move it easily from one room to another. Two wheels are lockable, which increases stability. The package includes two keys. Use one key to lock both drawers and protect your sensitive documents from unwanted access.
Highlighted Points:
elegant black file cabinet made of heavy-duty steel
1.5-inch thick cushioned top seat
two drawers designed for office essentials and documents
both drawers glide on ball bearing sliders
four wheels for mobility, two are lockable
protect your documents, lock the drawers
Best Home Office Rolling Cabinet With Seat
Uncaged Ergonomic File Cabinet
Space-saving Item
The Uncaged Ergonomic file cabinet is small and compact. It is an ideal solution for small offices. This model is available in classic black color. It will suit any home office environment. The package contains a fully assembled file cabinet, it's ready to use.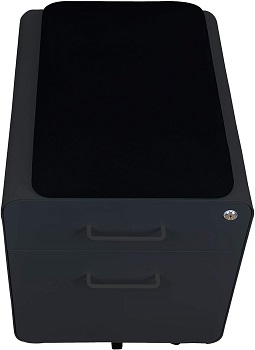 Alloy Steel Construction
This rolling file cabinet with seat is made of high-quality alloy steel material. It is durable and you can use it for many years. The unit dimensions are 19.5 inches in height, 19.75 inches in depth and 15.5 inches in width. It weighs 38 pounds.
Magnetic Seat
This under desk rolling file cabinet is a 2-in-1 product. You can use it for storage and sitting. The Uncaged file cabinet is equipped with a magnetic seat, it is 1 inch thick. If you want, you can remove the seat. This file cabinet is fitted with two drawers.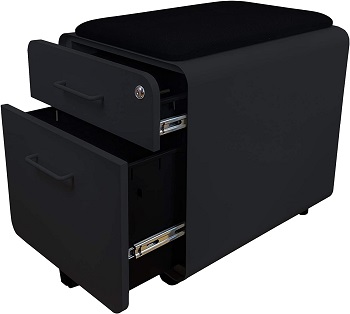 Two Drawers
There are two different drawers. The upper drawer is small and it's designed for small office supplies. The bottom drawer is bigger and you can use it for hanging file folders. Both drawers easily slide in and out. You can lock them with a key. Move it easily, there are five sturdy wheels.
Highlighted Points:
compact file cabinet for small offices
the magnetic 1-inch seat is removable
box drawer holds office supplies
the bottom drawer is designed for hanging file folders
both drawers are lockable
small casters are included
Things To Know About Rolling File Cabinets With Seat
If you are interested in the rolling file cabinet with padded seat, you need to know more about its features. In this section, we'll give you more information about seat, casters, construction, design and other things.
File Cabinet's Design – These file cabinet types are usually small and compact. They fit anywhere, under your desk, in the corner of the room, they don't require a lot of space. This small file cabinet on wheels has sturdy casters, durable construction and high weight capacity.
Padded Seat – This multifunctional item comes with an additional seat, you can install it easily. Usually, they have an adhesive strip included or they are already installed. The seat should be soft and comfortable. The optimal seat's height goes from 1 to 2.5 inches.
Casters – The casters are a great feature of this kind of file cabinet. When you use it as storage space, you can keep it under your office desk. If your co-worker comes by, you can easily pull out the file cabinet and offer a seat to your colleague.
Weight Capacity – Because this rolling file cabinet with seat isn't just a storage space, you need to check its weight capacity. It should bear up an average person's body weight. Read the product description and find out its weight capacity, look for at least 220 pounds.
Storage Space – These small file cabinets usually have two or three drawers for your office items. There are small and larger drawers. The small drawers are designed for small office supplies and the large drawers are ideal for file folders and paperwork. Some drawers are equipped with a pencil tray and hanging bars.