Do you need a red filing cabinet that fits your office design?
If you are never thought about that file cabinet color, maybe this article changes your mind. Read the reviews of these models, take a look at the images and pick the file cabinet that is the most attractive to you. Don't forget to check our buying guide, it provides some interesting facts.
Our Top Picks
Best 6 Red Filing Cabinets
Best Of Best Red Filing Cabinet
Flash Furniture File Cabinet
Plastic Item
The Flash Furniture is a plastic file cabinet on wheels. This model has a commercial-grade quality and a compact design. It is 24 inches high, 21 inches deep and 16 inches wide. The item's weight is 52 pounds. It comes fully assembled and it's ready to use.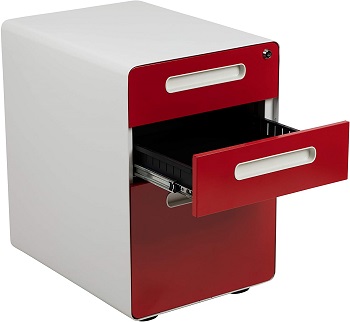 Hanging File Folders
This ergonomic red filing cabinet features three drawers. There are two utility drawers that hold your small office supplies. They are equipped with a pencil tray. The lower drawer accommodates letter and legal size hanging file folders. All hardware is included.
Replaceable Lock
On the upper drawer is a lock, use the key and secure your sensitive documents. If you need, you can replace the lock. There are inset handles on each drawer. This is a family-friendly file cabinet, there aren't sharp edges, all corners are rounded.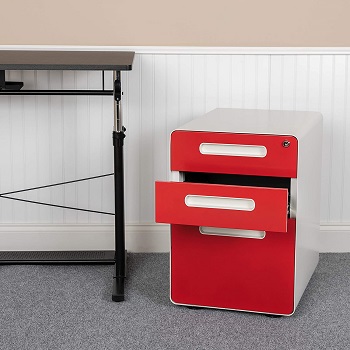 Low Casters
The interlock mechanism allows you to open one drawer at a time. This feature prevents tipping over. Flash Furniture fila cabinet can be placed anywhere, it fits under standard office desks. The model is equipped with high-quality low set casters.
Highlighted Points:
commercial/grade quality and safe design
it comes fully assembled and fits under any desk
two small drawers with removable pencil tray
the bottom drawer is fitted with hanging rails for files
interlock mechanism prevents tipping over
small casters for mobility
Best 2-drawer Red Filing Cabinet
Bisley Filing Cabinet
Beautiful Design
The Bisley red filing cabinet 2-drawer features both, quality construction and a beautiful design. This model has an attractive cardinal red color. But you can check other colors, too, there are blue, green, light grey, orange and white colors. Bisley has a high price.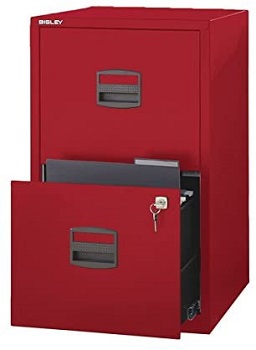 Fully Welded Item
The powder-coated paint provides a great appearance. It is a fully welded product with all-steel construction. You can rely on its durability. Bisley measures 27 inches in height, 17 inches in depth and 16 inches in width. It weighs 31 pounds, so it isn't heavy.
Two Drawers
There are two drawers and they have the same dimensions. You can load them with standard letter size files. The internal drawer dimensions are 9.8" H x 13" W x  14.8" D. You can easily pull out both drawers for total access to your stored files.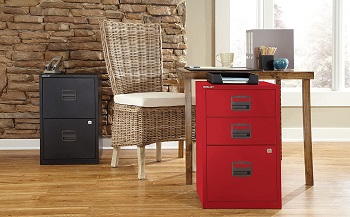 Lockable Drawer
Both drawers have a weight capacity of 33 pounds. There are hanging rails within the drawers for neat file organization. This steel 2 drawer file cabinet features beautiful grey handles. The bottom drawer is lockable. There is a version with three drawers if you need more storage space.
Highlighted Points:
stunning design and quality construction
fully welded file cabinet made of steel
available in red and other multiple colors
two drawers hold letter-size files
the bottom drawer is lockable
Best 3-drawer Red Filing Cabinet
Bindertek File Cabinet
Red Faceplate
The Bindertek file cabinet has a red faceplate and white sides. There are also models with light grey, charcoal, white and blue colors. The steel construction ensures long-lasting durability. It is a modern file cabinet with a matte coating. It features a high price.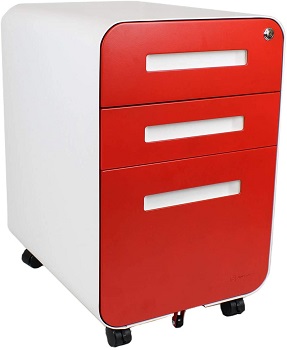 Ready-to-use
This red filing cabinet 3-drawer comes fully assembled, you don't have to attach anything. Unpack it and it's ready to use. Its height is 24.6 inches, the width is 15.8 inches and the depth is 19.7 inches. The item weighs 49 pounds. There are no sharp edges, Bindertek has rounded edges.
Removable Pencil Tray
Bindertek is a personal file cabinet that fits anywhere. You can place it under your desk, so it won't take up free space. It features three drawers for your things. The two upper drawers have a removable pencil tray for writing tools, keys and other office accessories.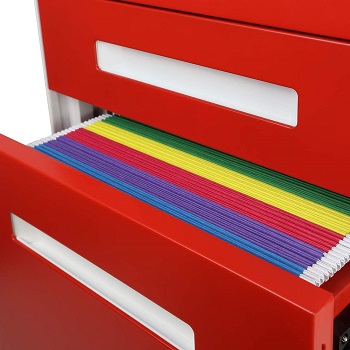 Five Wheels
The bottom drawer is designed to accommodate both legal and letter-size hanging files. The package contains a key, so you can lock all drawers and protect your documents. Bindertek comes with five wheels and the fifth wheel is there for extra stability.
Highlighted Points:
matte red and white coating and rounded design
steel construction ensures durability
comes fully assembled at your address
fits underneath office desks
fold-out keys secure your sensitive documents
office supplies drawers and legal/letter size file drawer
Best Metal Red Filing Cabinet
Hirsh Office File Cabinet
Efficient Design
The Hirsh is a vertical file cabinet that doesn't take up too much space. You can place it in the corner of the room. It is 35 inches high, 18 inches deep and 14.225 inches wide. This is a lightweight product, it weighs 27 pounds only. The assembly isn't required.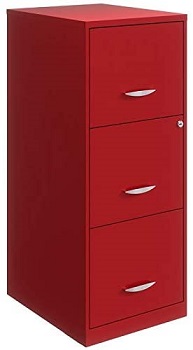 Patented Glide Suspension
This red filing cabinet features three drawers. These high-side drawers are equipped with metal rails for letter file folders. They aren't designed for large legal-size files. You can load them with other office essentials, too. Each drawer has a patented glide suspension for smooth performance.
3/4 Drawer Extension
These are three quarter drawer extension. Because of that, the drawers can handle a heavier load. On the middle drawer is a lock system. With one key you can lock the top two drawers. Store your private and confidential documents without worry.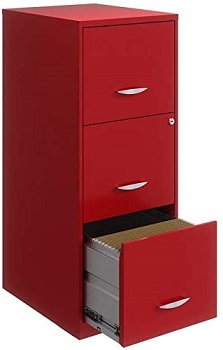 High-quality Material
This red metal office cabinet is made of high-quality metal, so it is a durable item that will last for many years. Each drawer features a small, convenient handle that is made of sturdy steel. You need to attach them when your file cabinet arrives at your address.
Highlighted Points:
vertical file cabinet for space-limited offices
made of high-quality metal for extra durability
equipped with three drawers for standard-size files
two top drawers are lockable
3/4 drawer extension support a heavier load
Best On Wheels Red Filing Cabinet
Stockpile Filing Cabinet
Commercial-grade File Cabinet
The Stockpile file cabinet is a small red filing cabinet. Besides the red color, there are black, blue, green, yellow, grey and white colors. Pick the model you like the most. This commercial-grade file cabinet has a high price and its warranty lasts two years.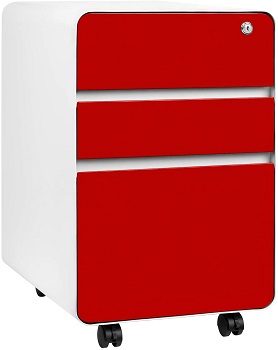 Cold-rolled Steel
This locking rolling file cabinet measures 26 inches in height, 19.75 inches in depth and 15.75 inches in width. it weighs 70 pounds. The Stockpile is made of cold-rolled steel, which is 20% stronger than typical steel. It is coated with a matte red finish.
Rounded Corners
The surface is smooth and resistant to scratches. There are modern rounded corners and convenient inset handles. Stockpile features three drawers, two box drawers are equipped with a removable pencil tray for small office items, like pencils, post-it notes, etc.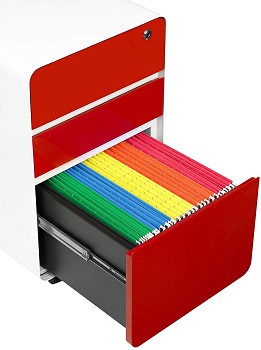 Durable Casters
The bottom drawer is a file drawer and it holds letter and legal size file folders. The drawer divider is included. The high-quality ball bearing glides ensure smooth opening and closing. A top drawer has a lock and with one key you can secure all drawers. The wheels provide easy movement.
Highlighted Points:
small and compact file cabinet that fits anywhere
fitted with three lockable drawers
two box drawers and letter/legal file drawer
four durable wheels for easy mobility
modern design – rounded corners and inset handles
Best Lateral Red Filing Cabinet
Sandusky Lee File Cabinet
No Assembly
The Sandusky Lee is a lateral file cabinet with an attractive red finish. This model is available in black, blue, charcoal, forest green, navy blue, yellow, white and other colors. The assembly isn't required, it comes fully assembled. The price is affordable.
Leg Levelers
The unit dimensions are 30 inches in width, 19.25 inches in depth and 28.4 inches in height. The entire red filing cabinet is made of high-quality steel material. This metal lateral file cabinet features adjustable leg levelers, they keep the file cabinet level in any ground.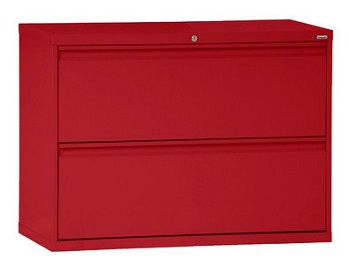 Reinforced Drawers
It features two suspension drawers for storing standard-size and legal size file folders. Full extension drawers glide on sturdy ball bearing slides. You can open/close them easily and quickly reach all your files. The drawers are reinforced with a double wall for extra stability.
Interlock System
Both drawers are equipped with hanging rails for file folders. Moreover, there is a safety interlock system. It allows you to open one drawer at a time. That prevents tipping over. Above the upper drawer is a lock that secures both drawers at the same time.
Highlighted Points:
large lateral file cabinet for mid-size offices
equipped with two spacious drawer
drawers hold hanging letter and legal-size files
leg levelers make file cabinet level on any ground
lock both drawers and protect your sensitive documents
Things To Know About Red Filing Cabinets
The red filing file cabinets are eye-catching pieces of furniture. Our buying guide provides some interesting information about red color, file cabinet's drawer types, mobility and other features.
Red Color Effect – The colors and emotions are very closely linked. So, why you wouldn't use this information in your office? The red color is a warm color and it evokes feelings of happiness, energy and optimism. The red color makes you feel energized.
3/4 Drawer Extension – There are three drawer extension types on the market – full extension drawers, third-quarter drawers and over travel drawers. The 3/4 extension file drawer provides more support, the full extension drawer ensures better access to the entire drawer.
Vertical Vs Lateral – Both file cabinet types have their advantages and disadvantages. The lateral file cabinet features wider drawers, but they aren't so deep. The vertical file cabinet offers drawers with greater depth. It is tall and requires adequate space for a drawer opening.
Interlock System – Each file cabinet, whether small or large, has its weight capacity. it is easy to overload it with multiple file folders or office supplies. To prevent that, some manufacturers use a safety interlock system. It allows you to open one drawer at a time, which prevents tipping.
Replaceable Lock – If you work with confidential or private file folders, it is a good idea to buy a red filing cabinet with a built-in lock. Usually, you can find models that you need to lock with a key. There is a file cabinet with key that has a replaceable lock system, which is very practical.