Do you want to organize your high amounts of files?
Then the personal file cabinet is the best solution. We urge you to take a look at our brief buying guide and read up a few reviews of different file cabinets. This will ensure you get the best model that is suitable for your office.
Our Top Picks
Best 6 Personal File Cabinets
Best Of Best Personal File Cabinet
Aurora File Cabinet
Soho Design
The Aurora file cabinet features a modern Soho design. There are light wenge/white,  metallic charcoal/red talk and walnut/black colors. The unit size is 25.1 inches in height, 15.5 inches in width and 20.7 inches in depth. The Aurora weighs 46 pounds.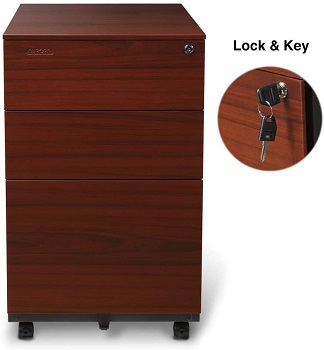 Wood Texture Finish
Its construction is made of sturdy metal and there is a stylish wood texture finish. The electrostatic spraying finish improves durability. Aurora's surface is resistant to scratches, stains and rust. You can clean it easily with a damp or dry towel.
Casters with Brakes
This personal file cabinet is easy to move, it comes with casters. The two casters have brakes and provide secure placement. Below the bottom drawer is a small caster. It prevents the file cabinet from tipping over and supports the bottom drawer's weight.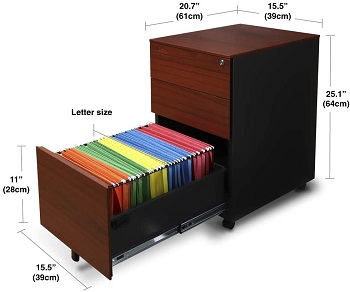 Drawer Glide Suspension
This trendy filing cabinet features three drawers, two small ones and a file drawer. The top drawer is equipped with a lock and pencil tray. With one key you can lock all three drawers. The bottom drawer holds letter-size hanging file folders. Drawer-glide suspension allows smooth performance.
Highlighted Points:
available in three attractive colors
solid metal construction with wood-like finish
anti-rust electrostatic spraying finish
the surface is scratch and stain resistant
lockable casters for mobility
three drawers for office supplies and letter files
Best 2-drawer Personal File Cabinet
Devaise File Cabinet
Vertical File Cabinet
The Devaise is one of the most popular file cabinet brands on the market. This is a commercial vertical file cabinet that is available in black and white color. Its maximum weight capacity is 330 pounds. Load file cabinet's drawers and place some office device on its top.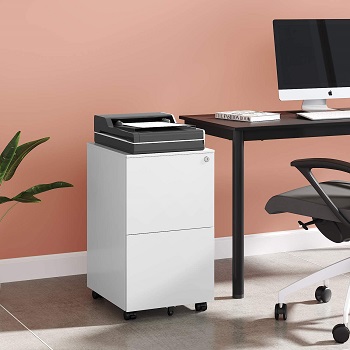 Anti-rust Surface
This personal file cabinet fits under the standard office desk or next to it. The product is 23.6 inches tall, 18.9 inches deep and 15.4 inches wide. It weighs 42 pounds. This steel 2 drawer file cabinet is made of metal construction and an electrostatic spraying finish. The surface is rust-resistant.
Assembled Product
The Devaise comes fully assembled. You need to attach the casters, there are four casters with brakes and one small caster which support the bottom drawer and prevent tipping. You can lock both drawers with one key and keep your documents safe.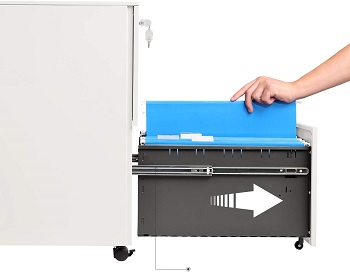 Drawer Border Closed Design
Both drawers are wide and deep and they glide on full-extension ball-bearing slides. You can open them completely and have full access to your files. These drawers accommodate both legal and letter-size hanging file folders. The drawer border closed design keeps your file safe from damage.
Highlighted Points:
fully assembled metal file cabinet that fits anywhere
anti-rust electrostatic spraying finish
one lock secures both drawers
these two drawers hold legal and letter files
drawer border closed design
four casters with brake function
Best 3-drawer Personal File Cabinet
Hirsh Industries File Cabinet
Lifetime Warranty
The Hirsh file cabinet is available in black color only. The manufacturer provides a lifetime warranty. This is a tested product and it meets ANSI/Soho standards for quality and safety. For making this file cabinet, the manufacturer uses 30% recycled materials.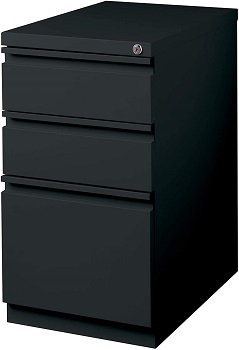 Hidden Casters
This personal file cabinet measures 27.75 inches in height, 20 inches in depth and 15 inches in width. It is made of steel which ensures durability and sturdiness. The Hirsh is a mobile file cabinet, but it features hidden casters for an elegant appearance.
Letter-size Files
You can store your small office supplies in two box drawers. Above the top drawer is a lock. You'll get two keys in the package. The file drawer accommodates standard letter-size hanging file folders. This metal office cabinet isn't intended for large legal-size files.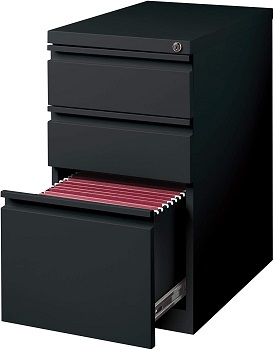 Full-extension Drawers
The commercial-grade ball-bearing suspension allows you to easily open fully loaded drawers. Moreover, all drawers feature full extension. That provides total access to all your stored files. The counterweights are built into the file cabinet bottom, they prevent tipping over.
Highlighted Points:
tested file cabinet that meets many quality standards
equipped with hidden casters
the manufacturer uses recycled materials
high-quality ball bearing slide for smooth performance
three full extension drawers
Best Locked Personal File Cabinet
Yitahome Black File Cabinet
Stylish File Cabinet
The Yitahome personal file cabinet features a modern and elegant appearance. This file cabinet offers big storage space and it is designed for long term use. It is built using robust, heavy-duty steel and eco-friendly finish. Choose between two basic colors – black and white.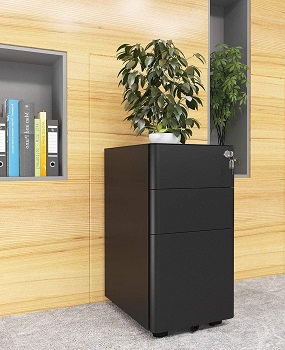 Sturdy Construction
It is sturdy enough to hold a printer, scanner or another device on its top. The lock system and two keys included in the package allow you to protect your private and confidential documents safe. One key lock all three drawers at the same time.
Hanging File Bar
This small file cabinet with lock features three drawers. The top drawer is fitted with a pencil tray, but it is removable if you don't want to use it. The file drawer comes with a removable hanging file bar. You can organize your legal and standard file folders easily.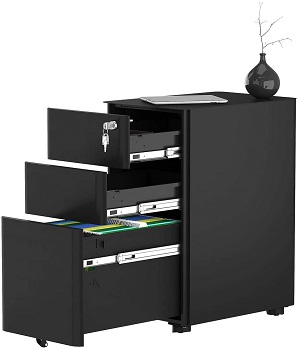 Built-in Sliding Rail
Each drawer has a built-in sliding rail, it ensures smoothly and quietly drawer open and close. The Yitahome comes with four swivel casters and one anti-tip caster. The casters are lockable when you require a stable file cabinet position. Swivel casters provide mobility in any direction.
Highlighted Points:
space-saving design with robust steel construction
environmentally finish ensures long-lasting durability
two box drawers with one stationary tray
the bottom drawer holds letter and legal hanging files
top drawer has a lock system that secures all drawers
Best On Wheels Personal File Cabinet
Intergreat Blue File Cabinet
Fully Assembled
The Intergreat is an attractive blue file cabinet. But, there are other colors, like black, orange and white. It is a commercial-grade file cabinet that comes fully assembled. Its dimensions are 25 inches in height, 19.8 inches in depth and 15.7 inches in width.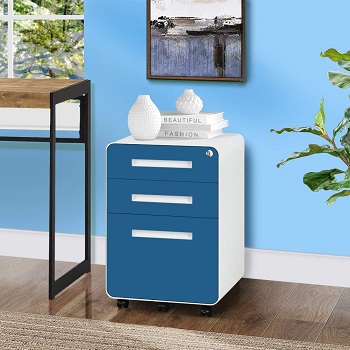 Premium Material
The whole construction is reinforced with a sturdy cold-rolled steel frame. The Intergreat is coated with eco-friendly powder, which makes a file cabinet strong and resistant to rust and corrosion. This personal file cabinet is designed for long term use.
Three Drawers
There are two utility drawers with one pencil tray. Load them with small office accessories. Below these drawers, there is a large file drawer that is fitted with an adjustable hanger. It is able to store legal and letter/A4 size hanging file folders and documents.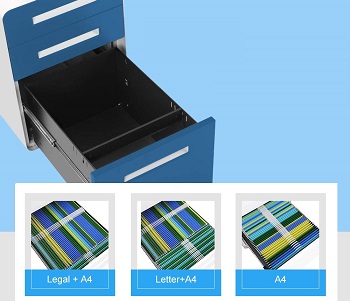 Universal Wheels
Each drawer has inset handles and glides on full-extension ball-bearing slides. All drawers are lockable, there are two foldable keys. This small rolling file cabinet comes with five universal wheels. They ensure easy movement on wooden floor or carpet. Small center caster prevents tipping over.
Highlighted Points:
this file cabinet is reinforced with cold-rolled steel
coated with eco-friendly finish
two utility drawers and one file drawer
file drawer is equipped with hanging rails
five universal wheels for mobility
Best Home Office Personal File Cabinet
Bonnlo 3-drawer Filing Cabinet
Strong Wooden Construction
The Bonnlo file cabinet will perfectly fit in any home office. It features strong wooden construction and fits easily under your home office desk. It is prepared with melamine and comes in an oak finish. The unit dimensions are 26 inches in height (plus casters), 15.7 inches in width and 15.7 inches in depth.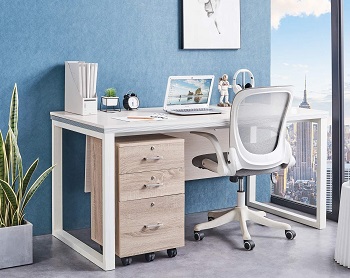 Easy To Maintain
Its surface is water and scratch-resistant. It is easy to clean it, use a damp or dry towel. An aggressive cleanser isn't recommended, it could damage the item. The warranty lasts 3 years. You need to assemble this personal file cabinet, but the detailed instructions and hardware are included.
Heavy-duty Casters
The Bonnlo small wood file cabinet comes with casters. There are five smooth casters in total. Four casters are for mobility and two are lockable. That ensures secure placement. The fifth caster is smaller and it provides extra support and prevents tipping over.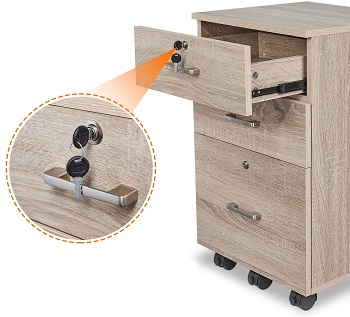 File Drawer With Rods
The storage space includes three lockable drawers and the file cabinet's top. The two upper drawers are small and they are ideal for office supplies. The bottom drawer fits a good amount of files. Within this drawer are stainless steel rods that provide strong support. It accommodates standard-sized files.
Highlighted Points:
strong wood construction and quality oak finish
two box drawers hold personal and office supplies
bottom drawer fits standard size file folders
five casters for easy mobility
each drawer has its own lock
the warranty lasts 3 years
Things To Know About Personal File Cabinet
The personal file cabinets are usually small, vertical and fit under the standard office desk. This buying guide will explain some most common file cabinet questions, like design, material, drawers and more. Keep reading to find all the answers.
Wood & Metal – The file cabinets can be made from different materials, like plastic, aluminum, steel and wood. The steel file cabinets are ideal for demanding work environments, it is sturdy and durable. The wooden file cabinets come in different finishes and they are perfect for the home office.
Cold-rolled Steel – The file cabinets can be made of typical steel, but some items are constructed with cold-rolled steel. This is 20% stronger steel than the typical one. It provides a superior surface finish, resistance against tension breking and deformation.
Lockable Drawers – If you want to keep your files, documents and personal thing safe from damage, loss or stealing, find a model with a lock system. Some items have a lock on each drawer, but usually, there is one lock that secures all drawers.
Anti-rust Surface – Nowadays, file cabinets are improved and they have resistant surfaces. That is great because you can't damage them so easily. There are models with an anti-rust electrostatic spraying finish which provides quality and thickness of the coating.
Box Drawers & File Drawer – The personal file cabinets usually have one or two box drawers and one or two file drawers. Some have two file drawers. Choose the model that meets your needs. Box drawers are intended for small office supplies and file drawers hold documents and file folders.