Do you prefer reclaimed wood file cabinet?
If you do, then take a look at this article and you will find the best four models currently available on the market. In the second part of this review, there is a buying guide with a few useful information.
Our Top Picks
Best 4 Reclaimed Wood File Cabinets
Best Of Best Reclaimed Wood File Cabinett
Bush Yorktown File Cabinet
Sustainable Wood
The Bush Furniture made this Yorktown file cabinet. This is a lateral file cabinet made with sustainable and engineered wood. It lasts for many years. Yorktown measures 31 inches in width, 20 inches in depth and 30 inches in height. Its price is high.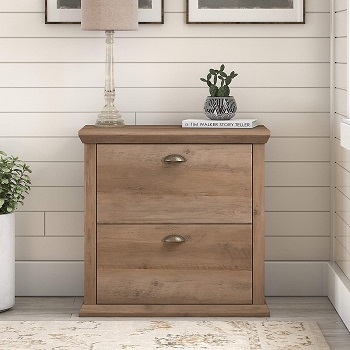 Reclaimed Pine Finish
This reclaimed wood file cabinet has a reclaimed pine finish, it looks traditional and natural. Bush Yorktown file cabinet is tested and it meets many quality and safety standards, like ANSI/Soho. This pine filing cabinet matches the height of Yorktown desks if you want to extend your work surface.
Drawer Capacity
The surface is scratch-resistant and the top can handle up to 200 pounds. Yorktown is equipped with two spacious drawers, there are pretty wide. Both drawers accommodate letter and legal size file folders. The maximum weight each drawer can handle is 50 pounds.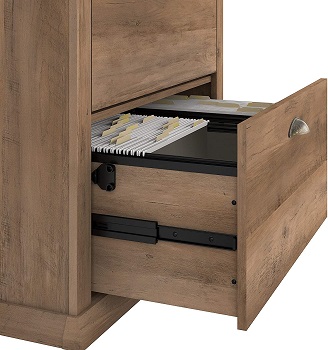 Open Safe Design
Both drawers glide on full-extension ball-bearing slides, you can easily reach all your files. Yorktown features Open Safe Design, which means, you can open one drawer at a time. That provides stability and prevents tipping. Each drawer has oil-rubbed bronze hardware.
lateral file cabinet made of engineered wood
the surface is scratch resistant
there are two drawers for letter and legal documents
drawers glide on ball-bearing slides
Open Safe Design prevent tipping
each drawer has an oil-rubbed bronze handle
Best On Wheels Reclaimed Wood File Cabinett
Winsome Filing Cabinet
Sturdy Construction
The Winsome file cabinet has two colors, light brown on the sides and white color on the front side. This file cabinet fits in any office or home office environment. The construction is made of composite reclaimed wood. It is 29.25 inches high, 18.4 inches deep and 15.7 inches wide.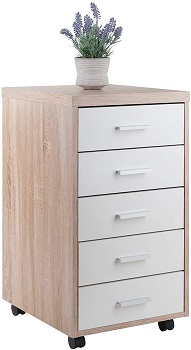 Assembly Required
This reclaimed file cabinet weighs 47 pounds. The top is thicker, you can place some plants, books or office device on it. The assembly is required, so you'll get detailed instructions in the package. This small rolling file cabinet is equipped with five drawers.
Five Drawers
It is important to note that this file cabinet doesn't fit under a standard office desk. All drawers have the same dimensions, they are standard-sized drawers. Use them for office supplies and documents. Place the documents in a horizontal position.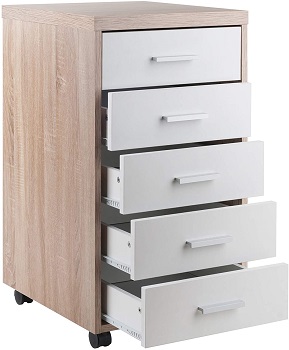 Lockable Casters
Each drawer is 5 inches high, 12.25 inches wide and 13.25 inches deep. The casters ensure mobility, but there are brakes for stability. If you need a mobile file cabinet, this one is a great option. The handles are convenient and made of steel.
made of sturdy reclaimed wood
universal design that fits anywhere
thick top for an office device, like a printer
four casters; two front casters are lockable
five drawers accommodate office supplies and files
Best 3-drawer Reclaimed Wood File Cabinett
Offex File Cabinet
Contemporary Style
The Offex is a small and compact file cabinet. It features a modern design and comes in two colors, grey and taupe. The assembly is required but you'll get detailed instructions in the package, so it's easy to assemble it. The Offex file cabinet has a high price.
Two Small Drawers
The dimensions of this reclaimed wood file cabinet are 25.25 inches in height, 18.25 inches in width and 17.75 inches in depth. It is equipped with three drawers – two box drawers are designed for small office supplies, like pens, pencils, tape, post-it notes, notebook and other materials.
Large Bottom Drawer
The whole file cabinet is made of reclaimed wood. Below these two drawers is a large bottom drawer. It has 10 inches in height, 15.25 inches in depth and 14.5 inches in width. This bottom drawer can fit standard and legal-size hanging file folders. There is extra storage space on the top of the reclaimed file cabinet where you can place a printer.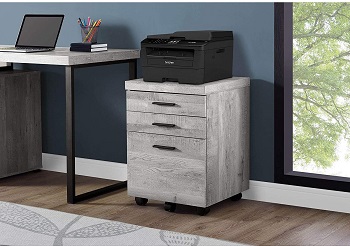 Mobile Item
All drawers glide on full-extension ball-bearing slides, you'll have total access to your files and office accessories. Drawers are accented with modern black handles. This gray wood filing cabinet is equipped with casters for easy movement. The small fifth caster prevents tipping.
two colors available
modern file cabinet with simple black handles
two standard drawers for office supplies
the bottom drawer holds legal and letter-size files
full extension drawers with smooth metal glides
four casters for mobility and a fifth caster improves stability
Best Lateral Reclaimed Wood File Cabinett
Cabot Filing Cabinet
Reclaimed Pine Finish
This is a beautiful lateral file cabinet, it is made of quality engineered wood and features a reclaimed pine finish. This model fits perfectly in any home office environment. The Cabot is tested and it meets many safety and quality standards like ANSI/Soho standards.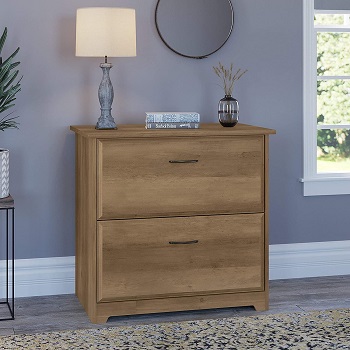 Check The Collection
The warranty lasts 1 year and the price is affordable. This file cabinet's height matches with an L-shaped computer desk and corner desk from the same collection. If you want to extend your work surface, visit the brand's official website. All product features a timeless traditional style.
Full Extension Drawers
This solid wood lateral file cabinet has two spacious drawers. Both drawers accept letter/A4 and legal size file folders. The drawers glide on full-extension ball-bearing slides. You can pull the drawer all the way out and reach your back files easily.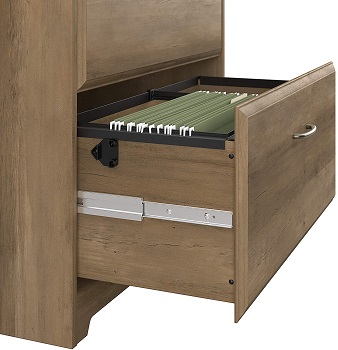 Stylish Handles
Both drawers have stylish handles practical open/close. Each drawer bears up to 60 pounds. They complete the simple and elegant file cabinet appearance. The reclaimed wood file cabinet's top is large and provides additional storage space, so use it for some decoration or frequently used paperwork.
beautiful lateral file cabinet
made of engineered wood and reclaimed pine finish
equipped with two spacious drawers
both drawers fit standard and legal paperwork
meets safety and quality standards – tested product
Things To Know About Reclaimed Wood File Cabinet
There aren't many reclaimed wood file cabinets on the market so in this buying guide, you will learn how to pick these rare models. Read more about this file cabinet type and its finish, maintenance, ecological benefit and other useful information.
Sustainable Wood – The reclaimed wood is wood that has been used from buildings in the 19th and 20th centuries. It is a high-quality wood that is recycled and reused in furniture. It meets today's need for sustainable and eco-friendly requirements.
Reclaimed Finish – There are some file cabinets that are made from engineered wood, but not from reclaimed wood. However, they can have reclaimed pine, reclaimed oak, reclaimed walnut finish, etc. That means these file cabinet looks like they are made of reclaimed wood.
Ecological Benefit – If you decide to buy a reclaimed wood file cabinet, you'll get a beautiful rustic piece of furniture. Besides that, there are many ecological benefits. Because of mass forestation, the people made a huge impact on the environment. You can help to protect the woods.
Maintenance – It is easy to maintain these retro file cabinets. Don't use any aggressive cleanser, it will damage your file cabinet and change its color. It is enough to use warm water and soft soap and wipe the file cabinet surface. Don't scrub the surface.
Quality Standards – These file cabinets have the ability to last for many years. They are sturdy and durable. But don't buy the cheapest model you can find. Also, you can check if your favorite model is tested. It should meet some safety and quality standards.