Do you want to have a unique file cabinet?
Then a yellow filing cabinet is a right choice for you!
Here, we present you 5 yellow cabinets for file storage. There aren't many of them on the market, but those models below are quality and durable. Read about their designs, constructions, storage space and other specifications.
Our Top Picks
Best 5 Yellow Filing Cabinets
Best of Best Yellow Filing Cabinet
Dprodo Locking Cabinet
Fully Assemble
The Dprodo is a very popular yellow filing cabinet, its overall dimensions are 15.7 inches in width, 19.7 inches in depth and 24.4 inches in height. if you order it, this item comes fully assembled at your address, you don't have to spend your time on instruction and assembling.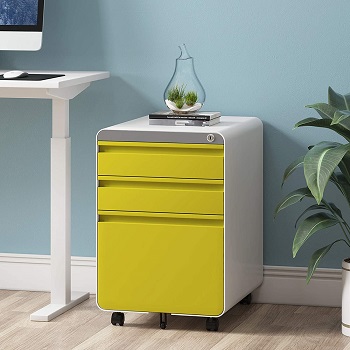 Steel Cabinet
This cabinet features a heavy-duty design, the construction and interior are made of steel. Therefore, this file cabinet is sturdy and durable. The Dprodo features corners, that prevent injuries and damages. It easily fits under your home or office desk.
3 Drawers
The Dprodo is equipped with three drawers. There are two standard drawers that are ideal for notebooks, pencils, magazines and other office supplies. It measures 4 inches in height, 17.2 inches in depth and 13.8 inches in width. The large drawer is intended for letter-size files.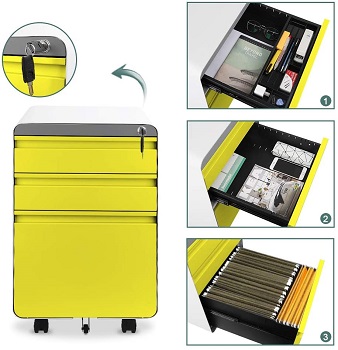 Mobile Cabinet
This file cabinet has 5 wheels, there are two lockable wheels, two non-lockable wheels and one wheel intended for anti-tipping. Even if you overload the cabinet, it won't tip over. You can lock your drawers, too. There is a lock on the top of the cabinet. The package includes two keys.
Highlighted Points:
made of sturdy and durable steel material
mobile file cabinet with lockable casters
the center wheel prevents tipping
lock the drawers with one key
it comes with adjustable hanging bars
Best Portable Yellow Filing Cabinet
Yoleo Modern Cabinet
Quality Material
The Yoleo is a modern file cabinet and it is available in yellow color only. Its dimensions are 19.7 inches in depth, 15.7 inches in width and 24.5 inches in height. It comes fully assembled with four casters. This file cabinet is made of high-quality steel material.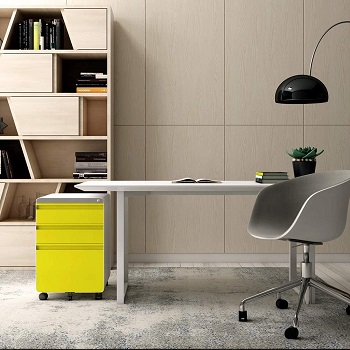 Anti-tilt Design
There are three drawers, two of them have standard dimensions. These two drawers are equipped with a removable stationary tray for small items, like pens, pencils, post-it, etc. The Yoleo features an anti-tilt design, which means, you can open one drawer at a time.
Letter & Legal-size Documents
Under these two drawers, there is a big file cabinet, it features 12.2 inches in height, 18 inches in depth and 13 inches in width. It features adjustable hanging bars for your files. You can load the cabinet with letter-size and legal-size documents in a vertical position.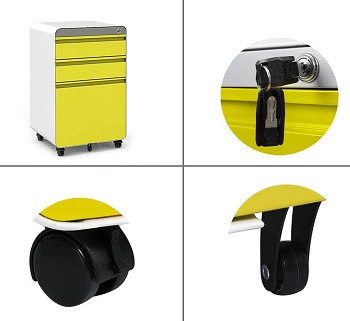 Full Extension Drawers
Insert the A4 documents in a horizontal position. You can lock the drawers in the yellow filing cabinet. There is a lock above the upper drawer. Keep your file folders safe. The drawers are equipped with full extension glides for easy access. You can move the cabinet easily and lock the casters when you place it.
Highlighted Points:
the construction is made of durable steel
1 lock with two keys secure the files in the drawers
2 lockable casters and 2 free casters
anti-tilt caster provides stability
large file cabinet for letter and letter-sized files
adjust the hanging bars for your files
Best Locked Yellow Filing Cabinet
Office File Cabinet
Vertical Item
The File Cabinets produces this compact cabinet in multiple colors, you can choose between yellow, black, blue, pink, green and white metal file cabinet. This vertical file cabinet has 17.7 x 15.7 x 25.6 inches. It weighs 44 pounds. Use it in your office, home office, bedroom, study room.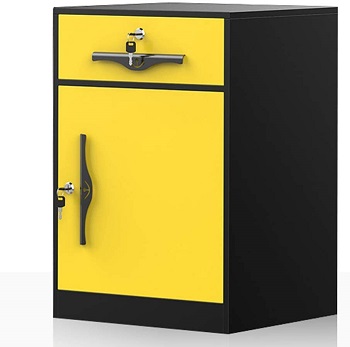 Scratch Resistant
This yellow filing cabinet is made of steel material, it is durable and you can use it for a long time. It is scratch-resistant and can handle years of use. There is one small upper drawer for office supplies. When you open the file cabinet, there are two shelves for document storage.
Thick Partition
The thick partition is made of cold-rolled steel, it is resistant to pressure, it isn't easy to deform it. Moreover, you can adjust the place of the partition depends on the items you need to store. The handles are made of steel, they are anti-corrosion and moisture-proof.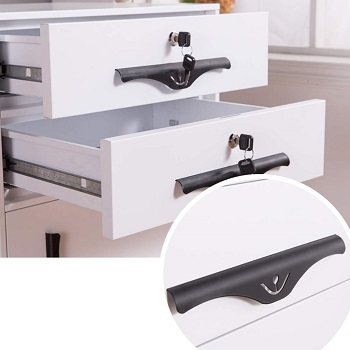 Safety Lock
You can lock the upper and lower drawers with keys. This file cabinet ensures your file safety. This filing cabinet has four wheels, two front wheels are lockable and the last two aren't lockable. So if you need to move the file cabinet, you don't have to lift it and carry it, it's too heavy for that.
Highlighted Points:
vertical file cabinet made of steel material
this model comes in multiple colors
lock the drawers with two keys
the rolling casters are lockable
it fits anywhere thanks to its compact design
Best Lateral Yellow Filing Cabinet
Sandusky File Cabinet
Ten Colors
The Sandusky Lee 800 Series is a lateral file cabinet, it has a higher price. The available colors are yellow, blue, charcoal, forest green, navy blue, putty, red, tropic sand and white color. Because of that wide offer, everyone can find a model for itself.
Lightweight Item
The item depth is 19.25 inches, the length is 19.25, the width is 30 inches and the height is 28.4 inches. It's a wide file cabinet. It looks like it's heavy, but this yellow filing cabinet has nearly a pound. When the package arrives, you don't have to assemble this item.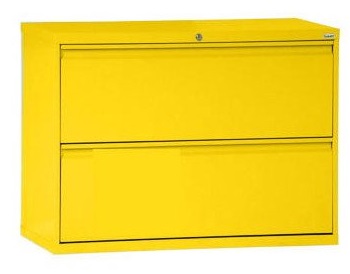 Reinforced Drawers
The Sandusky file cabinet is made of steel material, so it's durable and strong. It isn't easy to damage it or scratch it. There are two full-extension file drawers. You can store the letter-sized and legal-sized hanging file folders. The drawers are reinforced for extra stability.
Leg Levelers
This lateral file cabinet is equipped with leg levelers. That means you can place the file cabinet on an uneven floor, just adjust the leg levelers and the cabinet will stay stable. You can lock the drawers with a key and protect your files from unwanted access.
Highlighted Points:
10+ colors available models
made of steel material for extra durability
there are two drawers for letter and legal-size files
the drawers are lockable
adjust the leg levelers for a stable position
Best 3-drawer Yellow Filing Cabinet
Stockpile File Cabinet
Commercial-grade Item
The Stockpile is a sturdy and durable commercial-grade file cabinet. There are multiple colors available, like yellow, orange, red, white, green, dark grey, blue, navy blue and other colors. The front side is colored and the back and both sides are white.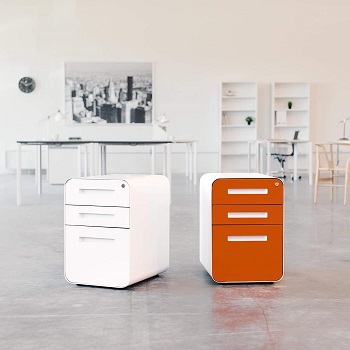 Round Edges
This yellow filing cabinet size is 15.75 inches in width, 24 inches in height and 20 inches in depth. it features a modern design and comes pre-assembled at your home or office. You can use this file cabinet in your children's room because it doesn't have sharp, but round edges.
Stationary Feet & Wheels
The Stockpile fit under any desk and tables. This model comes with both – stationary feet and wheels. If there is no need to move the file cabinet around, use the stationary feet. The Stockpile will stand in one place. The warranty for this product lasts two years.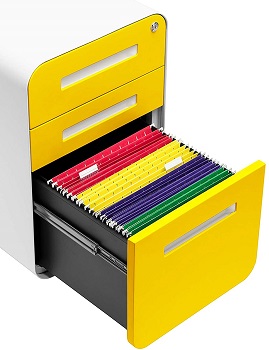 Drawer Divider
There are 3 drawers, two of them are standard sizes and one is larger. Use these two drawers for office supplies, notebooks and similar items. The large drawer is intended for legal and letter-sized hanging file folders. The pencil tray and drawer divider are in the drawers. All drawers are lockable.
Highlighted Points:
modern style file cabinet
multiple colors are available
it comes pre-assembled at your address
the stationary feet and wheels are included
the large drawer is ideal for file folder storage
lock the drawers and protect your files
Things To Know About Yellow Filling Cabinet
Usually, you can find black and natural-looking file cabinets. Here we talk about the yellow filing cabinet, but it isn't' just about the color, before purchase, you need to check other important features like material, portability, drawers, lock options and more.
Material – The file cabinet can be made of different materials and each material has its own advantages and disadvantages. The wood desk with file cabinet look natural and they are sturdy, but it's susceptible to scratch. The steel material is the most durable file cabinet material.
Mobile Cabinet – For those who work in the office and share inventory, the file cabinet with casters is a perfect choice. But be careful, some models don't have lockable casters. It's very annoying if it moves easily, so consider two lockable casters.
Drawers – The number of drawers depends on file cabinet types. If you want a vertical file cabinet, you need to know that they usually have two standard drawers and a large one for file folders. The lateral file cabinet often has two large drawers.
Lockability – You can lock the wheels, but you can lock the drawers, too. If you want to protect your files from unwanted access, look for models with lockable drawers. Usually, they have a key for locking. Some models even have a numeric keypad, so you need to open the drawer with personal passcode.
File Folder Size – Before purchase, it is important to know the size of the files you want to store. Do you have large or small files? The manufacturer often notes that the file cabinet is able to accommodate letter-sized (A4) – 8.5 x 11, or legal paper size, 8.5 x 14.
Final Verdict
Did you find your favorite yellow filing cabinet? If you still can't decide, we recommend the Dprodo file cabinet.  It is made of sturdy materials, features three drawers and lockable wheels. There are models made of combo materials in the review of wood and metal file cabinets. If you like the more traditional design, check out the post about the wood credenza file cabinet.