Are you looking for a painted metal file cabinet?
In this review, you will find useful information about file cabinet features, it is easy to find the best model when you have a few tips. After you learn something, check out our top 6 list, there are high-quality models
available to everyone.
Our Top Picks
Best 6 Painting Metal File Cabinets
Best Of Best Painting Metal File Cabinet
Bonnlo File Cabinet
Thick Construction
The Bonnlo is a small file cabinet that is made of thick and sturdy metal construction. It is very durable and it bears up to 154 pounds of storage material. It looks attractive and provides great storage space. There are four colors available – white, grey and white, white and blue, white and black.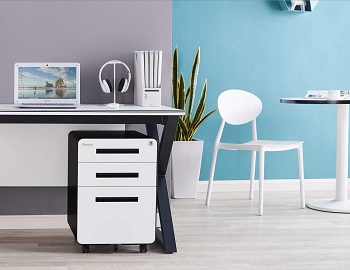 Fits Anywhere
This painted metal file cabinet measures 15.7 inches in width, 19 inches in depth and 23.6 inches in height. Because of its height, it perfectly fits under any office desk. Bonnlo comes assembled at your address, but you need to attach the casters. They come in a box.
Safety Mechanism
This locking rolling file cabinet has a built-in lock with two foldable keys. One key lock all three drawers at once. You can store sensitive documents and private things in that file cabinet. Bonnlo features an anti-tilt mechanism that prevents opening multiple drawers at a time, so the file cabinet won't tip over.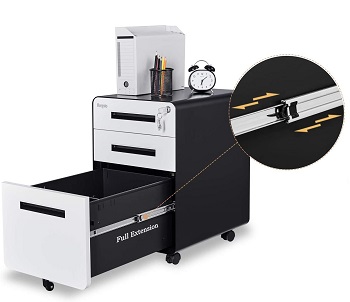 Three Drawers
The four casters ensure mobility and there is a small caster for extra support and tipping over prevention. Full extension drawer slides allow you to open the drawer completely. Load the two small drawers with office supplies and use the file drawer for legal and letter-size files.
Highlighted Points:
small file cabinet with thick metal construction
painted in black and white color
it comes with five casters for mobility
built-in lock secures all drawers
the anti-tilt mechanism ensures a stable position
three drawers for office essentials and file folders
Best 2-drawer Painting Metal File Cabinet
Space Solution Filing Cabinet
Elegant File Cabinet
The Space Solution file cabinet is a white metal file cabinet, it looks elegant and fit in any modern office. Its pearl white color is attractive and noticeable. The construction is made of high-quality metal that provides durability and long-term use. The price is affordable.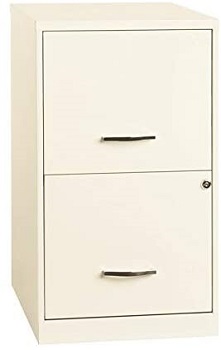 Lightweight Product
This is one of the vertical painting metal file cabinets that comes pre-assembled at your address, so you don't have to spend your time on its mounting. The Space Solution weighs 19 pounds, it is a lightweight item. Its size is 24.5 inches in height, 14.25 inches in width and 18 inches in depth.
Two Roomy Drawers
Its painted metal surface is resistant to corrosion. Moreover, it is easy to clean and maintain this file cabinet. Use the damp or wet towel and wipe the item. It is designed for small offices, so this white file cabinet features an efficient design. There are 2 spacious drawers.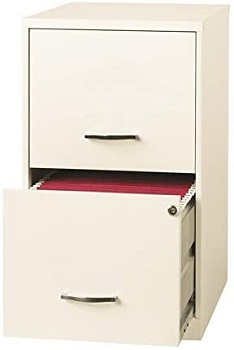 3/4 Extension Drawers
Each drawer has high sides so they are able to accommodate letter-size hanging file folders. Of course, you can load the drawers with other office supplies. The patented glide suspension provides smooth drawer open and close. The three-quarter drawer extension prevents tipping.
Highlighted Points:
heavy duty metal construction
the painted surface is resistant to corrosion
both drawers accommodate letter-size files
the assembly isn't required
the drawers are lockable
3/4 drawer extension for extra stability
Best 3-drawer Painting Metal File Cabinet
Bisley Red File Cabinet
High Price
The Bisley file cabinet is an expensive item. The model comes in two versions, with two or three drawers. Also, there are multiple colors available – red, orange, light grey, green, black, white and blue. The file cabinet weighs 35 pounds and it's 27 inches high, 17 inches deep and 16 inches wide.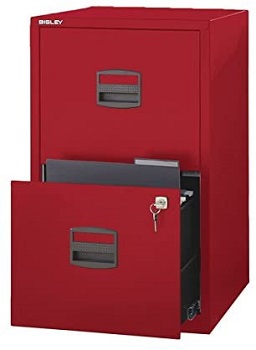 Powder-coated Paint
This cardinal red filing cabinet is fully welded and its construction is made of sturdy metal. You can use this model for many years, it is impact resistant. Bisley's powder-coated paint ensures a beautiful appearance. It will fit in any modern office or home office.
Easy-pull Drawers
This painted metal file cabinet has three drawers, two upper drawers are smaller and the bottom drawer has larger dimensions. You can easily pull out all three drawers and have full access to all your documents. Small storage drawers are useful for post-it notes, pencils, notebooks, etc.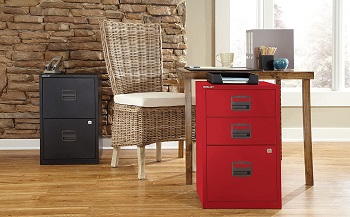 Lockable File Drawer
This lower drawer is designed for hanging file folders, it holds US letter-sized papers or A4-sized documents. Each drawer has a weight capacity of 33 pounds. There is a lock system on the file drawer, so you can store your private documents and keep them away from unwanted access.
Highlighted Points:
full welded construction made of quality steel.
available in a variety of colors
equipped with three drawers
load the small two drawers with office essentials
file drawer is designed for hanging standard size files
the file drawer is lockable
Best On wheels Painting Metal File Cabinet
Intergreat File Cabinet
Cold-rolled Steel
The Intergreat file cabinet is available in few attractive colors, there are orange, blue, black and white. This model is reinforced with a sturdy cold-rolled steel frame which provides impact endurance. It is coated with eco-friendly powder. Therefore this file cabinet is immune to rust and corrosion.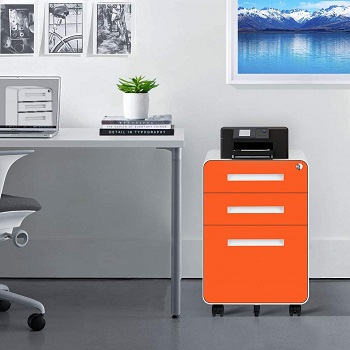 Rounded Design
Smooth rounded corners provide a modern appearance. There are inset handles, so there are no sharp edges on this painted metal file cabinet. Two small drawers are designed for office supplies. They are fitted with a stationary try for small things. Below them is a file drawer.
Hanging Files
The bottom drawer is equipped with an adjustable hanger, you can store perfectly letter and legal-size hanging file folders. All drawers glide on high-quality ball bearing slides, you can easily pull them all the way out. It is easy to reach any file folder within a metal office cabinet.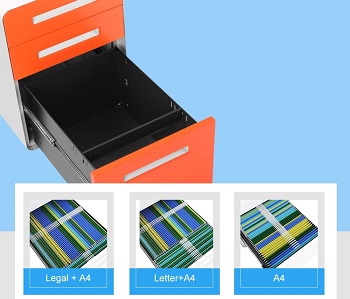 Five Casters
Five universal wheels provide easy mobility on different grounds, wooden floors and carpets. There is an added small caster that supports the bottom drawer and prevents tipping. The package includes two foldable keys. Use a single key and lock all three drawers.
Highlighted Points:
reinforced construction with cold-rolled steel frame
modern designed file cabinet available in attractive colors
five universal wheels provide mobility and stability
use a foldable key and lock all drawers
two small drawers and one file drawer
Best Locked Painting Metal File Cabinet
Aurora Modern File Cabinet
Modern Design
The Aurora painted metal file cabinet features a modern Soho design, it fits in any modern office. Besides the metallic charcoal painted finish, there are more colors – white, black and white/blue. The Aurora weighs 53 pounds and measures 25.1 inches in height, 15.5 inches in width and 20.7 inches in depth.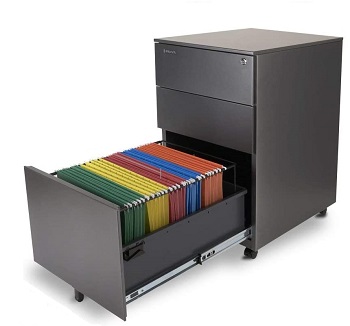 Electrostatic Spraying Finish
This file cabinet features solid metal construction and an electrostatic spraying finish. It is resistant to rust and provides durability. Aurora has three drawers. Two standard drawers come with a stationery tray, if you want, you can remove the tray. The casters are included, two casters are lockable.
Standard File Size
This modern locking file cabinet has one file drawer with high sides, it holds letter-size hanging file folders. The hanging frame is included in the package, you don't have to buy it separately. The high-quality drawer glide suspension ensures smooth drawer performance.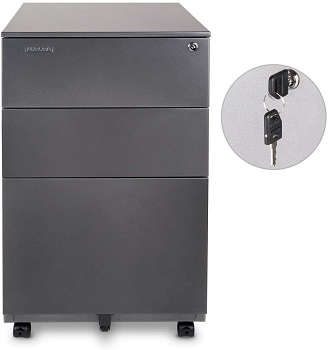 Private Document Storing
The upper drawer features a lock system, you can secure all three drawers with one key. This is a great feature if you need to store private and sensitive files and documents. The interlocking system allows you to open one drawer at a time, which prevents tipping.
Highlighted Points:
solid metal construction provides durability
anti-rust electrostatic spraying finish
two small drawers for office accessories
file drawer holds letter-size hanging file folders
built-in wheels for easy movement
lock the drawers and protect your documents
Best Home Office Painting File Cabinet
Devaise Metal Filing Cabinet
Thick Metal Construction
The Devaise filing cabinet is available in two colors – black and white. These colors fit in any office environment. The unit size is 23.6 inches in height, 18.9 inches in depth and 15.4 inches in width. It weighs 42 pounds. This file cabinet features thick metal construction.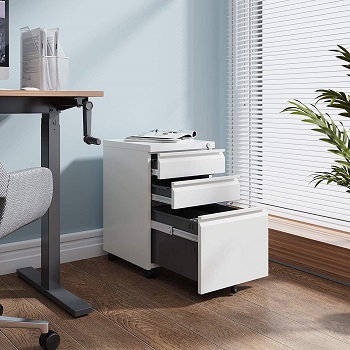 Mobile File Cabinet
This painted metal file cabinet ensures a load capacity of 33o pounds. The Devaise is equipped with five smooth wheels. These four wheels are designed for mobility. Moreover, there is a small fifth caster that prevents tipping and provides extra support for the drawer weight.
Letter & Legal Files
There are three drawers, two small drawers and one large drawer. These small drawers are equipped with a pencil tray for small office supplies. The large bottom drawer accommodates both legal and letter-size file folders. Place them vertically or horizontally.
Lockable Drawers
This pedestal file cabinet is a great storage space for your private and confidential documents. Above the top drawer is a lock system. It locks all three drawers at the same time, you can't lock just one drawer. The package contains two keys. it comes fully assembled except wheels.
Highlighted Points:
thick and sturdy metal construction
max load capacity – 330 pounds
one lock secures all three drawers
two utility drawers with included pencil tray
file drawer holds letter and legal size file folders
built-in casters for easy mobility
Things To Know About Painting Metal File Cabinets
The painted metal file cabinets feature sturdy construction and a resistant surface. Our buying guide will introduce you to some terms which are good to know before purchase.
Metal Construction – The file cabinets made of metal or steel are the most durable models in the market. These models are designed to withstand years of use. They are great for demanding work environments. Usually, they are painted in multiple colors.
Anti-rust Surface – If you want to keep a metal file cabinet rust-free, you need to maintain it properly. For example, you can use rust-proof oil and wipe the file cabinet. Don't use the sandpaper, it will damage the item. Some models have an anti-rust electrostatic spraying finish.
Suspension Files – Many models have suspension files. So, each drawer has a folder style file suspended by hooks from two parallel runners. These files provide plenty of space for your documents. If each file has its own individual tab, you can easily label and find your files when you need them.
Anti-tip Caster – Usually, mobile file cabinets have four casters that ensure mobility. It is important that at least two casters come with brakes. But some file cabinets have an additional fifth caster, it isn't designed for mobility, but file cabinet support and tipping over prevention.
3/4 Or Full-extension Drawers – The painting metal file cabinetd with a third-quarter drawer extension allow the drawer to open 3/4 of the way. That provides more support. The full extension drawer slides can handle a heavier load. You'll have better access to all files in your personal file cabinet.