Are you looking for a storage solution for your letter-size files?
If you are, then this review will help you to choose the best letter size file cabinet. There are few factors you need to consider before your purchase – check them in our buying guide. Then read more about 6 top-rated file cabinets and their features.
Our Top Picks
Best 6 Letter File Cabinets
Best Of Best Letter Size File Cabinet
Tribesigns File Cabinet
Stylish Item
The Tribesigns file cabinet is constructed of 0.6" thick engineered wood and a glossy finish. The surface is resistant to water and dust. Also, it is easy to clean. This heavy-duty construction is able to hold a printer, scanner or other office device on its top.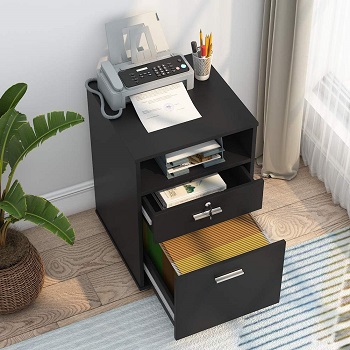 Load Capacity
This letter file cabinet requires assembly, the package includes all necessary tools and hardware. The warranty lasts 1 year. Its maximum weight capacity is 110 pounds. The overall dimensions are 26 inches in height, 15.7 inches in width and 15.7 inches in depth.
Casters With Brakes
The Tribesigns file cabinet is equipped with rolling casters. Move the file cabinet easily. Built-in brakes on each caster ensure stability. There is ample space for your office needs. The open shelf is perfect for frequently used documents and files.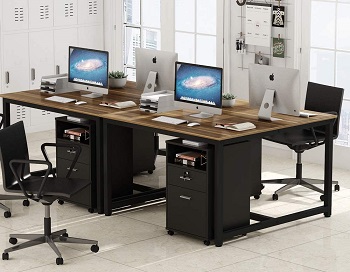 Hanging Files
This tall wood file cabinet has two drawers – a small box drawer for office supplies and a file drawer. The bottom drawer is designed to hold hanging letter-size file folders. The box drawer is equipped with a lock, you can secure your private items.
Highlighted Points:
solid construction is made of wood
the glossy black finished surface
the surface is water and dust resistant
there are two drawers and an open shelf
the top drawer is lockable
bottom drawer hold standard file folders
Best 2-drawer Letter File Cabinet
Staples File Cabinet
Easy To Assemble
The Staples 2-drawer file cabinet is a pricey item. It is available in black color and features a contemporary design. It requires assembly, the package includes detailed instruction. This letter file cabinet fits in any office, next to or under the standard-size office desk.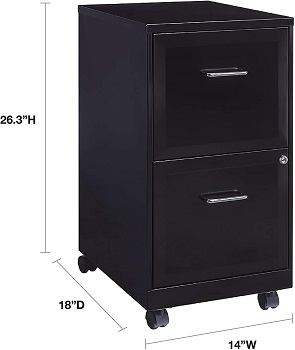 Lightweight File Cabinet
The item weighs 24 pounds, it is a lightweight file cabinet. The Staples measures 26.3 inches in height, 14 inches in width and 18 inches in depth. It features a sleek finish and polished handles on the drawers. The Staples is designed for light-duty use.
Drawer Dividers
The construction is made of quality metal material. It is durable and sturdy. This file cabinet features two roomy drawers. They accommodate letter-size/A4 file folders. The drawer dividers are integrated for neat file organization, but they aren't adjustable.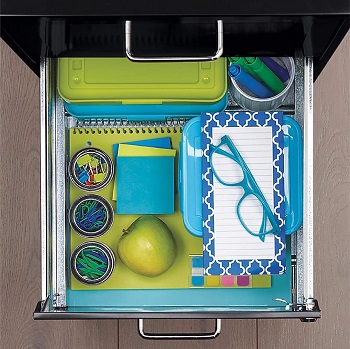 Four Casters
This steel 2-drawer file cabinet makes it easy to protect your private and sensitive file folders. It is equipped with one factory lock and key. With one key you can secure both drawers at the same time. The Staples comes with four casters for easy movement.
Highlighted Points:
available in black color only
modern design that fits anywhere
the instruction are included
quality metal construction
two spacious drawers for letter-size files
equipped with a lock and four casters
Best 3-drawer Letter File Cabinet
Hirsh Soho File Cabinet
Personal Use
The Hirsh is an affordable letter file cabinet. This item is designed for home offices or small offices. The file cabinet is 27.09 inches tall, 14.25 inches wide and 18 inches deep. It weighs 24.5 pounds. The assembly is required, you'll get the instruction in the package.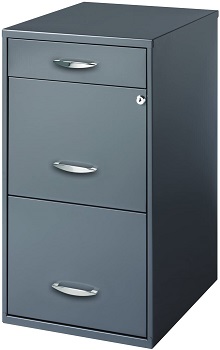 Neutral Design
The construction is made of high-quality steel material with a baked enamel finish. This model is available in charcoal color, it fits in any office decor. The Hirsh features three drawers, they feature different dimensions, the top drawer is the smallest, it holds office supplies.
Patented Glide Suspension
Below the top drawer are two file drawers, they accommodate letter-size file folders. All drawers have a three-quarter extension, you can't extend them fully. The drawers glide on patented glide suspension, you can open them quickly and quietly.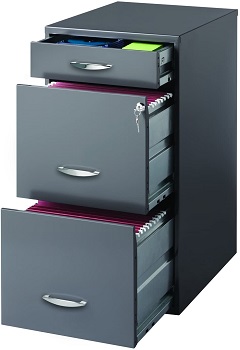 Built-in Lock
This sturdy file cabinet has a built-in lock. You can keep your file folders and important documents safe from damage, loss or unauthorized access. The lock is placed in the middle drawer and secures the top two drawers. There are stylish steel handles on each drawer.
Highlighted Points:
affordable charcoal file cabinet for personal use
the assembly is required
made of high-quality steel
baked enamel finish with a charcoal color
three-quarter drawer suspension
small drawer holds office supplies
Best 4-drawer Letter File Cabinet
Pemberly Row Filing Cabinet
Vertical File Cabinet
The Pemberly Row is a vertical steel file cabinet that fits in demanding work environments. You can choose between three colors – black, grey and putty. The product dimensions are 52 inches in height, 15 inches in width and 25 inches in depth. The price is acceptable.
Steel Construction
This vertical orientation allows easy placement in confined spaces. It is constructed with 30% recycled materials. The Pemberly Row features heavy-duty 22-gauge steel construction and galvanized drawer bodies. The surface is resistant to impact and rust.
High-side Drawers
This file cabinet is fitted with four high-side drawers, they are designed to accept hanging file folders. These drawers accommodate letter-size file folders. All four drawers glide on precision steel ball bearings, they provide quiet drawer performance. The adjustable metal follower blocks are included.
Removable Lock
This 4 drawer letter file cabinet features a core-removable lock that provides one-key convenience. You can store your private and confidential files and documents. Each drawer is equipped with aluminum handles and label holders for file identification.
Highlighted Points:
three colors available – black, grey and putty
heavy-duty 22-gauge steel construction
the surface is resistant to rust and scratches
four high-side drawers hold hanging file folders
aluminum handles and label holders
Best Lateral Letter Size File Cabinet
Bowery Hill File Cabinet
Weathered Look
The Bowery Hill file cabinet comes in antique black with a cherry finish, it looks weathered and distressed. It isn't pure black and the other colors are visible. The construction is made of high-quality wood, clean it with a damp cloth and mild soap. You can use household glass cleaner, too.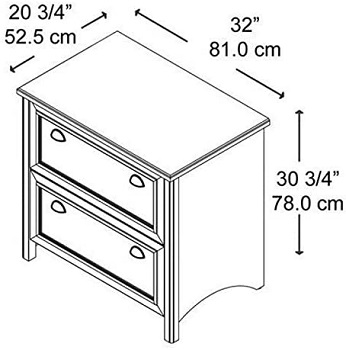 Thick Top
The overall product dimensions are 32 inches in height, 30.7 inches in height and 20.7 inches in depth. It weighs 98 pounds. The height matches the standard office desk if you want to extend your work surface. The wide and thick top hold office devices, like printer or scanner.
Two Drawers
The Bowery Hill stands on sturdy legs. This solid wood lateral file cabinet is equipped with two spacious drawers. The smooth full extension drawer glide on durable metal runners. You can reach your files with ease. They hold standard letter size files.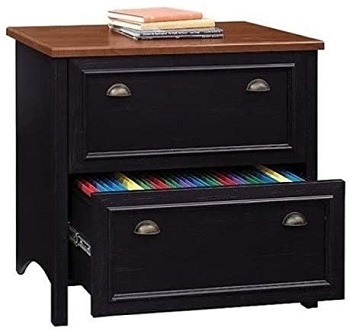 Interlocking Mechanism
There are two antique-style handles on each drawer. This letter file cabinet features a safety interlock mechanism. It prevents tipping over. When one drawer is opened, you can't open another drawer. Even if the drawer is overloaded, the file cabinet will stay balanced.
Highlighted Points:
lateral file cabinet available in a distressed antique look
laminated surface prevents scratches and stains
two roomy drawers hold letter-size files
constructed of durable wood and steel handles
the wide top is suitable for office device storage
safety interlocking mechanism keep the file cabinet stable
Best On Wheels Letter File Cabinet
BirdRock 2-drawer File Cabinet
Stackable File Cabinet
The BirdRock Home file cabinet comes in 1-pack or 2-pack. Each model is equipped with feet, they allow you to stack multiple units on top of each other. This 2-pack file cabinet measures 16.4 inches in depth, 27 inches in height and 14.25 inches in width.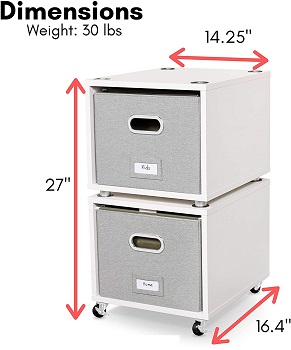 Assembly Required
This item weighs 35 pounds and it is available in two colors – white and dark grey. The assembly is required and the instruction is included in the package. Also, the file cabinet includes wheels and feet. High-quality wheels come with brakes, they provide stability.
Two Bins
The BirdRock file cabinet has two removable storage bins, they accommodate letter-size files. You can remove the storage bins and find your file easily. This letter file cabinet features versatility, you can use it for many other needs. The price is affordable.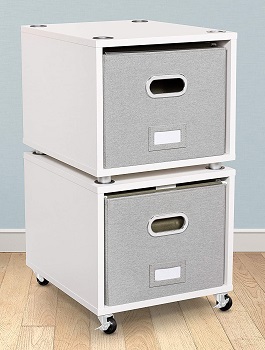 Label Window
This small rolling file cabinet is made of high-quality medium density fiberboard and the bins are made of linen. The individual storage box has 9.9 inches in height, 12.25 inches in width and 15.5 inches in depth. The box has handles on both ends and a label window for labeling the files.
Highlighted Points:
compact file cabinet made of MDF and linen
there are two removable storage box
both bins fit letter-size file folders
the package includes feet and wheels
label window for labeling the content
Best Things To Know About Letter File Cabinet
There is a brief buying guide that will help you to decide which letter file cabinet features are necessary for your office. Find out more about file cabinet design, storage space, mobility and other characteristics.
Wood & Metal – The file cabinet are constructed using different materials – wood, metal/steel, aluminum and even plastic. The most popular are wood and metal products. The wood file cabinet ensures a traditional vibe in your office. Metal ones are the most durable file cabinets.
3/4 Extension Drawers – There are three main drawer extension types – over travel, three-quarter and full extension. The 3/4 extension allows the drawer to open 3/4 of the way. That provides more support and this file cabinet type are less expensive.
Standard File Size – Before you buy any file cabinet, you need to consider the size of the documents you will be storing. Most file cabinets come equipped to store standard size file folders (8.5" W x 11" L). Or so-called letter-size/A4 files.
Mobility – The mobile letter file cabinet types can be easily moved around the office. They come equipped with casters that allow the file cabinet to roll over the carpet, wooden floor or other surfaces. Some models have added a fifth caster that prevents tipping over.
Locking Mechanism – The small filing cabinet with a lock will protect your files. If you work in a shared office you should lock your file cabinet when not in use. There is a variety of locking systems. The center lock secures all drawers, some file cabinet has an ability to lock one drawer.