Are you looking for standing file cabinets?
If you are, then keep reading this article. There are two main sections – a list of the best 6 stand-up file cabinets and a buying guide. We suggest you read the buying guide first, you'll easily decide what kind of file cabinet exactly do you need. Then check our offer, all models have quality performance.
Our Top Picks
Best 6 Standing File Cabinets
Best Of Best Standing File Cabinet
Lorell File Cabinet
Commercial-grade Item
The Lorell is a vertical commercial grade file cabinet. The model number is LLR48498. Lorell is a very popular brand because of its high-quality products. This model meets many safety standards, like ANSI and BIFMA, so the price is high. The origin-country is Mexico.
5-year Warranty
The warranty lasts 5 years, you can rely on this product quality. The unit measures 61 inches in height, 26.5 inches in depth and 15 inches in width. This standing file cabinet weighs 97 pounds. The assembly isn't required. The Lorell file cabinet is made of steel, which increases durability.

Five Drawers
This sturdy file cabinet is equipped with five high-sided drawers that accommodate letter-sized files in a vertical position. There are adjustable wire followers that keep files upright. Each drawer glides on steel ball-bearing slides and has a full extension. It provides full drawer accessibility.
Lock Option
The core-removable lock allows you to store some private and sensitive file folders. With one key you can lock all five drawers. Also, there are aluminum label holders for content, you'll always know where to look for a certain file. The convenient pull handles are integrated.
Highlighted Points:
high-quality vertical file cabinet
it is equipped with five drawers
lock mechanism secures all drawers
the assembly isn't required
aluminum label holders
intended for letter-size file folders
Best 5-drawer Standing File Cabinet
Hon File Cabinet
Three Colors
This Hon model is from 310 Series, it is available in putty, charcoal and black color. This review talks about the model with five drawers, but there are versions with four and two drawers. Choose the model depends on the amount of paperwork you need to store.
All-welded construction
The whole construction is made of quality steel material, it is ideal for small business. This all-welded case construction is intended for demanding work environments. Store your files in five roomy drawers, they hold hanging file folders.

Label Holder
The steel ball-bearing drawer suspension allows you to open and close the drawers smoothly. Even if the file cabinet is overloaded. Each drawer features an aluminum label holder, you can easily identify your content. This steel file cabinet depth is 26 inches and the height is 78 inches.
Impact-resistant Item
The weight is 57 pounds. The assembly isn't required, this standing file cabinet is ready to use when you unpack it. The Hon has four vertical reinforcements that provide sturdiness and stability. Moreover, there is a double-walled front kickplate. It is resistant to impacts.
Highlighted Points:
all-welded case construction
equipped with four vertical reinforcements
the surface is resistant to impacts
high-sided drawers accommodate hanging files
aluminum label holders for content identification
Best On-wheels Standing File Cabinet
Edgewood File Cabinet
Compact File Cabinet
The Edgewood standing file cabinet is a compact white rolling file cabinet. This item provides enough storage space for a small office or home office. The package included a file cabinet with full accessories and instructions. This model requires assembly.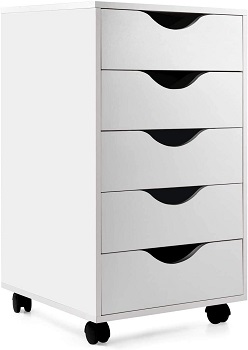 Max Drawer Capacity
The overall dimensions are 16 inches in depth, 16 inches in width and 24 inches in height. It weighs 30 pounds. There are five drawers and the drawer size is 14.8" D x 14.8" W x 4.5" H. This stand-up filing cabinet can handle 132 pounds. Each drawer capacity is 22 pounds.
Scratch-resistant Surface
Use the top surface as storage space, but don't exceed its weight limit – 44 pounds. The construction is made of sturdy particleboard. It is durable and long-lasting. Furthermore, the surface is scratch-resistant and water-resistant. Clean it easily with a damp cloth.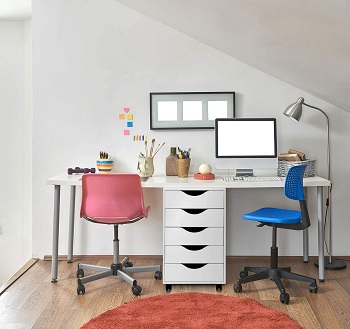 Horizontal Position
The Edgewood file cabinet meets many safety and eco standards, like CARB & TSCA standard. The drawers hold letter-sized file folders, but you need to store them horizontally. The package includes four wheels for mobility, but you can remove them and attach stationary feet.
Highlighted Points:
the assembly is required
it comes with four wheels and stationary feet
max weight capacity – 132 pounds
made of sturdy particleboard with a scratch-resistant surface
there are fie drawers for horizontally positioned letter-size files
Best Home Office Standing File Cabinet
Pemberly Row File Cabinet
Black Color
The Pemberly Row is a popular and quality brand that offers both, good design and quality. It is a commercial-grade vertical file cabinet that fits perfectly in any home office. It is available in black color only. This is a ready-to-assemble file cabinet.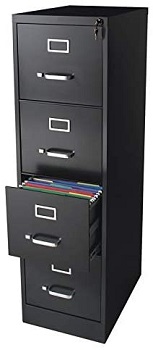 Recycled Materials
This standing file cabinet is manufactured of high quality and durable steel material, it is designed for heavy use.  The Pemberly spray paint file cabinet features 52 inches in height, 15 inches in width and 22 inches in depth. The manufacturer uses recycled materials.
Wire Followers
There are four drawers for your office supplies and hanging file folders. There is no need for additional accessories, the Pemberly is ready to use. There are adjustable wire followers that keep files stable in one place. The galvanized drawer body is rust-resistant.
Aluminum Handles
The handles and label holders are made of aluminum. Use the label holders to mark and identify the file folder's content. The core-removable lock allows you to secure your private files from unwanted access. The drawers glide on ball-bearing slides.
Highlighted Points:
commercial-grade file cabinet
manufactured of recycled and durable steel
four roomy drawers for hanging file folders
adjustable wire followers keep files in one place
aluminum label holders and handles
optional lock – secure your sensitive files
Best Multi-drawer Standing File Cabinet
Bianca 9-drawer File Cabinet
Three Colors
The Naomi Home brand produces this Bianca file cabinet. There are three colors available – white, grey and black. These universal colors fit in any office interior. Moreover, it doesn't require a lot of space. The Bianca is 41 inches high, 18.9 inches wide and 15.7 inches deep.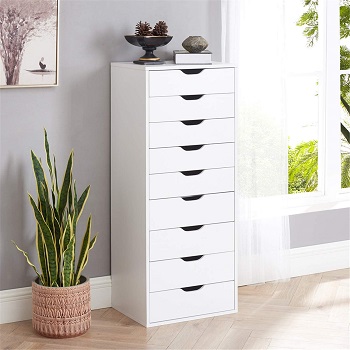 Nine Drawers
You need to assemble this standing file cabinet when it arrives, but all hardware and instruction are included in the package. The Bianca features ample storage space, there are nine drawers. You can store all your office essentials and files.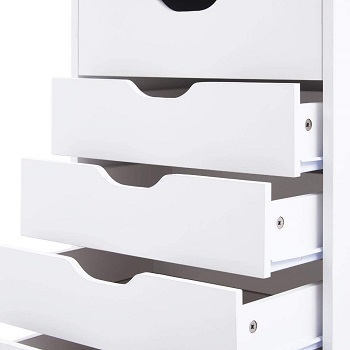 Mess-free Environment
Place the file folders horizontally. Each drawer can handle up to 16 pounds, so you can load the drawers with a lot of paperwork. The Bianca is equipped with recessed handles, there are no sharp edges. This trendy filing cabinet has an affordable price affordable and the warranty lasts 1-year.
Highlighted Points:
white, black and grey color
the assemble is required
the hardware and the instruction are included
nine drawers for office essentials and file folders
each drawer has a max capacity of 16 pounds
Best Lateral Standing File Cabinet
Lorell 5-drawer File Cabinet
High Price
The Lorell is a lateral file cabinet available in black color. This reliable product meets ANSI and BIFMA standards for safety and performance. It is built of steel, so this is a durable and long-lasting item. The Lorell standing file cabinet is designed to meet any office requirements.
Hanging Rails
The dimensions are 69 inches in height, 44 inches in width and 22 inches in depth. It is equipped with five drawers. Each drawer comes with hanging file rails for side to side filing. It accommodates letter-size/A4 and legal-size file folders.
Magnetic Label Holders
Moreover, there is a roll-out binder storage/posting shelf. All five drawers feature magnetic label holders. Write down some keywords and you'll easily identify your drawer content. There is a core-removable lock, so you can store your confidential documents without worry.
Interlock System
The drawers have ball-bearing slide suspension. The interlock system allows you to open one drawer at a time. Even if you overloaded the slim file cabinet, it won't fall forward. This mechanism and counterweight prevent accidents and injuries.
Highlighted Points:
reinforced base and sturdy construction
meets many quality and safety standards
five drawers with hanging file rails
magnetic label holders
the drawers are lockable
interlock and counterweight mechanisms
Things To Know About Standing File Cabinet
The standing file cabinets don't require a lot of space, they are tall. Our brief buying guide will help you to find the perfect file cabinet for your needs. We described some essential features, like lock option, drawers, storage space, mobility and others.
Drawers – The number of drawers depends on the amount of paperwork you need to store. Whichever file cabinet you want to buy, always read carefully product description, some file cabinets have shallow drawers, which aren't very useful, choose wide file cabinets.
Hanging Files – Some file cabinets are able to accommodate hanging files. You'll easily find the document you need. The files in this kind of file cabinet can be mounted in two ways – hanging clamps or hanging folders. The hanging folders hang between two bars.
Lockability – For business people who work with confidential or private files, the lock is necessary. Some file cabinets have a lock on each drawer, but some models have one lock system that controls all drawers. The most expensive file cabinets have a numeric keypad.
Mobile Items – If you need to relocate your office file cabinet, the wheels are the feature you need to consider. The wheels usually come with vertical file cabinets. Many mobile file cabinets feature the fifth wheel which adds extra stability.
Counterbalance Weight – This feature is specific for tall file cabinets. These weights are usually made of concrete or other heavy material. This is an additional safety precaution that is built into the bottom of the item. It adds stability and prevents tipping.
Final Verdict
All of these standing file cabinets feature quality characteristics, but we recommend the Lorrel file cabinet. This is a commercial-grade vertical file cabinet with five drawers for letter-size hanging file folders. If you like these models, check out the post about tall white filing cabinets. For those who love natural materials, the tall wood file cabinets are the ideal solution.