Are you looking for a portable and lightweight reading light that you can use wherever you want?
We have made a list of the best 6 rechargeable reading lights of various designs and functions. After reading those reviews, check out some tips and tricks in our buying guide. That info will help the find a suitable model for your needs.
Our Top Picks
Best 6 Rechargeable Reading Lights
BEST OF BEST RECHARGEABLE READING LIGHT
Glucusent Led Neck Reading Light
Neck Reading Light
Glocusent is a neck reading light available in grey, lake blue and pink color. It weighs 62 ounces and features an ergonomic design. The light is FCC, CE, RoHS, PSE approved. It comes with 18 months warranty, USB Type-C cable, user manual. AC adapter isn't included.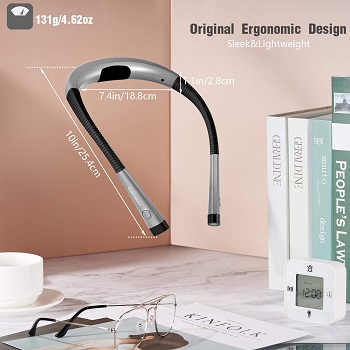 Narrow Beam Angle Design
This rechargeable reading light features an anti-slip design and flexible arms, it fits anywhere. Use it for reading, camping, knitting, repairing, walking, etc. If you want to read in bed, now you can do it, there is a special narrow beam angle design.
Last For Weeks
The adjustable reading lamp has a built-in 1000mAh huge capacity battery. After a full charge, the battery lasts about 14 – 22 weeks in general reading level. There are three color temperature modes – cool white, warm white and yellow. Select the cool white when you need the clearest view.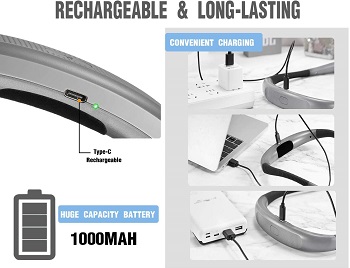 Six Brightness Levels
Also, there are six brightness levels, each head has three levels- That are general reading, brighter reading and precise work level. If you choose general reading, Glocusent delivers abundant illumination. If you want to do something precise, select the precise working level.
Highlighted Points:
practical, ergonomic and flexible design
covered with 18 months warranty
USB Type-C included
special narrow beam angle design
three color temperatures
six brightness levels
BEST BOOK RECHARGEABLE READING LIGHT
Dewenwils Rechargeable Book Reading Light
Compact Item
Dewenwils is a compact reading light, very practical and simple to use. There are few colors in offering – blue, green, pink, yellow and white. Its dimensions are 4.3 inches in length and 1.8 inches in width. This light fits literally anywhere. Its price is affordable.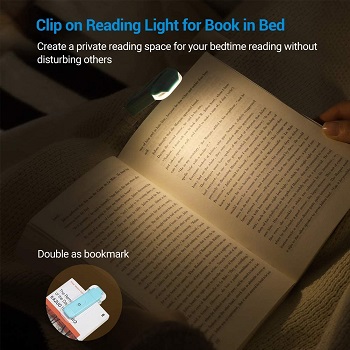 Free Standing Light
No additional cable is needed, the USB is built-in, you can charge this rechargeable reading light with a power bank, laptop, car charger, phone charger. Dewenwils is able to stand alone, or you can clip it on a book. Its flexible design allows you to focus on the light where you need it.
Quick Charging
Its charging lasts 1.5 hours, which is pretty quick. When fully charged you can use it for about 8 hours. Dewenwils amber reading light is designed with a transparent holder and metal clip, it is made from durable ABS material. It can be completely folded flat.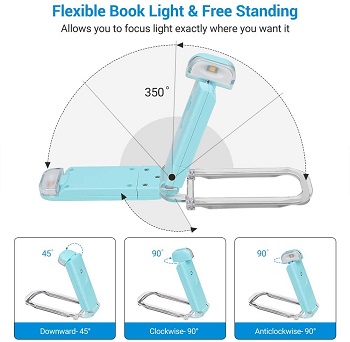 Soft Warm Light
There are two brightness levels, adjust them with a switch button. Its soft warm light is suitable for reading at night, it doesn't cause eye fatigue. Dewenwils can be used as a bookmark or a mini flashlight. Its lifespan is approximately 30 00o hours.
Highlighted Points:
designed with a transparent holder and metal clip
few colors available
two brightness levels
lightweight and portable light
built-in USB, no additional cable needed
use it as a bookmark, reading light and a mini flashlight
BEST USB RECHARGEABLE READING LIGHT
Ledgle Reading Light
Inbuilt Battery
Ledgle is a hands-free rechargeable reading light that comes with a lithium battery. To get fully charged, it takes 2.5 hours. Also, it is able to last up to 6-8 hours with high brightness. If you set it on normal brightness, it'll last approximately 10 hours.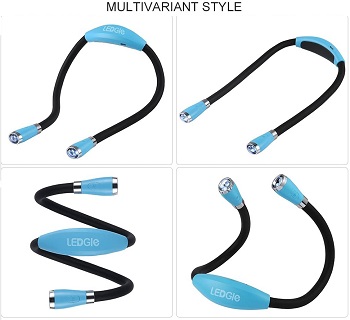 Rechargeable Design
You can use it while you're running, reading, camping, walking, etc. Ideal for bed reading. Ledgle is perfectly suitable for outdoor and indoor. The red indicator turns on when you need to recharge the battery. When it's fully charged the blue light turns on. The USB cable is included in the package.
Three Modes
It offers three modes that you can adjust depends on your wishes. There is a floodlight, spotlight and bright light. Ledgle features four LED beads. You can adjust the color temperature from 6500K to 7000K. The battery-powered reading lamp has an on/off switch on each side.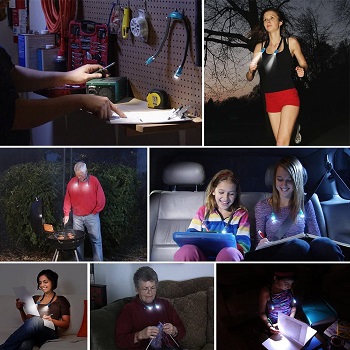 Eas To Use
The arm of the reading light is made from soft rubber, it is a bendable reading light. The first click is a wide light, the second click is a spotlight and the third click is both, spot and wide light. Of course, the fourth click is turned off. It is very simple to use.
Highlighted Points:
arms are made from soft rubber
ideal for bed reading, walking, running,…
three light modes available
color temperature is adjustable
USB cable is included in the package
last approximately 10 hours
BEST CLIP-ON RECHARGEABLE READING LIGHT
LuminoLite Reading Light
Small Handy Design
LuminoLite is a small clip-on reading light, available in blue, red, iron and black color. You can bend it into a small handy item and take it with you on travel. It weighs only 2.15 ounces. A lithium-ion battery is included in the package. The price is affordable.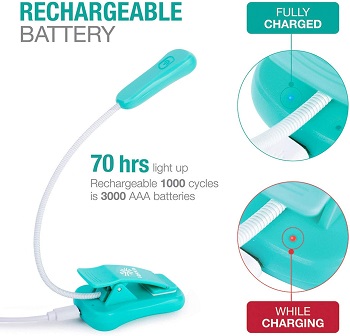 Micro USB Port
The package includes a USB cable for charging. LuminoLite rechargeable reading light features a micro USB port, you can charge it from any USB device. It provides three color temperatures and three brightness levels. Use the warm 3000K color temperature at night, it will reduce your eye strain.
Brightness Levels
Nature brightness, 4200K, simulates the sunlight, it is ideal for drawing. The white color, 100% brightness, will light up a larger area and provide clear vision. If you want to change color temperature, do it with a long press. A quick click will adjust the brightness.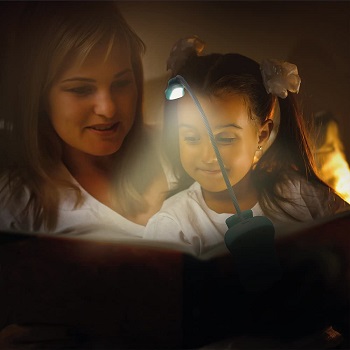 Soft EVA Pad
The EVA soft pad will protect your books from scratches and damage. Also, LuminoLite uses advanced SMD LED which lightning area is 3x larger than ordinary LED light. The bendy light lasts 60 hours before you need to recharge it. Its neck is flexible.
Highlighted Points:
small slim handy design
there is an adjustable clip with a soft EVA pad
provides 60 hours without charging
flexible neck focuses the light where needed
three color temperatures and brightness levels
BEST LED RECHARGEABLE READING LIGHT
Lepower LED Reading Light
Bendable Design
This is a practical neck light that can be used for different activities, like reading, running, walking, knitting, etc. There is a bendable design that doesn't require much space, it fits easily into any bag, carry-on suitcase, backpack, purse. The price is affordable.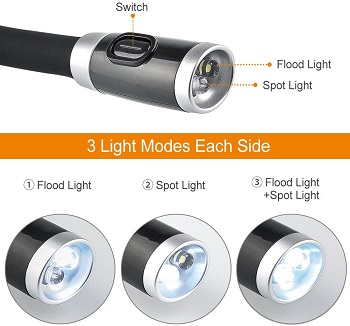 Soft Silicone Material
It comes with a USB charging cable, but the package doesn't contain an adapter. The user manual is included in the package. The arm is covered with high-quality soft silicone, it is non-toxic and safe for use. There is a 650mAh  capacity lithium battery, it is rechargeable and lasts 5 hours.
Overcharging Protection
While you charging, there is a red indicator on, when the rechargeable reading light is full, there is a blue indicator on. The led reading lamp features onboard lithium protection that prevents overcharging. There are four LEDs with six brightness levels.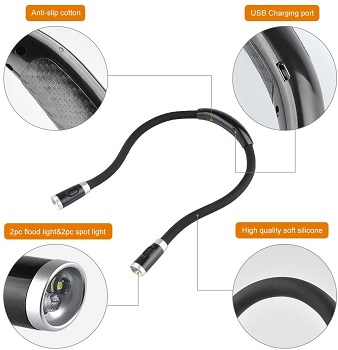 3 Light Modes
Each arm is equipped with two LEDs, there is a floodlight and a spotlight. If you want to turn on the floodlight, click once, for spotlight click twice. Also, the third click is for both lights at the same time. Its color temperature range from 6000K to 6500K.
Highlighted Points:
bendable neck hug light
high-quality soft silicone
non-toxic and safe for use
USB cable for charging
available 6 brightness levels
there are three light modes
BEST BED RECHARGEABLE READING LIGHT
Lohas Reading Light
Affordable Price
Lohas is a perfect versatile light, it is a lightweight and affordable item. There are 3.5 ounces, so it's almost weightless. It features a practical clip-on design with an adjustable neck that allows flexible rotation. You can focus the light wherever you want.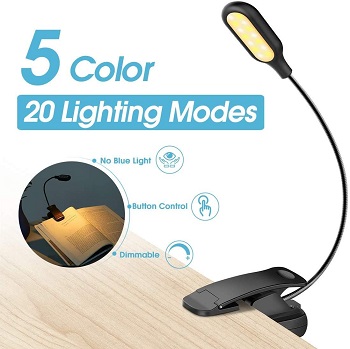 USB Rechargeable
This rechargeable reading light delivers four levels of brightness – super bright, bright, medium and low. That's practical if you're reading on the bus or in bed and don't want to disturb other people. You can charge it with a USB, charger, PC/laptop and power bank.
Clip-on Design
It is easy to clip this small clip-on light onto your desk, books, computers, kindles, laptop, tablet, etc. You can choose between four color temperatures – 3000K, 3500K, 4000K, 5000K, 6000K. The 3000K is perfect if you are reading in the darkroom.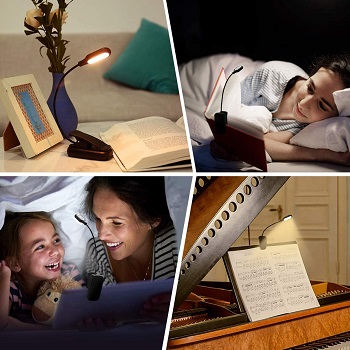 Eye-friendly Light
The buttons for color temperature and brightness are separated for more convenience. Lohas is eye-friendly light, there is no flickering and dazzling. It eliminates 99% of harmful blue light which causes eye fatigue. There is a built-in 1000mAh rechargeable lithium battery that provides 60 hours of reading.
Highlighted Points:
five colors temperatures
four brightness levels
blue light protection
supports four power modes
clip-on reading light with adjustable neck
lightweight and travel-friendly
Things To Know About Rechargeable Reading Light
Before purchase, you should learn some basics about rechargeable reading lights. So we are giving you a few tips below. Check them and pick your ideal model.
Eco-friendly Item – All of these models come with rechargeable batteries. It is important to check if the reading light comes with a USB cable. If you buy a reading light with this kind of battery, you will produce less garbage and protect the environment from dangerous waste.
Light & Brightness – Brightness is a very important factor, necessary to consider before buying. Some models on this list come with three brightness levels, so you can have warm light if you reading in your bed or natural day illumination for some precise work.
Storage & Portability – There are neck hug lights and an adjustable lamp arm for versatile use. You can adjust the light beam wherever you need. Also, it is easy to store it in your purse, backpack, case, that flexibly designed lamp fits anywhere.
Clip-On Design – For the night reading, the lights with clip-on design are the best. You can clip it on your book and reading with your free hands. There is no annoying lamp with a large beam that illuminates all room. These lights won't disturb your partner or anybody else.
Working Time – If you want to take your rechargeable reading light with you for walking, camping, running or other outdoor activity, you should fully charge the battery. Some lights last one day, but there are models capable to work for weeks.