Are you interested in a space-saving lamp that provides enough lighting for your different needs?
Then the wall-mounted desk lamps are the ideal solution for your requirements! There are a couple of things to consider when you're picking the best lamp. Find that info in our guide, then read those 6 reviews about the best lamps in the market.
Our Top Picks
Best 6 Wall Desk Lamp
BEST OF BEST WALL DESK LAMP
HomeFocus LED Lamp
Lamp Size
HomeFocus wall-mounted desk lamp is suitable for your living room, home office, office and above your workbench. Use it for reading, studying and working. The overall product dimensions are 22 inches in length, 4.5 inches in width and 5.5 inches in height.
LED 5W Bulb
It requires plug-in or hardwired installation. There are instructions included in the package. Also, the package includes an LED COB 5W bulb. Constructed of durable and quality metal and finished in satin nickel. HomeFocus will blend any interior.
USB Port
This adjustable LED desk lamp requires 100-240V outlets. HoceFocus provides soft warm white light, the delivered color temperature is 3000K. The on/off switch is located on the lamp plate and there is a single USB charging port for your mobile phone or other devices.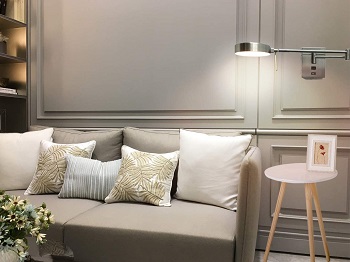 ETL Certified Lamp
That LED bulb has a long lifespan, it is rated for up to 50,000 hours. meaning, it will last for years. You can adjust and extend the lamp arm according to your current task. This is ETL certified lamp, you can rely on its quality and durability.
Highlighted Points:
requires plug-in or hardwired installation
LED COB 5W bulb included
made of metal and finished with satin nickel
provides soft and warm light
ETL certified lamp
BEST FOR STUDYING WALL DESK LIGHT
Adust Reading Light
2-pack
You can choose between two colors – black and silver and how many lamps do you want to buy. There are 1-pack or 2-pack. If you need a lamp for your office and home office, buy two lamps. The manufacturer provides high-quality material and available customer service.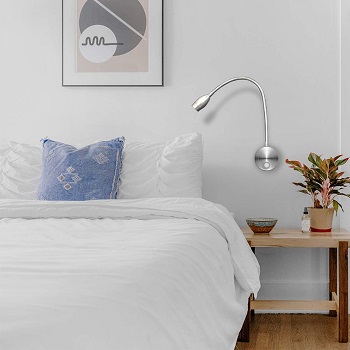 Space-saving Lamp
Follow the instruction and install the lamp in your office, home office, above your headboard, on the cabinet surface, etc. It doesn't occupy much space. After installation, connect the plug of 1.7m to the power socket, and the lamp is ready for use.
Narrow Beam
This minimalist design will fit any home or office decor. The wall-mounted desk light comes with a plug and it requires 100V-240V outlets. Adust provides a narrow beam of 60-degree illumination angle. Ideal for studying and reading, the focused light won't disturb others.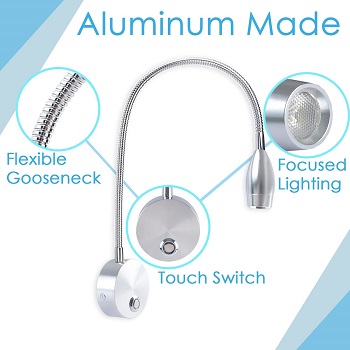 Flexible Gooseneck
The modern task light is designed with a flexible gooseneck, it's practical and allows multiple positions. There is a simple touch switch on the lamp base. You can turn on/off the lamp with ease. Adjust the brightness according to your needs.
Highlighted Points:
metal construction with silver finish
two colors available
comes with a plug, requires 100V-240V outlets
narrow beam, ideal for studying
flexible gooseneck
space-saving lamp
BEST FOR READING WALL MOUNTED DESK LIGHT
Yuhan Multipurpose Lamp
Cool White Lighting
Yuhan is quality and powerful wall-mounted desk lamp. You can choose between two lighting colors  – warm white lighting and cool white lighting. Choose warm lighting if you looking for a lamp for ambient lighting. For reading or studying, the cool white light is much better.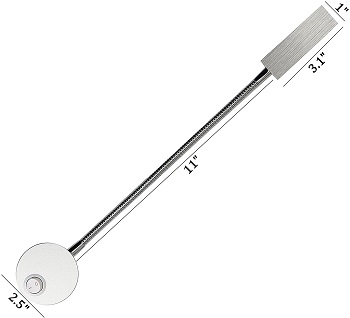 Easy Installation
The lamp base diameter is 2,5 inches, the arm is 11 inches long and the light head length is 3.1 inches. The cord length is 70 inches. It is very easy to install this lamp, just drill two holes, fix the fixture board on the wall and turn the lamp on.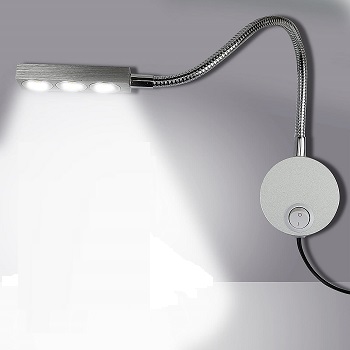 LED Beads
This adjustable reading lamp has a flexible gooseneck, you can adjust it in any position you need. There is an on/off switch on the lamp base. This gooseneck is made of lightweight and durable aluminum. Yuhan is equipped with LED beads rated for up to 50,000 hours.
Highlighted Points:
the ideal lamp for reading and studying
comes with energy-efficient LED beads
easy installation
warm white lighting or cool white lighting
flexible gooseneck
BEST MODERN WALL DESK LIGHT
TeHenoo Modern Wall Lamp
Black Matte Lamp
This beautiful modern lamp is available in white matte and black matte colors. It fits modern and contemporary designed rooms, offices, living rooms, etc. The lampshade is 4.7 inches wide and it comes with a long 70-inch power cord. The price is affordable.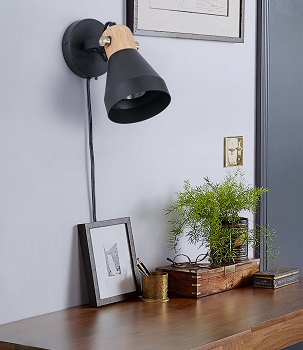 Wood Finish Black Plate
There is a wood finish backplate and matte black metallic lampshade that makes the lamp functional and elegant.  It is easy to assemble it and the package includes all needed mounting hardware for quick and simple installation. The on/off switch is located on the cord.
Standard Bulb
The bulb isn't included in the package, so you need to buy a standard E26 light bulb. TeHenoo wall-mounted desk lamp works with incandescent and LED bulbs. If you choose a LED, this bulb type lasts longer doesn't produce heat and uses less power than traditional bulbs.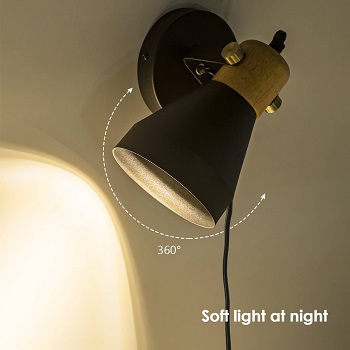 Rotatable Design
This modern LED desk lamp has a rotatable fixture, it provides 360-degree adjustment. You can direct the light exactly where needed. You need to swivel the knob to ensure the lighting you want. The max wattage for this lamp is 40 watts.
Highlighted Points:
wood finish backplate and metallic lampshade
functional and elegant lamp
70-inch long power cord
compatible with LED bulbs
features rotatable fixture
max wattage  – 40W
BEST SWING ARM WALL DESK LAMP
Susuo Long Swing Arm Lamp
Two Colors
Susuo lamp is available in two colors – black and silver. The lampshade width is 5.9 inches, the lamp arms are 9.8 x 9.8 inches and the plate diameter is 4.5 inches. If there is any damage or defect when the lamp arrives at your address, contact customer service.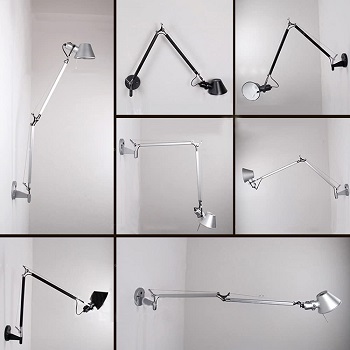 Durable Metal
This wall desk light is great for both residential and commercial use. Also, you can install it in your office, home office, above your workbench, etc. Susuo is made of high-quality and durable metal and materials. It is compatible with CFL, LED and incandescent bulbs.
40W Bulb
Susuo adjustable arm desk lamp requires standard E26/E27 base bulb with max 40W.  The installation is simple, but if you don't understand how to install it, call the professional electrician. The lampshade is constructed of quality and lightweight aluminum.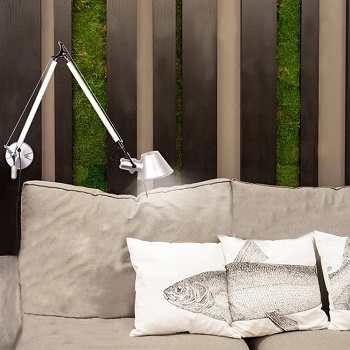 Swing Arm
You can adjust the shade, it can be angled up and down. Also, you can extend the swing arm away from the wall and direct the light where you need it. Adjustable in many different positions for different tasks. This lamp has an acceptable price.
Highlighted Points:
made of metal and aluminum
suitable for residential and commercial use
compatible with LED, CFL and incandescent bulbs
available in two colors
adjustable lampshade and arm
requires standard E26 base bulb
BEST VINTAGE WALL DESK LIGHT
Somers Industrial Wall Lamp
Set Of 2
You'll get two lamps in the package. Each lamp is 15.5 inches high and 3.5 inches wide. Both lamps come with an extendable arm, so you can extend them 29 inches from the wall. The round backplates are 5 inches wide and 1 inch deep.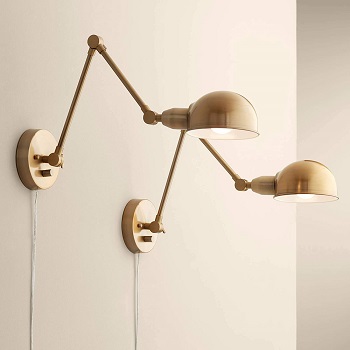 Antique Brass Finish
The lampshades are 5.7 inches wide and 3.5 inches high and the arm parts are 6.3 and 8 inches long. Somers wall desk lights are constructed of durable and quality metal and finished in antique brass. They come with a transparent cord, it is 5 feet long.
LED Light
This wall vintage reading lamp has built-in 4-watt dimmable LED bulbs. They are very energy efficient and provide a color temperature of 3000K. The dimmer switches are located on the backplates. Set the light depends on your current needs.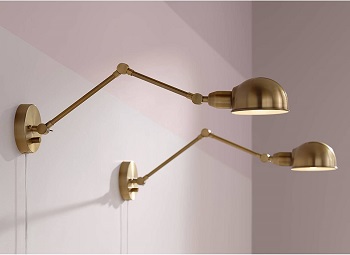 Adjustable Lamp
You can adjust the shades to the left or right while the lamp arm can be adjusted up and down. Direct the light exactly where needed while you reading, study, relaxing, etc. The installation process is simple, but the instruction is included in the package.
Highlighted Points:
two lamps in the package
simple installation needed
built-in dimmable LEDs
the color temperature of 3000K
adjustable lampshades and lamp arms
Things To Know About Wall Desk Lamp
Before buying the best wall desk lamp, you need to consider some factors. So read our guidelines, they will help you with your decision.
Installation Process – Usually, these lamps come with instructions included in the package. Some sellers made video instructions on their official website. But there are some models that require a professional electrician, so if you don't want additional costs, buy a lamp with simple assembly.
Flexible Gooseneck – If you want to use a lamp for reading, studying, crafting or other precise tasks that require strong and narrow lighting, then think about lamps with flexible gooseneck. You can adjust the bendable desk lamp in multiple positions and angles, according to your needs.
Color Temperature – The color temperature measures in Kelvin (K). The higher the color temperature is, the cooler the lighting. Cool lighting is recommended for reading, crafting, sewing, working. Unlike the warm light which is suitable for relaxation.
Light Type – There are many lamps in the market that are compatible with a variety of light bulb types. That includes CFL, incandescent, halogen and LED bulbs. The LED bulbs are very energy efficient, produce low heat and last much longer.
Power Cord – Mostly, wall-mounted desk lamps come with a power cord. many people forget to check the power cord length before purchase. You need to be sure where you want to install the lamp and where are the outlets in your room. Many lamps have a power cord of 70 inches.