Are you looking for a lamp with a magnifying glass so you can read small letters?
Then keep reading!
The magnifying reading lamps are the perfect solution for your requirements! These models are divided into categories, so you can find portable, handheld, floor or clamp lamps with good magnification. Check them out and order your favorite item.
Our Top Picks
Best 6 Magnifying Glass With Light For Reading
BEST OF BEST MAGNIFYING READING LAMP
Newcalox Magnifying Lamp
Lamp With Clamp
Newcalox is an LED magnifying lamp with a clamp. The manufacturer provides 3 months of unconditional exchange if you aren't satisfied with this product. When the lamp arrives at your address, you need to install it. The instruction is included in the package.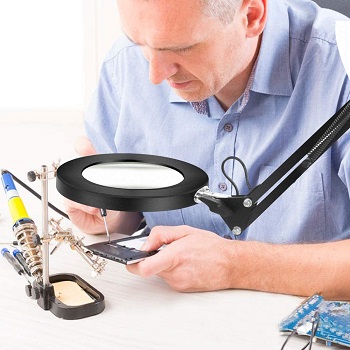 Night Reading
This lamp is perfect for reading, arts and hobbies such as knitting, sewing, painting, drawing and others. It is much easier when you can use both hands. Also, you can enjoy night reading, even if you have vision problems. This multi-purpose lamp has a flexible design.
5x Magnification
You can clip the lamp on the table in two ways  – horizontal and vertical. Attach it to the desk, workbench, shelf, etc. The magnifier lens is made from quality glass and it features 5x magnification. There isn't annoying optical distortion or fog.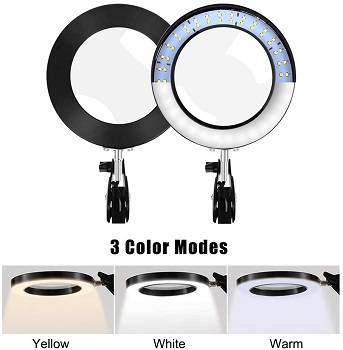 Eye-friendly LED
This clamp-on magnifying lamp comes with three color modes and adjustable brightness settings. There is low, medium and high light, so set the light that suits your needs. Eye-friendly LED panel minimalizes glare and eye strain. The price is affordable.
Highlighted Points:
magnifying lamp with a clamp
perfect for reading, arts and hobbies
adjustable design
quality glass lens
5x magnification
three color modes
eye-friendly LED panel
BEST LARGE MAGNIFIER WITH LIGHT
MagniPros Magnifying Glass With Light
Rectangular Lens
MagniPros is a large handheld magnifying glass with light. The item dimensions are 10" x 3.5 x 1.2" and it's lightweight. The rectangular lens is designed to simulate the way people naturally read, from left to right. The lens is measured 4.3" x 2.7". The price is affordable.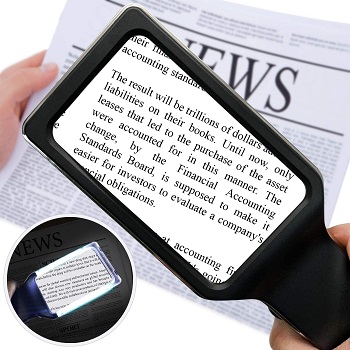 Rechargeable Battery
It is economically designed to fit comfortably to your hand, making it ideal for those who like to read for a long time. The micro USB cable is included in the package. MagniPros is equipped with a rechargeable 700 mAh battery that lasts for up to 12 hours.
Long-lasting LED
Charge it with your laptop, power bank or USB hub. You can recharge it in just 2 hours. The LED beads have a long lifespan of up to 100,000 hours, which is equivalent to 20 years. This large magnifying glass with light is made of optical grade acrylic which is scratch resistant.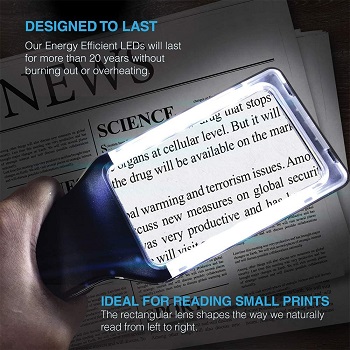 Up To 400%
This lens magnifies up to 4x (400%), without optical distortion. The dimmer switch allows you to adjust the brightness level. You can easily set the perfect lighting for reading in various environments. It is easy to see fine details in books, newspapers, magazines, etc.
Highlighted Points:
a large handheld magnifying glass with light
economically designed
micro USB cable is included
rechargeable 700 mAh battery
the lens magnifies up to 4x
dimmer switch
BEST HANDHELD MAGNIFYING READING LAMP
AIXPI Large Glass With Light
Practical Item
AIXPI is a practical handheld lamp that can be used wherever you go. It fits in bags, backpacks, suitcases, so store it and carry it with you while traveling, etc. This is a great product for seniors and people with low or impaired vision. It arrives completely assembled.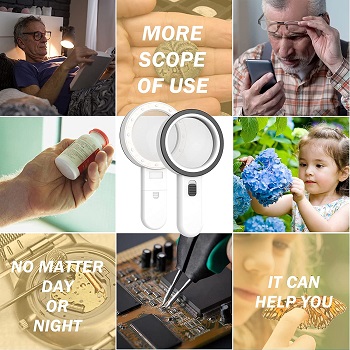 Glass Lens
This reading magnifier with light runs on batteries and requires two AA batteries. The handle is 3.8" long and the glass is 4.2" high. The handle is made from soft and durable ABS material, white the lens is made from quality double glass.
30x Magnification
AIXPI is equipped with 12 pcs high quality, ultra-bright LED lights that provide flicker-free and non-glaring illumination. The on/off switch is located on the handle. A durable glass lens provides 30x magnification, allowing people to read text, no matter the size.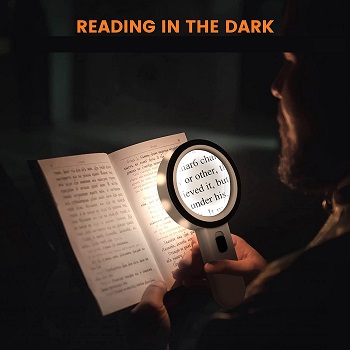 Optimal Light
This small reading light provides a clear image without optical distortion. It is optimal light to enhance reading and viewing small and fine details in newspapers, books, magazines, photographs, maps, crafts and so on. It's very useful to read the small print and other tasks that require close-up viewing.
Highlighted Points:
practical handheld lamp
travel-friendly item
runs on batteries
soft ABS handle
double glass lens
ultra-bright LED lights
provides 30x magnification
BEST FLOOR MAGNIFYING READING LAMP
Psiven Magnifying Glass Floor Lamp
Three Removable Rods
Psiven is a 2-in-1 lamp that comes with a heavy base and adjustable clamp. It comes with three removable rods, the first has 13.5", the second has 27" and the third rod is 40.5" high. You can easily adjust the lamp height depending on your current needs.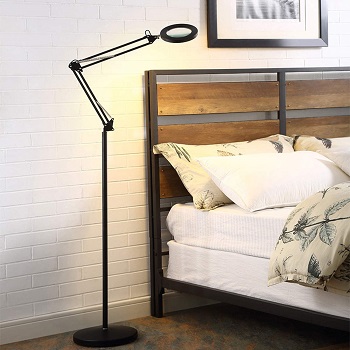 UL-listed Adapter
Also, the clamp is included in the package, if you want to clip it on your desktop. It supports up to 2.36 tabletop. The UL-listed adapter is included in the package, it's tested and meets safety standards. So the package includes a lamp, user manual, adapter, weighted base, metal clamp and metal poles.
12W LED Light
The manufacturer provides a 12-month warranty and easy-to-reach support. Psiven reading magnifier with light is equipped with a 12W high-quality LED light that illuminates a wide area providing bright and glare-free light. These LED beads are rated for up to 50,000 hours.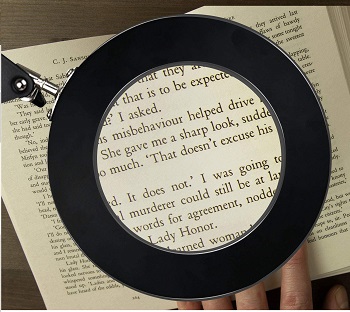 Three Color Modes
This floor reading light offers three color modes – work (6000K), reading (4500K) and relax (3000K) modes. The 4.2-inch optical-grade glass magnifier enlarges 225% and ensures clarity and distortion-free view. The memory function will remember the last used mode.
Highlighted Points:
2-in-1 lamp
comes with three different rods for hight
strong clamp included
12-month warranty
energy-efficient LEDs
three lighting modes
225% magnification
BEST BOOK READING MAGNIFIER WITH LIGHT
Kaciopoo Magnifying Glass With Light
Desktop Magnifier
Kaciopoo is a desktop magnifier that is plugin-operated and works with 110v-240v outlets. Also, it runs on a rechargeable battery and when fully charged, its working time is 2-3 hours. It is available in black color only and has an affordable price.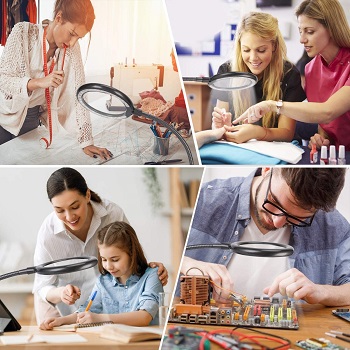 28 LEDs
This lamp is perfect for reading, crafts, repairing, crafts, sewing, knitting and other activities. There are built-in 28 pcs LED lights with a transparent lampshade. The light is soft and non-flickering, it won't cause eye fatigue or eye strain. You can read longer than before.
5x Magnification
Kaciopoo is a reading magnifier with a light that features a 3.9" diopter glass lens. It features 5x magnification, allowing you to read tiny letters and see fine details. The lens is abrasive and scratch-resistant. It doesn't cause optical distortion.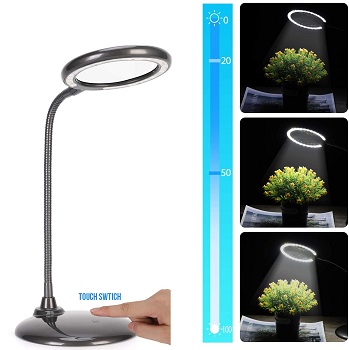 Dimmable Settings
This LED lamp magnifier has an on/off switch conveniently located at the glossy base. Just touch the switch and turn the lamp on/off. This lamp features dimmable settings, so you can easily adjust the level of brightness to your current demand.
Highlighted Points:
plugin operated lamp
built-in rechargeable battery
perfect for reading, crafts, repairing
built-in 28 pcs LED lights
allows 5x magnification
the lens is abrasive- and scratch-resistant
features dimmable settings
BEST WITH STAND MAGNIFYING READING LAMP
Leffis Magnifying Glass Light
Stable Stand
Leffis is a compact silver desk lamp whose overall height is 18.8", the base dimensions are 6.5" x 6.7" and the glass diameter is 4.9". It stands stable on its V-shaped stand. This lamp is perfect for kids, adults and the elderly who like to read. The price is affordable.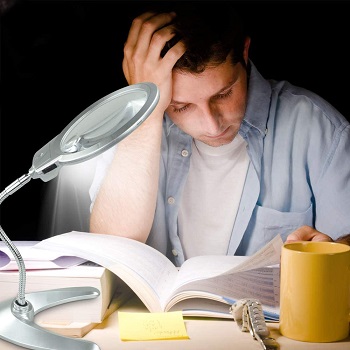 Battery Powered
Use this lamp for reading, knitting, sewing, crafting, crafts and other activities. This is battery powered magnifying reading lamp, but the batteries aren't included in the package, you need to buy them separately. The base is made of lightweight plastic, so the unit is stable in any position.
Flexible Gooseneck
Leffis a perfect crafting lamp with a magnifier thanks to its flexible gooseneck. You can adjust the lamp in any direction and height you want. Great for repairing and crafting. The magnifier can be angled upward or downward to get the right lens position.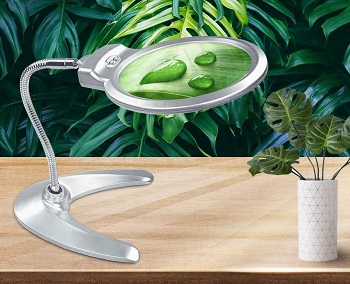 Clear Image
A Premium acrylic lens allows you to see the finest details and tiny letters. LED lights around the lens provide bright daylight without glaring. It doesn't cause eye strain. The magnifier has 2x magnification and provides a clear and non-blurring image.
Highlighted Points:
compact silver desk lamp
price is affordable
battery-powered lamp
flexible gooseneck
premium acrylic lens
good LED illumination
Things To Know About Magnifying Glass With Light For Reading
There are some factors you need to consider before buying a magnifying glass with light for reading. In the buying guide below, we've covered all these factors, so you'll be able to find the perfect item for your needs.
Magnification – If you looking for magnifying reading lamp, then the quality of magnification and lens is very important. For the best clarity, without optical distortion and fog, choose lamps with glass lenses. Glass lenses are more durable and resistant to scratches. You can start with 2.25 magnification.
Bright Light -The best magnifying desk lamps provide daylight illumination. They use light-emitting diodes, known as LEDs. The LED light consumes less power than traditional light bulbs, lasts much longer and produces low heat. Also, they are affordable.
Flexible Design – You need a lamp with a magnifying lens so you can clearly see small and tiny objects, letters and details. If your favorite lamp has a flexible design, then you can direct the light where needed and set the lamp in different positions and angles. The magnifying workbench light should have a flexible design.
Different Types – If you already read the reviews above, then you noticed different designs and styles. These kinds of lamps can be designed as handheld lamps, desk lamps, clamp lamps, floor lamps, etc. They all have their advantages and disadvantages.
Protect Your Eyes – These lamps with magnifying glass are designed for reading, working, crafting, repairing and other close-up tasks. It is important to protect your eyes from strain and fatigue. Don't direct the light to your eyes and use natural daylight, it is healthier for you.