Are you looking for a quality lamp with a magnifier because you work with small items, tiny parts and hard-to-see details?
A workbench magnifying glass with light is a perfect tool for your needs! So, here is the list of the best 6 lights with magnifiers currently available in the market. Our buying guide will provide you with useful tips and tricks, so you'll be able to find a suitable model for your tasks.
Our Top Picks
Best 6 Magnifying Workbench Lights
BEST OF BEST MAGNIFYING WORKBENCH LIGHT
Phive LED Magnifying Light
High Price
High-quality light with sturdy clamp design. You can affix it to a desk, table, shelf or any other flat surface. Suitable for electronic repair, knitting, sewing, reading, model making, drafting, drawing, crafting and other precise hobbies or tasks. It has a high price.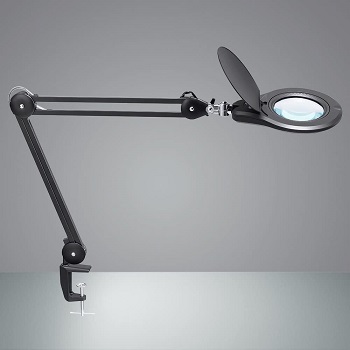 Adjustable Lamp
This magnifying workbench light is incredibly adjustable. You can swivel, rotate and bend the light head. There is a 16.3" + 16.3" adjustable arm made of quality metal. Its strong and durable clamp supports up to 2.5 inches of clamping distance.
Protective Dust Cover
Phive LED magnifier desk lamp requires 110v -240v outlets. The energy-saving daylight LED reduces eye strain and fatigue and it reveals rich colors. There is a large 5" glass lens that provides 2.25x magnification. Above the lens is a protective cover that keeps dust and scratches away.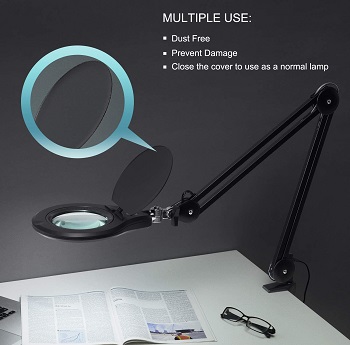 Lifespan – 50,000 Hours
The lifespan of these LEDs is approximately 50,000 hours. Meaning, in the next 25 years, you don't have to change the lamp or replace LED beads. The integrated memory function will remember the last-used setting, so there is no need to set it over and over again.
Highlighted Points:
desk lamp with metal clamp
power adapter included
requires 110v-240v outlets
LED bulbs last 50,000 hours
adjustable metal arm and rotatable body
protective flip up cover keeps dust away
BEST LED MAGNIFYING WORKBENCH LIGHT
Brightech LED Magnifying Lamp
Popular Model
Brightech is a very popular light, here we talk about the LightView Pro Flex model. This small practical lamp is covered with a full 3-year warranty. If the lamp stop working or there is any defect, call or email Brightech customer service.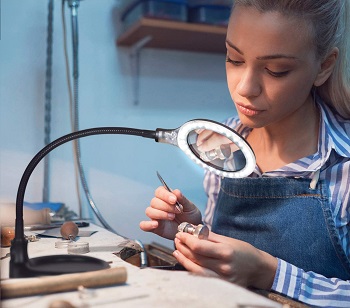 Clamp & Stand
It comes with both, heavy-duty stand and clamp. So if you want to fix the lamp and adjust its light where needed, clip it on your desk. But if you need to move a lamp often, attach the stand. Whether you use a clamp or stand, this workbench magnifying glass with light won't tip over.
6-watt LEDs
Brightech uses a power-saving 6-watt LED that delivers 570 lumens. The LED light uses less power than traditional bulbs, its life expectancy is about 15-20 years. The LightView model is lightweight and easy to put together, there are four pieces and simple instructions in the package.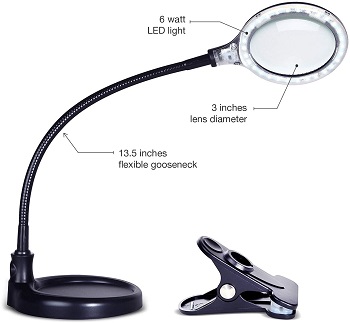 Color Temperature – 6,000K
This adjustable LED desk lamp has an on/off switch located at the top of the light head. It is plugin-operated and works with 110v – 220v outlets. The color temperature of 6,000K ensures a clear view. A magnifying lens is 3" wide and provides 1.75x magnification.
Highlighted Points:
covered with a 3-year warranty
comes with a heavy-duty stand and clamp
it magnifies up to 1.75x
power-saving 6-watt LED
long-lasting lifespan
color temperature of 6,000K
BEST CLAMP MAGNIFYING WORKBENCH LIGHT
Hapythda Magnifying Light
Space-saving Design
Hapythda is a space-saving light that fits on any desk or table. The maximum clamping distance is 2.1 inches. There is a foam pad design that protects your desk from scratches and damage. The 3 fixed knobs allow you to adjust the tightness and stable lamp position.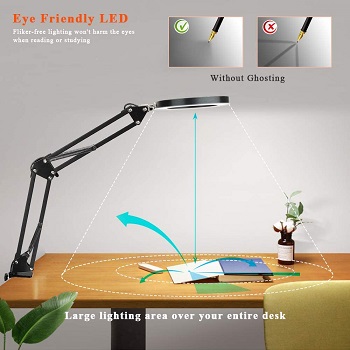 Durable Metal Body
Four springs allow arm adjustment, each arm features 8.7 inches and the lens diameter is 6.3 inches. The lamp body is made of durable metal, you can use it for years. Move the light up and down, left and right, forward or backward, it is practical for any task.
SMD LED Lights
The magnifying workbench light uses advanced 60 SMD LED beads with IEC standards. They are designed to emit a soft, flicker-free and non-glare light. It helps you to avoid eye fatigue, so you can read, sew, repair, paint, model making for hours.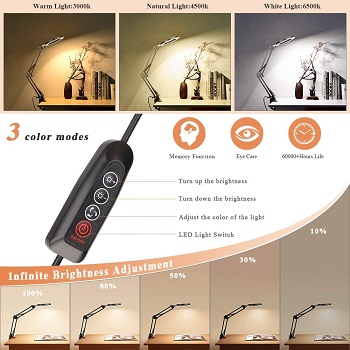 Quality Diopter Glass Lens
These LED lights last for 60,000 hours. The swing clamp desk lamp has a large magnifying glass made of diopter glass which is resistant to heat, scratches and warp. It provides a very clear view without optical distortion and 5x magnification. Choose between three color modes.
Highlighted Points:
space-saving light with a clamp
foam pad design protect your desk
four springs and three knobs for stability and adjustment
60 SMD LED beads with a long lifespan
soft, flicker-free light
5x magnification
BEST MODERN MAGNIFYING WORKBENCH LIGHT
Ebtools Adjustable Lamp
Secure Mounting
There are two colors you can choose from – white and black. Ebtool lamp is suitable for beauty salons, sewing, knitting, repairing and other precise tasks. It comes with a clamp that provides durable and secure mounting to the table, desk, shelf.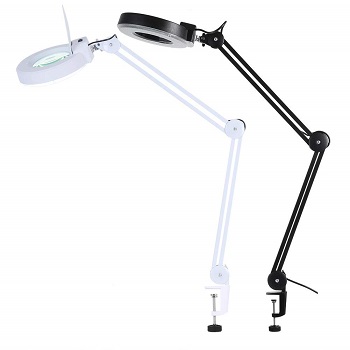 ABC Material
This workbench magnifying glass with light is made of environmentally friendly ABC material that provides long-term use. You can install it and remove it with ease. The light head is rotatable, move it left, right, up down – it goes in any direction. The arm is adjustable, too.
Flicker-free Light
It is plugin operated lamp and the power button is located on the lamp's head. The modern LED desk lamp provides a wide viewing range, it uses LED lights. They are non-glare, flicker-free and reduce eye fatigue. LED is soft and gentle to your eyes.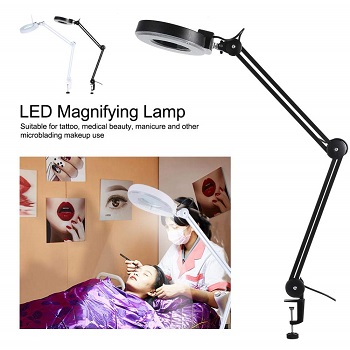 5x Magnification
The 5" lens provides a magnification of up to 5x. Meaning, you'll see the details and objects five times larger than their original size. This is perfect lighting for professional tasks and precise works, such as needlework, reading, sewing, model making,…
Highlighted Points:
available in white and black color
clamp ensures secure mounting
made of eco-friendly ABC material
non-glare, flicker-free light
optical lens with 5x magnification
BEST SWING ARM MAGNIFYING WORKBENCH LIGHT
Psiven Adjustable Workbench Light
UL-listed Adapter
Psiven lamp is available in two versions – with a 4.4" glass lens and 5" glass lens. This desk lighting is ideal for reading, sewing, knitting, repair, crafting and other activities. The package includes a lamp, UL listed power adapter and metal clamp.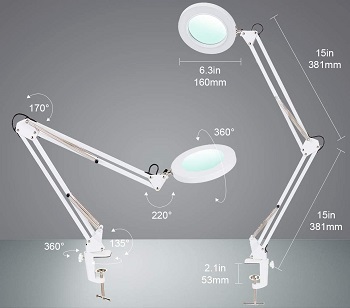 Rotatable Body
It comes with a 12-month warranty and requires 100v – 240v outlets. There is a 15" + 15" adjustable metal arm and rotatable lamp body. Its metal clamp supports up to a 2.1.-inch tabletop. You can adjust the light head in many positions.
12W LEDs
This workbench magnifying glass with light uses 12W high-quality LED lights with an approximate lifespan of 50,000 hours. It covers a wide area with bright and non-glare light. That eye-friendly light is non-flickering and reduces eye fatigue.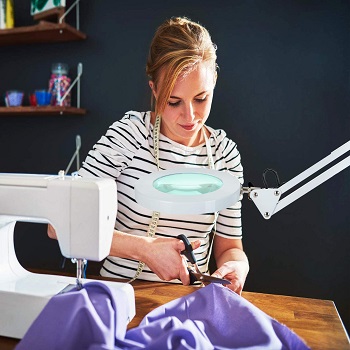 Memory Function
There are three color temperatures you can choose from – cool white light (6000K), cozy daylight (4000K) and warm light (3000K). This adjustable lamp arm has a memory function that will remember the last-used setting, so you don't have to set it again.
Highlighted Points:
covered with a 1-year warranty
12W high-quality LEDs
adjustable arm and light head
eye-friendly light reduces eye fatigue
three color temperatures
integrated memory function
BEST FOR READING MAGNIFYING WORKBENCH LIGHT
Addie 2-in-1 Desk Lamp
2-in-1 Solution
Addie is a modern LED lamp that is available in white color. It is 2 in 1 product, the package includes both, adjustable stand and clamp. Addie will meet your different needs. You can use a heavy-duty weighted base or clamp and mount it on any flat surface.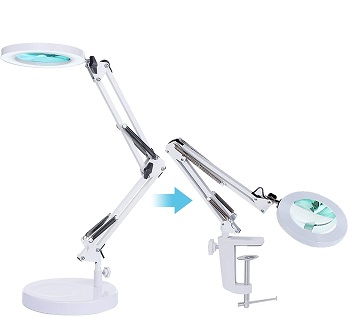 3-year Warranty
This magnifying workbench light has a maximum clamping distance of 2.1 inches. Use the lamp for sewing, knitting, reading, crafts, work or some other hobbies. Addie is covered with a 3-year warranty and its predicted use of time is up to 100,000 hours.
2.25x Magnification
The adjustable reading lamp is made of glass, metal and PC, the head and arms are made of aluminum alloy. The power adapter is included in the package and the cord length is 4.3 ft. Made of optical glass, the lens has a 4.1" diameter and magnification of up to 2.25x.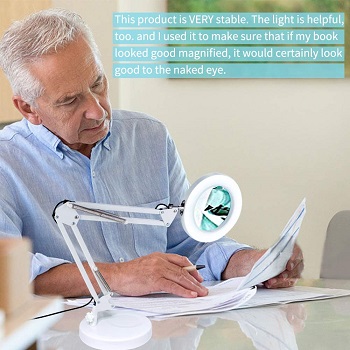 64 LED Lights
There is no distortion and the lens doesn't fog, it provides a clear view. Addie features 64 pcs LED lights around the glass lens. You can choose between three color modes and four brightness levels. A swivel arm allows you to adjust any angle you need at the moment.
Highlighted Points:
available in white color
comes with a heavy-duty stand and clamp
covered with a 3-year warranty
4.1" lens allows 2.25x magnification
LED lights placed around the lens
three color modes and four brightness levels
Things To Know About Magnifying Workbench Light
The market is full of magnifying workbench light models, it isn't easy to find a perfect model. Our buying guide will help you with some basic terms necessary to know before purchase.
Lamp Design –  There are two main models in the market. A light with a heavy-duty base or clamp. If you need to move your lamp often, choose the one with a steady base. For those who want to affix the lamp to its desk, the clamp is an ideal solution.
Flexibility – All lamps on our list above feature a flexible neck. That means you are able to manipulate a lamp for the best position for your current needs. The more flexible the lamp neck is, the many positions are available. You'll be able to switch from reading to take an up-close look at tiny pieces.
Lens Type – The crafting lamps with magnifier come with glass or plastic lenses built into the frame. We suggest you use a glass lens, it is much more superior than plastic ones. Glass transmits light better and it is resistant to scratches and heat. It is also easier to clean and maintain.
Magnification – How to choose adequate magnification for your needs? Well, whether you need a magnifying glass for reading, sewing, crafting, repairing or other precise tasks, choose the lens with at least 2.25x magnification. It magnifies the object twice its original size.
Protect Your Eyes – The workbench magnifying lights are designed for work or hobbies, meaning you'll spend few hours under that light. It is important to protect your eyes from strain and fatigue. Use the daylight LED, it will keep your eyes healthy.