Do you want to buy a good light with a magnifier glass, so you can be able to sew precisely and see details?
Then we want to introduce you to the best sewing lights with magnifier glass! We research and collect the best models in our top 6 list. In our buying guide, you'll find the most important factors necessary to consider before purchase.
Our Top Picks
Best 6 Sewing Lights With Magnifier
BEST OF BEST SEWING LIGHT WITH MAGNIFIER
Tomsoo Magnifying Glass Lamp
Floor Lamp
Tomsoo is a floor magnifying lamp, available in two colors – white and black. The manufacturer provides a 3-year after-sale service. If you have any questions, call or email customer service. It is a very popular and quality floor lamp for hobbies and work.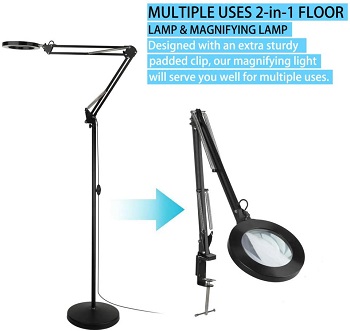 Two Adjustable Arms
There are two adjustable swing arms, each arm measures 15 inches in height. It can be adjusted up to 32 inches in horizontal and vertical directions. Tomsoo comes with a sturdy base and clamp design, so you can mount it on an exposed flat edge. The maximum claiming distance is 2.1 inches.
Knobs & Springs
This adjustable floor lamp for reading, crafting, sewing, repairing and other precise tasks is very practical. There are three knobs and four springs that fix the lamp and keep it stable in any position. You can point the light and lens where needed while your hands are free.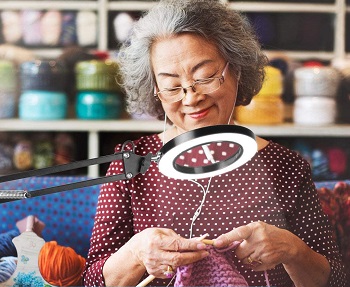 60 LED Lights
The 4.4" real glass lens ensures a clear view and magnifies up to 2.25x. There is no distortion and it doesn't fog. Tomsoo features 60 pcs SMD LED lights with 960 lumens, it will brighten up the entire desk. That light is gentle to your eyes, there is no eye fatigue.
Highlighted Points:
available in white and black color
large floor lamp with swing arms
come with a sturdy base and clamp
60 pcs LED lights, safe for eyes
2.25x magnification
no optical distortion
BEST FLOOR SEWING MAGNIFYING GLASS WITH LIGHT
Mighty Bright Light And Magnifier
Unit Dimensions
Mighty Bright is a large floor lamp with a magnifier. The base diameter is 4 inches, the solid neck features 24 inches and the gooseneck is 17 inches long. When the product arrives at your address, you need to assemble it. The detailed instruction are included.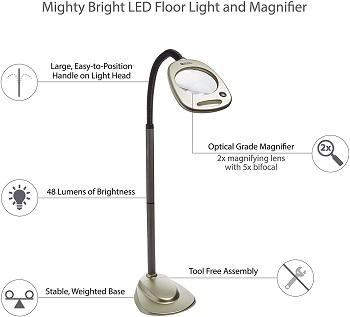 Portable Item
It is powered by included AC adapter or it could be battery operated. Mighty Bright uses three D batteries (they aren't included in the package). If this sewing magnifying glass with light is powered by batteries then you can move it wherever needed.
Long-lasting LEDs
The floor desk lamp has a stable, weighted base that keeps the lamp stable. There are 12 bright LED lights that surround the viewing area. These lights last for about 100,000 hours. No replacement needed. This floor-standing model provides enough light for your DIY projects.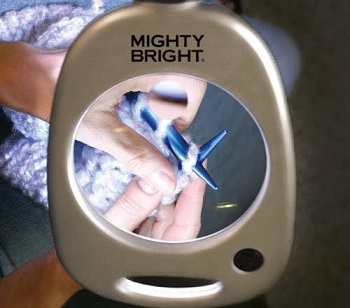 2x Magnification
You can adjust the heavy-duty neck, extend it fully or bend it near your sewing machine, drafting, etc. This optical grade magnifier has a 2x magnifying lens and 5x bifocal. It will make small items two times larger than their original size.
Highlighted Points:
powered by AC adapter or batteries
large floor lamp with magnifier
stable weighted base for lamp stability
LED lights don't need replacement
2x magnifying lens
BEST HANDS-FREE SEWING LIGHT WITH MAGNIFIER
Brightech LightView Pro Lamp
Quality Lamp
This lamp is available in two colors – white and black. Brightech LightView Pro Flex model comes with a full 3-year warranty. If there is any defect or damage within these years, call the customer service. Suitable for sewing, painting, model making, drawing, drafting, etc.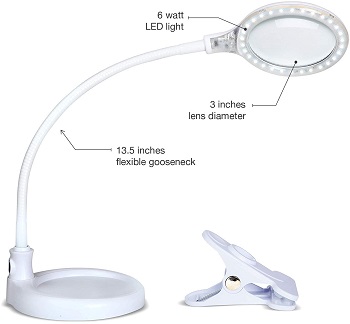 Heavy Base And Clamp
There is a 13.5-inch long flexible gooseneck, so you can point the light and lens wherever needed. Brightech sewing light with magnifier has a heavy base and clamp. Both are included in the package. They keep the lamp stable in any position.
570 Lumens
This crafting magnifying lamp has built-in 6W and 570 lumens LED lights that last approximately 20,000 hours. These lights are positioned around the lens. Lens measures 3 inches in diameter, it is made of quality real glass, resistant to scratches and heat.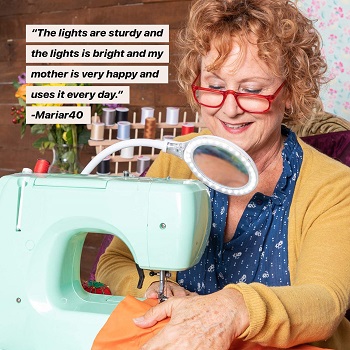 Up To 1.75x
Brightech magnifies up to 1.75 times, so you can see tiny details clearly. Also, it delivers a color temperature of 6000K, which is similar to natural daylight. The lamp cord is included in the package and it measures 5 feet. Brightech requires 110v – 220v outlets.
Highlighted Points:
available in two colors
covered with a three-year warranty
comes with a sturdy base and clamp
the 13.5-inch gooseneck is flexible
built-in 6W LED lights
magnifies up to 1.75x
BEST LED SEWING MAGNIFYING GLASS WITH LIGHT
Hapythda Magnifying Lamp
Fits Anywhere
Hapythda is an affordable light that is ideal for small desks and limited workbenches. It is made of metal and glass, so it isn't easy to damage or scratch it. You can read tiny letters, books, newspapers, recipes. Also, Hapythda works great for crafting, model making, sewing, drawing, etc.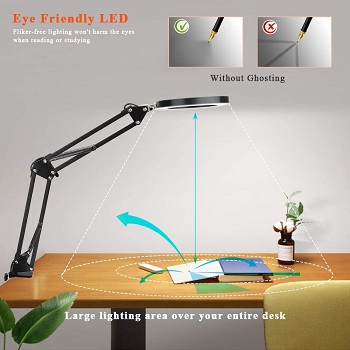 Fixed Knobs
Designed for people with poor vision, professionals and hobbyists. There is a foam pad design that protects your desk from scratches. The three fixed knobs and four springs allow you to adjust the tightness and arm in the position you need.
60 SMD LEDs
Except for the arm, you can adjust the lens and light wherever you want. That will make your work or hobby easier. This sewing magnifying glass with light uses 60 SMD LED beads with IEC standard. They emit soft and non-flickering light, that doesn't cause eye fatigue.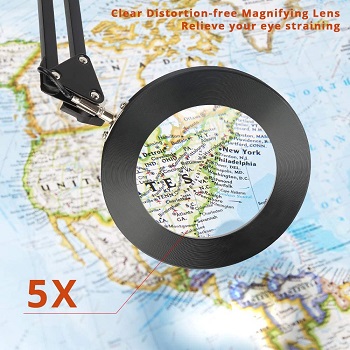 Memory Function
Large magnifier glass is made of diopter glass with scratch, heat and warp resistance. The LED magnifier desk lamp ensures clear vision, without annoying optical distortion. Choose between three color modes and five brightness levels. Also, there is a memory function that remembers your last setting.
Highlighted Points:
quality lamp made of metal and glass
foam pad design prevents scratches
eye-caring LED lights
3 color modes and 5 brightness levels
5x magnification for precise tasks
BEST CLAMP SEWING LIGHT WITH MAGNIFIER
Dylviw Bright Light
Metal Construction
Dylviw is a black magnifying lamp with a clamp design and a large light lens. You can clip it to your desk, table, workbench, shelf, etc. Both clamp and gooseneck are made of sturdy metal. They are durable, designed for long-lasting use. Dylviw price is affordable.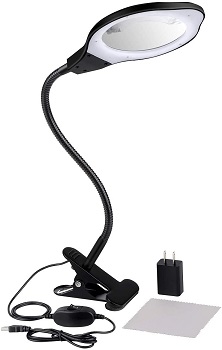 4" Glass Lens
The adjustable metal gooseneck is 12" long, you can adjust it in different angles and positions. This sewing light with magnifier has a real glass lens of 4" in diameter. You can clearly see all small and tiny details without optical distortion.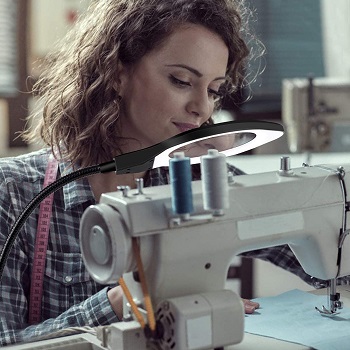 Bright LED
Except for sewing, this swing clamp desk lamp is perfect for repairing, model making, crafting, painting and other precise works. Around the lens, there are energy-efficient LEDs, point the light to the small details you need to see clearly. Choose between two brightness levels.
Highlighted Points:
small clamp with a large light lens
sturdy metal clamp and gooseneck
flexible arm for a different position
real glass lens of 4" diameter
energy-saving LEDs with two brightness levels
BEST SWING ARM SEWING MAGNIFYING GLASS WITH LIGHT
Newacalox Magnifying Lamp
Fixed Base
Newacalox is a white magnifying lamp that comes with a fixed base. That metal clip base provides a sturdy and reliable way to hold the lamp stable. You can easily clip it to any desktop. Use it for sewing, reading, craft, repairing knitting, etc.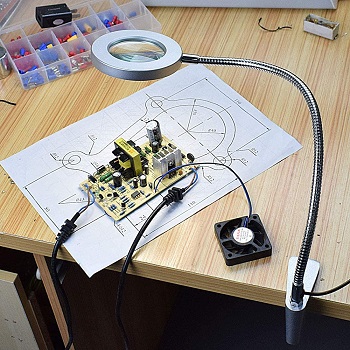 Powder-coated Gooseneck
The package includes a magnifier lamp, USB charging cable, bench clamp desk and mini spanner. There is a flexible gooseneck that allows you to rotate it for 360-degree. It is made of powder-coated metal, so it will last for a long time. Clip it to any flat surface.
LED Lights
This sewing light with magnifier has a built-in 42 pcs 5W LED light. LED lights last much longer than traditional bulbs, they are more energy-efficient. You can choose between ten brightness levels in total. Use 100% brightness when sewing.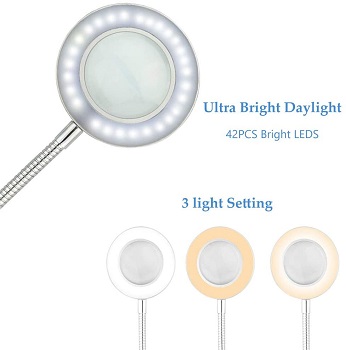 3x Magnification
Also, you can set color modes – white, warm and cold. Choose the cold light when you sewing or do any other precise work. That light provides natural daylight. This adjustable arm desk lamp has an optical glass magnifier with 300% magnification. Delivers clear and distortion-free view.
Highlighted Points:
metal clip base for flat surfaces
USB charging cable
360-degree flexible gooseneck
energy-efficient LED light
optical glass magnifier with 3x magnification
Things To Know About Sewing Light With Magnifier
There are some factors you need to consider before you buy your sewing lamp. Learn some basics related to magnifying glass, lighting, design and more, and find a suitable model for your needs.
Magnifying Glass – If you want or need to spend a lot of time above the magnifying lens, don't buy a cheap plastic or acrylic lens. Look for a real diopter glass lens, it will provide clear vision, without distortion. Also, it will help relieve your eyes and see details clearly.
Lighting Feature – Moreover, these two things are the most important – glass lens and good lighting. The crafting lamps with magnifiers will eliminate shadows and provide a bright view. Look for a lamp with lights embedded around the edge of the glass lens.
LED Lights – There is no sense in buying any other light bulbs than LEDs. They have many advantages. For example, they use less energy than traditional bulbs, they last much longer. Also, they are safe for your eyes and protect you from eye fatigue.
Hands-Free Design – Many sewing magnifying glasses with light come with clamps. So you can clip them onto the table, desk, shelf or other exposed edge. That design will allow you to work without holding the lighted lens in your hand. Floor lamps with adjustable arms are also a good choice.
Importance Of Adjustability – It's one of the most important features. You can move your sewing machine easily, so look for a lamp with a flexible design. Whether you choose to buy a floor or clamp-on lamp, choose the model that comes with a flexible gooseneck. Then you can point the light where needed.