Are you looking for the best magnifying lamp for your crafting, sewing, reading, or other hobbies?
If you are, then the crafting lamps with magnifier are the perfect solution for your activities! These lamps combine both, bright light and a built-in magnification. There is a list and guide with some factors you shouldn't neglect if you want to take your hobby to the next level.
Our Top Picks
Best 6 Crafting Lamps With Magnifier
BEST OF BEST CRAFTING LAMP WITH MAGNIFIER
Brightech LightView Pro Lamp
Two Versions
This is a very quality and popular lamp with a magnifier thanks to its characteristics. Brightech Lightview Pro-Flex is a desktop lamp that fits anywhere. This model comes in two versions – with 1.75 magnification and 2.25 magnification. Choose the model depends on your tasks.
3-year Warranty
The manufacturer provides a 3-year warranty. That includes all defects and damages within these years. LightView is a lightweight crafting lamp with a magnifier, it comes with four pieces that you need to put together. A simple instruction diagram is included for easy installation.
6,000K Color Temperature
The on/off switch is located at the top of the gooseneck for your convenience. This clamp-on magnifying lamp is plugging operated and requires 110v – 220v outlets. Built-in energy-efficient LED has 6 watts and a color temperature of bright 6,000K.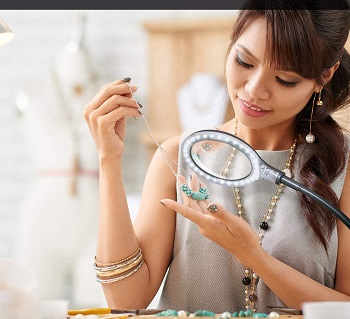 1.75 Magnification
The LED light uses less energy, so it will last for 15-20 years. Brightech has a wide lens of 3 inches, this diopter glass is scratch- and heat resistant. This lens delivers a magnification of 1.75 times, you can clearly see the smallest and tiny objects and letters.
Highlighted Points:
comes with a steady base and clamp
covered with a 3-year warranty
requires 110v – 220v outlets
energy efficient 6 LEDs
the color temperature of 6,000K
diopter glass lens magnifies up to 1.75x
BEST MODEL MAKING CRAFTING MAGNIFYING LAMP
iMagniphy Desktop Magnifier Light
Desktop Lamp
iMagniphy is a small lamp that fits on any desk. The manufacturer provides easy returns, quick refunds, and a limited warranty. Use the lamp for sewing, knitting, reading, repairing, games, crafts, etc. It requires a standard 120v outlet. Made of plastic and acrylic.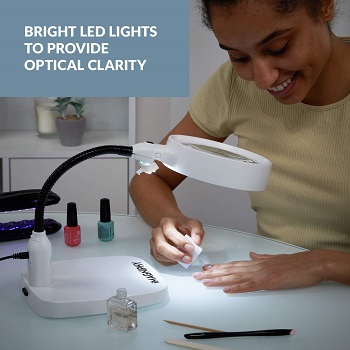 Non-slip Base
There is a sturdy, steady base that allows hands-free lighting and magnification. The base of this magnifying glass with light for hobbies is equipped with a non-slip pad. The flexible gooseneck is perfect for close work. You can adjust the lamp to the ideal position and angle for your work.
Large Lens
This magnifying workbench light comes with an oversized 5.5-inch lens that allows 8x magnification. That's really impressive. iMagniphy is perfect for precision tasks, such as needle-point sewing, model making, painting, drafting, knitting, reading and much more.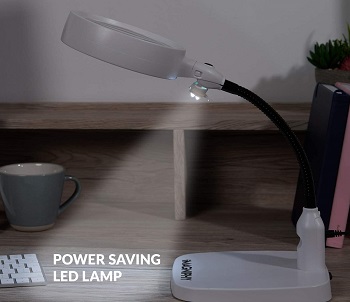 Six LEDs
Keep the lens 4-5 inches away from the object if you want to use 8x magnification. Super powerful 6 LED lights are gentle to your eyes. There is no flickering and eye fatigue. Bright light will illuminate the desired area with clear daylight.
Highlighted Points:
requires standard 120v outlet
made of plastic and acrylic
non-slip base with flexible gooseneck
oversized 5.5-inch lens for precise work
the lens magnifies up to 8 times
six LEDs provides bright illumination
BEST SEWING HOBBY MAGNIFYING LAMP
Precision Quality Tool Lamp
Perfect For Sewing
If you're sewing, then you know the importance of clear and bright vision. Whether sewing is your hobby or job, this lamp will enhance your work quality. This product is designed in the USA, for any defects or questions, contact customer service.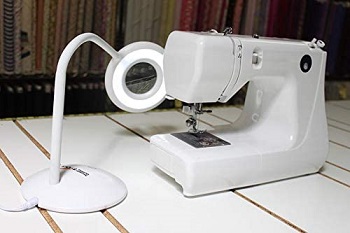 Noble Mission
This hobby magnifying lamp is tested and reliable. For every sale, the company donates some money to the Cheetah Conservation Fund. Made of high-quality plastic, this lamp is available in white color. It features a wide steady base that keeps the lamp stable.
24 LEDs
There are 24 LEDs that provide cool white light that is similar to natural daylight. It helps you to see the smallest objects, your needle, and thread. Use this sewing light with a magnifier for other tasks that require close work, like reading, knitting, drawing, etc.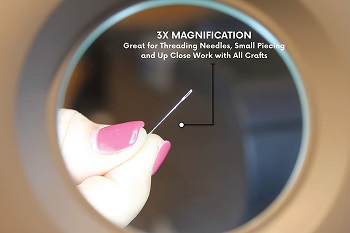 3x Magnification
The flexible and extra-long gooseneck allows you to point the light and magnifier where needed. Its lens provides 3x magnification, which is perfect for threading needles. There are three brightness settings you can choose from, adapt them to your current needs.
Highlighted Points:
made of high-quality plastic
ideal for sewing, knitting, drawing
available in white color
24 LEDs provide natural daylight
3x magnification
BEST FOR PAINTING CRAFTING LAMP WITH MAGNIFIER
Lancosc Magnifying Glass With Light
Metal Clamp
Lancosc is a magnifying lamp that comes with a metal clamp, DC 5V/2A adapter, and user manual. This sturdy metal clip will fix the lamp, so it is stable and safe for use. The maximum clamping distance is 2.1 inches, you can easily install it on any flat surface like a desk, shelf, workbench.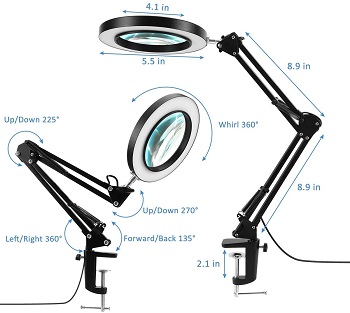 Works With Power Cord & USB Cable
This hobby magnifying lamp features three knobs and four springs that allow more angle options. Adjust the light and lens where you need direct light. Lancosc is a plugging-operated lamp that works with 110v to 220v. Also, it works with a USB cable.
Flicker-free Light
Lancosc uses flicker-free LEDs prevents eye fatigue and eye strain. It delivers reliable illumination for your hobbies, which includes painting, sewing, crafting, reading, etc. This adjustable LED desk lamp is designed with three light color modes.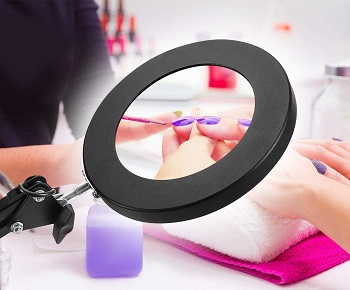 2.25x Magnification
Choose between warm light (3000K), warm white light (4500K), and cold light (6500K). For crafting, set the cold light which is similar to daylight. Real diopter glass has a 4.1" diameter, it provides clear vision without annoying optical distortion. It magnifies up to 2.25x.
Highlighted Points:
metal clamp, adapter, and user guide included
works with power cord and USB cable
3 knobs and 4 springs allow adjustment
flicker-free LEDs prevents eye fatigue
three color modes for different tasks
real diopter glass with 2.25x magnification
BEST CLAMP CRAFTING MAGNIFYING LAMP
Newacalox Magnifying LED Lamp
USB-powered Lamp
Newacalox lamp comes with a USB charging cable, bench clamp base, mini spanner, and user guide. You can fix the clamping base wherever you want, on your workbench, desk, table, shelf, both vertically and horizontally. It has an affordable price.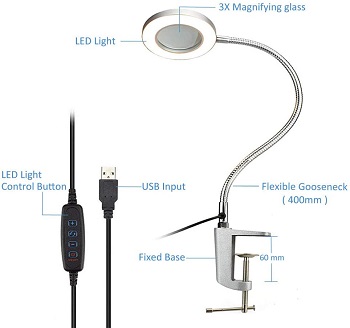 Stainless Steel
This lamp is made of stainless steel and plastic. Use the crafting magnifying lamp for sewing, reading, craft, knitting, repairing, and other precise tasks. Its metal clip base holds the lamp stable, you can clip it to any desktop or work surfaces.
Adaptable Gooseneck
The flexible gooseneck is made of quality powder-coated metal, it is sturdy and durable. It provides 360-degree rotation. Point the glass exactly where needed. If you need to clearly see some tiny object, point the light just above that object.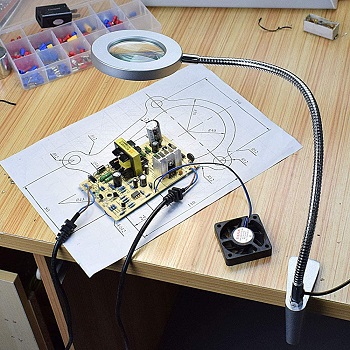 3 Brightness Levels
This adjustable reading desk lamp offers three brightness settings. There is a built-in 42 pcs 5W LED light, which delivers ultra-bright daylight needed for precise crafts. Choose between warm, white, and cold modes. Its optical glass magnifier has a 3x magnification.
Highlighted Points:
stainless steel and plastic materials
arrives with a metal clip base
powder-coated metal adjustable arm
bright LED light ensures clear daylight
three brightness levels
optical-grade glass magnifier with 3x magnification
BEST SWING ARM CRAFTING LAMP WITH MAGNIFIER
Tomsoo Magnifying Lamp
3-year Warranty
Tomsoo is a high-quality LED lamp with a clamp. Choose between two colors – black and white. The manufacturer offers a 3-year warranty and 90-day money-back if you aren't satisfied with the product. If you have any questions, contact the customer service.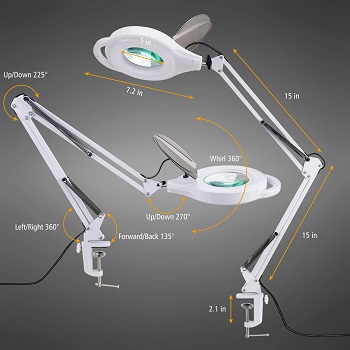 Easy To Install
This crafting lamp with magnifier comes with a sturdy clamp made of metal. The maximum clamping distance is 2.1 inches. You can easily affix it to the desk, table, shelf desktop edge, etc. It won't take up too much desk space, so it is practical and easy to use.
Flexible Design
Tomsoo features an adjustable lamp arm, you can easily move it up and down. There are three knobs and four springs, the lens can be whirled 350-degree. The lens diameter is 5 inches, it is a real glass lens. It magnifies up to 2.25x or 225% and provides a clear vision.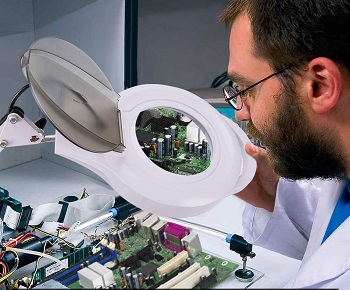 Dust Cover
There is no optical distortion and this lens doesn't fog. After using the lens, cover it with a dust lid, it protects the glass from scratching and damage. Tomsoo uses LEDs, they are positioned around the lens. Choose the brightness between 10% and 100%.
Highlighted Points:
quality lamp with adjustable arm
it comes with a sturdy metal clamp
ultra-bright LED lamp with many brightness levels
the lens magnifies up to 225%
eye-caring light, no fatigue
Things To Know About Crafting Lamps With Magnifier
There are some factors you need to consider before you buy a lamp with a magnifier for crafting and your hobbies. In the buying guide below, we've covered those factors, so you be able to find a suitable model for your hobby.
Built-in Magnification – There are two main factors that are necessary to consider before buying. This is the first thing – magnification. for the best clarity, choose the glass lens, it is more durable and scratch-resistant. You can start with 1.75x or 2.25x magnification.
Bright Light – The best crafting magnifying lamp has daylight light-emitting diodes, known as LEDs. They ensure balanced bright light at a good brightness level. This high clarity allows you to see the tiniest objects, contrast, and colors. LEDs are long-lasting bulbs.
Color Temperature – For your precise hobbies like sewing, crafting, knitting, etc., you don't want a warm light. It is ideal as ambient light. Choose the lamps that provide a color temperature of 5000 – 6000K. It is similar to natural daylight.
Magnifying Lamp Usage – Of course, you want to use this lamp properly, so there are few tips. Don't slouch over your magnifying lamp. If you have a lamp with an adjustable arm, it will make your work easier. Hold your object between 8 – 10 inches from the lens.
Magnifying Lamp Maintenance – If you have a large magnifying glass with light, you should clean the lens for the best performance. For glass lens, use brush cleaners, soaps, or warm water and detergents. Use a damp clean cloth and wipe your lens down.