If you looking to get a clearer and brighter view of small objects and letters, we have a solution!
The large magnifying glasses with lights are proving to be immensely helpful. So we gathered some of the best models in this review and described their characteristics. If you want to learn some basic terms before purchase, check out our buying guide.
Our Top Picks
Best 5 Large Magnifying Glasses With Light
BEST OF BEST LARGE MAGNIFYING GLASS WITH LIGHT
Brightech Magnifier With LED
Clamp Or Steady Design
Brightech is a reliable brand that produces quality magnifier with light. This model is customizable, you can use it with a stand or clamp. If you want to have a fixed lamp, affix it with a clamp. But if you need to move your lamp, use the steady base.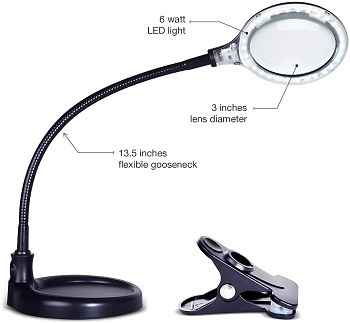 570 Lumens
This large magnifying glass with light is covered with a 3-year warranty. If there is any defect or damage, contact customer service. Built-in 6W and 570 lumen LED lights are energy-efficient solutions. Also, these lights will last for about 20 years, even if you use the lamp every day.
Scratch-resistant Lens
The clamp-on magnifying lamp features a diopter glass lens which is resistant to scratches and heat. Also, there is a flexible gooseneck, it is 13.5" long, you can point the glass and light where needed. Brightech delivers a color temperature of 6,000K, perfect for precise work.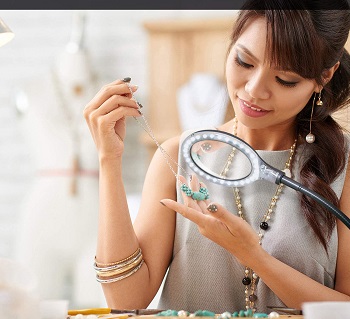 2.25x Magnification
Brightech magnifies objects up to 2.25x. The clamp can be used on a table up to approximately 2.5 inches. Its lamp cord is 5 feet long. The on/off switch is located at the light head, near the lens. Brightech requires 110v – 220v. It is a lightweight item that is simple to put together.
Highlighted Points:
comes with a clamp and steady design
covered with a 3-year warranty
built-in 6W LED lights
the color temperature of 6,000K
magnification of up to 2.25x
requires 110v – 220v
BEST WITH STAND LARGE MAGNIFYING GLASS WITH LIGHT
XYK Large LED magnifier With Stand
Affordable Price
XYK is a compact lamp with a lens suitable for any workbench. It is practical for reading and precise work, such as sewing, drafting, drawing and others. There is a heavy base that supports the lamp and prevents tipping over. Its price is affordable.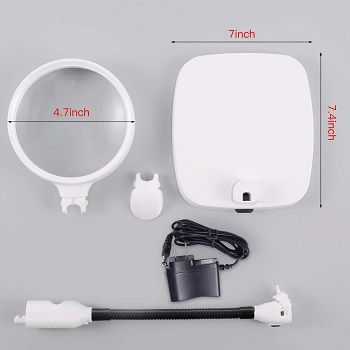 Swivel Arm
The manufacturer uses plastic, metal and glass. XYK large magnifying glass with light and stand features a swivel arm, so the light and lens can be angled upward and downward. Direct the light where needed at the moment. The quality lens provides 10x magnification.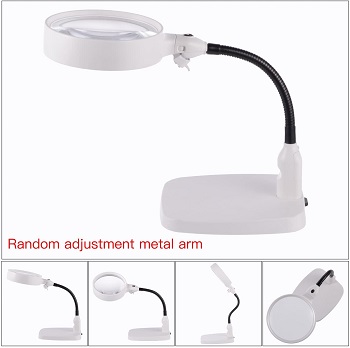 Double-layer Glass
This lens is made of double-layer optical glass. It allows you to see the tiniest details. The LED magnifier desk lamp has a 5" lens. Six LED lights provide bright illumination and keep your eyes protected from fatigue and eye strain. There is no optical distortion.
Highlighted Points:
suitable for any table or desk
heavy and sturdy base keeps a stable position
swivel arm for easy adjustment
the lens provides 8x magnification
six ultra-bright LEDs
BEST 10x LARGE MAGNIFYING GLASS WITH LIGHT
Juoifip 10x Magnifying Glass Lamp
For Everyday Use
This is an ideal hands-free lamp with a magnifier. The box includes a desk magnifier with lamp, user guide, cleaning cloth, cable with remote control. Great for everyday use, sewing, knitting, reading, crafting, repairing, etc. You can connect it directly to the power supply, use a plug adapter, USB charger, etc.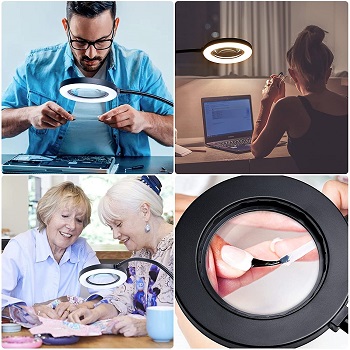 Clamp Design
It comes with a clamp, so you can affix it to your desk, table, workbench, shelf or other flat surfaces. It is easy to adjust the light and lens where needed. Juoifip features a 360-degree flexible gooseneck, which allows you to place it in any direction.
10x Magnification
The 10x magnifier lamp has a lens with thick optical glass with a high magnification of up to 10x. You will be able to observe the small objects, letters, painting, repairing and many other hobbies that require precise work and good vision.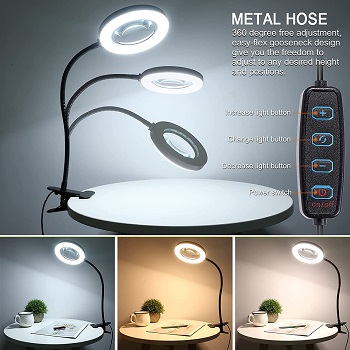 3 Color Temperatures
There are energy-efficient LED lights with three color temperatures. You can switch and adjust them depends on your work. There are cold light, warm light and mixed light. This large magnifying glass with light allows you to adjust the brightness level, too.
Highlighted Points:
clamp on magnifier lamp
use a plug adapter or USB charger
360-degree flexible gooseneck
a lens with 10x magnification
three color temperatures
adjust the brightness levels
BEST DESK LARGE MAGNIFYING GLASS WITH LIGHT
Reliancer 8x Magnifier With Light
Desk Magnifier
Reliancer is a desk magnifier with light. It fits in any workbench to help you with your hobbies. Use it for reading, making models, arts and crafts, sewing, knitting and other precise work. Reliancer works with 110v – 220v outlets. Also, use it for manicures, etc.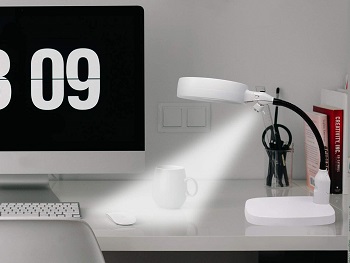 Large Base
This large magnifying glass with light has a weighted and large base which is designed with four non-skid feet. There are 722 g. The heavy-duty base provides maximum stability and keeps the lamp in a stable position. Reliancer won't tip over easily.
360-degree Gooseneck
There is a 7.6" adjustable gooseneck, it is 360-degree rotatable and you can bend it in almost any position you need. Adjust the lens and light directly where needed. There is an oversized lens with 5.1" in diameter. It offers 8x magnification, you'll clearly see any detail.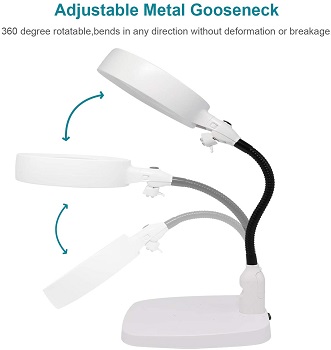 Flicker-free Light
The magnifying workbench light is equipped with six ultra-bright LED lights. They deliver flicker-free and anti-glare light which isn't harmful to your eyes. This light is similar to natural daylight, meaning you can do all precise work with ease.
Highlighted Points:
desk magnifier with light and stand
large bass has non-skid feet
requires 110v – 220v outlet
adjustable gooseneck
oversized 5.1" lens
offers 8x magnification
BEST HANDHELD LARGE MAGNIFYING GLASS WITH LIGHT
Fancii Large LED Lighted Magnifier
Compact Product
Fancii magnifier with light is a compact product. It features small dimensions, so you can put it in your purse, case, bag, sets. It fits anywhere. Fancii is constructed of acrylic material and ABS, it is a scratch-resistant item. It is lightweight and comfortable to hold.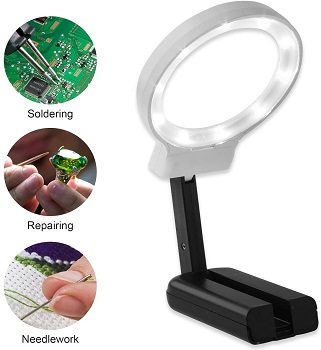 Distortion-free Lens
There are only 5.2 ounces. The package includes a cleaning cloth for the lens and a soft drawstring pouch for storage. Fancii large magnifying glass with light is suitable for hobbyists, professionals and the elderly who struggle with low vision. There is no optical distortion.
Multifunction Design
This crafting magnifying lamp features a foldable design. if you want to read a newspaper or documents, fold it and use it as a handheld magnifier. When it is unfolded, then it converts to a hands-free magnifier with a stand, ideal when you crafting something.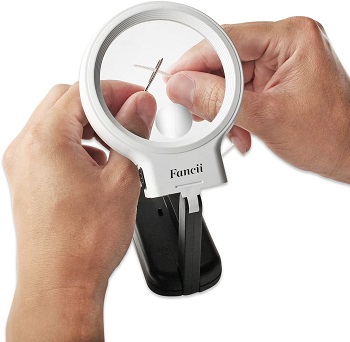 Bright LED Lights
Also, you can adjust the lens in various angles and direct it where needed. You can magnify up to 2x or 4x and see every small detail and letter. Fancii is fitted with 10 energy-efficient LED lights, it is battery-operated. You can use it for hours.
Highlighted Points:
compact 2 in 1 product
use it as a handheld or magnifier with a stand
lightweight and portable item
adjust the lens at various angles
equipped with 10 LED lights
Things To Know About Large Magnifying Glass With Light
As you have already seen, there are many different large magnifying glass with light models in the market. Follow these guidelines below and you'll find a suitable model for your needs.
Factor Of Magnification – That number refers to how much bigger the magnifier makes the objects appear. Many magnifying glasses increase the size of some object by two or three times. But there are models with 6, 8 and 10 magnification factors.
Magnifying Glass Maintenance – It is important to keep your magnifying glass clean, then you can easily see through the lens. Don't use any solvents or cleaners because you can damage the lens. Use a damp, soft cloth and wipe the lens surface.
LED Light – It is very practical to work with a lens and adequate light, which will make your life easier. Before buying you need to check if the light offers the brightness you need. For some precise work, the best color temperature is 5000-6000K. The LED lamp magnifier are efficient and last for years.
Foldable Design – If you check the reviews, you notice many different models. There are magnifying glasses with a lens for the desk, with a stand, clamp, handheld items, etc. If you can't decide between those, you can find a model with a foldable design, then you can use it as a handheld and with a stand.
Flexibility – The large magnifying glass with light usually has a flexible design. Meaning, you can adjust its gooseneck in different positions and angles. These products are ideal for reading, knitting, crafting and other tasks when you need direct light.