Do you want to check popular incandescent desk lamps currently available in the market?
Then keep reading!
Here you can find top-rated desk lamps that come in a variety of styles, functions and designs. For your convenience, they are divided into six categories, so it will be easier for you to find the model that suits your home office or office the best.
Our Top Picks
Best 6 Incandescent Desk Lamps
BEST OF BEST INCANDESCENT DESK LAMP
Lepower Flexible Desk Lamp
Sand Black Model
Lepower desk lamp is available in a variety of colors. You can choose between black, bronze, gold, green, sand black, white and silver colors. This is a nice, simple but functional desk lamp that fits on your workbench, end table, nightstand and shelf.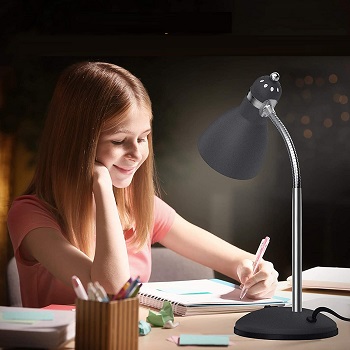 Metal Lamp Body
The base and shade of this incandescent desk lamp are constructed of quality and durable metal, making it sturdy and long-lasting. The on/off switch is located on the lamp base for simple use. The bulb isn't included in the package, so you need to buy it separately.
Max 40W
Lepower has an E26 standard bulb base and it's compatible with 4W-6W LED bulbs, 8W-16W energy-saving bulbs and 20W-40W incandescent lightbulbs. The maximum wattage is 40W. It will provide a soft but bright light ideal for reading and studying.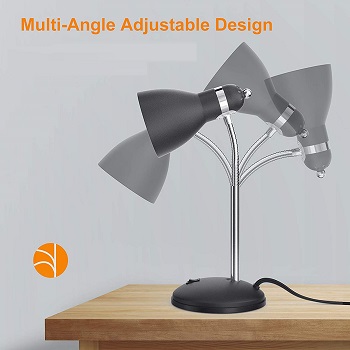 Heat Dissipation Design
This best reading lamp features a flexible swing arm allowing you to find the perfect lighting angle. Move its flexible gooseneck in any direction. The heat dissipation design protects your fingers from burning and accidents. Ideal for study room and home office.
Highlighted Points:
simple and classic design
constructed of durable metal
compatible with 40W max incandescent bulb
flexible gooseneck
heat dissipation design
multiple colors available
BEST GOOSENECK INCANDESCENT DESK LAMP
Larsen Flexible Desk Lamp
Sand Black Lamp
Larsen is a quality yet simple designed desk lamp suitable for any workbench, table, end table, nightstand or coffee table. Choose between nickel, the sand white and reviewed sand black colors. The lamp base diameter is 5.7 inches, the lampshade measures 4.4 x 6.6 inches.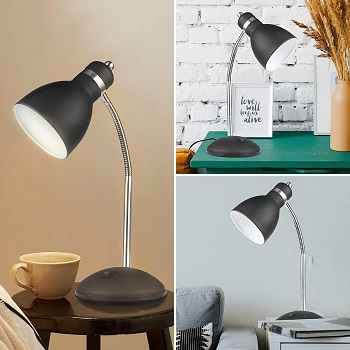 Flexible Gooseneck
There is a 5.9-inch long flexible gooseneck, it can reach a total height of 17 inches. When the gooseneck is extended, it will cover most of your desk. Also, you can rotate the lamp head and adjust any angle you need for your tasks.
UL/ETL-listed Components
This incandescent gooseneck lamp comes with a 12-month warranty provided by the manufacturer. The lampshade and base are constructed of durable and quality metal. Both power cord and plug are UL/ETL listed, meaning, they are nationally recognized for their safety.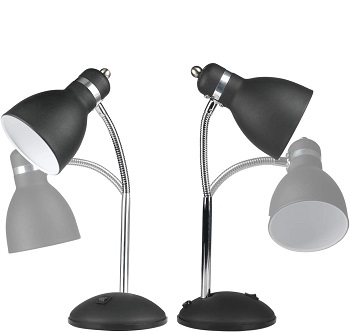 E26 Bulb Base
Larsen is an adjustable reading lamp with a standard E26 base. It is compatible with a 10W-12W LED bulb, 12W-20W energy-saving bulb and 20W-40W incandescent lightbulb. The on/off switch is located on the lamp base for convenient use.
Highlighted Points:
available in black, white and nickel colors
UL/ETL-listed plug and power cord
compatible with LED, energy-saving and incandescent bulb
backed by a 1-year warranty
flexible lamp gooseneck
made of quality metal
BEST BANKER INCANDESCENT DESK LAMP
Newrays Green Banker's Lamp
Popular Style
Newray is a beautiful table lamp inspired by the most popular banker's lamps. This lamp is 14.1 inches high, the base diameter is 7 inches and the lampshade width is 10.4 inches. It arrives well-packaged, but if there is any defect or damage, contact customer service.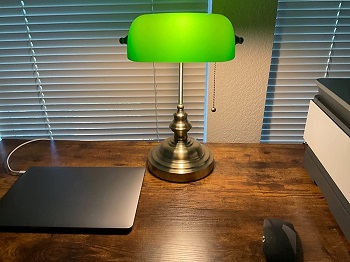 Green Glass Shade
This lamp is tested and meets UL standards, meaning it is safe and quality. Newrays incandescent desk lamp features an antique bronze finish, the lamp body is made of quality metal. Its lampshade is made of durable green glass. Also, the lampshade is adjustable, you can change the light direction.
Standard Bulb Base
Newrays antique bankers lamp features a standard E26 bulb base and it is compatible with LED and incandescent light bulbs. Also, you can use color-changing LED bulbs if you want. The manufacturer recommends no to use PVC LED bulbs.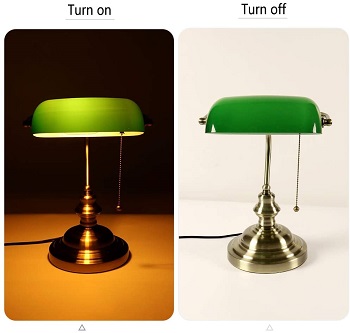 Soft Illumination
The maximum wattage you can use is 60W. If you install an incandescent lightbulb, it will create a warm and soft illumination, ideal for casual reading and relaxation. There is no flickering or glaring light that causes eye strain and eye fatigue.
Highlighted Points:
attractive banker's desk lamp
made of metal and glass
eye-catching green lampshade
adjustable lampshade
UL-listed desk lamp
compatible with 60W incandescent bulb
BEST VINTAGE INCANDESCENT DESK LAMP
Haitral Industrial Desk Lamp
Vintage-inspired Design
Haitral is a small decorative desk lamp that combines vintage and industrial styles. The overall lamp height is 16.9 inches, the lamp base diameter is 5.9 inches. The power cord is 67 inches long. Haitral is a high-quality lamp that comes with a 30-day return in case you aren't satisfied.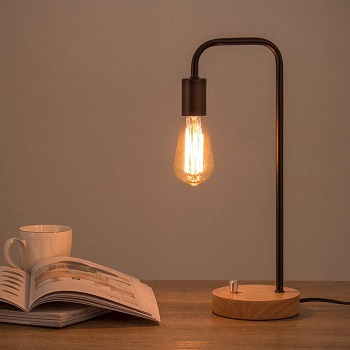 Exposed Bulb
The plug is tested and UL-listed for safer operation. It features a tubular metal body and wooden lamp base with an exposed bulb for a more industrial look. This vintage reading lamp is a beautiful accessory for any living room, dining room or bedroom.
Rotary Switch
Haitral features an E26 bulb base and it is compatible with a variety of halogen, LED, CFL and incandescent lightbulbs. You can use Edison or vintage lightbulbs, too. The maximum wattage is 60W. There is a rotary switch on the lamp base for easy on/off.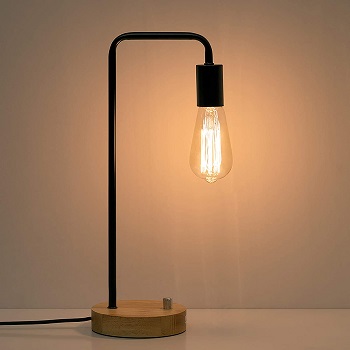 Perfect Gift
Use this incandescent table lamp on your nightstand, coffee table, end table, children's room, etc. Because of the small round lamp base, it fits anywhere. Haitral could be a great stylish gift for your family members, colleagues and friends, it's very attractive.
Highlighted Points:
small vintage and industrial desk lamp
UL-listed plug
quality tubular metal body
wooden lamp base
exposed lightbulb
requires 60W incandescent bulb
BEST SWING ARM INCANDESCENT DESK LAMP
Globe Electric Desk Lamp
Rose Model
Globe Electric is an affordable desk lamp with a stable and sturdy base. There are four colors you can choose from, rose, mint, black and white. The lamp base measures 6.8 x 1.2 inches, lamp arms have 14.5 x 13.5 inches and the shade has 7 x 5.5 inches.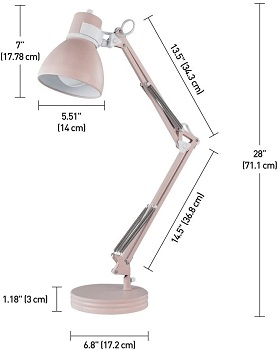 Adjustable Neck
The overall lamp height is 28 inches, so this incandescent desk lamp is suitable for large workbenches, office desks and tables. For quick and easy use, there on/off switch is located on the lampshade. Globe Electric features an adjustable neck allowing you to point the light where you need it.
60W Lightbulb
This adjustable arm desk lamp is a modern version of classic design and it fits all home or office decors. Globe Electric requires a single E26 medium base incandescent bulb. Unfortunately, the bulb isn't included in the package. Buy it separately.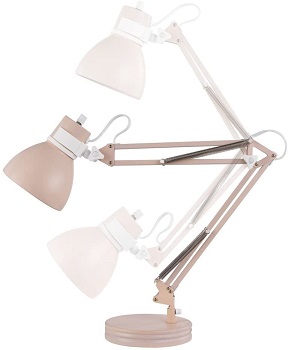 Long Power Cord
Globe Electric comes with a long power cord allowing you to place the lamp wherever you need it, regardless of where the wall socket is. Use this desk lamp for reading, homework, crafting, hobbies, sewing and other precise tasks.
Highlighted Points:
matte rose desk lamp
available in four colors
comes with a long power cord
suitable for reading, studying, crafting
requires 60W incandescent bulb
affordable price
BEST CLAMP INCANDESCENT DESK LAMP
PowerKing Metal Clamp Lamp
Black Lamp
PowerKing is an inexpensive desk lamp available in black, black rose gold and white rose gold colors. The lamp's dimensions are 6.1 x 6.1 x 18.2 inches. Made from quality plastic and metal, it can last for many years. PowerKing offers classic style.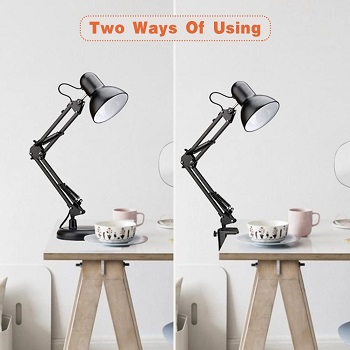 Clamp Or Base
This lamp for incandescent bulb comes with a UL-listed plug for safer operation and a long power cord. You can use this lamp in two ways, it comes with a weighted base and a strong clamp. An adjustable clamp allows you to clip the lamp on the edge of the desktop.
Compatible Lightbulbs
The on/off switch is located on the 51" long power cord for convenient use. This adjustable desk lamp fits with E26/E27 bulb base. You can buy a 7W LED bulb or a 60W incandescent bulb. None of these bulbs are included in the package.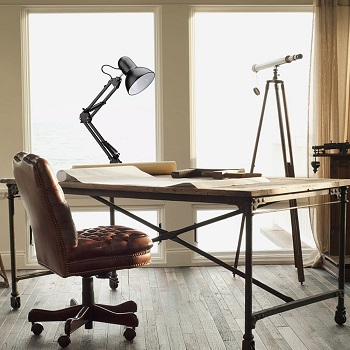 Flexible Design
PowerKing has an adjustable and rotatable lamp head and flexible arms. You can direct the light exactly where you need it. This desk lamp is perfect for hobbies, homework, crafting, reading and other precise tasks. It delivers warm and soft illumination.
Highlighted Points:
available in three colors
made of sturdy metal material
comes with a UL-listed plug
included strong clip and weighed base
compatible with incandescent and LED bulbs
flexible lamp arms and lamp head
Things To Know About Incandescent Desk Lamp
There are many different desk lamps that support incandescent bulbs that you can in the market, so there are some factors you need to consider before buying. Learn about lamp size, incandescent bulb advantages, flexible designs and more.
Incandescent Bulb – This is an electric light with a wire filament heated until it glows. Almost all older desk lamps use incandescent bulbs, however, many modern lamps are compatible with them.  These bulbs are inexpensive, have a warm glow and have dim settings.
Lamp Size – It isn't easy to say which lamp size is perfect for your workbench, end table, office desk, nightstand. But you can follow one simple rule – the larger the desk, the larger the lamp should be. A tall lamp will be able to illuminate your entire desk.
Dim Settings – Older desk lamps come with a fixed illumination level, you couldn't change it. But nowadays, there is a wide range of dimmable desk lamps. These dimmable desk lamps do double duty as bright and direct task light and soft and warm ambient illumination.
Attractive Design – Of course, the lamp functionality is very important, so before buying, read carefully product description. But you should find a lamp with the right design that goes perfectly with the design of your home office or office.
Adjustable Design – If you need an incandescent desk lamp for task lighting, not just for ambient and soft illumination, look for those with flexible designs. Then you can adjust the lamp position and point the light exactly where you need it and have the right illumination.