Want to get rid of gaming-related issues like eye strain or a dark environment?
Then you should check the best gaming desk lamp!
In this article, we have a selection of the best lamps and lights that you can buy on the market at this moment. There are six models divided into categories, making it easier for you to find what you need for your perfect gaming setup.
Our Top Picks
Best 6 Gaming Desk Lamps
BEST OF BEST GAMING DESK LAMP
Philips Hue Smart Light
Hue Play Light
Philips Hue has been a household name for smart lighting gaming products. This brand creates perfect gaming setups. This Hue Play is tailor-made light for gamers that ensures the perfect balance between harsher and soft colors.

Sync With Game
This Philips Hue Play goes behind your gaming monitor or TV and then it can sync with the games that are currently being played on your monitor. Then it projects colors similar to those shown on the screen, which makes your gaming experience more immersive.
Voice Control
These gaming lights for desks offer 16 million colors. It can be controlled by your voice if you use Amazon Alexa, Apple HomeKit, Google Assistant. Also, you can pair it with the Samsung SmartThings system. Create a perfect backlit for your gaming setup.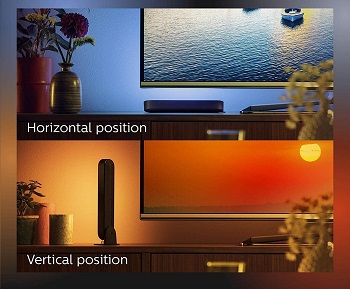 Simple Installation
Philips Hue Play is a color-changing desk lamp that requires simple installation. You can connect three Hue Play lamps to the same power supply unit. That leaves enough room for your other devices. Place the light vertically or horizontally.
Highlighted Points:
smart gaming lighting product
tailor-made for gamers
16+ million colors
compatible with smart outlets and apps
voice control
ability to sync with games
many smart features
BEST LED GAMING DESK LAMP
Hugoai LED Table Lamp
Cylindrical Body
Hugoai table lamp features a very distinct look that makes it very easy to fit into any gaming setup. There is a slightly curved cylindrical body that is a standard thing for this kind of smart lamp. Also, there is an added flair on the lamp top.
FCC Certified Lamp
This model is available in white and grey color and the lampshade is made of ABS material. The lamp dimensions are 4.3 x 4.3 x 8.3 inches. The package includes a LED table lamp, AC adapter and user manual. Hugoai gaming LED lamp is certified by FCC and tested by ETL.
RGB Colors
The lamp also has the same industry-standard 16 million RBG colors to choose from. Meaning, you can change its light into any color you want. This modern LED table lamp features an added layer of different white tones, choose between 2000K to 4000K.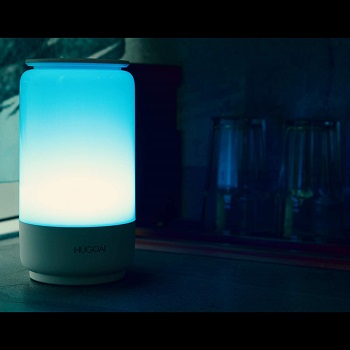 Smartphone Control
One of the best things about this lamp is the fact that it supports all smart assistants and home apps. That means you can control the lamp via Google Assistant, Siri, Amazon Alexa or Smart life app. Its price is affordable making it one of the best budget smart gaming lamps.
Highlighted Points:
affordable smart gaming lamp
over 16 million RGB colors
compatible with smart apps
various white tones
a small curved cylindrical body
tested and certified desk lamp
BEST WALL GAMING TABLE LIGHT
Nanoleaf Rhythm Gaming Lights
Nine Panels
The package includes one Rhythm module, nine-light panels, nine linkers, nine mounting stencils and 28 mounting strips. Each panel measures 8.2 x 9.5 x 0.4 inches. The PSU cable length is 16.5 feet or 5 meters. The expected lifespan is approximately 25,000 hours.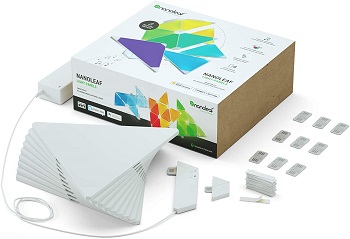 Create Your Design
These light panels go up on the walls of your room. They are designed for indoor use only. You can piece the triangular panels together and create any design you want. Explore differently panel layouts with the Layout Assistant in the Nanoleaf App.
16 Million Colors
The gaming lights for the desk and wall create a theatre-like experience and make a complete multi-sensory environment. Also, you can sync these panels with your music and have a perfect music setup. Nanoleaf offers 16+ million colors with various white tones.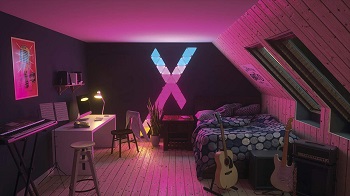 LayoutDetect Technology
These wall-mounted desk lights feature a wide color temperature range and many brightness levels. Based on your arrangement, the exclusive Nanoleaf LayoutDetect technology allows color animation to flow between light panels. Control panels via Android or iOS.
Highlighted Points:
nine light panels included
work with the Nanoleaf app, Apple Homekit, Alexa, etc.
create any design you want
immersive screen mirror
16+ million colors
perfect gaming environment
BEST SMART GAMING LIGHTS FOR DESK
Govee Smart LED Strip Light
5050 LED Beads
You can choose between two LED strip sizes – 16.4 feet or 32.8 feet. The reviewed model is 32.8 feet long and that's pretty enough for any gaming setup. These strip lights are equipped with 5050 LED beads, making them bright enough for your room.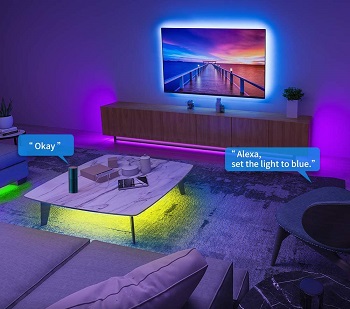 Indoor Use
These LED lights aren't waterproof, they are designed for indoor use only. The package includes ETL listed adapter, strong adhesive, five support clips. You just need to attach the lights on any dry and clean surface and reinforce them with included clips.
Various Control Modes
These desk lights for gaming can be controlled by the Govee Home app, voice control by Alexa or Google Assistant and by a Control Box. Meaning, you can use simple conversation starters to turn the lights on/off, make them brighter, change light color, etc.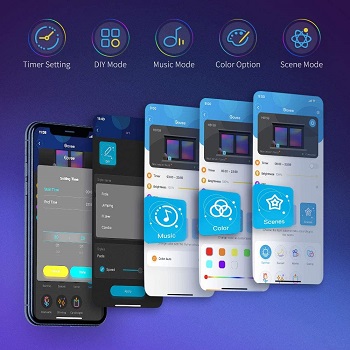 4 DIY Modes
The desk light strips can be activated by music beats, so you can use them for parties and birthdays, too. Govee LED strips offer more amazing features, that include timer setting, four Do-it-yourself modes, music mode, seven scenes options and over 16 million colors.
Highlighted Points:
32.8 feet long LED strips
equipped with 5050 LED beads
designed for indoor use
box includes ETL listed adapter
control it via voice, Govee app, Control Box
timer setting, 4 DIY modes, 7 scenes options
BEST MODERN GAMING TABLE LIGHT
Cozoo Dimmable Table Lamp
Black Lamp
Cozoo is a modern desk lamp suitable for gaming desks, children's rooms, bedrooms, etc. There are two colors available – black and white. This lamp is 9.33 inches high and measures 3.54 inches in width. It is lightweight and fits on any table.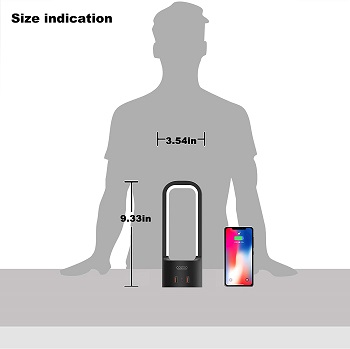 2-year Warranty
This gaming table lamp comes with a 90-day money-back guarantee and 24 months warranty. If there is any defect within that time, contact customer service. Cozoo features a fire-resistant and sturdy plastic outer shell that prolongs the lamp's lifespan.
USB Ports
A Multi-protection system shield the lamp from overload, short-circuit, over-current and other related issues. Cozoo modern LED table lamp works safely at the wattage of 85 to 265V. The base of this lamp is equipped with two USB charging ports and a Type-C port.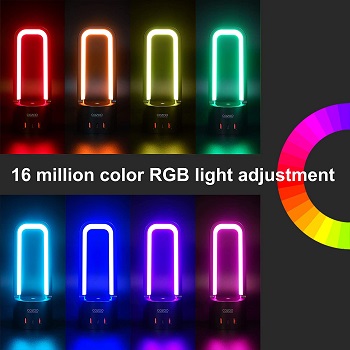 3 White Light Levels
Charge your smartphone, tablet, e-reader or other small electronic devices. You can charge your devices whether the lamp is on or off. Cozoo offers three levels of white lights and 16 million RGB LED lights. There is a touch-sensitive button for control.
Highlighted Points:
small and attractive desk lamp
comes with a 2-year warranty
fire-resistant and protective outer shell
multi-protection system
USB ports and Type-C port
16 million RGB lights
BEST SWING ARM GAMING DESK LAMP
Drevet LED Desk Lamp
Headset Stand
Drevet is a compact and space-saving deks lamp available in three variants. Choose between a lamp with a single USB port, two USB ports and a model with a headset stand (reviewed model). The 2-year warranty is provided by the manufacturer.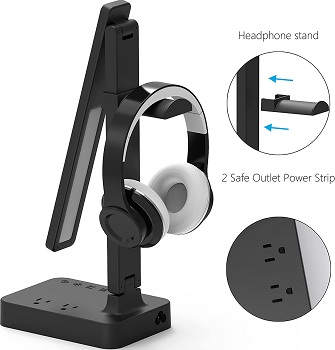 Fireproof Plastic
The lamp base dimensions are 6.3 x 4.3 x 1.1 and the overall lamp height is 13.9 inches. Made from ABS+PC and fireproof plastic. Its power cord is 5 feet long, so you can place the gaming LED lamp wherever you want. It doesn't take up much space.
Eye-friendly Light
This black table lamp with a USB port has built-in 48 LED beads which lifespan is up to 40, 000 hours. These LEDs provide soft, flicker-free and glare-free illumination, which is safe for your eyes. That light doesn't cause eye strain or eye fatigue.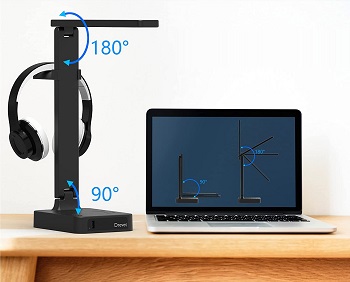 Adjustable Design
Drevet features a 180° flexible arm and a 90° base axis, so you can adjust the lamp easily for an ideal illumination angle. The lamp head and arm are foldable. Also, there are two power outlets and a USB port. Choose between three color temperatures (2700K-6600K).
Highlighted Points:
foldable black desk lamp
equipped with two power outlets and a USB port
three color modes
emits eye-friendly light
flexible lamp design
built-in 48 LED beads
Things To Know About Gaming Desk Lamp
Gaming is embraced by billions of people of all ages, so if you're one of them, here you can find some useful info about desk lamps/lights ideal for gamers. Read about gaming light types, additional features, installation type, etc.
Gaming Desk Lamp VS Light – If you want to buy RGB strips, you can create a beautiful backlight for your gaming setup. They require simple installation and some models are compatible with apps. Desk lamps should offer more eye-friendly illumination.
RGB Lights – The RGB LED stands for Red, Green, Blue LED lights. RGB LED desk lamps combine these three colors and produce over 16 million color hues. You can easily create different gaming environments by changing color settings.
Eye-caring Light – When gaming, you may experience eye strain and perhaps headache after spending long hours staring at a gaming monitor or TV and absorbing blue light. These problems are caused by poor lighting with overly harsh fluorescents. Choose warm lights and take a break each hour.
Smart Features – Some gaming lights are compatible with voice assistants such as Amazon Alexa, Google Assistant, Siri, Meanign, you can turn the lights on/off, change the light color with your voice. Moreover, you can sync lights with your game.
USB Port – Some of the modern lamps for gaming have built-in USB ports. You can choose between a desk lamp with a phone charger with a single or two USB ports. That means you can charge your smartphone, tablet or other devices during your gaming session. Pick the lamp with 2A output, it's faster.