Are you looking for a lamp and charging station that supports your smartphone OS?
Then you should check this article! Here is the list of the best-rated desk lamps with a phone charger, so check them and pick the model with features you like. Various lamps are offered and classified to be easier for you to find what you need.
Our Top Picks
Best 6 Desk Lamps With Phone Charger
BEST OF BEST DESK LAMP WITH PHONE CHARGER
Afrog Multifunctional LED Desk Lamp
Modern Design
Afrog is a multifunctional desk lamp available in black and white color. The package includes a lamp, USB cable, adaptor and user manual. It features a modern and compact design that fits on any workbench, desk, table, anywhere. The price is affordable.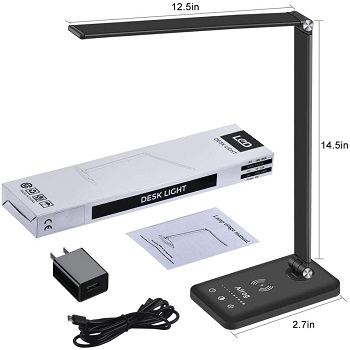 Foldable Design
This desk lamp with phone charger is made of quality plastic and metal. It features a foldable design, so you can store it wherever you want. Also, you can take it with you on the trip. Afrog uses LED lights that are gentle to your eyes, there is no eye fatigue and eye strain.
Five Color Modes
This adjustable arm desk lamp offers five color modes and five brightness levels. Set the color mode from 2700K to 6000K, according to your activities. Also, you can adjust the brightness level. Choose the highest brightness and color mode for precise tasks, like reading, working and crafting.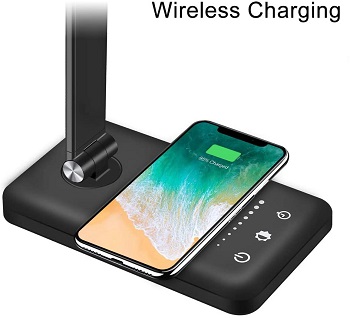 Timing Feature
You can set practical night light mode before you go to sleep, dim the light which will reduce eye fatigue and save valuable power. Moreover, you can set the timer for half an hour or one hour. There is an integrated USB port for your mobile phone. A wireless charger allows you to charge your phone without cords.
Highlighted Points:
available in black and white color
integrated USB port
wireless charging station
gentle light – no eye strain
adjustable color modes and brightness
night light and timing function
BEST IPHONE DESK LAMP WITH PHONE CHARGER
Genetic Qi Wireless Charger Lamp
Flexible Arm
Genetic is available in white and black color, so choose the lamp that suits your home or office decor. It features a portable and foldable design, there is a 180-degree flexible arm and 90-degree base axis. If you want to take it with you, the Genetic lamp won't take up much space.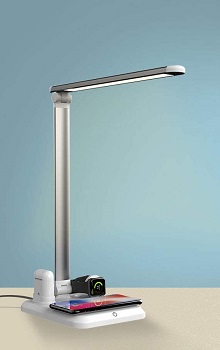 Certified Lamp
This is a tested and certified lamp, it has Qi/CE/FCC/ROHS/REACH certificates. Also, it uses eye-care LED light that protects your eyes from eye strain and eye fatigue. There are 26 LEDs, Genetic lamp is ideal for students, children, crafters, etc.
Suitable For Apple Watch
The iPhone charging lamp has a USB charging port and a wireless charging area. The USB port is located on the back of the lamp, charge your smartphone, tablet, laptop, e-reader, etc. Place your smartphone or Apple Watch on the wireless charging area at the lamp base.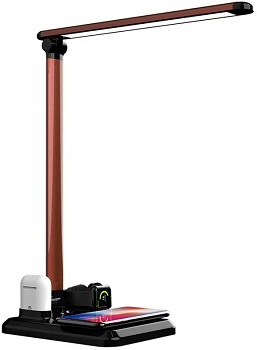 Simple Control
On the lamp base is a touch panel for simple control. The color temperature range from 4200K to 4500K. Also, you can set an adequate brightness level for your current task. Fore reading or working, select the highest brightness and 4500K of color temperature.
Highlighted Points:
available in white and black color
comes with a USB charging port and wireless charger
meets many safety and quality standards
suitable for Apple Watch, Samsung and iPhone
adjustable color temperature and brightness
BEST WIRELESS PHONE CHARGING LAMP
Somktn LED Desk Lamp
Non-slip Pad
Somktn is a compact white desk lamp at an affordable price. This is a modern lamp with a steady base and a non-slip pad. The manufacturer offers a 30-day money-back and a 1-year warranty. If you have any issues or questions, contact the manufacturer.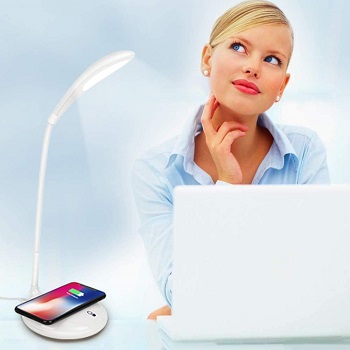 16 LED Beads
A lamp base diameter is 1.96 inches, the light head length is 5.11 inches and the stem is 19.3 inches long. The wireless phone charger lamp has 16 integrated energy-saving LED beads that provide great illumination. There is a built-in 1200 mAh rechargeable battery that saves energy.
Flexible Gooseneck
There is a flexible gooseneck, it can be adjusted to guide light where you need it. Also, its stem is adjustable. It features a minimal footprint, so the Somktn is suitable for any nightstand, end table, coffee table, desk, workbench, table, etc.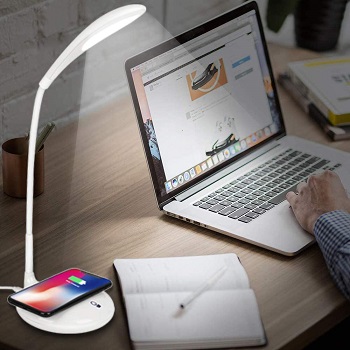 Micro USB Port
There is a micro 5V/1A USB port for charging devices. Also, you can use a wireless charger, it is suitable for iPhone 8, 8 Plus, XS and Galaxy S8, S8+ and Note 8+. The 5W fast charger is compatible with all Qi-enabled devices. It delivers eye-caring light that effectively reduces blue light.
Highlighted Points:
modern white lamp with a steady base
the non-slip pad prevents falling
flexible gooseneck
built-in 1200 mAh battery
micro USB port for Qi-enabled devices
wireless charger on the lamp base
BEST BEDSIDE DESK LAMP WITH PHONE CHARGER
Furande LED Desk Lamp
Long-lasting Lamp
Furande is an elegant white desk lamp suitable for any desk size, table, end table, workbench or other surfaces. This desk lamp should last 17 years if you use it for eight hours per day. The LED light is rated for 50,000 hours. You don't have to replace them.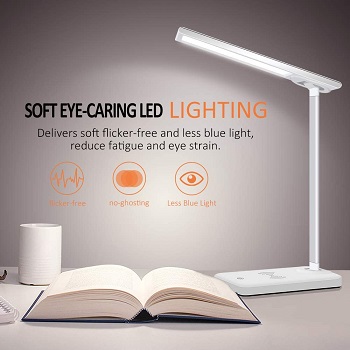 Adjustable Body
This bedside lamp with a charging station has a 120° adjustable arm and a 90° rotating adjustable lamp body for more flexible illumination. Adjust the light in any direction needed. Furande delivers targeted lighting ideal for reading and other precise work.
Against Eye Strain
Designed to emit soft, stable and non-flickering light that is comfortable for your eyes. This desk lamp with a phone charger protects against eye strain and eye fatigue caused by flickering light. You can use it as a portable lamp, fold it and store it in your bag.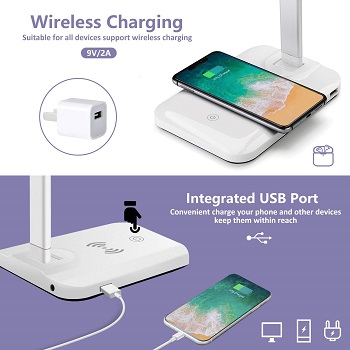 USB & Wireless Charging
It offers three light modes with brightness levels, adjust the lighting to your needs. Use the USB port for multiple electronic devices. Also, you can use a wireless charging area for all devices that supports wireless charging. Keep your smartphone within reach.
Highlighted Points:
modern white lamp for any desk
LED light rated for 50,000 hours
adjustable lamp arm and body
soft and eye-friendly light
USB port for electronic devices
wireless charger for your smartphone
BEST LED PHONE CHARGING LAMP
Donewin LED Desk Lamp
Ultra-thin Lamp
Donewin is a sleek desk lamp with multiple functions. It features an ultra-thin lamp body of 4mm. There is a flexible design, so you can adjust this lamp to any angle you need. Therefore it's suitable for any work, home or study environment.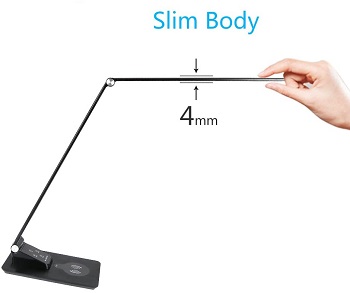 Flicker-free Light
It is made of aviation aluminum and metal, so it's durable and sturdy. This phone charging lamp uses soft LED light which is gentle for your eyes. There is no flickering, glaring, eye fatigue and eye strain. You can work, read, draw or craft for hours.
Touch Control
On the lamp base, there is a sensitive touch control that allows you to choose between different brightness levels and color modes. There are an on/off button, up/down for brightness and a mode button. Simple for use. Choose between five brightness levels and three color modes.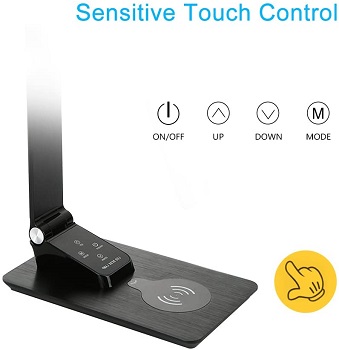 USB & Wireless Charger
This adjustable LED desk lamp has a USB charging port, you can directly connect the USB cable to the smartphone and a charging device. Also, you can put your smartphone in a wireless charging area and keep it within reach while charging.
Highlighted Points:
ultra-thin lamp body
uses comfortable, non-flickering light
five brightness levels and three color modes
flexible design, adjust any angle you need
sensitive touch control
USB charging port and wireless charging area
BEST TOUCH PHONE CHARGING LAMP
LEDFit Desk Lamp For Home Office
Practical Lamp
LEDFit is a practical lamp for any space, whether office, home office, bedside table, end table, workbench, etc. The base diameter measures 4.3" x 7", the lamp head is 12.5 inches long and the length of the lamp body is 14.5 inches. It is a lightweight product.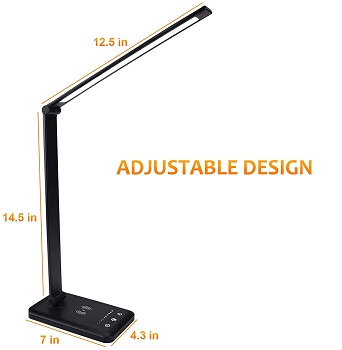 Adjustable Design
It features a 225° adjustable arm and a 160° rotating shaft seat. You can adjust it in multiple directions, also, it is foldable, so it's easy to take it with you on a trip. This phone charging lamp uses LED lights, so there is a low power consumption with a lifespan of 50,000 hours.
Qi-Enabled Devices
This portable desk lamp contains 52 pcs full-spectrum LED beads with soft, non-flickering light. It doesn't cause eye fatigue and eye strain. LEDFit features a wireless charging area and a 5V/2A USB charging port. The wireless charging area is suitable to charge the devices that support Qi wireless charging function.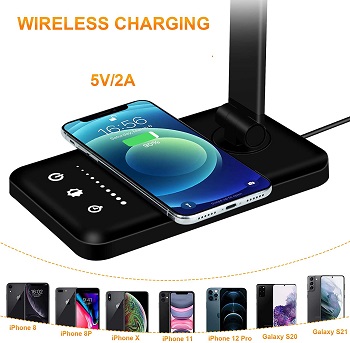 Compatibility
You can charge your iPhone 8/8P/X/11/12 Pro, Galaxy S20/S21 smartphones. This dimmable LED desk lamp offers 25 lighting choices – 5 lighting choices x 5 brightness levels. Using a sensitive touch control panel, select the mode and brightness to your needs.
Highlighted Points:
small and practical desk lamp
features adjustable light head and body
52 pcs LED beads
USB charging port
wireless charging area for Qi-enabled devices
sensitive touch panel
Things To Know About Desk Lamps With Phone Charger
Before you buy any desk lamp with a phone charger, there are some tips and tricks that will help you to choose the best model for your needs.
USB Port – There are two ways of charging, you can use a USB port or wireless charging area. If you prefer a USB port, then you should have a USB cable for charging. Check if your desired lamp comes with a cable, so you don't have to buy it separately.
Wireless Charging – This is a more convenient way for charging your smartphones. You need to check if the lamp is compatible with your mobile phone. Some models support both, iPhone and Androids, but not all of them. The models on the list above support these two operating systems.
LED Lights – There are various light bulbs in the market and all have their advantages and disadvantages. You can choose between incandescent, halogen, CFL, LED and other bulbs. Nowadays, LED reading lamps are very popular thanks to their low power consumption and long lifespan.
Flexible Desing – Many experts recommend the lamp with a flexible design. If the lamp has a flexible gooseneck or light head, you can rotate and adjust the lighting in any direction you want. This feature is very useful if you need a target light for reading, work, etc.
Eye caring Light – If you need a light for your work, reading, crafting, check if the phone charging lamp delivers a soft and comfortable light. Flickering light causes eye fatigue and eye strain. It's a good idea to buy a lamp with few color modes, so you can adjust different light for reading and before sleep.