Do you want to buy a flat file cabinet that allows efficient use of space?
Then check out our article! These file cabinets are essential for people who need to store large documents or artworks. Some top-rated file cabinets differ in sizes, designs, materials and storage space, so read the reviews and compare them. Our tips and tricks at the end of the article will help you with your decision.
Our Top Picks
Best 12 Flat File Cabinets
BEST OF BEST FLAT FILE CABINET
Safco Flat File Cabinet
No Toxic Emissions
Safoco is a very popular brand that produces high-quality flat filing cabinets. This model meets the Greenguard standards for low chemical emissions. You should measure your space before ordering this vintage flat file cabinet, it's sized at 42" in width, 30" in depth and 16.5" in height.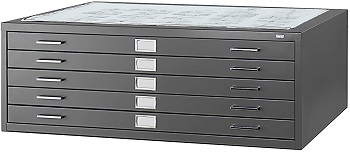 Over 500 Sheets
Construction is made of high-quality metal, making it durable for many years. There are five drawers designed for heavy load. Safco features two convenient handles on each drawer. These drawers are ideal for large documents and files, they can handle over 500 sheets. Label holders help to identify stored content.
Highlighted Points:
high-quality file cabinet
meets safety and quality standards
made of durable and sturdy metal
five shallow drawers
label holder for easy file identification
all drawers handle over 500 sheets in total
BEST WOOD FLAT FILE CABINET
Giantex 5-drawer File Cabinet
Affordable Item
Giantex is a budget-friendly file cabinet that requires assembly and suits any home office. The package contains step-to-step instructions and all the necessary hardware you'll need. Upon assembly, the 5-drawer lateral file cabinet measures 26.5" in height, 19.5" in width and 16.5" in depth.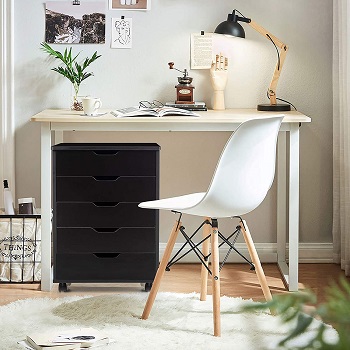 Engineered Wood
Its construction is made of high-quality engineered wood and it supports good load-bearing capacity. This wooden art file cabinet comes equipped with four casters for easy movement. But they are removable. Five shallow drawers fit both letter and legal-size files, but you need to place them horizontally.
Highlighted Points:
affordable file cabinet
requires assembly
made of quality engineered wood
five drawers for documents and files
four removable casters
BEST 10-DRAWER FLAT FILE CABINET
Safco Product File Cabinet
Limited Lifetime Warranty
There is another Safco file cabinet but this model features 10 drawers. A limited lifetime warranty is provided by the manufacturer. It measures 16.5" in height, 46" in width and 35" in depth. It is a perfect storage solution for demanding work environments. You can separately buy an optional lock kit.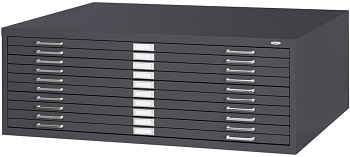 Sheet Capacity
There are ten drawers and each drawer measures 43" W x 32" D x 1.2" H. Safco's overall sheet capacity is up to 500 documents. This 10-drawer file cabinet is made of durable steel with a powder-coated finish. You can stack up two more units on this blueprint file cabinet for extended storage space.
Highlighted Points:
limited lifetime warranty
ideal for the heavy-duty work environment
optional lock kit
ten file drawers
steel construction with powder-coated finish
stackable file cabinet
BEST 5-DRAWER FLAT FILE CABINET
Bisley Desktop File Cabinet
All-steel Construction
Bisley is a high-quality and reliable desktop file cabinet. It features fully welded all-steel construction resistant to scratches and impact. The product dimensions are 15 x 11 x 13 inches and each drawer measures 2" H x 9" W x 13" D. There are five pull-out drawers to organize small office supplies and files.
Chrome Handles
This black file cabinet is also available in a few other colors. Each drawer is equipped with solid chrome pull handles and built-in label holders. Write some keywords for easy file identification. Bisley blueprint file cabinet comes with rubber feet that protect your desk from scratches and prevent slipping.
Highlighted Points:
space-saving file cabinet
all-steel construction
equipped with five drawers
available in several colors
label holders and chrome handles
rubber feet protect your desk
BEST ANTIQUE FLAT FILE CABINET
BXW Flat File Cabinet
Light Brown Color
This space-saving file cabinet is available in two colors – light brown and dark brown. The unit dimensions are 15.6" in width, 10.9" in depth and 12.1" in height. The manufacturer uses safety paint that supports a national standard of environmental protection paint.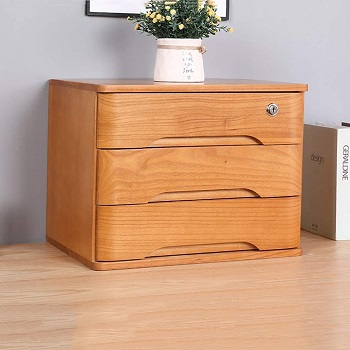 Letter-size Files
Because there aren't toxic materials, this antique flat file cabinet is suitable for home use and safe for children and pets. Construction is made of quality wood for long-lasting durability. Store letter-size files in these three drawers. All drawers are equipped with silent sliding rails for smooth drawer performance.
Highlighted Points:
space-saving file cabinet
available in two colors
made of durable engineered wood
meets national safety standards
three drawers hold letter-size documents
drawers are equipped with sliding rails
BEST METAL FLAT FILE CABINET
HRL Grey File Cabinet
Grey File Cabinet
This is a sturdy file cabinet suitable for professional and commercial use. HRL file cabinet is available in grey, black, blue, pink, red and white colors. Pick the model that suits your office or home office interior. The box includes a file cabinet, keys and detailed instructions.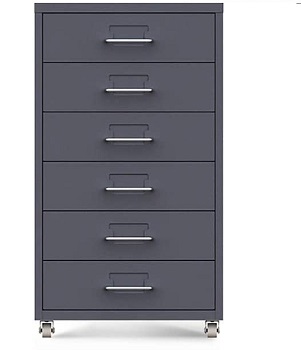 Metal Construction
The 6-drawer file cabinet dimensions are 25" in height, 11" in width and it weighs 28 pounds. Sturdy construction is made of durable metal. with an eco-friendly powder-coated finish. The architect file cabinet includes six shallow drawers with ergonomic metal handles. The surface is resistant to scratches and deformations.
Highlighted Points:
suitable for professional use
multiple colors available
six lockable drawers
durable metal construction
scratch-resistant surface
ergonomic metal handles
BEST 3-DRAWER FLAT FILE CABINET
Fanousy File Cabinet
Faux Leather
Fanousy is a compact desktop file cabinet suitable for any home office or office desk. It is made of faux leather and it's available in two colors – black and brown. It is easy to clean and maintain. The product dimensions are 7.8" in height, 9.4" in width and 12.6" in depth. Fits perfectly in professional office decor.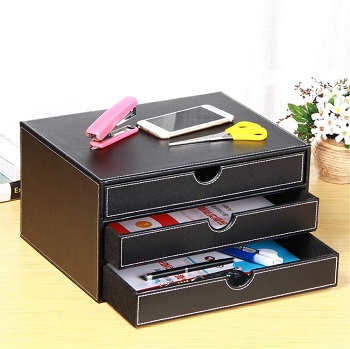 Stackable File Cabinet
There are three roomy drawers for office supplies, documents and files. Fanousy architect file cabinet is suitable for letter-size file storing. Place this file cabinet on your desktop, shelf, bookcase, etc. It is a stackable item, so you can buy a few of these items and create a vertical file cabinet. Use a damp cloth for cleaning.
Highlighted Points:
easy to clean and maintain
made of quality faux leather
fits on any desktop
three drawers accommodate office supplies and files
stackable item
available in two colors
BEST WITH WHEELS FLAT FILE CABINET
Adeptus 6-drawer File Cabinet
Six Drawers
Adeptus is a rustic-inspired file cabinet at an affordable price. This model comes with six drawers for your files and office supplies. Choose between black, natural pine and white model. The unit dimensions are 25.4" in height, 20.7" in width and 15.4" in depth. Construction is made of durable pine wood.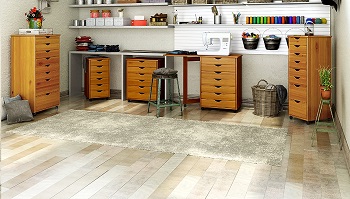 Removable Drawers
This vintage flat file cabinet comes with removable drawers, you can move whichever drawer you like and make your stored items visible and easy to find. These drawers are suitable for tabloid-size, letter-size and legal-size file folders. Four swivel casters ensure easy movement around your room.
Highlighted Points:
affordable file cabinet
available in three colors
made of durable pine wood
six removable drawers
suitable for large-size documents
equipped with four casters
BEST LARGE FLAT FILE CABINET
Scranton & Co. Metal File Cabinet
Remarkable Company
Scranton & Co. is an industry-leading company that meets high safety and quality standards. This 10-drawer file cabinet weighs 270 pounds and measures 16.5" in height, 35" in depth and 46" in width. The manufacturer uses Greenguard Gold certified materials which meet strict standards.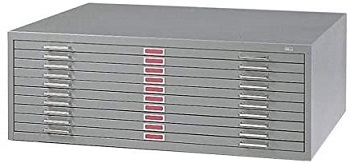 High-capacity Filing
Steel construction is designed for demanding work environments, it's sturdy and durable. There are ten drawers and each drawer holds up to 50 pounds. Store large documents of max 30" x 4" in size. This blueprint file cabinet is ideal for high-capacity filing. Drawers are equipped with safety stops, you can't pull them out completely.
Highlighted Points:
industry-leading brand
meets high standards
uses Greenguard Gold materials
ten drawers for documents
store large documents and blueprints
drawers with safety stop
BEST SMALL FLAT FILE CABINET
Primo Supply Home Office File Cabinet
Desktop File Cabinet
If you looking for a compact and desktop file cabinet, consider the Primo Supply file cabinet. This model is very popular among vintage lovers. The unit dimensions are 9.8" in height, 9.8" in width and 6.8" in depth. Its construction is made of high-quality solid wood.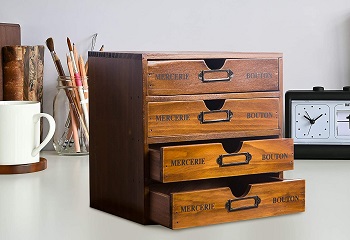 Four Drawers
This antique flat file cabinet is varnished in dark brown which provides a more classic look. There are four wide drawers for your files, desk accessories and supplies. Also, each drawer is equipped with a vintage label holder so you can mark your stored content. Primo Supply has an acceptable price.
Highlighted Points:
compact desktop file cabinet
made of durable engineered wood
varnished in dark brown
four drawers for files and supplies
label holders
affordable article
BEST STEEL FLAT FILE CABINET
Sandusky Lee Heavy-duty File Cabinet
Putty File Cabinet
Sandusky Lee is a flat large file cabinet that ensures secure space for your office needs – office supplies and documents. This model comes in a putty color and it measures 16" in height, 46" in width and 32" in depth. It's a very heavy item weighing 250 pounds. Sandusky features 10 shallow drawers.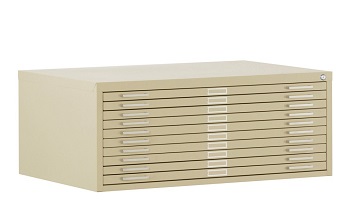 Heavy-duty Steel Construction
This steel file cabinet requires simple assembly, it's necessary to install handles and label holders. Sandusky Lee is constructed from heavy-duty welded steel with a powder-coated finish. Store blueprints, documents and artworks. All drawers glide smoothly on ball-bearing slides and you can lock them with a single key.
Highlighted Points:
large flat filing cabinet
heavy item – weighs 250 pounds
features 10 shallow drawers
require assembly
heavy-duty steel material
all drawers are lockable
BEST HOME OFFICE FLAT FILE CABINET
Dimond Home File Cabinet
Hardwood Construction
Dimond file cabinet features a natural-look design ideal for traditionally designed home offices. It is made of quality engineered wood from plantation-grown hardwood. This solid wood ensures stability and durability. Dimond comes fully assembled at your address. It stands on four sturdy legs.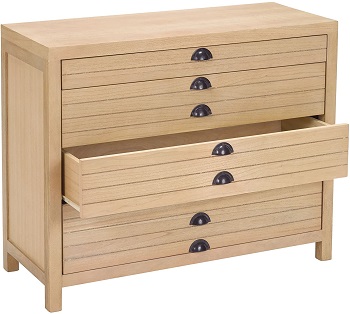 Blackened Iron Handles
It measures 29" in width, 16" in depth and 32" in height. Dimond is a vintage flat file cabinet that fits anywhere. A 1-year warranty is provided by the manufacturer. There are three large drawers and a smaller upper drawer. All drawers are equipped with blackened iron handles.
Highlighted Points:
made of durable hardwood
stable and sturdy file cabinet
stands on sturdy legs
backed by a 1-year warranty
four drawers for supplies and files
blackened iron handles
Things To Know About Flat File Cabinet
While all these blueprint cabinets offer plenty of storage space, they differ in size, construction, build quality, number of drawers and more. To learn more about those factors, keep reading this guide.
Build Quality – The listed file cabinets are made from steel, metal, wood – these materials make them durable and sturdy. The steel file cabinets are very quality durable and ideal for industrial settings. For a home office, you can buy a file cabinet made of quality solid wood.
Drawer Size – These file cabinet types have shallow drawers, which aren't designed for hanging file folders. They are perfect for storing and archiving documents, blueprints, art and other non-standard paperwork. Some drawers have depressors and hoods to keep paper from curling.
Commercial Use – Flat file cabinets designed for commercial or industrial use have heavy-duty construction made from welded steel, metal or iron. They are extremely durable and last for decades. Also, they have higher prices than those models designed for residential use.
Assembly Instruction – Some of these file cabinets come pre-assembled, you need to unpack them and load them with files and office supplies. But some models require assembly and come with detailed instruction. Some heavy-duty file cabinets require professionals for installation.
File Cabinet Price – Of course, price varies from product to product. It depends on many factors, such as build quality and material, size, design, brand, and more. Also, industrial or commercial file cabinets are very expensive, unlike residential ones.
Final Verdict
These are our recommendations for the best flat filing cabinets, so pick the model that suits your requirements. If you want to protect your stored items with high-security items, check fireproof cabinets and metal filing cabinets. They have solid metal construction resistant to impact, fire and other unwanted circumstances. Don't forget to check the post with the biggest list of the best-rated filing cabinets for sale.