Are you looking for a multi-drawer file cabinet able to store a lot of your documents?
Well, you're in the right place! Here we covered some quality but still affordable 10-drawer filing cabinet models. They offer different features, so check these reviews below. For more info, there is a buying guide with some helpful pieces of advice.
Our Top Picks
5 Best 10-drawer Filing Cabinets
BEST OF BEST 10-DRAWER FILING CABINET
Bisley 10-drawer Cabinet
White Product
Bisley provides a great quality-price ratio. This is a popular brand that produces quality steel file cabinets. This white multi-drawer file cabinet is compact and ensures ample storage space for your office essentials and documents. It features a high price.
Multiple Colors
Except for white color, you can choose between charcoal, fuchsia, green, light grey, navy, orange, red, steel blue and other colors. These attractive filing cabinets fit in modern offices. Bisley 10-drawer filing cabinet is 24 inches tall, 11 inches wide and 15 inches deep.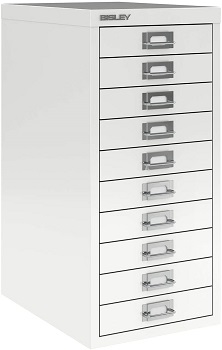 Fully Welded Construction
Bisley fits under your office desk or in the corner of the room. Its fully welded steel construction is designed for long-term durability. The powder-coated finish won't rust or chip. Drawers are accented with chrome handles and label holders.
Fully Extended Drawers
Fill these ten drawers with pens, paper, crafts, writing tools, files, etc. You can fully extend the drawers and reach your stored items with ease. Each drawer measures 2" H x 9" W x 13" D. The white metal file cabinet will last for many years.
Highlighted Points:
multiple colors available
fully welded steel construction
powder-coated finish is rust-resistant
ten drawers equipped with label holders
full-extension drawers
solid chrome drawer handles
BEST PORTABLE 10-DRAWER FILING CABINET
Mind Reader Storage Organizer
Lightweight Item
Mind Reader is an affordable filing cabinet available in two colors – grey and black. Its dimensions are 21.5 inches in height, 10.5 inches in width and 13.7 inches in depth. Mind Reader weighs 15 pounds and fits anywhere. Use it in your office for filing documents and office supplies.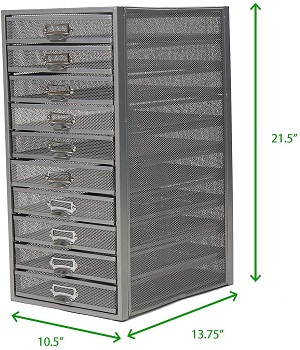 Mesh Construction
Metal mesh construction is durable and easy to clean, simply wipe with a wet paper towel. It doesn't require high maintenance. This sturdy steel construction will last for decades. Mind Reader 10-drawer filing cabinet is able to handle scratches, drops and dents.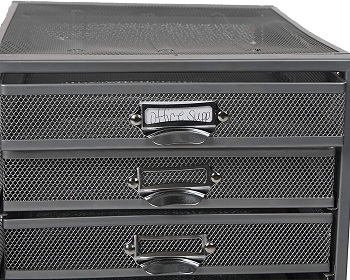 Fully Assembled
There are small but convenient handles equipped with label holders. You can mark and find your stored content with ease. The drawer dimensions are 10" W x 13" D x 2" H. It arrives fully assembled, so unpack it when the metal office cabinet comes and it's ready for use.
Highlighted Points:
metal mesh construction
easy to clean and maintain
small drawers are equipped with label holders
arrives fully assembled
lightweight file cabinet – 15 pounds
BEST FLAT 10-DRAWER FILING CABINET
Safco Flat File Cabinet
Wide Construction
Safco is a black flat file cabinet also available in grey color. The manufacturer provides a limited lifetime warranty. It weighs 276 pounds and measures 16.5 inches in height, 46.4 inches in width and 35.4 inches in depth. Ideal storage solution for demanding work environments.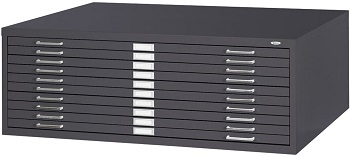 Powder Coated Finish
The assembly is required and this model is available with an optional lock kit. If you need to store some private and sensitive documents, buy a lock and protect your files. This classic 10-drawer filing cabinet is made from durable steel with a powder-coated finish.
Sheet Capacity
There are ten drawers and each drawer measures 43" W x 32" D x 1.2" H. You can identify your stored content easily, there are label holders on each drawer. Safco ensures a maximum sheet capacity of up to 500 documents. The heavy-duty file cabinet can store all your files.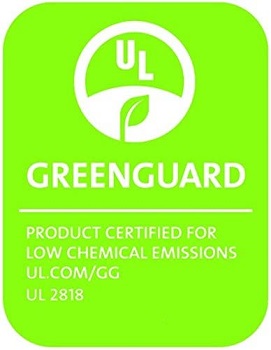 Safety Stops
These drawers feature heavy-duty nylon rollers and courtesy stops, a rear hood and a hinged front document depressor for safe drawer performance. You can stack up 2 more units on this flat filing cabinet for extended storage space. It's an expensive item.
Highlighted Points:
limited lifetime warranty
stores up to 500 documents
10 drawers with safety stops
sturdy steel construction with black finish
optional lock kit
stackable filing cabinet
BEST METAL 10-DRAWER FILING CABINET
Scranton & Co. File Cabinet
Quality Material
Scranton & Co. is an industry-leading company that sets high-quality standards. This space-saving item weighs 270 pounds and measures 16.5 inches in height, 35 inches in depth and 46.2 inches in width. Scranton filing cabinet comes in grey color.
Eco-friendly Materials
The manufacturer uses Greenguard Gold certified materials, which are recognized for evaluating item emissions and meets stringent indoor air quality criteria. The assembly is required. Its durable steel construction is designed to last for decades.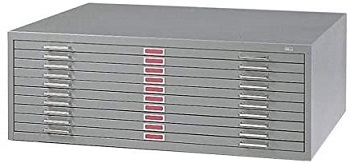 High-load Filing
Because of that solid construction, each drawer is able to hold up to 50 pounds. Scranton 10-drawer filing cabinet is able to store large documents, you can fill these drawers with 30" x 42" documents. The maximum sheet capacity is 600 documents, suitable for high capacity filing.
Stackable Product
The wide file cabinet is a modular item, you can use it individually or create a stack storage space.  Drawers glide on case-hardened ball-bearing rollers for smooth drawer performance. You can't pull the drawer all the way out, there are safety stops.
Highlighted Points:
durable steel construction
the assembly is required
uses Greenguard Gold materials
designed for large documents
ball-bearing rollers for smooth drawer operation
each drawer holds up to 50 pounds
BEST LOCKED 10-DRAWER FILING CABINET
Sandusky Lee Steel File Cabinet
Pricey Item
Sandusky Lee is a large flat storage cabinet that provides secure space for your office needs. This model comes in putty color. Product dimensions are 16 inches in height, 46.7 inches in width and 32 inches in depth. It weighs 250 pounds and has a high price.
Heavy-duty Construction
There are ten drawers and each drawer has 0.8" H x 43" W x 32" D. You need to assemble handles and label holders, the instruction are included in the package. Constructed of heavy-duty welded steel material with a powder-coated finish, it is ideal for the professional office environment.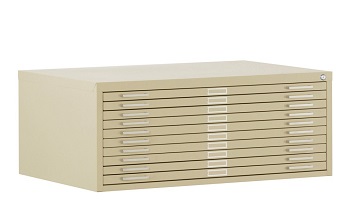 Leg Levelers
Leg levelers keep the file cabinet level on uneven ground. The 10-drawer filing cabinet is resistant to corrosion and chipping. Drawers are equipped with chrome handles and they extend on case hardened ball-bearing slides for smooth operations.
Lockable Drawers
The metal file cabinet with lock features depressors and hoods to keep paper from curling. Above the top drawer, there is a lock that secures all drawers at the same time. This file cabinet can be stacked with other Sandusky Lee flat file cabinets.
Highlighted Points:
all-welded steel construction
available in putty color
ten drawers with chrome handles
leg levelers keep the file cabinet flat
a single lock secures all drawers
Things To Know About 10-drawer Filing Cabinet
While all of these 10-drawer filing cabinets offer ample storage space, they differ in size, construction, materials and other features. We hope our guide will help you to find the best model for your office needs.
Build Quality – The file cabinets on this list are manufactured with steel, metal, fully-welded steel material – that are durable and sturdy materials. These steel file cabinets are very quality and designed for demanding work environments. You can rely on their quality.
Drawer Size – All of these drawers are shallow, a single drawer isn't intended for high-capacity filing. That has some benefits, you can find your stored document with ease. Before buying, check if the drawers fit standard-sized or legal-size files, depends on your storage needs.
Label Holders – If you want to create an organized workspace and find your items quickly, consider a filing cabinet with label holders. If each drawer has its own label holder, you'll know what is inside the drawer at a quick glance. Also, you can replace the label easily.
Flat Models – Flat file cabinets are often made of metal and have several drawers to hold a lot of items. Usually, you can stack another filing cabinet on top of a flat one. That creates even more storage space. They are designed for large documents, like blueprints, etc.
Commercial Use – There are some 10-drawer filing cabinets on the list above designed for industrial and commercial use. They last for decades and have high prices. Also, these models provide extremely solid construction with scratch and rust-resistant surfaces.