Do you want to equip your office with a multi-drawer file cabinet and keep your documents organized?
There is a lot of 6-drawer file cabinets worth buying on the market and you can see the selection of the best ones in this article. Read these short reviews and find the perfect model for your office or home office. Also, there are some guidelines below reviews.
Our Top Picks
6 Best 6-drawer File Cabinets
BEST OF BEST 6-DRAWER FILE CABINET
Bisley 6-drawer File Cabinet
Steel Blue Color
Bisley is a high-quality file cabinet available in charcoal, fuchsia and steel blue colors. Except for the six drawers, there are models with 5 and 8 drawers. Pick the model that suits your office needs. It is an ideal solution for maintaining organization in your home office or office.
Fully-welded Construction
Its fully-welded all-steel construction is finished with powder-coated paint for durability. Designed for long-term use, Bisley is resistant to scratches and impact. The rubber feet on the bottom of the file cabinet will protect your floor from damage.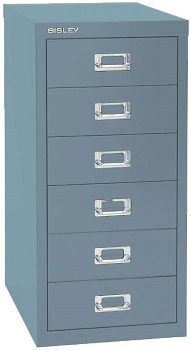 5-year Warranty
This 6-drawer file cabinet weighs 28 pounds and measures 23.5 inches in height, 11 inches in width and 15 inches in depth. Bisley arrives fully assembled, unpack it and the file cabinet is ready for use. The manufacturer provides a 5-year warranty.
Label Holders
There re six drawers that store crafts, paper and small office supplies. All drawers fit letter-size/A4 file folders. The small metal filing cabinet features full extension drawers, so you can reach your stored files with ease. Drawers are accented with attractive handles and label holders.
Highlighted Points:
covered with a 5-year warranty
fully-welded steel construction with powder coating
rubber feet protect your floor from scratches
six drawers equipped with chrome handles
label holders for file identification
BEST ON WHEELS 6-DRAWER FILE CABINET
HLR FILE CABINET
Commercial Use
HLR is a sturdy file cabinet ideal for professional and commercial use. It is available in grey, black, blue, pink, red and white color. This model comes with 3, 5 or 6 drawers. The package includes a file cabinet, keys and detailed instructions.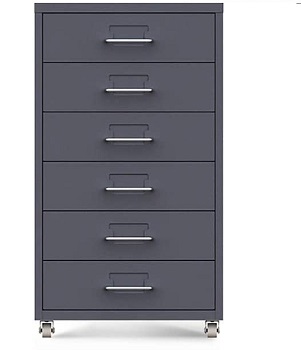 Sturdy Construction
The product dimensions are 25 inches in height and 11 inches in width, it weighs 28 pounds. HLR construction is made of durable metal, it is sturdy and designed for long-term use. The surface is covered with an eco-friendly powder-coated finish.
Metal Handles
It doesn't take up too much floor space, also, you can tuck it under your office desk. HLR features six shallow drawers with metal handles, comfortable to touch. The 6-drawer file cabinet is resistant to scratches and deformations.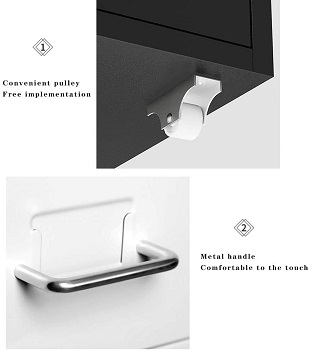 Plastic Wheels
HLR file cabinet is equipped with four swivel casters, you can easily move it on your floor or even carpet. These wheels are made from quality plastic and won't damage your floor. The under desk rolling file cabinet features a high price.
Highlighted Points:
metal construction with an eco-friendly finish
available in multiple colors
suitable for industrial and personal use
metal handles on drawers
equipped with four wheels
BEST VERTICAL 6-DRAWER FILE CABINET
FireKing Vertical File Cabinet
Pricey Item
FireKing is a very popular company when it comes to durable and heavy-duty file cabinets. This model comes in a sand color and has a high price. There are more colors you can choose from – black, platinum, white, brown, tan and many others. It is an expensive file cabinet.
Powder-coated Finish
The unit size is 52.7 inches in height, 25.4 inches in width and 25 inches in depth. The manufacturer provides a limited lifetime warranty. FireKing is constructed of metal with an electrostatic powder-coated finish. The surface is scratch-resistant.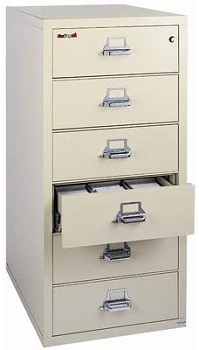 Fire-resistant Product
This fireproof locking file cabinet features UL-1-hour class 350 fire rating. It is exposed to temperatures of 1700 degrees for one hour and as result, its internal temperature doesn't exceed 350 degrees. If a fire catches the file cabinet, the FireKing will replace it for free.
High-security Lock
In event that any panel is damaged, it can be easily replaced. There is insulation between each drawer for maximum protection. This 6-drawer file cabinet features a high-security Medeco lock which keys can not be duplicated. Internal drawer dimensions are 6.2" H x 19" W x 26" D.
Highlighted Points:
available in 11 colors
metal construction with electrostatic powder coating
insulation between all drawers
replaceable steel panels
high-security Medeco lock
fire-, impact- and explosion resistant
BEST LATERAL 6-DRAWER FILE CABINET
PLHMS White File Cabinet
White Model
PLHMS comes in three different versions. The reviewed model features six drawers and a door. Its dimensions are 29.5 inches in width, 32.2 inches in height and 15.3 inches in depth. This white file cabinet match any home office environment, it is available in white color.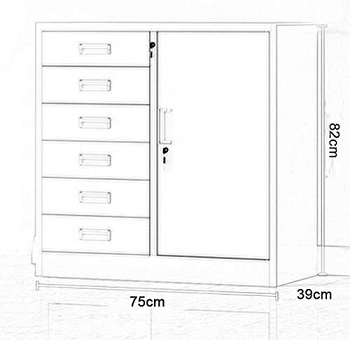 Thick Construction
This is a well-engineered and strong lateral file cabinet made of thick cold-rolled steel. PLHMS can stand up for years of rigorous use and it will keep your home office environment clean and tidy. The surface is covered with powder coating, it is smooth and rust-resistant.
Two Locks
The 6-drawer file cabinet features smooth handles for easy open and close. There are two locks, one lock secures all drawers and another lock fixes the door. PLHMS locking lateral file cabinet will keep your stored documents and office supplies protected.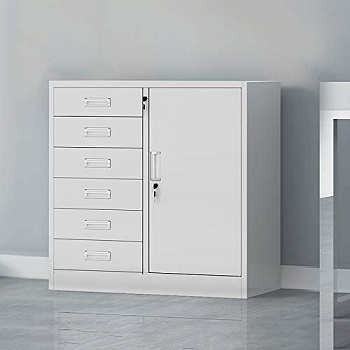 Ball-bearing Slides
Behind the file cabinet door, there is an adjustable shelf. This place is ideal for books, binders, registers, etc. On the left side are six drawers that glide on smooth ball-bearing full-suspension slides. The drawers are shallow but capable to hold standard-size files.
cold-rolled steel construction
the powder-coated surface is rust-resistant
available in white color
two locks – for drawers and door
all six drawers glide on ball-bearing slides
adjustable shelf holds books and registers
BEST OFFICE 6-DRAWER FILE CABINET
Glchq Storage File Cabinet
Simple Design
Glchq is a compact file cabinet with a simple style. It fits in offices and home offices. There are two colors you can choose from – white and grey. This model comes with drawers or doors. Its overall dimensions are 44.5 inches in height, 15.7 inches in depth and 27.5 inches in width.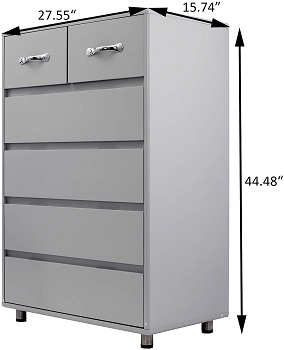 MDF Construction
It features round and smooth corners to prevent scratches. When Glchq arrives at your address, you need to assemble it. Clear and detailed instructions are included in the package. Its construction is made of quality medium density fiberboard.
Steel Tube Legs
On the file cabinet bottom, there are steel tube legs with rubber pads. They are anti-slip and water-resistant. If you need to move this 6-drawer file cabinet, it won't scratch your floor. The tall wood file cabinet is equipped with different-sized drawers to meet different storage needs.
Different-sized Drawers
There are two small drawers that hold office accessories, like post-it notes, notepads, scissors, pens, etc. They are fitted with small metal handles. Below them, there are four larger drawers with recessed handles. The drawer's width allows for the storage of letter-size file folders.
Highlighted Points:
medium-density fiberboard construction
sturdy steel tube legs with rubber pads
6 different sized drawers
four larger drawers hold standard-sized files
available in white and grey color
BEST CHEAP 6-DRAWER FILE CABINET
Adeptus 6-drawer File Cabinet
Pine Color
Adeptus is an affordable file cabinet available in different sizes and colors. You can choose between 6, 7 or 8 drawers. Also, there are pine, black and white colors. Match the file cabinet with your office decor. This file cabinet fits traditionally designed offices or home offices.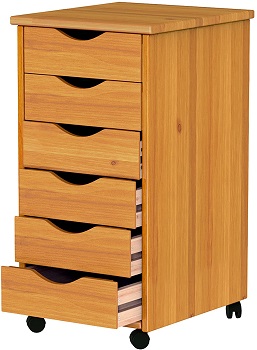 Pine Wood
Construction is made of wood harvested from sustainable pine forests. For every tree cut, the manufacturer provides to plant two trees. This wood doesn't come from the Amazon rainforests. This ready-to-assemble item reduces transportation and warehousing costs.
Mobile File Cabinet
This 6-drawer file cabinet is made of real wood that lasts for decades. Adeptus measures 15.4 inches in depth, 13.4 inches in width and 25.4 inches in height. It fits under the standard office desk. Also, this pine filing cabinet with four rolling wheels for mobility.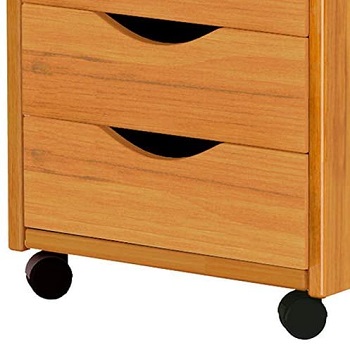 Removable Drawers
There are six drawers with 3.3 inches of depth. They accommodate documents, letter-size files, office supplies, etc. Moreover, all drawers are completely removable, so you can use them as trays. That makes your stored items visible and easily accessible.
Highlighted Points:
affordable compact file cabinet
constructed of sustainable pine wood
equipped with four rolling wheels
six drawers hold letter-size files
all drawers are removable
Things To Know About 6-drawer File Cabinet
The 6-drawer file cabinets are available in different sizes, colors, prices, etc. To pick the best model for your office or home office, consider the following guidelines before purchase.
File Cabinet Construction – On the list above, you can find models made from different materials. There are steel, cold-rolled steel, medium-density fiberboard and metal office cabinets. The steel file cabinets are the most durable option in the market.
Vertical/Lateral Design – Depends on your office space and the number of files you need to store, pick the file cabinet shape. The vertical file cabinets are typical ones with tall, upright designs, they offer deeper drawers. Lateral models require more floor space and provide wider drawers.
Drawer Size – Pick the drawer dimensions depends on your document sizes. It helps to evaluate what you are storing and how much of that paperwork will grow over time. There are shallow drawers ideal for office supplies. Look for higher drawers if you want to store hanging files.
Casters – You might move the file cabinet from office to office, or transport documents from one place to another. The easiest way is to buy a model with swivel casters. if your favorite file cabinet features a set of casters, you would be able to move it with a little effort.
Label Holders – This is an overlooked, but useful feature. Some 6-drawer file cabinets come with label holders. When each drawer has its own label, this will enable you to know what is inside each drawer at a quick glance and make your search easier.