Are you interested in a traditionally designed flat file cabient?
Then check out our list! Here you'll find beautiful antique flat file cabinets with plenty of storage space, lock options, multiple colors and other features. If you want to find out how to pick the best model for your needs, there is a short buying guide below the list.
Our Top Picks
Best 5 Antique Flat File Cabinets
Best Of Best Antique Flat File Cabinet
3-Drawer Wood Cabinet
Two Colors
This antique flat file cabinet is available in two colors, light brown or dark brown color. The dimensions are 15.6 inches in width, 10.9 inches in depth and 12.1 inches in height. The manufacturer used safety paint, it supports the national standard of environmental protection paint.
Safety Standards
Because there is non-toxic materials or formaldehyde, this file cabinet is safe for your children. The edge of the cabinet is heat seal, not cut, so they are safer. You can use this item for multiple purposes, save your files, documents, clothing, children's toys or anything else.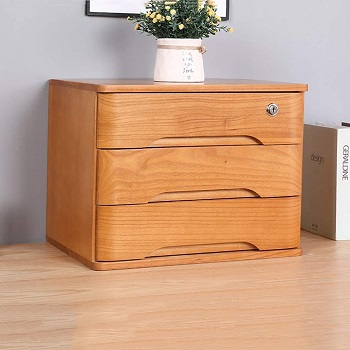 Side Rails
This wide file cabinet is made of quality wood, it's durable and intended for long time use. There are three spacious drawers. These drawers accommodate A4/letter-size files. All three drawers have silent slide rails, you can easily open and close them.
Lock The Drawers
This file cabinet is suitable for home use, in your living room, children's room, bedroom, etc. Use the top surface and place some plants or devices on it. If you want to protect your files or other things, there is a lock on the upper drawers that secures all three drawers.
Highlighted Points:
traditionally designed file cabinet
ideal for living room, bedroom, children's room
the manufacturer uses safety paints
three spacious drawers for storage
the flat and sturdy top surface for devices
built-in lock that secures all three drawers
Best Wood Antique Flat File Cabinet
Adeptus File Cabinet
Ready To Assemble
The Adeptus is a vintage flat file cabinet with an affordable price. It is a "ready to assemble" product, that reduces transportation and warehousing costs. We talk about the model with 6 drawers, but you can choose between 6, 7 and 8 drawers.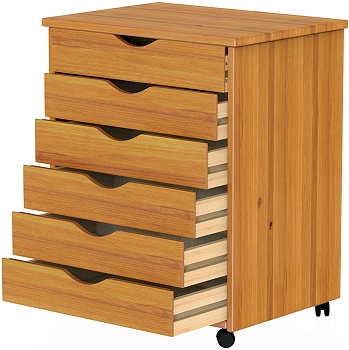 Pine Wood
Moreover, there are three colors available, black, pine and white. These colors are universal and fit in any home or office decor. This file cabinet is made of quality pine wood, it's durable and long-lasting. Its dimensions are 25.4 inches in height, 20.75 inches in width and 15.4 inches in depth.
Removable Drawers
This antique wood flat file cabinet is equipped with six drawers. Each drawer is 3.25 inches deep. If you want, you can remove the drawer, all drawers are removable. Make your supplies more available and visible. This solid wood file cabinet has quality customer service if you have questions.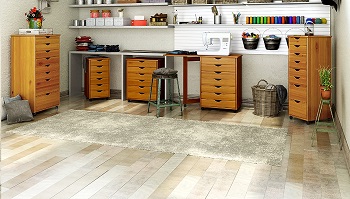 Mobile Item
Store the tabloid-sized or letter-sized papers into these wide drawers. The Adeptus features four wheels, so you can easily relocate it from one place to another. It's important to note that wheels aren't lockable. It is a sustainable company, for every tree cut, two trees are planted.
Highlighted Points:
available in black, white and pine color
there are six drawers that are removable
four casters for easy mobility
the drawers accommodate tabloid and letter-sized files
this company supports sustainable principles
Best Small Vintage Flat File Cabinet
Primo Supply File Cabinet
Old Classic Design
Primo Supply is a popular company among vintage fans, they produce traditional designed furniture. This model is small, so you can place it on your desk and use it as a desktop file organizer. The dimensions are 9.8 inches in height, 9.8 inches in width and 6.8 inches in depth.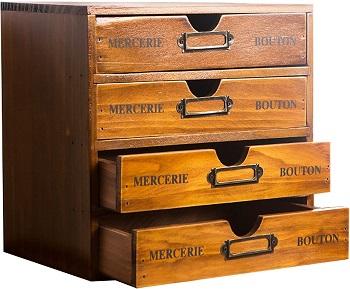 Dark Brown Varnish
This antique flat file cabinet is made of high-quality solid wood, it is preassembled, so you don't have to assemble it. The Primo is varnished in dark brown which provides a more classic look. It is equipped with four wide drawers, you can store your files, desk accessories and other items.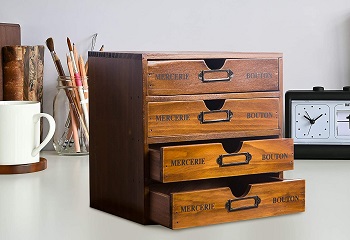 Label Holders
This small wood file cabinet features a label holder made of high-quality steel material. It is a versatile and reliable flat file cabinet. It will help you to save your precious space and organize your small office supplies, jewelry or other items into these drawers.
Highlighted Points:
vintage desk organizer for small items
there are four wide drawers
it's made of quality solid wood
built-in label holders
it's varnished in dark brown color
Best 4-drawer Vintage Flat File Cabinet
Dimond Home File Cabinet
Handcrafted Item
The Dimond Home file cabinet is available in two versions, with a natural-look design. Find it in black or light brown color. This item is made of quality engineered wood, from plantation-grown hardwoods. It is a durable file cabinet at a higher price.
No Assembly
The assembly isn't required. When this file cabinet arrives at your home address, just unpack it and put it in your living room, home office, bedroom or children's room. The Dimond vintage flat file cabinet features four sturdy legs, they are very stable.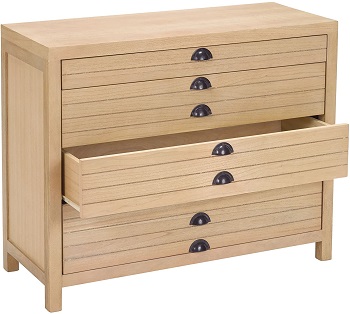 1-year Warranty
This file cabinet measures 29 inches in width, 16 inches in depth and 32 inches in height. It doesn't require a lot of space. The Dimond weighs 35 pounds, it isn't heavy if you need to move it to another place. The warranty for this product lasts 1 year.
Iron Handles
There are three large drawers and one small top drawer. Use the small drawer for some office supplies, like pencils, pens and other small items. The other three drawers are ideal for files and documents. The drawers are equipped with blackened iron handles.
Highlighted Points:
handcrafted flat file cabinet
the construction is made of solid wood
three large drawers and one small drawer
blackened iron handles
it stands on sturdy four legs
Best Office Vintage Flat File Cabinet
Safco File Cabinet
Green Brand
The Safco Store meets the Greenguard certificate for low chemical emissions. This flat file cabinet is available in different dimensions and colors. Measure your space before your order it. This flat model features 42 inches in width, 30 inches in depth and 16.5 inches in height.
Steel Material
There are four colors – white, tropic sand, grey and black color. It is made of high-quality metal material. It provides durability and long-lasting use. This vintage metal filing cabinet has a high price. There are five flat drawers that ensure ample space for your supplies.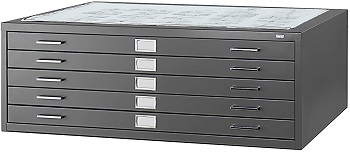 Powder Coat Finish
These five drawers are capable to accommodate a heavy load. The item features a closed base and the drawers are raised from the floor. Each drawer is equipped with two handles. The handles are made of chrome hardware. There is a powder coat finish.
Sheet Capacity
The drawer dimensions are 43 inches in width, 32 inches in depth and 2.1 inches in height. These drawers are great for files and documents, they can handle over 500 sheets. The case hardened ball-bearing nylon rollers ensure smooth operation.
Highlighted Points:
made of high-quality steel material
the item is equipped with five drawers
each drawer has two iron handles
these drawers accommodate up to 500 sheets
the drawers are raised from the floor
Things To Know About Antique Flat File Cabinets
The antique flat file cabinets can be made of different materials, with different storage space, number f drawers and other features. Here, we described these characteristics, so you can easily decide which model is perfect for your requirements.
File Cabinet Material – These flat file cabinets can be made of wood, metal, aluminum, plastics, etc. Those are the most common materials. Moreover, there are wood and metal file cabinets. Steel is the most durable material, it is impact resistant. The wooden cabinets are also durable but more susceptible to impact and scratches.
Number Of Drawers – The flat file cabinets offer short, spacious drawers that are ideal for canvases, blueprints, and other larger documents. You need to store them in a horizontal position. You can fold or roll the documents. Choose the number of drawers depends on document volume.
Storage Material – Because the flat file cabinets feature low drawers, you need to store some large documents and paperwork. If you work with blueprints, tabloid-sized files, artwork, schemes or drafts, this kind of file cabinet is ideal for your needs. The drawers are pretty wide.
Assembly – Some models come pre-assembled, but some of them require assembly. The steel file cabinets are usually already assembled. The mobile file cabinets require casters attachment only. That protects the casters during transport.
Office/Home Use – If you want to buy a home file cabinet, we recommend some natural materials like wood. If you need to buy an antique flat file cabinet for your office, it is a better idea to buy the item made of steel, its construction is impact resistant.
Final Verdict
All of these vintage flat file cabinets are beautiful and provide a lot of space. We recommend the Flat File cabinet with 3-drawers. This model is available in two colors, there are three roomy drawers, a built-in lock for file protection and an affordable price.  Check out the similar models in the review of vintage industrial filing cabinets. If you require sturdiness, we review some models in steel file cabinets post.