Are you interested in buying a 24-hour chair?
Then you should read this article! I'll describe the 6 best models and divide them into categories such as ergonomic, for the control room, etc. Compare them and choose the best office chairs for 24-hour work. In buying guide you can read more about the important features.
Our Top Picks
6 Best 24-Hour Office Chair Review
BEST OF BEST 24 HOUR CHAIR
Sadie HVST141 Adjustable Chair
Adjustable Lumbar Support
This adjustable office chair with 24-hour use has lumbar support that is great for preventing back pain because it offers additional support for your spine so the muscles can relax. The lumbar support is exterior and its height and depth can be adjusted, which is very user-friendly.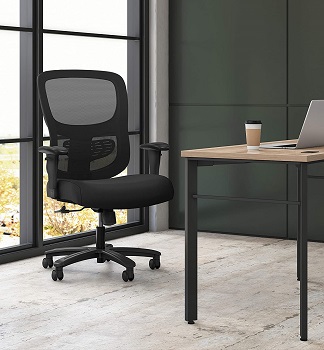 Dimensions And Material
The 24-hour office chair is 30.31" long, 30.31" wide, and 42.91" high. The arms can be adjusted between 25.6" and 31.5" in height. The seat is 20.9" long, and 22" wide.  The backrest is 22" wide, and it's made from breathable mesh that's allow air circulation so your back doesn't get sweaty.
Weight Capacity And Chrome Base
The seat is padded with a thick cushion, therefore this model can carry up to 400 pounds of weight. For more heavy-duty models, you can read the best 500 lb capacity office chair review. Another user-friendly feature is a long-lasting and breathable fabric that's covering the seat. The chrome base is strong and extended to caster wheels that allow you to move the chair around the office.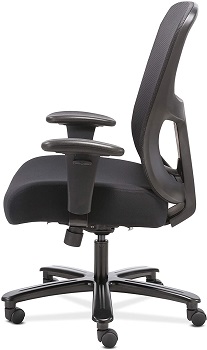 Arms Adjusting And Warranty
The arms can be adjusted in height so you can relax your elbows and upper body when needed. Also, the height adjustment is very user-friendly because it releases pressure from the upper thighs. The swivel design allows rotation for 360-degrees. All parts are covered by 3-year limited warranty.
Highlighted Points:
adjustable lumbar support
3-year limited warranty
breathable mesh back support
30.31" long, 30.31" wide and 42.91" high
360-degree swivel design
BEST TASK CHAIR 24 HOUR OFFICE CHAIR
Serta 43675 Leather Chair
Lumbar Support And Leather Cover
This is a big 24-hour task chair with an ergonomic backrest and built-in lumbar support that relaxes muscles around your spine. The cover of this model is made from faux leather that's soft, comfortable, and easy to clean. The maximum weight capacity of this model is 350 pounds.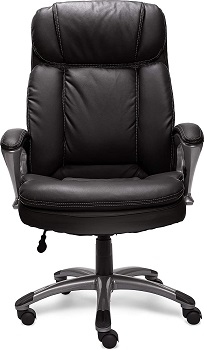 Heavy-Duty And Lightweight
Although it's a heavy-duty office chair 24-hour model, it's lightweight and easy to transport. It weighs only 16 pounds, and it also features dual-wheel casters so you can move from one corner to another when in the chair, as well as move the chair around the office.
Dimensions And Armrests
The 24-hour chair is 30.5" long, 28" wide, and 45.57" high. The backrest is 22.75" wide and 31.25" high, while the seat is 23" long, 18.75" wide, and 23.75" high. The seat is padded with foam, as well as arms that feature armrests so you can relax your elbows which will release the pressure from the spine in the upper body.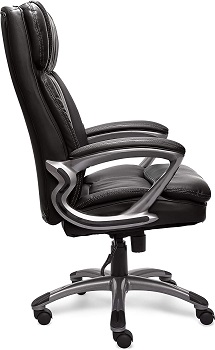 Headrest And Pneumatic Lifting
The backrest has a built-in adjustable headrest so this is a fully adjustable ergonomic chair that is ideal for all-day sitting. The height is adjusted with the pneumatic cylinder lifting and the pneumatic lever. The top of each wheel caster is scuff-resistant footpads so you have a comfortable place to put your feet and they protect the finish of the base.
Highlighted Points:
30.5" long, 28" wide, and 45.57" high
weight capacity is 350 pounds
built-in headrest
scuff-resistant footpads
padded armrests
BEST ERGONOMIC 24 HOUR CHAIR
Herman Miller PostureFit Chair
Dimensions And Seat Height
This Herman Miller 24 hour chair is 28.25" long, 18.5" wide, and 43" high. The seat can be adjusted between 16" and 20.5" in height, and its angle can also be switched from neutral to engaged. The cover comes in graphite color and it's made out of the recycled material which means this model is eco-friendly.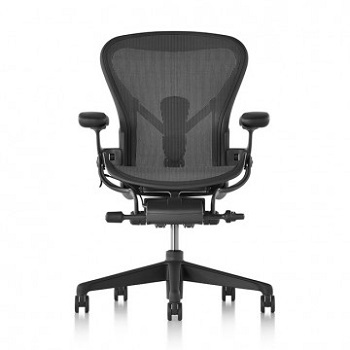 Tilting Positions
The user-friendly feature of this 24-hour office chair is a tilt limiter that allows you to recline the backrest in one of three postures: upright, mid-recline, and full-recline. Therefore you can adjust the position, and recline the backrest when you want to relax in the pause of the work.
PostureFit Technology
The 24-hour ergonomic chair is also featuring the PostureFit Sacral/Lumbar support that's made out of two individual pads that can be adjusted to fit your spine. The height-adjustable arms can be adjusted from 6.8" to 10.8" height above the seat. Also, you can slide them backward and forward within the range of 2.5".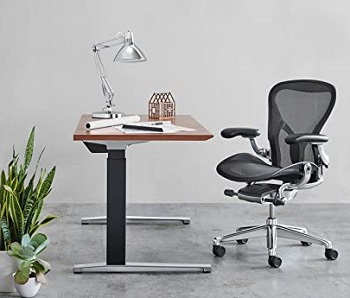 Arms Adjustments And Rotating Design
The arms can also be adjusted for 15-degrees outward and 17.5-degrees inward. It's one of the 24-hour ergonomic office chairs with a 360-degree swivel design so you don't have to twist your back when reaching things behind you. Also, it has 5 caster wheels that make it easy to move it around the office.
Highlighted Points:
tilt limiter for three positions
PostureFit lumbar support
height adjustable arms between 6.8" and 10.8"
height-adjustable seat
swivel design
BEST FOR CONTROL ROOM 24 HOUR OFFICE CHAIR
Alpha Home Mesh Office Chair
Comfortable And Breathable Mesh
The seat of this office chair is made from soft and comfortable mesh, while the backrest is made from encrypted breathable mesh. This fabric is easy to clean and reduces the growth of bacteria. Also, the breathable mesh prevents your back to get sweaty.
Adjustable Headrest And Armrests
The ergonomic backrest features lumbar support so the spine is relaxed. The armrests can be flipped up to support your arms, while the headrest is rotatable and provides the best protection for the next. These three parts create one of the best 24-hour control room chairs that give comfort throughout the day.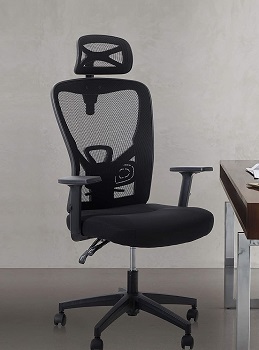 Tilting Degrees
Use the tilting lever to adjust the backrest between 90-degrees and 140-degrees. It's an ideal model for relaxation during the pause of work when you can recline the backrest up to 140-degrees. The tilt knob allows you to adjust the tilting intensity, as well as locking the chair in a certain position.
Heavy-Duty Base
It's the best 24-hour office chair with a heavy-duty metal base that can hold up to 350 pounds of weight.  The smooth-rolling casters can turn for 360-degrees, as well as the metal base so you can rotate and easily move the chair. The Alpha 24-hour ergonomic task chair is BIFMA and SGS certified and safe to use in the home or office.
Highlighted Points:
weight capacity is 350 pounds
rotatable design
BIFMA and SGS certificate
adjustable lumbar support
headrest and armrests
BEST HEAVY-DUTY 24 HOUR CHAIR
OFM Operator Ergonomic Chair
Weight Capacity And Dimensions
This is a 24-hour chair heavy-duty model that can carry a weight of 400 pounds. The model is 18.75" long, 38.75" wide, and 28.75" high. Although it's made for holding high weight, its structure is lightweight and it can be easily moved from one room to another.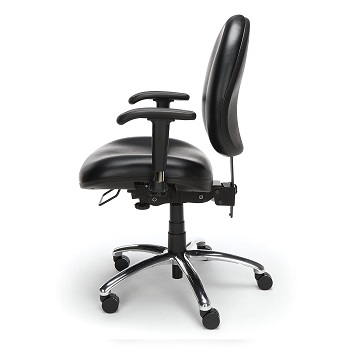 Thick Seat And Breathable Fabric
The OFM 24-hour big and tall ergonomic task chair has a 3" thick foam in the seat which allows the best support of the lower back and muscles around the spine. The seat is covered with stain-resistant fabric that's durable and breathable. The seat height can be adjusted, while the arms can be adjusted in width.
Seven Ergonomic Adjustments
The 5-star base is made from strong steel that can hold high weight, and it has 5 caster wheels for easy mobility. This 400 lb capacity office chair is made for 24-hour work because of the 7 different ergonomic adjustments and thick seat. This is a low chemical emission product that is approved with a GreenGuard certificate.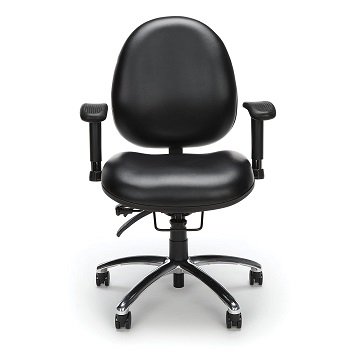 Tilting And Pneumatic Lifting
The pneumatic cylinder and lever allow height adjustments of the seat, while the tilting lever is moving the backrest outward and inward. The rotating design is great for your back because you don't have to twist it when reaching things behind you. The structure is ANSI/BIFMA certified and covered with a 1-year limited warranty.
Highlighted Points:
18.75" long, 38.75" wide, and 28.75" high
weight capacity is 400 pounds
3" thick foam
GreenGuard certificate
width-adjustable arms
BEST OPERATOR 24 HOUR OFFICE CHAIR
Kcream 9117 Armrest Leahter Chair
High-Quality Leather
This 24-hour office chair is made from high-premium Bonded leather that's stain-resistant, waterproof, easy to wipe clean, and long-lasting. The backrest and seat have a breathable hole that allows air circulation which provides comfort and prevents the surface from heat-up and causes sweating.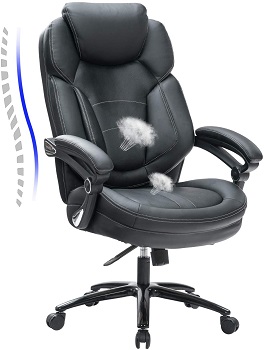 Headrest And Armrests
Another great feature of this 24hr operator chair is the built-in ergonomic headrest that allows your head to relax, as well as padded armrests that are perfect for relaxing muscles of the upper body. You can use a tilt lever to recline into a certain position, as well as to lock the chair into an upright position.
Foam Density And Weight Capacity
The seat is padded with 4" thick high-density foam that's supportive and great for protecting the lower back. The heavy-duty base allows a high weight capacity of 300 pounds. The chrome wheels are made from polyurethane and also feature a rotating design.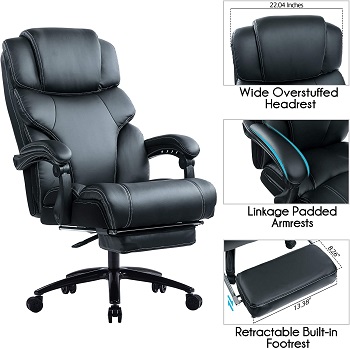 Rotating Design And Tilting
This 24-hour operator chair has a swivel design so it can rotate for 360-degrees, which is very user-friendly. The pneumatic cylinder and lever allow seat height adjustment between 17.13" and 19.88". The tilting can be adjusted between 90-degrees and 150-degrees that's ideal for resting. All parts are covered with a 1-year limited warranty.
Highlighted Points:
tilting between 90 and 150 degrees
4" thick padded seat
stain-resistant and waterproof leather
300 pounds weight capacity
two holes for air circulation
Things To Know About 24-Hour Chair
These chairs must have a structure and features that will support your body, allow the muscles to relax, and keep the blood circulation balanced. Here you can read about important features such as ergonomic structure, height adjusting, tilting, and much more. This info can help you buy the best model.
Ergonomic Structure –  The best office chair for 24-hour use must have lumbar support on the backrest so it contours all important spots on your back. In that way, muscles around the spine are relaxed which prevents back pain from happening. Also, it's great if the model has a built-in headrest and footrest.
Height Adjusting – The adjustable chair for study or office should always have a base with a pneumatic cylinder that allows easy height adjustments when using the pneumatic lever. This is especially important when buying a chair for 24 hours because the right height will release the pressure from the upper thighs and allow balanced blood circulation to the feet.
Adjustable Arms – It's very user-friendly if the 24-hour office chair has fully adjustable arms. They can be moved up and down, right and left, at all possible angles. This allows you to find the most comfortable position when sitting for long hours. Also, it's great when arms have armrests for elbows so your upper back can relax.
Tilting Feature – A very important feature, especially if you're looking for an all-day model. The tilting allows you to adjust the backrest at different angles, and you can move it forth and back. The tilting can be adjusted with the lever, and the tilt knob lets you adjust the intensity or lock the chair in an upright position.
Cover And Padding – The cover can be made from soft leather that's durable and comfortable, or from mesh that's more breathable than leather, and it's easier to clean. However, the mesh could be firmer than leather. Both materials are good for long hours of sitting because they give support to the body, and they're long-lasting.