Do you want to store huge amount of various papers in suitable file cabinet?
When it comes to organizing an enormous amount of files, 5-drawer lateral file cabinets are the best solution. There are few criteria that must be checked beforehand. Find them in our buying guide. Also, don't forget to check our top-rated models.
Our Top Picks
6 Best 5-drawer Lateral File Cabinets
BEST OF BEST 5-DRAWER LATERAL FILE CABINET
Hon 5-drawer File Cabinet
High-quality Product
Hon is one of the most quality file cabinets in the market. It features extreme durability and quality performance. Choose between putty, black and charcoal color. When you buy Hon, you buy quality furniture made in the USA. This model has a high price.
Unit Size
This unit measures 71 inches in height, 32 inches in width and 21 inches in depth. Its sturdy steel construction is reinforced with a double-walled base. The baked enamel finish is resistant to rust and corrosion. Cleaning and maintenance are easy.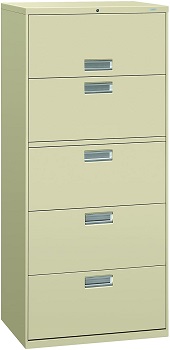 Telescoping Ball-bearings
On the 5-drawer lateral file cabinet bottom are leg levelers, they keep the item level on uneven ground. There is a telescoping ball-bearing suspension that delivers smooth drawer performance. These five drawers provide ample storage space for your documents.
Plastic Label Holders
This commercial file cabinet accommodates letter-size of legal-size folders from side to side with included adjustable hanging rails. Each drawer is equipped with aluminum recessed handles with plastic label holders. Mechanical interlock prevents tipping over.
Highlighted Points:
sturdy steel construction with baked enamel finish
resistant to corrosion and rust
leg levelers keep the file cabinet stable
telescoping ball-bearing suspension
each drawer is equipped with hanging rails
plastic label holders and aluminum handles
BEST OFFICE 5-DRAWER LATERAL FILE CABINET
Sandusky Lee File Cabinet
Forest Green Item
Sandusky Lee is a durable lateral file cabinet that comes in forest green color. If green doesn't match your office decor, consider the charcoal or tropic sand colors. This file cabinet arrives pre-assembled, so just unpack it and place it in your office.
High Price
The 5-drawer lateral file cabinet measures 66 inches in height, 36 inches in width and 19 inches in depth. It is commonly used in professional, commercial and industrial office environments. So, it features high price but very quality performance.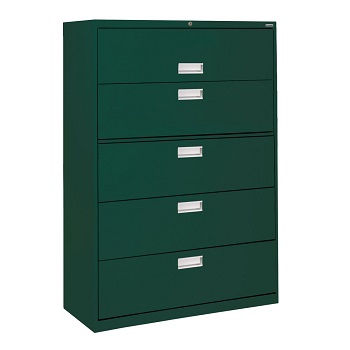 Recessed Handles
Construction is made of sturdy steel materials, so this modern lateral file cabinet will last for decades. These five drawers are equipped with recessed handles. You can extend the drawers fully and have easy access to all your stored files. Drawers glide on ball-bearing slides.
Central Lock
If you need to store sensitive documents, this file cabinet features a quality lock system that secures all drawers at the same time. The file drawers store both letter/A4 and legal-size files. The interlocking safety mechanism allows only one drawer to be opened at a time.
Highlighted Points:
three attractive colors available
steel construction with a smooth surface
five drawers with recessed handles
all drawers are fully extendable
accommodates letter and legal files
BEST HOME 5-DRAWER LATERAL FILE CABINET
Global Lateral File Cabinet
Fits Anywhere
Global is a large lateral file cabinet that fits any office environment, it's available in putty color. Its dimensions are 36 inches in width, 18 inches in depth and 65 inches in height. This is a tall file cabinet with five roomy drawers for high-capacity filing.
Powder Coated Finish
Its durable metal construction is covered with a powder-coated finish. It's simple to clean and maintain this product. The manufacturer ensures a limited lifetime warranty. Global is a strong and sturdy file cabinet at a very economical price.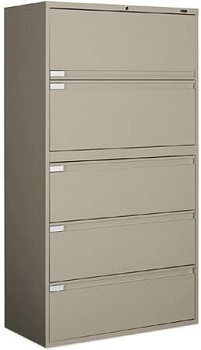 Two Larger Drawers
Except for the putty color, it comes in black and light grey color. Global 5-drawer horizontal file cabinet features seamless welded corners for extra strength. Two top drawers have larger dimensions than the other three drawers. Load these two drawers with files and standard 3-ring binders.
Side-to-side Bars
This metal office cabinet has a smaller three bottom drawers – they hold both letter and legal size file folders. Side-to-side hanging file bars are included in every drawer. There is an interlocking safety mechanism that prevents tipping and allows one drawer at a time to be opened.
Highlighted Points:
three colors available
metal construction with powder-coated finish
comes with a limited lifetime warranty
two top drawers are larger than the other three drawers
included side-to-side rails
safety interlocking system prevents tipping
BEST ON WHEELS 5-DRAWER LATERAL FILE CABINET
Giantex Mobile File Cabinet
Affordable File Cabinet
Giantex is a budget-friendly lateral file cabinet. It requires assembly, so the package contains easy-to-follow instruction and all necessary hardware for quick installation. Upon assembly, it features 26.5 inches in height, 19.5 inches in width and 16.5 inches in depth.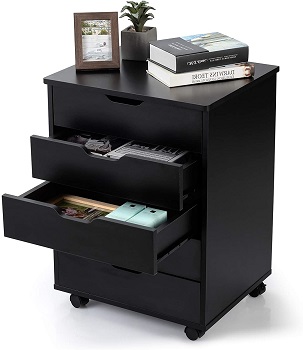 Wooden Construction
Made of high-quality engineered wood and hardware, the Giatex is sturdy enough for home office use. Its stable construction supports a good load-bearing capacity. The file cabinet top supports 44 pounds and each drawer holds up to 18 pounds.
Removable Casters
Giantex is equipped with four casters to provide smooth movement. These swivel casters are lockable for stationary placement. When casters are locked, you can place some office device, like a printer or scanner on the file cabinet's top. Also, casters are removable.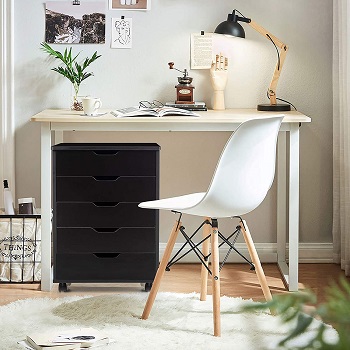 Flat File Position
There are five shallow casters for your files and office supplies. Each drawer has 17.5 inches in width, 13.5 inches in depth and 4.5 inches in height. You can fill them with both letter and legal files but place them horizontally. This black lateral file cabinet wood model isn't suitable for hanging files.
Highlighted Points:
engineered wood construction
four swivel casters are removable
assembly is required
five shallow casters with concave handles
they hold horizontally placed files
not for hanging files
BEST METAL 5-DRAWER LATERAL FILE CABINET
WorkPro Lateral File Cabinet
Pricey Product
WorkPro is a modern white file cabinet that fits any office environment. The manufacturer uses environment-safe materials  – Greenguard Gold certified materials. This model arrives fully assembled, so you can save your precious time. The price is high.
Leg Levelers
This 5-drawer lateral file cabinet is designed for medium-sized office and demanding work environments. Its overall dimensions are 18 inches in depth, 67 inches in height and 42 inches in width. Built-in leg levelers keep the file cabinet stable and flat.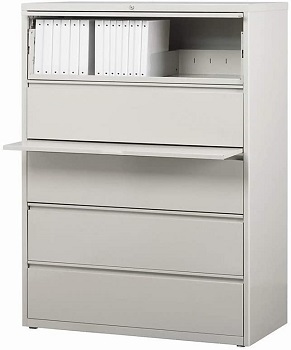 Reinforced Steel Construction
It is designed with reinforced steel and double base construction to provide durability. This 5 drawer metal filing cabinet features a baked enamel finish that is easy to clean and maintain. It is a tested product, so it meets ANSI/BIFMA performance standards.
All Drawer Sizes
All five drawers glide on heavy-duty suspension, you can open them easily. Fill them with standard-size and larger legal size file folders. The hanging rails are included in each drawer. The interlock system prohibits the extension of more than 1 drawer at a time.
Highlighted Points:
Greenguard Gold certified materials
reinforced steel construction with double base
baked enamel finish for smoothness
heavy-duty suspension drawers
meets industry standards
BEST LOCKED 5-DRAWER LATERAL FILE CABINET
Hon Brigade 600 File Cabinet
Pre-assembled Item
Hon Brigade 600 Series is available in black, charcoal, light grey and putty color. Also, you can choose the file cabinet drawer quantity. Hon measures 36 inches in width, 40 inches in height and 19 inches in depth. It arrives fully assembled.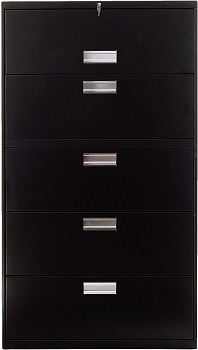 All Welded Construction
The manufacturer offers a full lifetime warranty. All welded steel construction is designed for demanding work environments. The double-walled base keeps the 5-drawer lateral file cabinet frame perfectly aligned. It will last for decades.
Built-in Counterweights
On the file cabinet bottom, there are leveling glides that compensate for uneven floor. Counterweights are placed in the file cabinet to prevent tipping. This professional office file cabinet has steel ball-bearing suspension drawers that open smoothly.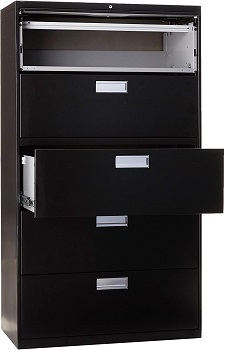 Interlocking System
This 5-drawer file cabinet with a lock accommodates both letter and legal-size hanging file folders. The hang side-to-side rails are included in the package, so you don't have to buy extra hardware. The mechanical interlock system prevents tipping over.
Highlighted Points:
all-welded steel construction
the double-walled base for extra protection
four-color available
five drawers glide on ball-bearing slides
built-in counterweight for stability
the mechanical interlocking system prevents tipping
Things To Know About 5-drawer Lateral File Cabinet
The 5-drawer lateral file cabinets feature a lot of advantages, but before you order any model, read some info about file cabinet construction, storage space, security features, etc.
Lateral File Cabinet Benefits – These horizontal file cabinets consist of wide, shallow drawers. They require a lot of floor space but offer ample storage space for a huge amount of files. Lateral file cabinets have from 2 to seven drawers, so they differ.
File Size – There are two main file sizes: letter size and legal size. The 32 to 36-inch wide drawers are able to hold both letter and legal files. Some file cabinets hold a standard paper size of 8.5" W x 11" L, which is letter-size. Legal-size files are larger and feature 8.5" W x 14" L. They can be arranged in front to back or side by side order.
Material – The file cabinets can be made of different materials – wood, aluminum, steel/metal, plastics, etc. Your choice depends on your workplace. If you work in demanding work environments, consider a locking lateral file cabinet made of steel. Wooden items are ideal for home offices.
Security Features – If you looking for a secure place to store your documents, buy a  file cabinet with a quality locking system. The most common type of lock accommodates a key. Some models have a central lock, some come with a single lock for every drawer.
Additional Features – Because 5-drawer lateral file cabinets are able to store a huge amount of files, check if your favorite model comes with a safety interlocking mechanism. That prevents tipping over. Also, look for special features like follower blocks and counterweights.