When considering office chair measurements, there are a few key points you need to take into account. But, if you are a taller person, you can't just buy any office chair you like.
By choosing to use an office chair that perfectly meets your personal needs, you could achieve the highest productivity level, pleasure and pain avoidance.
Due to that, we gathered all the information you need to have about 24-inch seat height chairs and recommend suitable models. So, take a look and make your seating experience more comfortable.
Our Top Picks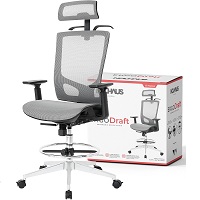 Nouhaus ErgoTask Office Chair
OVERALL RATING: ★★★★★
This ergonomic office chair features an outstanding seat height adjustment that ranges from 23.4" to 30.9".
Jump To Review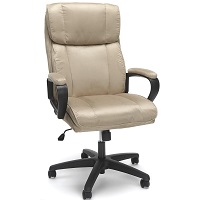 OFM Plush High-back Chair
OVERALL RATING: ★★★★☆
Eye-catching modern and comfortable office chair has a great price-quality ratio that meets all customer needs.
Jump To Review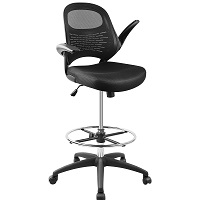 Hylone Drafting Office Chair
OVERALL RATING: ★★★★☆
Black drafting office chair features adjustable foot ring, height and flip-up arms for maximum customization.
Jump To Review
For Whom Are These 24-inch Seat Height Office Chairs Intended?
According to some data, the average height of adult men who live in the USA is 5'9", with women measuring an average of 5'4". So everything above that we could consider an above average. It is vital to find a chair that is specific to your needs and that will fit your height and body type.
Standard Office Chair Dimensions
Let's start from the beginning: the standard office chairs work for most people while they are built for average-size adults. Therefore, standard office chairs are designed for 5 to 6 feet people that weigh around 250 pounds. The most common chair width is 19-21", chair depth is 15-19" and the seat height ranges from 16"-21". However, not every chair can work for everyone.
Are You A Candidate For This 24-inch Office Chair?
The optimal sitting position is one where your feet can be placed flat on the floor. The seat height is measured from the end of the inner tight to the floor. Meaning, the ideal seat height is when your knees are at a 90-degree angle and your feet are planted on the floor. The office chairs with 24-inch seat height are ideal for people taller than 6 feet. For example, if you are 7'3", you should look for a chair with a seat height of 24" and even higher.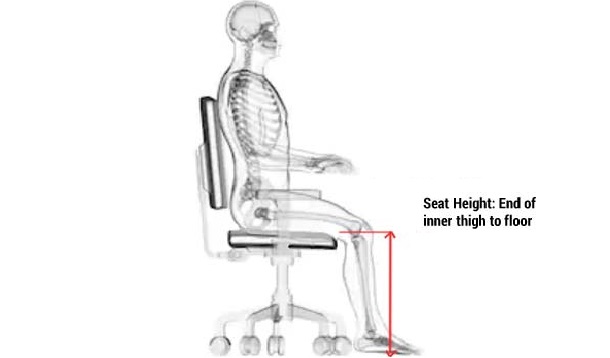 Wait, Are These Chairs For Tall People Only?
Well, yes and no. These office chairs can be used by many people if they have adjustable seat height. And it's a bit hard to find an office chair whose seat isn't like that. However, if you are under 6 feet and the chair has a fixed 24" seat height, you should skip that model.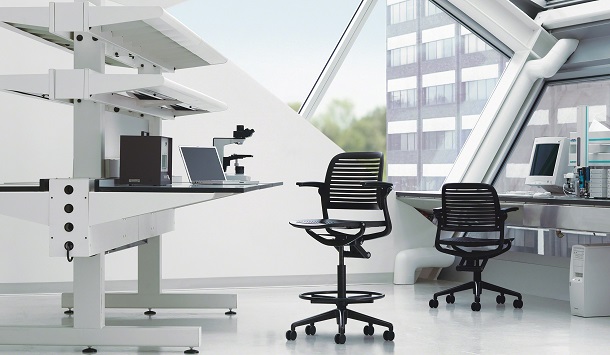 Let's Explain Main 24-inch Seat Height Chair Characteristics
The 24-inch seat height office chairs are usually a bit bigger than standard office chairs. They come with wider seats, higher weight capacity, wider backrest, longer armrests, etc.
Seat Width And Depth
At minimum for any taller person, I recommend a seat width of 16" or more. If you are tall and big, then look for an office chair with 19" and greater based on your body size. There is another important factor – seat depth. Taller people have longer femur bones so an office chair with a minimum seat depth of 19" and more will work the best for you.
Cushioned Seat
All these office chairs with 24-inch seat height have a thicker cushioned seat to support greater weight. They have high-density foam to support you properly. Memory foam easily molds to the shape of the human body. The cushioned seat distributes your body weight effectively and improves your posture.
Chair's Backrest
The office chair with a seat height of 24 inches usually has a wider and taller backrest, but it's not always the rule (you'll see one of the reviewed models). What is more important, an ergonomic office chair should have good lumbar support to make your work more comfortable, so look for tilt adjustment and curved design.
Weight Capacity
Standard office chairs are typically rated for 250 lbs to 275 lbs. If you are looking for a solid investment that will last for a longer time and fit your body type, then look for at least 10% over your current weight. Meaning, the chairs with 24-inch seat height are rated for at least 275 lbs and usually, they support 300 lbs, 400 lbs and more.
Ergonomics Is Important
The ergonomic chairs are created to support the body of users in an adequate way. That includes standards of posture, good support, comfort and health. A perfect ergonomic office chair meets these requirements:
1.seat height/width/depth/tilt adjustment,
2.backrest and lumbar support,
3.swivel armrests,
4.headrest.
If you can customize these features, then you can easily find the most comfortable seating position.
Best 5 Office Chairs With 24-inch Seat Height
On the market nowadays, there are a variety of office chairs with different designs, styles, sizes, colors, functions. Choosing the best office chair with the required 24-inch seat height can make a marked difference for your long-term health, work efficiency and comfort.
Nouhaus ErgoTask Office Chair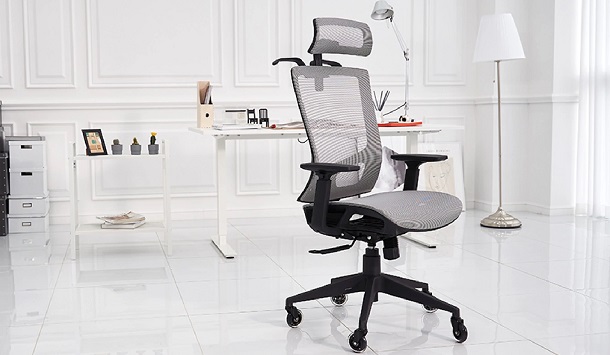 SPECIFICATION:
Material: Metal, aluminum, nylon
Dimensions: 25.9" x 25.3" x 44.8"
Capacity: 275 lbs

Color: Grey, black
Max Seat Height: 30.9"
Support: Back, head, arms
Nouhaus is a drafting and reliable chair with a lot of adjustabilities. But let's start with size. It's sized at 25.9" D x 25.3" W x 44.8" H. This chair has the lowest height of 23.4", so it's suitable for 7'3" people. Nouhaus supports a max weight of up to 275 pounds, so it's not an ideal choice for heavy people.
This chair has a perfect backrest made from ElastoMesh – it is breathable and ensures optimal airflow. There is no annoying sweating and sticking. Adjust seat height and armrest with ease. The seat height adjustment is outstanding, you can extend it from 23.4" to 30.9", which is quite impressive.
The armrests of the chair can be adjusted vertically upwards and downwards, which makes this chair suitable for any standing desk or high working surface. Also, there is a headrest, it angles upward and downward and supports your neck. Of course, the chair height is adjustable. Nouhaus is equipped with lockable anti-roll wheels.
Overall:
Ergonomics:
Capacity:
Comfort:
Assembly:
Functionality:
PRICE
approx:$220 – $310
determined by online offer (Amazon, Walmart, eBay) and seasonal sales
PROS
Suitable for standing desks and higher working surfaces
Impressive seat height adjustment
Supports your back, lumbar, arms, head and neck
CONS
Not for very heavy people
OFM Plush High-back Chair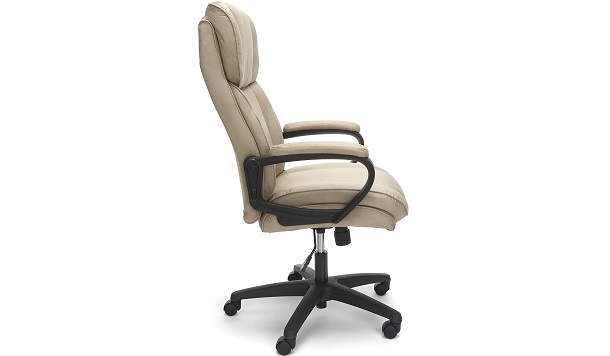 SPECIFICATION:
Material: Metal, fabric
Dimensions: 31.2" x 27" x 47"
Capacity: 250 lbs

Color: Tan, grey, brown
Max Seat Height: 24.5"
Support: Head, arms, back
This OFM ESS-3082 task chair will easily catch your attention. It looks very attractive and comfortable. Also, you can choose between three modern colors – tan, grey and brown. Whichever color you choose, it will add a touch of elegance to your office. The chair dimensions are 31.2" D x 27" W x 47" H.
It features plush cushioning on the seating area that will keep you comfortable all day long. Plus integrated headrests and armrests are equipped with plush microfiber upholstery. Its armrests are fixed, so you can't adjust them and change their position. With a tilt tension knob, you can adjust the resistance of reclining of the chair.
The seat height adjustment goes from 19.7" to 24.5", which is a very useful feature for tall people. It is recommended for people from 6'1" to 7'7". OFM has a high enough chair's back to fit tall people comfortably. Good lumbar support is provided by backrest microfibre. It is covered by OFM's 5-year limited warranty.
Overall:
Ergonomics:
Capacity:
Comfort:
Assembly:
Funcionality:
PRICE
approx:$140 – $280
determined by online offer (Amazon, Walmart, Target) and seasonal sales
PROS
Good amount of height adjustability
High chair's back provide great lumbar support
Hylone Drafting Office Chair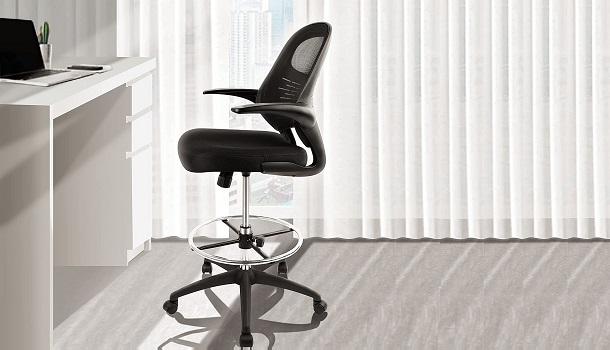 SPECIFICATION:
Material: Alloy steel, nylon
Dimensions: 26.5" x 26.5" x 47.8"
Capacity: 285 lbs

Color: Black, brown
Max Seat Height: 29.7"
Support: Arms, back
If you looking for a good chair for a drafting table and any other tall desk, the Hylone drafting office chair will be the perfect choice for your requirements. The chair size is 26.5" D x 26.5" W x 47.8" H. A 1-year warranty is provided by the manufacturer. The package includes a drafting chair and instructions, but assembly is very simple.
This drafting chair is ideal for working, drawing, reading, playing guitar and many other activities. Its heavy-duty base is equipped with nylon dual-wheel casters that offer great mobility. It rolls on both wood floor, carpet or tiles. Above the wheels, there is an adjustable footrest for various seating positions.
Hylone has a breathable mesh back that ensures air circulation and offers cool comfort during your day. Its soft sponge seat is wide and relieves pressure and promotes blood flow. Adjust the seat height from 21.7" to 29.7" and easily find your perfect ergonomic position. Flip-up arms save your space, move them upward when not in use.
Overall:
Ergonomics:
Capacity:
Comfort:
Assembly:
Funcionality:
PRICE
approx:$195 – $315
determined by online offer (Amazon) and seasonal sales
PROS
Space-saving ergonomic chair with flip-up arms
Nylon dula-wheeled casters ensure great mobility
CONS
Narrow seat width, not for heavy people
CoVibrant Adjsutable Office Chair
SPECIFICATION:
Material: Metal, leather
Dimensions: 15.7" x 15" x 31"
Capacity:300 lbs

Color: Black
Max Seat Height: 27"
Support: back
CoVibrant is a perfect chair for short-term sitting and mobility. This highly portable office chair can be easily moved around from room to room. Choose between off-white, grey and black colors. CoVibrant is sized at 15" D x 15" W x 31" H. It is a great secondary chair for tall people.
This chair has an affordable price and good ergonomics. It supports a maximum weight capacity of up to 300 pounds. There is a sturdy chrome footrest construction that makes your sitting more comfortable. The cushioned seat measures 15 inches in diameter and 3.7 inches in thickness.
The curved backrest can be adjusted depending on your body type and preferences. CoVibrant has adjustable seat height, the range goes from 21" to 27". This 360-degree chair is lightweight and suitable for small offices and home offices. Durable wheels ensure smooth movement.
Overall:
Ergonomics:
Capacity:
Comfort:
Assembly:
Funcionality:
PRICE
approx:$95 – $125
determined by online offer (Amazon, Walmart, eBay) and seasonal sales
PROS
Ideal for small home offices and offices
Sturdy footrest provides added relaxation
La-Z Boy Delano Office Chair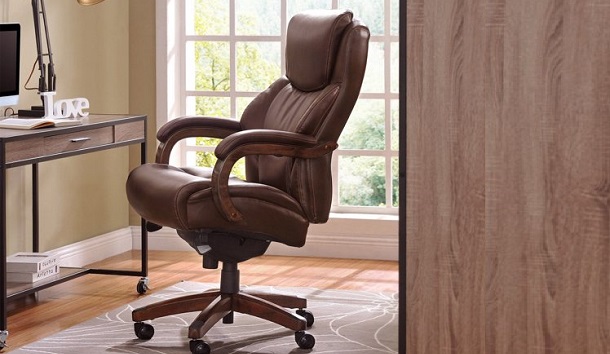 SPECIFICATION:
Material: Metal, wood, leather
Dimensions: 32.2" x 27.5" x 45"
Capacity: 350 lbs

Color: Brown, black
Max Seat Height: 25"
Support: Arms, back, neck
La-Z Boy Delano is a big and tall office chair with an elegant appearance and comfortable design. This chair will fit perfectly in an office designed from glossy wood. It features two outstanding characteristics that differ this chair from many others – glossy bonded leather and premium wood frame.
It is covered by five different layers at cushions to ensure the most comfortable seating experience. Integrated memory foam provides great support and lasts for a long time. The overall chair dimensions are 32.2" Dx 27.5" W x 45"H. The seat depth is 21" and the seat width is 21.5".
Adjust the chair height from 45" to 48" height range and create a perfect adjustment for your body. The chair tilt is also adjustable. La-Z Boy Delano surpasses rigorous BIFMA testing standards and supports up to 350 pounds. As primary making from wood and leather, this chair requires careful maintenance.
Overall:
Ergonomics:
Capacity:
Comfort:
Assembly:
Functionality:
PRICE
approx:$460 – $640
determined by online offer (Amazon, Walmart, Target) and seasonal sales
PROS
Outstanding premium wood and leather chair design
Surpass rigorous BIFMA standards
High weight capacity
CONS
Require careful maintenance
What Is The Adjustable Height Range Of These Chairs?
These chairs could come with a max seat height of 24" or they can have a wide height range adjustment. Also, when buying this kind of chair, don't forget about your desk dimensions. These two pieces of office equipment should match perfectly.
Min & Max Seat Height Range
All ergonomic office chairs have adjustable seat height to support various body types and sizes. The usual seat height range of these 24-inch seat height chairs goes from 21" to 30". Meaning, you can adjust it on min seat height of 21", then 24", 25", 27" and even 29" or 30" of seat height.
Suitable Desk Height For This Chair Type?
Matching your desk and chair height is important to avoid pain and even potential injuries because of bad body posture. The standard office desk height ranges from 28 to 30 inches. So, how can you measure optimal chair and desk height? There is a general rule – add or minus 0.4 inches from a 29-inch desk height for every inch in height difference from 6 feet. Also, 24-inch seat height chairs are very good for tall and standing desks.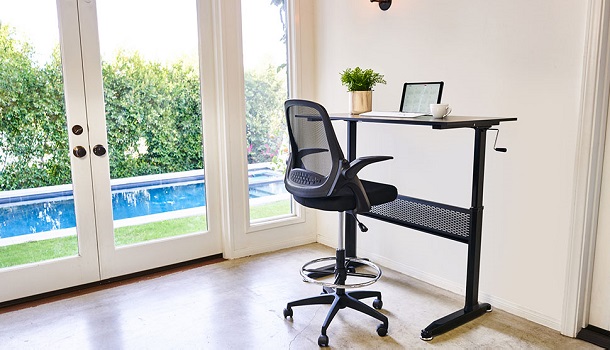 How Easy Is It To Assemble That Chair?
The assembly process depends on every office chair model. Usually, you have to attach the back and seat to armrests (if the chair has them), then place it on the base. Many office chairs can be assembled within 30 minutes by yourself. If you are more skilled, you can do it even faster. In any case, your chair will come with included tools and instructions while some manufacturers offer assembly video. There is one interesting fact, cheaper office chairs require a lot of assemblies, while more quality ones don't.