Are you looking for a small lamp that fits on any table and provides good reading light?
Then you are in the right place! Keep reading because we described some of the best small reading lights currently available in the market. Find out more about their features and learn how to pick the best lamp for your needs.
Our Top Picks
Best 6 Small Reading Lights
BEST OF BEST SMALL READING LIGHT
TaoTronic Desk Lamp
Popular Brand
Taotronic is the most popular desk lamp in the market. This brand produces quality and durable lamps for different purposes. This small lamp comes with a power adapter and user manual included in the package. It is made of plastic and its price is affordable.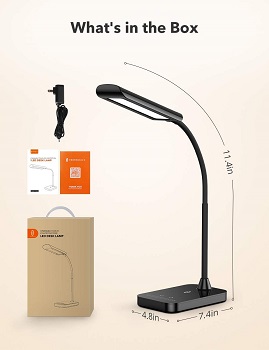 Classic Design
This small reading light is available in black color only. It features a classic and sophisticated design that complements just about any interior. There is an eye-friendly LED panel that doesn't emit harmful light which causes eye strain and eye fatigue.
USB Charging Port
TaoTronic adjustable arm desk lamp allows you to work or read for hours. There is a convenient 5V/1A USB charging port placed on the bottom of the desk lamp. You can charge your mobile phone, e-reader, table while you're reading. Practical and useful feature.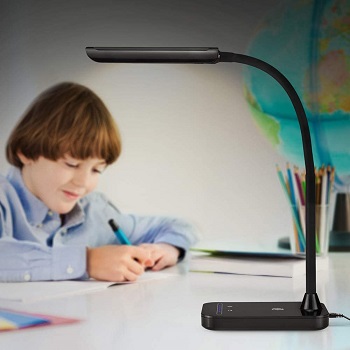 Smart Touch Panel
Adjust the lamp gooseneck to direct the light beam exactly where needed. You can choose between five lighting modes and 7 brightness levels. Change the settings on the smart touch panel, slide to adjust the brightness and tap if you want to change the color mode.
Highlighted Points:
popular desk lamp for reading
comes with a power adapter
classic and sophisticated design
eye-friendly LED panel
5V/1A USB charging port
smart touch panel
BEST CLAMP SMALL READING LIGHT
Lepower Reading Lamp
UL-certified Adapter
Lepower lamp is available in three colors, so you can choose between black, silver and white. This affordable lamp comes with a user manual, UL certified 2-pong USB AC adapter and cable that is 5 feet long. It can be used with a normal 110V household current.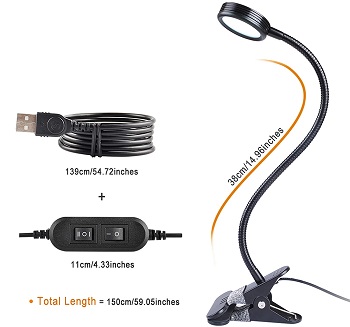 Strong Clamp
Use this small reading light on your desk, table, shelf, headboard or cabinet. Its strong clip comes with a scratch-resistant pad that won't damage your desk or table. The maximum clamping distance is 2.36 inches. Lepower provides a comfortable lighting environment.
Eye-friendly Light
This adjustable desk lamp doesn't cause eye strain or eye fatigue. You can work or read for hours. There are two switches on the cord. One switch has three options – off, warm light and white light. With another switch, you can adjust the dim or bright brightness.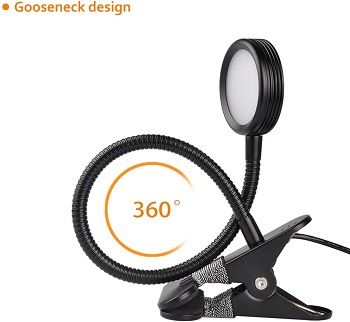 Gooseneck Design
Choose the warm light for relaxation, yoga, meditation. If you need a concentration while you're reading or learning, set for the white light. It will keep you awake and boost your energy. The lamp arm can be easily adjusted for up to 360-degree.
Highlighted Points:
available in three colors
comes with a UL-certified adapter
the strong clip comes with a pad
no eye fatigue or eye strain
adjustable color modes and brightness
flexible gooseneck
BEST LED SMALL READING LIGHT
Ewenop LED Reading Lamp
ABS Material
Ewenop lamp is available in black, blue, gold, grey, pink and white color. This lamp is suitable for everyone. It is made of quality ABS material. The lamp base diameter is 5.6 inches, the stem is 9.4 inches high and the lamp head diameter is 4.9 inches.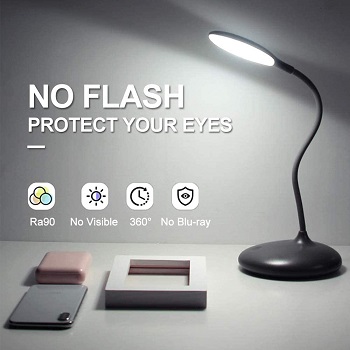 Rechargeable Battery
It features a built-in rechargeable 1200 mAh li-pro battery. When fully charged you can use it for 2.5 to 4 hours, depends on chosen settings. You can charge it by USB cable and USB charging port. The USB port is located on the lamp base.
Anti-slip Films
This small reading light uses 16 LED beads that emit flicker-free and non-glaring light, safe for your eyes. Ewenop LED reading lamp has five anti-slip films on the bottom of the lamp. It won't fall or tip over so easily. Its round lamp base is space-saving.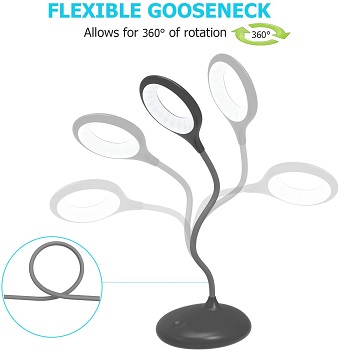 3 Brightness Levels
Ewenop is ideal for reading and studying. It is covered with a 1-year warranty. You can choose a suitable brightness according to your current tasks. There are 3 brightness levels, change them with a button placed on the lamp base. The 360-degree gooseneck design provides easy adjustment.
Highlighted Points:
multiple colors available
covered with a 1-year warranty
three brightness levels
adjustable gooseneck design
flicker-free and non-glaring light
BEST BATTERY OPERATED SMALL READING LIGHT
Vekkia Amber Rechargeable Lamp
Affordable Price
Vekkia is a small and compact lamp available in black, blue, red and white color. It is a lightweight lamp suitable for travel. The strong clip comes with a soft pad so it won't scratch or damage your book, notebook, e-reader. Vekkia features an affordable price.
Light Indicator
It features a rechargeable 1000 mAh lithium battery. This battery ensures 70-hour of wireless reading or studying experience, without charging. When it's fully charged, the blue light appears and when during the charging, you'll see a red light indicator.
360-degree Rotation
This small reading light comes with a charging cable included in the package. The battery-operated reading lamp has a flexible neck, it provides 360-degree rotation. Direct the light exactly where needed. Vekkia is perfect for reading in the bed, it won't disturb your partner.
Highlighted Points:
small and bendable lamp
available in multiple colors
lightweight and portable lamp
the strong clip comes with a soft pad
built-in rechargeable battery
BEST VINTAGE SMALL READING LIGHT
Melunar Brass Desk Lamp
Stunning Lamp
Melunar is a really beautiful vintage lamp that will uplift any bedroom, living room, guest room environment. It is vintage-inspired and comes in a matte brass finish. The lamp base measures 5.5 inches in diameter, its height is 19 inches and the lampshade has 5.5 x 6.5 inches.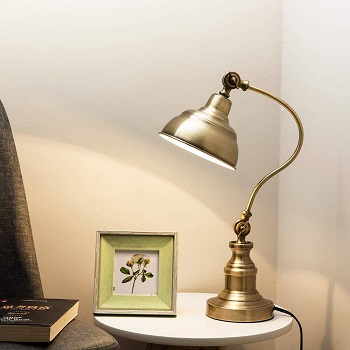 Metal Base
Use it for both, practical and decorative purposes. Its sturdy metal base is stable, so it won't tip over easily. Melunar small reading light is suitable for desk, table, nightstand, coffee table and end table. It fits in offices, too. This small reading lamp has a high price.
Long Power Cord
This vintage reading lamp has UL-listed vintage brass. Its shape is like a Kerosene lamp. The on/off switch is located on the power cord. The length of the cord is 56 inches, it's long enough. The bulb isn't included in the package, you need to buy it separately.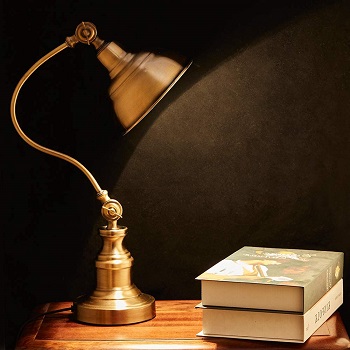 Adjustable Lamp Height
Melunar requires a type A 40W bulb. You can rotate the lamp head and adjust the lamp height according to your needs. You need to unscrew the button to adjust the angle of the lampshade and the angle of the pole. Melunar ensures a comfortable environment.
Highlighted Points:
stunning vintage lamp
finished in matte brass
suitable for traditionally designed rooms
long power cord included
requires a type A 40W bulb
adjustable lamp height and lamp head angle
BEST MODERN SMALL READING LIGHT
Afrog Multifunctional Small Lamp
Lamp Dimensions
This modern white lamp fits stylish living rooms, dorms, study rooms, bedrooms. You can place it on your desk, table, workbench, end table, coffee table, etc. It fits anywhere. The lamp base features 5.3 x 4.7 inches, the stem is 11.8 inches high and the lamp head is 6.7 inches long.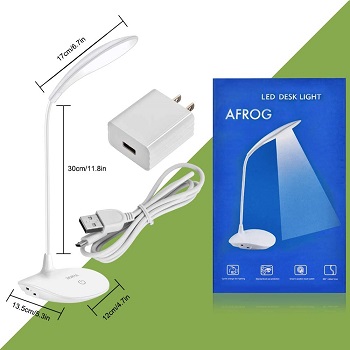 5V/2A Adapter
This small reading light is covered with a 1-year warranty. It is equipped with 5V/2A adapter and universal USB cable. Afrog can be powered by a power bank, laptop, PC, car charger, etc. Use it for reading, painting, camping, working, drawing and so on.
Working Time – 4 Hours
There is a built-in 2000 mAh rechargeable battery, it lasts for 4 hours at the highest brightness level. Meaning, it is a portable and practical lamp. The light indicator turns red when charging and it turns blue when the lamp is fully charged.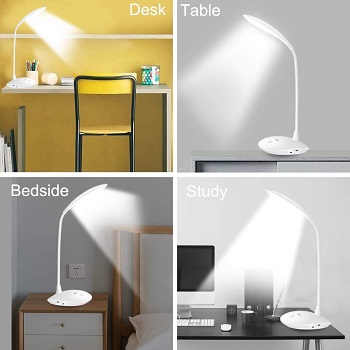 24 LED Bulbs
This modern LED table lamp features 24 energy-efficient LED bulbs that provide 6W of natural light. There is no flickering or glaring. You can choose between different light modes, there are three settings. Tap the touch control button on the lamp base.
Highlighted Points:
modern white LED lamp
equipped with 24 LED bulbs
built-in rechargeable battery
5V/2A adapter and USB cable
light indicator during charging
three lighting modes
Things To Know About Small Reading Lights
There is a wide range of small reading lights in the market, so before buying, it is necessary to learn more about basic lamp features. They are described in the section below.
Color Temperature – Color temperature is measured in Kelvin (K). The higher the K, the cooler the light is. The color temperature could range from 2700K to 6000K. The 2700K is warm light ideal for an intimate atmosphere.  The best reading lamp provides a color temperature of 4000K.
Bulb Type – If you don't want to change the bulb every month or so, then consider the LED bulb. This type of bulb lasts longer, for example, it could be rated for up to 50,000 hours. Furthermore, these bulbs are energy efficient and produce low heat.
Portable Lamp – If you travel a lot, consider a portable lamp. This cordless lamp type has a rechargeable battery, meaning, you don't have to buy a new battery, but recharge it. Also, it should fit into your bag or backpack, so check if it has a bendable design.
Adjustable Neck – Lamps with flexible neck allow you to direct the light where needed. There are lamps with adjustable necks and gooseneck. Lamps with gooseneck ensure rotation and maneuver in different positions. Move the light closer or farther away.
Lamp Size  – The size depends on few factors, where, how and what for you want to use the lamp. The common rule is the larger the desk, the larger the lamp, so it could cover the entire desk space. But small lamps have many advantages, they are bendable, you can fold them and take them with you and use them anywhere.