Do you want to check black 3-drawer file cabinets but made of different materials?
If you do, then think about buying some of the file cabinets we will review in this post. Those models are made of steel, metal, wood and offer different features. Our buying guide will help you to decide which model is ideal for you.
Our Top Picks
Best 6 Black 3-drawer File Cabinets
BEST OF BEST BLACK 3-DRAWER FILE CABINET
Bowery Hill 3-drawer Letter File Cabinet
Limited Lifetime Warranty
Bowery Hill is a compact black file cabinet designed for personal use. Except for black color, there are charcoal, med tone and white. This model weighs 62 pounds and measures 27.7 inches in height, 19.8 inches in depth and 15 inches in width. The manufacturer ensures a limited lifetime warranty.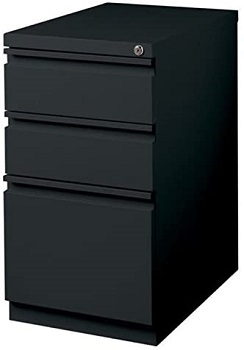 Water-resistant Surface
This black 3-drawer file cabinet is manufactured using 30% total recycled materials. Its steel construction is able to withstand years of use. The surface is non-porous and resistant to water and scratches. You can clean it easily with a damp cloth or mild soap.
Swivel Casters
Move this small metal filing cabinet with ease, there are hidden swivel casters. Bowery Hill offers two small drawers for office essentials, like notepads, notebooks, scissors, tapes, pens, etc. Below those two drawers is a larger drawer designed for documents.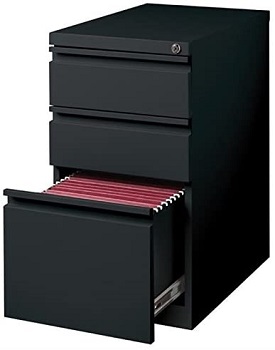 Core-removable Lock
The file drawer is capable to hold hanging file folders. There is no need for additional accessories. All three drawers glide on precision ball-bearing slides that provide smooth and quiet drawer performance. Included counterweights add stability.
Highlighted Points:
steel construction designed for long-term use
water and scratch resistant surface
hidden casters for mobility
two small drawers hold office essentials
file drawer accommodates hanging files
counterweights prevent tipping over
BEST METAL BLACK 3-DRAWER FILE CABINET
Cooper 3-drawer letter File Cabinet
Tall File Cabinet
This space-saving file cabinet is the ideal solution for small offices or for home office use. The overall product weight is 27 pounds and its dimensions are 35.5 inches in height, 14.25 inches in width and 18 inches in depth. It is taller than standard filing cabinets.
Easy To Maintain
The assembly is required, but you can finish it with a little effort. It is manufactured using 30% of total recycled materials. Its steel construction features a non-porous surface painted in black, which is easy to clean and maintain. Also, it matches any office decor.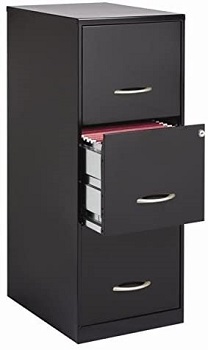 TAA Compliant Product
This black 3-drawer file cabinet is TAA compliant product, which means it is made in the USA or another country, but not China. There are three drawers equipped with elegant silver handles. Cooper letter file cabinet features three-quarter extension drawers.
Lockable Drawers
All three high side drawers accommodate standard or letter-size file folders. Also, you can use them for other office supplies. You can easily open and close all three drawers. The built-in lock secures two top drawers, so put your sensitive documents there.
Highlighted Points:
the assembly is required
30% total recycled material
tall file cabinet with high side drawers
patented three-quarter drawer extension
drawers accommodate letter-size files
lock secures two top drawers
BEST WOOD BLACK 3-DRAWER FILE CABINET
Devaise 3-drawer Mobile File Cabinet
Wooden File Cabinet
Devaise is a popular brand that produces quality metal and wooden file cabinets. This model is made of high-quality engineered wood. It is scratch and water-resistant to ensure the longevity of the product. Clean it with a damp cloth or mild soap.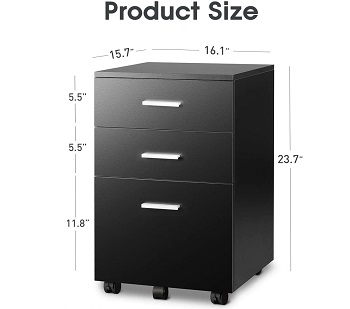 Recycled Product
There is 90% of total recycled content. Devaise weighs 39 pounds and it's 23.7 inches tall, 16.1 inches wide and 15.7 inches deep. Its solid construction supports a maximum weight capacity of 150 pounds. This black 3-drawer file cabinet requires assembly.
Casters With Brakes
Devaise features five rolling casters for easy movement, two front casters come with brakes. Also, there is a small anti-tip caster that prevents tipping over. When all drawers are open, this caster keeps the file cabinet stable. All drawers glide on high-quality ball-bearing slides.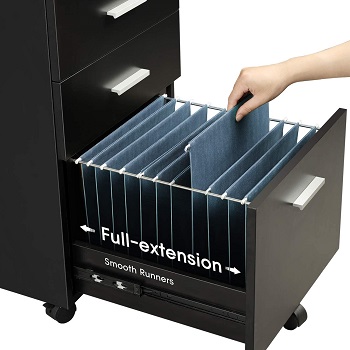 Included Hanging Frames
This dark wood filing cabinet features three drawers for office supplies and files. Two top drawers have smaller dimensions, so fill them with office essentials. Below them, there is a file drawer that holds standard-sized file folders. Hanging frames are included.
Highlighted Points:
crafted of durable engineered wood construction
easy to clean and maintain
it requires assembly
four swivel casters with brakes
anti-tip caster prevents tipping over
two small drawers and a file drawer
BEST ON WHEELS BLACK 3-DRAWER FILE CABINET
Hirsh 3-drawer File Cabinet Black
Affordable Price
Hirsh is a pedestal filing cabinet that weighs 77 pounds and measures 27.7 inches in height, 15 inches in width and 22.8 inches in depth. Available in black color only. Its height allows you to roll it under your office desk or other work surfaces. The price is affordable.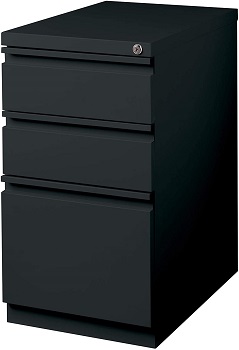 Industry Standards
This black 3-drawer file cabinet arrives pre-assembled and the package includes a limited lifetime warranty. Hirsh meets ANSI/BIFMA industry standards for safety and quality. Moreover, it is a Greenguard Gold certified item, so it's safe for the environment.
Hidden Casters
Its steel construction is crafted of durable steel with a non-porous surface. It is easy to clean and maintain, wipe it with a wet or damp cloth. You can easily move this small rolling file cabinet, it is equipped with hidden casters to provide a clean, integrated appearance.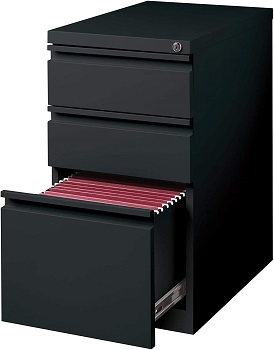 Ball-bearing Suspension
These three drawers glide on commercial-grade ball-bearing suspension for smooth performance. Fill two small drawers with office supplies and the file drawer accommodates letter-size hanging files. Lock secures all three drawers at the same time.
Highlighted Points:
meets ANSI/BIFMA standards
features Greenguard Gold certificate
equipped with hidden casters
two box drawers and a letter file drawer
durable steel construction with non-porous surface
BEST LOCKED BLACK 3-DRAWER FILE CABINET
Songmics File Cabinet With 3 Drawers
Personal File Cabinet
Songmics is a compact personal file cabinet that fits anywhere, put it under your office desk or in the corner of the room. This model is available in black color only, so it will match any office decor. The unit size is 18.9 inches in depth, 15.4 inches in width and 23.6 inches in height.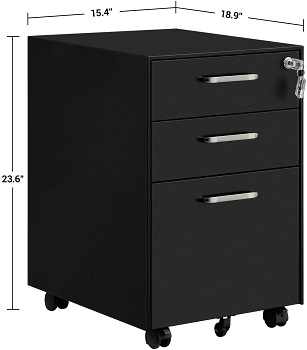 Five Casters
Its price is affordable and the product arrives fully assembled. All you need to do is install the casters. There are four quality casters with brakes, for stable placement. Also, there is an extra caster for added stability. You can roll it from one room to another with ease.
Solid Construction
This black 3-drawer file cabinet is made of high-quality steel material. It is a durable and sturdy item. The handles are made of nickel. All three drawers glide on full-extension slide rails that allow you to open those drawers quickly and smoothly.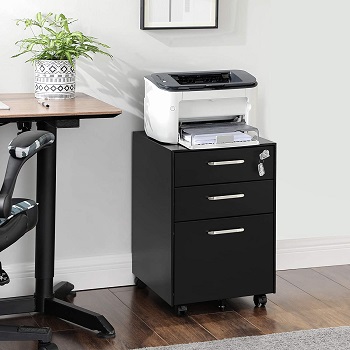 Built-in Lock
Two top drawers are smaller and they are designed for office supplies storing. There is a removable stationary tray included in the top drawer. This black locking file cabinet has a file drawer that accepts letter or legal-size file folders. It comes with hanging rails. Built-in lock secures all three drawers.
Highlighted Points:
fully assembled item with durable steel construction
four casters with brakes + anti-tip caster
three full extension drawers
file drawer hold letter or legal files
hanging rails and stationary tray are included
>BEST LATERAL BLACK 3-DRAWER FILE CABINET
Hon Brigade 3-drawer File Cabinet
High-activity Filing
Hon made these Brigade lateral file cabinets designed for high capacity filing in small and medium-sized offices. Except for the black color, it is available in charcoal, light grey and putty. Also, you can choose between 2, 3, 4 or 5 drawers. The price is higher.
Tested Item
Product dimensions are 19.25 inches in depth, 36 inches in width and 39 inches in height. The manufacturer uses advanced machinery and quality testing to produce high-quality products. This black 3-drawer file cabinet is covered with Hon full lifetime warranty.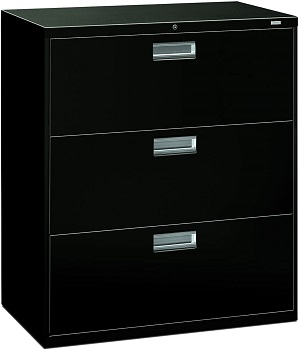 All-Welded Construction
All welded steel construction is able to withstand years of use. Moreover, the double-walled base keeps the file cabinet frame perfectly aligned. There are leveling glides that compensate for uneven floor or rug. Counterweighs are installed to maintain stability.
Mechanic Interlock System
This black lateral file cabinet features three drawers that glide on heavy-duty ball-bearing slides. That provides smooth drawer performance. All three drawers hold letter or legal hanging file folders. The mechanic interlock allows opening one drawer at a time.
Highlighted Points:
available in four colors
tested product covered with Hon full lifetime warranty
all-welded steel construction with a double-walled base
three drawers glide on smooth ball bearing slides
accommodates letter and legal size hanging files
counterweights maintain the file cabinet stable
Things To Know About Black 3-drawer File Cabinet
There are some factors you should consider before you buy a black 3-drawer file cabinet. Learn more about file cabinet construction, which material they are made from, which design is the best for your requirements, etc.
File Cabinet Material – The file cabinets can be made of wood, steel, metal, plastic and aluminum. The most common are wooden and steel file cabinets. Wooden items provide a more traditional vibe and come in a variety of finishes. The steel models are very durable and designed for demanding work environments.
Drawer Quantity – The number of drawers depends on the amount of paper you need to store. But there are items that are capable to store your documents and office supplies. So, you can have all you need in your arm's reach. Keep your notepads, notebooks, pens and documents near your work surface.
Vertical Or Lateral – Ont eh list above, you can see five vertical filing cabinets and one lateral file cabinet. Vertical file cabinets are often known as a typical style of filing cabinets, they offer deeper drawers. Lateral ones are wide and horizontal in design.
Mobility  – If you want to be able to move your file cabinet with ease, consider a model with casters. This feature allows you to transport the unit and documents from one office to another. Always buy a file cabinet that features brakes on casters.
Anti-tilt Mechanism – If you don't want your black 3-drawer file cabinet to fall forward, then you should look out for models with an anti-tilt design. Some filing cabinets feature integrated counterweighs that keep the file cabinet stable, some come with an additional caster that provides extra support.