Are you looking for an elegant file cabinet that suits your office?
Did you consider black latera file cabinet? If you didn't, then keep reading this review. Finding the best file cabinet for your office means you need to consider its design so that it matches its surroundings. There are top-rated models and useful info below.
Our Top Picks
Best 6 Black Lateral File Cabinets
BEST OF BEST BLACK LATERAL FILE CABINET
Hon Filing Cabinet
Commercial Quality
Hon is a popular and high-quality filing cabinet suitable for demanding work environments. It delivers commercial-grade quality on a home-office budget. You can choose between 2 or 4 drawers. Also, there are black, light grey and putty colors available.
All-welded Design
It weighs 109 pounds and has 30 inches in width, 19.3 inches in depth and 32 inches in height. Hon is suitable for home offices or small businesses. Its all-welded design with a double-walled base is able to withstand years of rigorous use.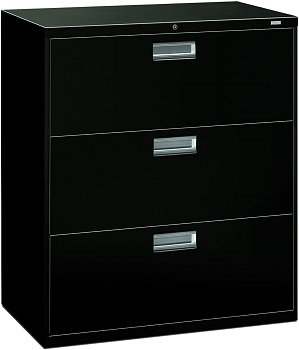 Counterbalance Weight
There are leveling glides on the black lateral file cabinet bottom that compensate for uneven floor. The mechanical interlock system makes sure only one drawer is opened at a time. Moreover, there are built-in counterweights that keep the file cabinet upright. These features prevent tipping over.
Removable Lock Cores
This black locking file cabinet has two full-extension drawers that you can open and close with ease. Keep your letter- and legal-size file folders neatly organized. The side-to-side rails are included in the package. There are removable lock cores that can be replaced.
Highlighted Points:
all-welded design with double-walled base
vertical reinforcement keeps the file cabinet sturdy
two drawers are fitted with side to side rails
full-extension drawers glide on ball-bearing slides
replaceable lock cores
commercial-grade quality
BEST WOOD BLACK LATERAL FILE CABINET
Bush Furniture Salinas File Cabinet
Salinas Collection
Bush Furniture made the Salinas collection, there are stylish and comfortable file cabinets that suit your casual home office. It is backed by a 1-year warranty and tested. So, this model meets ANSI/SOHO standards for safety and quality performance.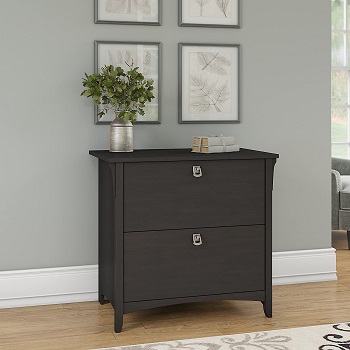 Decorative Wood Details
This black lateral file cabinet features decorative wood details, curved base rails and elegant metal handles. Construction is made of durable engineered and sustainable wood. Bush Furniture weighs 82 pounds and measures 30 inches in height, 20 inches in depth and 31 inches in width.
Vintage Look
The black wood lateral file cabinet is finished in vintage black with distressed touch. There are more finish options – Cape Cod grey and cream-colored antique white. This black wood filing cabinet 2-drawer provides ample storage space for all your home office needs.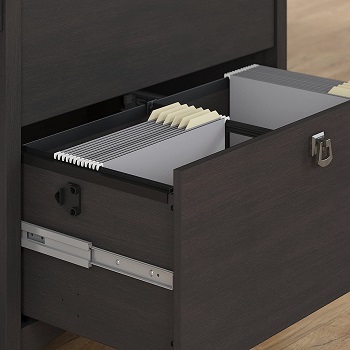 Tapered Legs
There is a spacious top surface with a high weight capacity of 200 pounds. Use it for the printer, scanner, books, decorations. The entire construction stands on tapered legs. Two full extension drawers hold letter- and legal-size file folders and glide on smooth metal runners.
Highlighted Points:
high-quality engineered wood construction
vintage black finish with a distressed touch
decorative wood details, curved base rails
the tested product meets quality standards
spacious top and two large drawers
BEST 2-DRAWER BLACK LATERAL FILE CABINET
Giantex 2-drawer Lateral File Cabinet
No Deformation
Giantex is a convenient and functional file cabinet which construction is made of engineered wood. This wood is stronger than ordinary wood and has a high load capacity. Its surface is resistant to scratches and deformation even after years of use.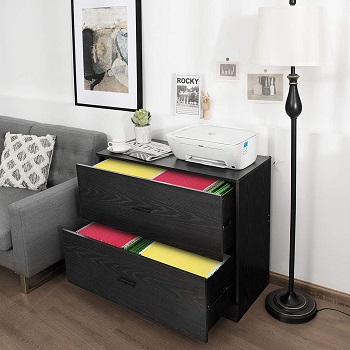 Solid Construction
This black 2-drawer lateral file cabinet is 30 inches tall, 35.5 inches wide and 16 inches deep. It weighs 65 pounds. You need to assemble it, each part is labeled, so follow the instruction. There are screws to fix the joint of each board, which makes the structure very solid.
Smooth-gliding Mechanism
Giantex black lateral file cabinet has a spacious top that holds up 70 pounds, place your scanner, printer or books on it. Each drawer of the file cabinet has unique and small handles for easy access. The bottom of each drawer is equipped with a metal smooth gliding mechanism.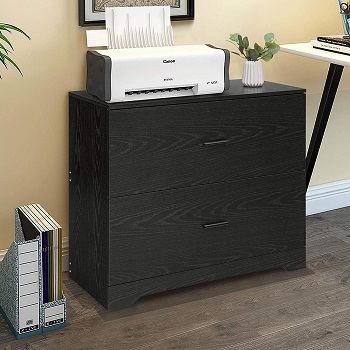 Anti-tip Kit
This black two-drawer file cabinet is able to hold hanging files, there are adjustable steel bars included. There are anti-topping parts on the back panel which prevents topping. It isn't recommended to open both drawers at the same time if the file cabinet isn't fixed on the wall.
Highlighted Points:
engineered wood construction
the timeless black wood grain surface
it requires assembly
spacious top for office device storing
two drawers for hanging files
anti-topping parts included
BEST METAL BLACK LATERAL FILE CABINET
ModernLuxe Lockable File Cabinet
Easy To Maintain
ModernLuxe file cabinet is a large item, ideal for space-limited offices that require high capacity filing. It fits in any office or home office decor. You can find it in black and white color. It is easy to clean and maintain, use a damp or wet towel. Its price is acceptable.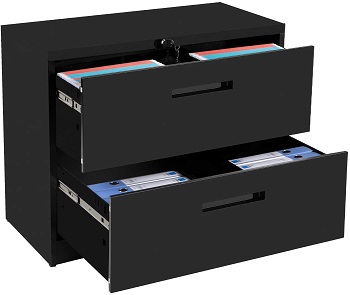 Plastic Pads
There are plastic pads on the file cabinet bottom that protects your floor from damage and scratches. Construction is made of high-quality metal and coated with powder. This black lateral file cabinet measures 28.4 inches in height, 17.7 inches in depth and 35.4 inches in width.
High Load Capacity
Its heavy-duty design provides high load capacity. You can put your printer, scanner, fax machine, books or other items on its top. ModernLuxe file cabinet features two spacious drawers that are suitable for hanging letter and legal file folders. There are two hanging rails in each drawer.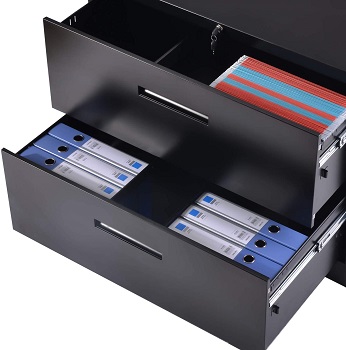 Metal Runners
Both drawers glide on smooth metal runners, for easy drawer performance. This lateral file cabinet metal model features a built-in lock with two keys. With a single key, you can lock both drawers. Built-in handles are convenient and provide easy open/close.
Highlighted Points:
durable metal construction with the powder coating surface
plastic pads protect your floor from damage
provides high capacity filing
two spacious drawers for hanging files
built-in lock with two keys
both drawers glide on smooth metal runners
BEST LOCKING BLACK LATERAL FILE CABINET
Bonnlo Lateral File Cabinet
Demanding Assembly
Bonnlo is a large lateral file cabinet that requires assembly. It requires 2-3 people about 2-3 hours to assemble it. You can watch the installation video, it is available. Backed by a one-year limited warranty. This model is available in black color only.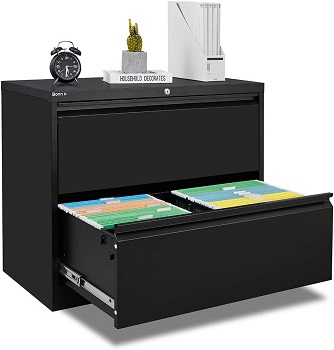 Quality Exterior Finish
Product dimensions are 35.5 inches in width, 17.7 inches in depth and 28.7 inches in height. Because it is a large item, this black lateral file cabinet is ideal for medium-sized offices. Its construction is made of sturdy metal with a high-quality exterior finish. Bonnlo holds up to 330 pounds.
Full-extension Drawers
The top surface is strong enough to hold the printer or scanner on. Two spacious drawers are able to hold both letter- and legal size hanging file folders. Full-extension ball-bearing slides on drawers provide smooth drawer performance, you can access your files easily.
Center Lock
This modern locking file cabinet has a center lock above the top drawer. With a single key, you can lock both drawers at the same time. Keep your private and confidential documents safe. The package includes adjustable hanging rails for file storing.
Highlighted Points:
modern and functional lateral file cabinet
max weight capacity is up to 330 pounds
two full-extension drawers
both drawers hold hanging file folders
package includes hanging rails
BEST HOME OFFICE BLACK LATERAL FILE CABINET
Devaise 2-drawer Lateral File Cabinet
Unit Size
Devaise is an elegant file cabinet that is available in black, grey oak and walnut color. It is ideal for home office use. The product weighs 77 pounds and measures 29.4 inches in height, 35.4 inches in width and 15.7 inches in depth. Its price is affordable.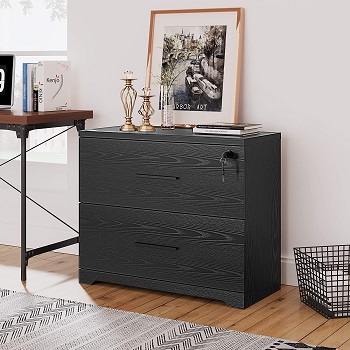 Engineered Wood
This black lateral file cabinet features stable construction made of quality engineered wood. Its structure is reinforced to ensure years of use. The heavy-duty design supports up to 220 pounds. The surface is water and scratch-resistant and easy to clean.
Two Drawers
You can place a printer stand, scanner, books or decorations on the file cabinet top. There are two large drawers equipped with elegant black handles. Both drawers are fitted with removable drawer dividers for better file organization.
Anti-tilt Mechanism
This file cabinet that look like furniture accommodates letter and legal size file folders. With high-quality full-extension slides, you can open and close the drawers smoothly. The anti-tilt mechanism allows you to open one drawer at a time.
Highlighted Points:
durable engineered wood construction
scratch and water-resistant surface
easy to clean and maintain
max load capacity – 220 pounds
two large drawers with elegant handles
they accommodate letter- and legal-size files
Things To Know About Black Lateral File Cabinet
There are many black lateral file cabinets on the market, so we prepare this buying guide with some info. Consider some factors before your purchase and you'll find the best model for your office.
Wood/Metal – These are the most common materials, so pick the material that suits your current office decor. If you are interested in wooden items, you can choose between multiple finishes. Steel file cabinets are durable and come in vivid colors.
Benefits Of Lateral File Cabinet – The modern lateral file cabinets handle bulk paperwork in high volume work environments. These file cabinet types feature larger front panel than the side panels, that makes it wider than deeper.
Drawer Quantity – The standard lateral file cabinet can hold anywhere between 2 to 5 drawers. The most common are black lateral file cabinet with two drawers. They are compact and economical on space, hence can fit in cubicle workstations where they can be placed underneath the desk.
Counterbalance Weight – You can find it in both vertical and lateral file cabinets. These weights are usually made of concrete, lead or other heavy materials. They are built into the bottom of the file cabinet to reduce tipping and to add stability.
Types Of Filing – There are two types of filing – front to back or side to side. More popular is side to side filing, it allows for easy search of folders based on their labels. It is important to check if folders are able to hold letter- and legal-size files.