Are you looking for a black file cabinet that keeps your important files secured?
Then the black locking file cabinet is a perfect solution for you. It not only keeps your documents organized, but it also keeps them secured with the addition of locks. If you need help in finding the best model, we have prepared a list of the best item and useful info.
Our Top Picks
Best 6 Black Locking File Cabinets
BEST OF BEST BLACK LOCKING FILE CABINET
HON 2-drawer File Cabinet
Commercial-grade Quality
Hon filing cabinet is designed for demanding work environments. It features solid steel construction, reinforced with vertical struts and a double-walled kickplate. So, this file cabinet is resistant to impact and designed for long-term use. Its price is high.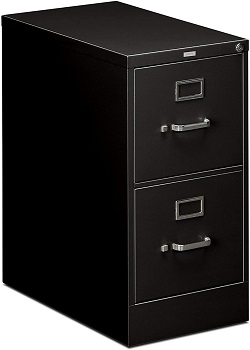 No Assembly
The assembly isn't required and the Hon provides a lifetime warranty. Overall dimensions are 35.7 inches in height, 28.8 inches in depth and 17.6 inches in width. You can choose between models with two or three drawers. Also, there are black, light grey or putty colors available.
Certified Item
This black locking file cabinet is tested and it meets ANSI/BIFMA performance standards for safety and environmental quality. There are two drawers that glide on full-extension ball-bearing slides. You can open and close both drawers quickly and quietly.
Removable Lock
This small 2 drawer file cabinet has core-removable locks that can be replaced when needed. You can store your private and confidential files in these drawers. Both drawers are equipped with hanging rails and they hold standard size file folders.
Highlighted Points:
commercial-grade file cabinet
reinforced steel construction with double-walled front plate
meets ANSI/BIFMA quality standards
full extension drawers that open easily
hanging rails are included
removable lock secures your files
BEST 2-DRAWER BLACK LOCKING FILE CABINET
Devaise Vertical File Cabinet
Reliable Item
Devaise is a popular and quality brand which products are reliable and durable. This is a classic under desk office file cabinet that fits well with most office decors. There are two colors on offer – white and black. Its package contains a file cabinet, casters and assembly instruction.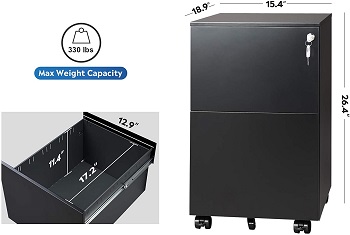 Unit Size
This small black filing cabinet weighs 38 pounds and measures 26.4 inches in height, 18.9 inches in depth and 15.4 inches in width. Its construction is made of sturdy steel, so Devaise is able to support up to 330 pounds. The manufacturer provides a 1-year warranty.
Two Drawers
Devaise features two roomy drawers, you can use them for files and office supplies. If you want to store documents, both drawers hold letter- and legal size hanging file folders. These full extension drawers glide easily, you can reach all your stored files.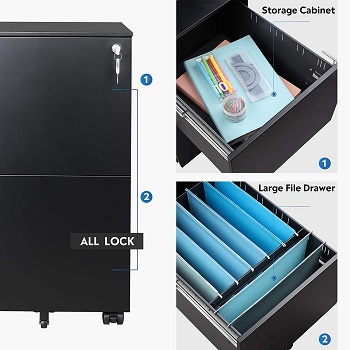 Two Keys
For more security, there is a sealed base that protects your stored items. This black locking file cabinet is mounted on four swivel casters for easy mobility. On the upper drawer is a lock mechanism, it locks both drawers at the same time. Two keys are included in the package.
Highlighted Points:
classic file cabinet that fits anywhere
assembly is required
sturdy steel construction supports 330 pounds
two full-extension drawers
both drawers hold hanging file folders
mobile item equipped with swivel casters
BEST 3-DRAWER BLACK LOCKING FILE CABINET
Yitahome 3-drawer Filing Cabinet
Personal File Cabinet
Yitahome is a small personal file cabinet designed for small offices or home offices. Except for the black color, there is a white model. These neutral colors fit any office decor. Yitahome offers large storage space but occupies a small ground surface.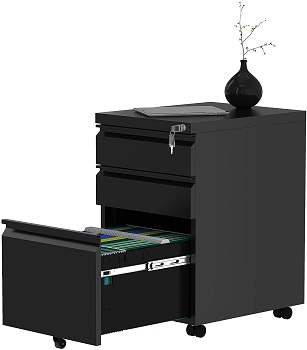 Minimal Assembly
It comes fully assembled, except for the casters, so minimal assembly is required. There is sturdy metal construction with a powder coating surface. Yitahome weighs 50 pounds and it's 24.4 inches tall (including casters), 18 inches deep and 15.3 inches wide.
Full-extension Drawers
The black locking file cabinet is designed for long-term use, it is easy to clean and maintain. The top surface is sturdy enough for the printer, scanner or another office device. Yitahome is equipped with three drawers with full extension slides, you can open them completely.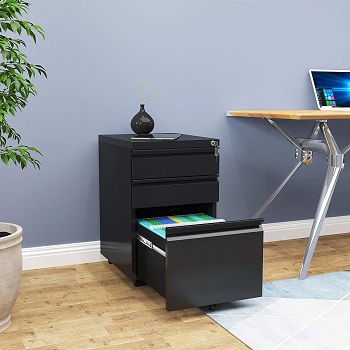 Four Swivel Casters
Two top drawers have smaller dimensions, so they are ideal for office supplies. The lower drawer accommodates both letter- and legal-size file folders. This small filing cabinet with a lock comes with four swivel casters and an anti-tip caster. The Center lock secures all drawers at the same time.
Highlighted Points:
metal construction with the powder coating surface
compact personal file cabinet
equipped with rolling wheels
two box drawers hold office essentials
file drawer accommodates letter and legal files
all three drawers are lockable
BEST 4-DRAWER BLACK LOCKING FILE CABINET
Pemberly Row Letter File Cabinet
Fully Assembled
Pemberly Row is a vertical file cabinet that offers four drawers. It provides large storage space and a relatively good price. This file cabinet comes fully assembled, you need to remove the package and it is ready to use. Pemberly Row weighs 67 pounds.
Steel Construction
Its dimensions are 52 inches in height, 15 inches in width and 25 inches in depth. There are three colors available – black, putty and grey. Durable construction is made of heavy-duty steel, handles and label holders are made of quality aluminum.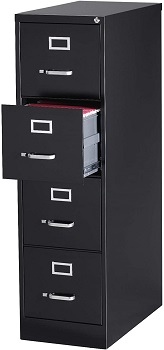 Recycled Materials
This black locking file cabinet features heavy-duty 22 gauge steel material, 30% total recycled materials and galvanized drawer bodies to reduce rust. There are fou high side drawers designed to accommodate letter-size hanging file folders.
Metal Follower Blocks
All four drawers glide on precision ball-bearing slides. That ensures smooth and quiet drawer performance. There are adjustable metal follower blocks in every drawer. This metal file cabinet with lock features a core-removable lock that secures all four drawers and keeps your files protected.
Highlighted Points:
heavy-duty steel construction
aluminum handles and label holders
three colors available
four high-side drawers for letter-size files
core-removable lock secures all drawers
the surface is smooth and rust-resistant
BEST LATERAL BLACK LOCKING FILE CABINET
Intergreat 3-drawer Lateral File Cabinet
Weight Capacity
Intergreat is a lateral file cabinet that is available in two colors – black and white. Also, you can choose between 2 or 3 drawers. Its dimensions are 40.2 inches in height, 35.4 inches in width and 17.7 inches in depth. Overall weight capacity is 330 pounds.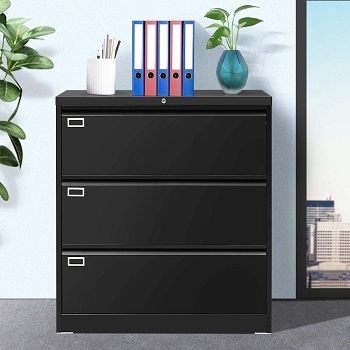 Reinforced Construction
This black locking file cabinet is larger and deeper than similar lateral file cabinets. Construction is made of steel and it's reinforced with a sturdy cold-rolled steel frame. It is coated with an electrostatic phosphorous-free epoxy spray layer. The surface is immune to corrosion and rust.
Assembly Video
Assembly is required, so the package includes a file cabinet, six hanging rails, hardware and instruction. If you have any problems, call customer service and they will send you a detailed assembly video. There are plastic pads on the locking lateral file cabinet bottom preventing scratching and sliding.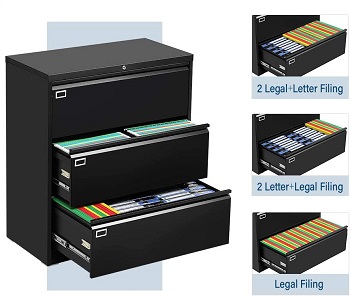 Center Lock
There are three file drawers with large capacity. Each drawer is able to hold 110 pounds. They accept both letter- and legal-size files. All drawers require only one lock that protects your private files. High-quality ball-bearing glides ensure smooth drawer performance.
Highlighted Points:
steel construction with reinforced frame
electrostatic phosphorous free epoxy spray layer
it requires assembly
three file drawers with hanging rails
center lock secures all three drawers
max weight capacity – 330 pounds
BEST HOME OFFICE BLACK LOCKING FILE CABINET
Tribesigns Lateral File Cabinet
Space-saving Product
Tribesigns is a versatile and convenient file cabinet that provides ample storage space. It is a space-saving black locking file cabinet, you can put it side or under the office desk. Tribesigns features a modern minimalist style that is available in black color only. Its price is affordable.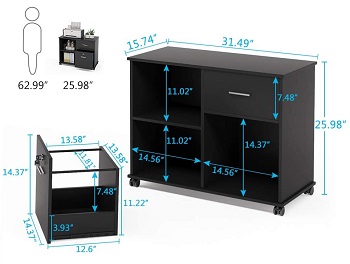 Quality Assurance
The item dimensions are 25.9 inches in height, 31.5 inches in width and 15.7 inches in depth. It is designed for hassle-free installation, so you'll need approximately 30 minutes to complete it. The manufacturer provides 18 months of quality assurance.
Storage Space
There is a wide desktop that is ideal for printer, laptop, books and other accessories you may need for work. Also, there are storage display shelves. They are useful for registers, books, notebooks, etc. On the right side, there are two drawers for documents and office essentials.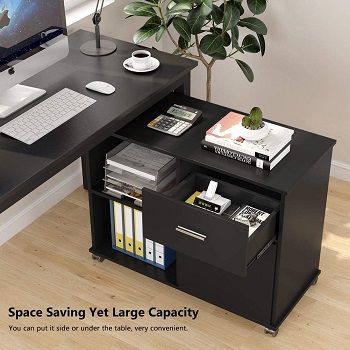 Lockable File Drawer
The upper box drawer is smaller and it holds office accessories. Below it, there is a larger file drawer, it accommodates letter-size hanging file folders. It comes with a lock for maximum protection for your documents. This space-saving file cabinet has four wheels included.
Highlighted Points:
functional and modern file cabinet made of wood
affordable price, 18 months warranty
wide desktop for printer stand
two open storage space for books and registers
box drawer and a file drawer
file drawer comes with a built-in lock
Things To Know About Black Locking File Cabinet
The black locking file cabinet features a timeless design and useful features. There are some factors necessary to consider before you order a file cabinet. Follow these guidelines.
Vertical/Lateral – Lateral file cabinets are designed to be used in busy work environments. They are wider but have limited depth, so they are effective for high-capacity filing. Vertical file cabinets are deeper and are suitable for everyday use.
Locking Mechanism – Not all file cabinets provide locks. But if you require high security to store confidential documents. Commonly, modern locking file cabinets feature a central lock system that allows you to lock all drawers in a single instance.
Mobile File Cabinet – These file cabinet types provide you the option to be rolled around where they are required. They could have four or five wheels under the bottom drawer. The fifth caster is usually smaller and šrvide extra support and prevents tipping over.
Letter/Legal Size Files – There are two main file sizes. Letter-size files feature standard size – 8.5" x 12" and they can be easily stored by all types of file cabinets. The size of the legal size file is 8.5" x 14". So, reading the product description is very important.
File Cabinet Style – Except for the different types, the black locking file cabinet come in different styles. You can choose between wooden or metal items, wide or narrow products, etc. The black color is neutral, looks professional and fits almost any office decor.