Do you want to buy a file cabinet that is fireproof?
If you do, you need to check these fireproof locking file cabinets on our list. Those file cabinets provide maximum security. Read more about their features in the review, all models are different. Also, we'll inform you what to consider in this kind of file cabinet.
Our Top Picks
Best 6 Fireproof Locking File Cabinets
Best Of Best Fireproof Locking File Cabinet
Phoenix File Cabinet
High Price
The Phoenix is an expensive file cabinet, you can choose between three colors – black, grey and putty. Moreover, there are three sizes you can choose from. This model is certified to protect paper, memory sticks, USB drives, DVDs and CDs. It is covered with a lifetime warranty.
Alloy Steel Material
This fireproof locking file cabinet construction is made of high-quality alloy steel. The extremely durable oven-baked enamel finish will not leave fingerprints. If your file cabinet was damaged by fire, it will be replaced with no charge. The sealing system keeps the file cabinet resistant to water.
3/4 Suspension Drawers
There are two drawers and they feature a three-way suspension system to provide stability, smooth and easy movement. Each drawer is separately insulated with an inner steel jacket. If one drawer is stayed open, another drawer will stay locked.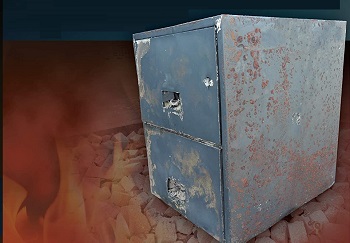 Standard Paper Size
This fire and waterproof file cabinet is tested for fire at 1700 °F and explosion tested at 2000 °F. Moreover, it is impact rated. The Phenix file cabinet is designed for small valuable and standard size files (8.5" x 11") or so-called letter-size files.
Highlighted Points:
this file cabinet features a high price
made of quality alloy steel and enamel finish
3/4 suspension drawers hold letter-size files
it is a fireproof and waterproof file cabinet
available in three colors
free after-a-fire replacement
Best Small Fireproof Locking File Cabinet
Sentry Safe File Cabinet
No Batteries
The Sentry Safe fireproof locking file cabinet weighs 38 pounds and the interior dimensions are 11.5 inches in height, 12 inches in width and 8.1 inched in depth. The item is covered with a 1-year warranty. The batteries aren't required. Keep your letter-size files and other items secured.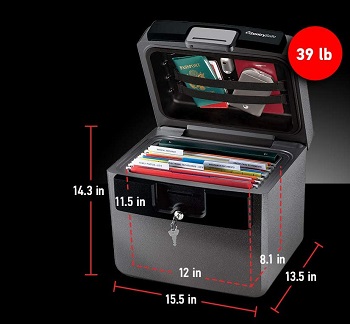 Key Lock
The key lock keeps the lid closed and protects your things from damage and steal. The package includes two keys. The in-lid organizer is suitable for small valuables. The Sentry Safe file cabinet accommodates 40 hanging files. The hanging rails or frame aren't included in the package.
ETL Verified
The exterior dimensions are 15.5 inches in width, 13.5 inches in depth and 14.3 inches in height. This waterproof file cabinet is ETL verified for 72 hours of water submersion. Also, it features a UL certificate, so it is able to endure a half-hour at 1550°F.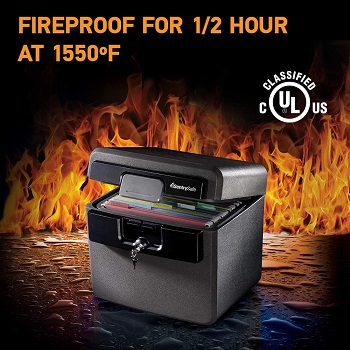 Safe For Digital Media
The flat key lock will prevent the lid from opening in the case of fire. The Sentry Safe is also safe for digital media, like CDs, DVDs, USBs. This small file cabinet with lock has an affordable price. Because of its dimensions, it doesn't take up too much floor space.
Highlighted Points:
fireproof for 1/2 hour at the high temperatures
waterproof for 72 hours
it accepts letter-size hanging files and folders
suitable for digital media
the key lock keeps the lid closed
Best Portable Fireproof Locking File Cabinet
FireKing File Cabinet
Hand-assembled Item
The FireKing is an American made product and it is hand-assembled. The construction is made of high-quality steel. It is durable and designed for a demanding work environment. This fireproof locking file cabinet is available in arctic white color only.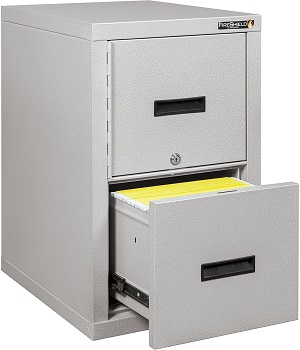 Corrosion-resistant Product
There is an electrostatic powder-coated finish applied to all sides. This finish is resistant to scratches. It offers asbestos-free construction that is resistant to corrosion. It is designed to conceal the safe behind the false drawer panel. There is insulation between drawers.
An Hour Fire Rating
There is an hour fire rating on file drawers and it is a water-resistant file cabinet. This sturdy file cabinet has high side drawers that accommodate hanging folders. No additional hardware is needed. The two-position drawer catch allows access to a certain drawer, while the other drawer remains locked.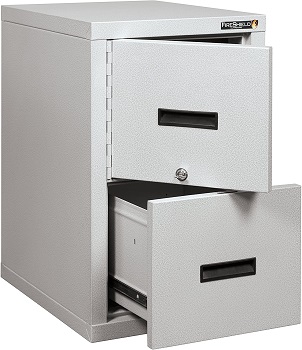 High-security Keys
There are UL-listed high-security keys that can't be duplicated except through the manufacturer. If any panel is damaged, it could be easily replaced. The recessed handles are built-in the drawers, you can open your file cabinet quickly and smoothly.
Highlighted Points:
hand-assembled file cabinet
available in arctic white color
electrostatic powder-coated finish
high-security keys can't be duplicated
fireproof and water-resistant item
Best On-wheels Fireproof Locking File Cabinet
Honeywell File Cabinet
The Highest Standard
Honeywell is a remarkable company, it's licensed from Honeywell International Inc. You can rely on its products. This file cabinet provides security and safety for your valuable items and important documents. The manufacturer uses materials that meet the highest standards.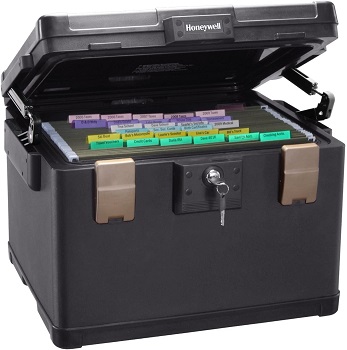 Weight Capacity
This fireproof locking file cabinet has exterior dimensions are 16.3 inches in height, 20.3 inches in width and 17.5 inches in depth. The overall height is 18 inches, including the wheels. The total weight capacity is higher than 80 pounds.
Lifetime Warranty
It is perfect for letter and legal sized documents, USB flash drives, DVDs, CDs and more. There is a quality lock system that is covered with 7 years of warranty. The file cabinet features a lifetime warranty. The Honeywell is a waterproof file cabinet.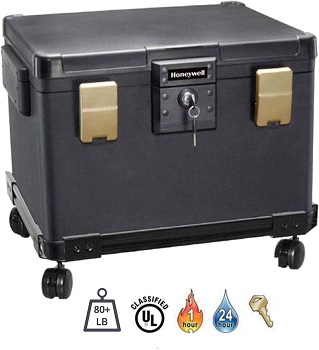 Safe File Cabinet
There is a 24-hour waterproof seal that will keep your valuables dry. This small rolling file cabinet is equipped with wheels. The carry handle is also included, so this is a versatile item. The Honeywell file cabinet has a 1-hour UL fire protection, it is rating for up to 1700 °F or 927 °C.
Highlighted Points:
high-quality materials and lifetime warranty
it fits letter and legal size file folders
24-hour waterproof seal
1-hour UL fire protection
it features a high weight capacity
the item comes with a carrying handle
Best Large Fireproof Locking File Cabinet
Aegis File Cabinet
Assembly Required
The Aegis requires assembly, it comes with pre-drilled holes. It is suitable for permanent wall cabinet or shelf installation. You can use it for home, office or commercial use. This fireproof locking file cabinet weighs 80 pounds and has an acceptable price.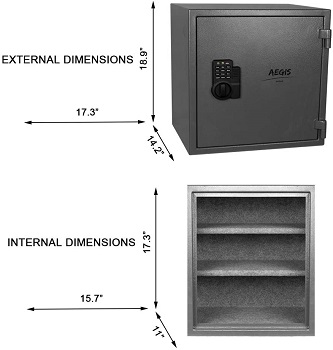 Unit Size
It is made of reinforced solid steel material, it's robust and reliable. The unit external dimensions are 18.9 inches in height, 17.3 inches in width and 14.2 inches in depth. There is a soft flannelette cushion inside, that protects your stored items from damage.
1400°F Rated Temperature
There is an adjustable chain within the file cabinet, so you can adjust the shelves. This file cabinet with key has a large capacity, use it for cash, jewelry, documents and other valuable things. It is fire resistant for 30 minutes and has a rated temperature of 1400°F.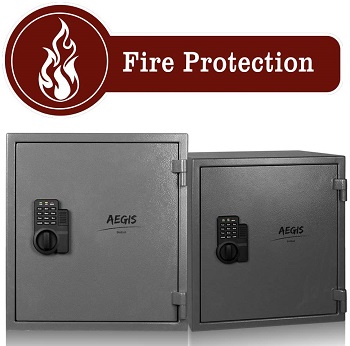 Electronic Lock
All electroplated parts are tested with a 100-hour salt spray test. There is an electronic lock, it is easy to operate and you can set it quickly. But the detailed instruction are included. It features removable locking bolts and a tamper-proof steel door. The hidden hinges prevent prying.
Highlighted Points:
robust steel construction
it is suitable as a wall file cabinet
built-in electronic lock
the soft cloth protects your valuables from scratches
fire resistance last 30 minutes
Best 4-drawer Fireproof Locking File Cabinet
FireKing Black File Cabinet
Vertical File Cabinet
The FireKing Patriot is a vertical file cabinet, this model is available in three sizes and two colors. There is a black and light grey color. This fireproof locking file cabinet is a great solution for protecting your valuables documents and items.
Powder-coated Surface
This file cabinet is made in the USA and it is covered with a 10-year warranty. The assembly isn't required. The construction is made of high-quality steel with a powder-coated finished surface. It is designed for demanding work environments.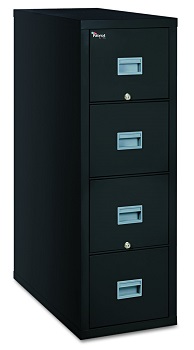 Four Insulated Drawers
The product dimensions are 20.7 inches in width, 31.5 inches in depth and 52.7 inches in height. It is a heavy file cabinet. This metal office cabinet features four drawers. There is insulation between drawers, so each drawer is a separate fireproof unit.
UL Certificate
All four drawers glide on full-extension ball-bearing slides, that provide smooth drawer performance. The FireKing holds letter and legal size file folders. There are two locks, on the top and third drawer, so they are all lockable. This item is 1-hour fire and impact rated. Also, it is water-resistant.
Highlighted Points:
vertical black file cabinet with four drawers
made of quality metal with a powder-coated surface
1-hour fire and impact-rated item
water-resistant file cabinet
two built-in locks for security
Things To Know About Fireproof Locking File Cabinets
On the market, there are many different types of file cabinets that are fireproof and lockable. To pick the best one for your needs, keep reading those guidelines and you'll make the right decision.
UL 1-hour Certificate – Many file cabinets on the list above have this certificate. The fireproof file cabinets are tested and rated by UL. They come with an ETL mark. There are tests at different temperatures and duration marks. Many office file cabinets are rated to last 30 minutes at 1550 °F.
Waterproof Item – The UL doesn't test how waterproof file cabinets are. If your file cabinet is caught in fire, the firemen will put it out with water. So, if the file cabinet isn't waterproof, your documents and valuables will be destroyed. So check that before purchase.
Security System – Of course, these file cabinets aren't burglarproof, but you should definitely invest in a good locking mechanism. You can choose between the physical key and an electronic keypad. You need to protect your documents from people, too.
Build Quality – This is a very important feature, so read the description of the fireproof locking file cabinet carefully. A well-built file cabinet will keep your documents and other valuables safe. The file cabinets should be tested and meet some safety and quality standards.
Letter Vs Legal Files – What kind of valuables do you need to store? Small things like passports, jewelry, cash or similar things fit in any file cabinet. But if you need to store documents, check out if the file cabinet is suitable for letter or legal-size files, or both of them.