Are you looking for a durable, high-capacity filing cabinet that suits your office?
Then you should buy a 5-drawer metal filing cabinet!
But don't buy any before your read those reviews below and our buying guide. There is a lot of useful info. Then you can compare the models and choose the best one from our selection.
Our Top Picks
6 Best 5-drawer Metal Filing Cabinets
BEST OF BEST 5-DRAWER METAL FILING CABINET
Hon 5-drawer Filing Cabinet
Three Colors
Hon is a high-quality file cabinet designed for demanding work environments. This model comes in a variety of sizes and colors. So, you can choose between black, charcoal, and putty colors. Also, there is a version with two four and five drawers. It is an expensive item.
Durable File Cabinet
The manufacturer uses advanced machinery and quality testing to produce the finest file cabinet. Hon is covered with a full lifetime warranty. Also, it is ANSI/BIFMA certified. The durable all-welded steel construction comes with vertical reinforcements and a double-walled kick-plate front.

Fully Assembled
Hon weighs 128 pounds and measures 18 inches in width, 26.5 inches in depth and 60 inches in height. It arrives fully assembled. You can fill it with sensitive files, there is a core-removable lock that can be replaced when needed. Spring-loaded follower blocks keep files tidy.
Hanging Files
The brushed aluminum label holders help you to find your files with ease. The 5-drawer vertical file cabinet supports hanging file folders, so you don't have to buy any extra hangrails. Steel ball-bearing drawer suspension operates easily and quietly.
Highlighted Points:
fully-welded steel construction
four vertical reinforcements for stability
double-walled front kick-plate stands up to impact
arrives fully assembled
core-removable lock for sensitive files
steel ball-bearing suspension
BEST LARGE 5-DRAWER METAL FILING CABINET
Lorell 5-drawer Lateral Cabinet
Pricey Item
Lorell is a large black filing cabinet that requires a lot of floor space. The product dimensions are 42 inches in width, 67 inches in height and 18 inches in depth. So it offers wide but shallow drawers. It weighs 200 pounds and arrives fully assembled. The price is high.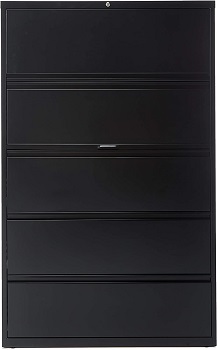 Industry Standards
It comes with a lifetime warranty and it is a tested file cabinet. Lorell meets ANSI/BIFMA industry standards for quality and safety. Construction is made of heavy-gauge steel with a non-porous surface. The base is reinforced for more stability. Clean it with a damp cloth.
Built-in Counterweights
There are four adjustable leveling guides for file cabinet stabilization. The counterweights are built-in file cabinet bottom, they prevent tipping over. This 5-drawer metal filing cabinet features a magnetic label holder for easy file identification when you need it.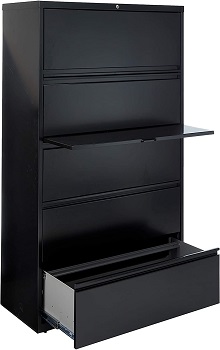 Core-removable Lock
The 5-drawer lateral file cabinet features a roll-out binder storage and five drawers with hanging file rails for side-to-side filing. All drawers hold letter- and legal-size file folders. The core-removable lock secures all drawers and keeps your files protected from damage and unwanted access.
Highlighted Points:
sturdy lateral file cabinet made of metal
reinforced base with four adjustable leveling guides
ball-bearing slide suspension
magnetic label holders
five drawers with roll-out binder storage
core-removable lock secures stored files
BEST SMALL 5-DRAWER METAL FILING CABINET
Tidyard Filing Cabinet
Desktop Filing Cabinet
Tidyard is a small and compact filing cabinet that fits even on your office desk. It requires assembly, but the package includes instruction and all necessary hardware. Choose between black and white models. Tidyard measures 13.8 inches in height, 13.8 inches in depth and 11 inches in width.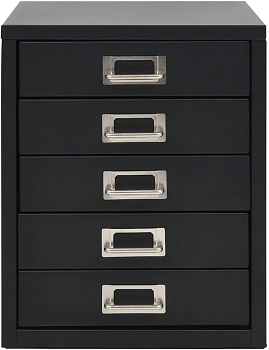 Shallow Drawers
This 5-drawer metal filing cabinet is made from solid metal, making it durable and easy to clean. It offers five shallow drawers, each drawer has 9.1" W x 13.4" D x 2" H. Therefore, it is a perfect storage space for small office accessories, like post-it notes, notepads, scissors, pens, etc.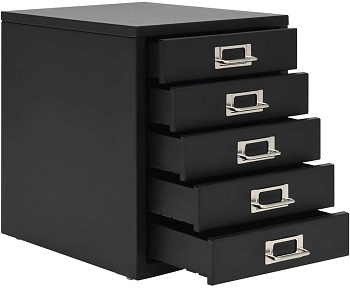 Fits Anywhere
Each drawer is equipped with small metal handles and label holders. You can mark your stored content and find it easily when needed. Put the small black filing cabinet on your desk, on the shelf, or another office filing cabinet. Its price is affordable.
Highlighted Points:
small and compact filing cabinet
constructed of durable metal
small handles and label holders
equipped with five shallow drawers
ideal for small office essentials
BEST LATERAL 5-DRAWER METAL FILING CABINET
Global Office File Cabinet
Limited Lifetime Warranty
Global Office is a convenient file cabinet that fits in small, medium-sized offices or home offices. The overall dimensions are 65 inches in height, 36 inches in width and 18 inches in depth. It weighs 245 pounds and comes with a limited lifetime warranty.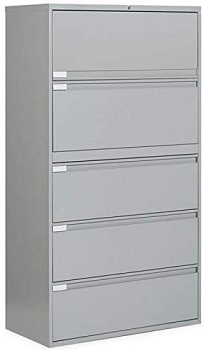 Light Grey Color
This model is made from durable metal material and comes in light grey color. You can match it easily with your current office decor. There are standard lock bars on both sides of the file cabinet that offers enhanced security. It's designed for long-term use.
Electrostatic-spraying Finish
There is an eco-friendly electrostatic powder-coated finish, it is smooth and easy to maintain. The seamless welded corners provide strength and durability. This 5-drawer metal filing cabinet features locks with removable cores if you want to keep your files protected.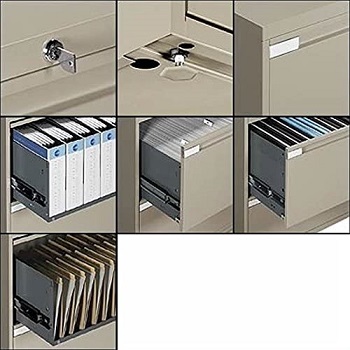 Side-ti-side Bars
Global file cabinet has full-extension ball-bearing suspension that provides smooth drawer performance. This lateral file cabinet metal model comes with an interlocking system that prevents tipping over. Included side-to-side hanging bars accept letter or legal-size files.
Highlighted Points:
large lateral file cabinet with sturdy construction
eco-friendly electrostatic spraying finish
standard lock bars increase security
lock with removable cores
full-extension drawers glide on ball-bearing slides
BEST HOME OFFICE 5-DRAWER METAL FILING CABINET
Ikayaa Office File Cabinet
Affordable Product
Ikayaa is an affordable filing cabinet perfect for home office use. Choose between red, white and dark grey colors. It is a lightweight file cabinet, weighing 26 pounds only. Its overall dimensions are 27 inches in height, 16 inches in depth and 11 inches in width.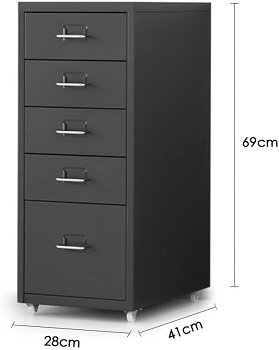 Easy To Build
The package includes the unassembled item, instruction, screws and related video. It is easy to assemble it, just follow the instruction. Ikayaa is constructed of cold-rolled steel, which is 20% stronger than typical steel. The surface is treated with electrostatic spraying, it's rust-resistant.
Detachable Casters
Compact handles are made of chromed iron. The package also includes rolling casters. It is easy to attach them. Move this 5-drawer metal filing cabinet on the floor or carpet with ease. But you don't have to install casters if you don't need a mobile file cabinet.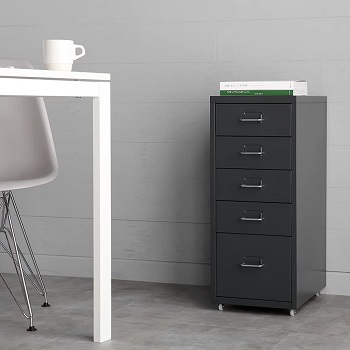 Label Holders
This painted metal file cabinet features four small and a larger file drawer. Store your office supplies, like scissors, post-it notes, pens, etc. All drawers are equipped with label holders. Keep your files organized and easily find what you need.
Highlighted Points:
quality metal construction with a dark grey surface
anti-corrosion and water-resistant surface
four small drawers and a file drawer
each drawer is equipped with a label holder
four rolling casters for easy mobility
BEST STEEL 5-DRAWER METAL FILING CABINET
Sandusky Lee File Cabinet
Professional Use
Sandusky Lee produces high-quality lateral file cabinets designed for demanding work environments. This model arrives fully assembled, it is ready for use. it delivers commercial-grade quality, so you can use it in professional and industrial environments.
Steel Construction
This 5-drawer metal filing cabinet weighs 202 pounds and measures 19.25 inches in depth, 66 inches in height and 36 inches in width. It comes in a burgundy color. Construction is made of high-quality steel with a smooth and scratch-resistant surface. It's easy to maintain this item.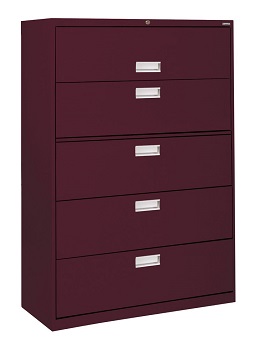 Full-suspension Drawers
All five drawers have recessed handles and they extend fully on ball-bearing slides. You can reach your stored files or office supplies with ease. This steel filing cabinet has five full suspension file drawers for storing letter-size/A4 and legal size file folders.
Interlocking Mechanism
The fifth drawer has a shelf, this is a flip front top drawer. An interlocking drawer system allows only one drawer to be open to help avoid tipping. There is a central lock that secures all drawers at the same time. Keep your sensitive documents safe from unwanted access.
Highlighted Points:
steel construction with powder coating finish
five drawers with flip front shelf
full extension drawers with ball bearing slides
interlocking safety mechanism prevents tipping over
central lock secures all five drawers
Things To Know About 5-drawer Metal Filing Cabinet
The 5-drawer metal filing cabinets are sturdy and designed for long-term use. To learn more about their construction, storage space, lock systems and other characteristics, check out this info below.
Steel/Metal Construction – The file cabinets can be made from different materials. The steel/metal models are the most durable in the market. The sturdy file cabinet can be made of cold-rolled steel, which is 20% stronger than typical steel.
High-capacity Filing  – The vertical and lateral file cabinets come with 1, 2, or even 5 drawers. Choose the model with five drawers if you struggle with a large number of files. Also, check if the item supports hanging file folders. That provides neat and tidy organization.
Lock Mechanism – When not in use, you should lock your file cabinet. especially if you work with sensitive documents. Take note of what type of locking mechanism the filing cabinet is equipped with. The most common are central locks or separate locks for each drawer.
Letter/Legal Files – Not all file cabinets are designed for all paper sizes. There are two main sizes – letter and legal. The letter is a standard paper size, it measures 8.5" W x 11" L. The legal files are larger, there are 8.5" W x 14" L. Read the product dimensions carefully.
Counterbalance Weights – Some models on the list above come with this feature. If you aren't familiar with this term, here is an explanation. These weights are often added to some file cabinets as a safety precaution. They are made of concrete, lead or other heavy material to reduce tipping.